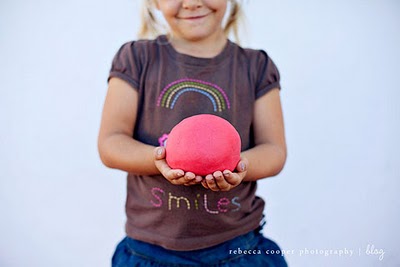 Our Friday Craft Day last week was so much fun!
Just some homemade playdough in cute Valentine's colors. Throw in some DIY cookie cutters, tooth picks, a rolling pin, a few butter knives for the big kids & it was a playdough party!

The kids had fun making playdough heart 'cookies' (for over an hour I might add) in honor of Valentine's day. We had one small heart cookie cutter I'd brought from home & a search around most of the shops on the island didn't turn up any others so I searched online for some ideas on possibly making our own. I found a few tutorials on making cookie cutters out of an aluminum pan, so we gave it a try.
**cut edges of aluminum can be a little bit sharp, suitable for older children or with the help of an adult
All you'll need to make your own cookie cutters:
(something to hold your cookie cutter shape together)
I began by cuttting a strip off the top of one aluminum pan, leaving the rounded edge in tact on one edge so we'd have a smooth edge to handle when using our cookie cutter. You could also cut a strip from the bottom of the aluminum pan, fold over one edge and leave the other one sharp for doing the cutting.
Next, I molded the aluminum strip into the shape of a heart, taped it together and voila. A heart cookie cutter. Create your own custom shapes using this same method or try using items you can find around the house as cookie cutters.
-an empty tuna can
-a toilet paper/paper towel roll
-using a plastic knife or butter knife trace around objects to create your own custom shapes (trace children's hands, shapes they've drawn & cut out on paper, a children's toy)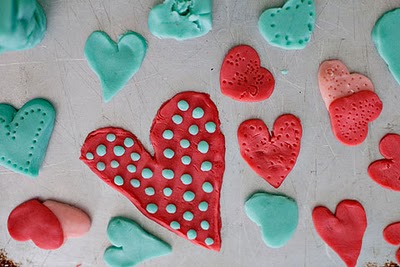 (my favorite playdough recipe)
Kool-Aid Playdough
1 package unsweetened Kool-Aid
Mix flour, salt, cream of tartar and Kool-Aid in a medium saucepan. Add water and oil. Stir over medium heat 3-5 minutes. When mixture forms a ball in pan remove. Knead until smooth. Put in plastic bag and refrigerate.
Here's a few more fun things you can do with playdough:
-use toothpicks to draw designs on your playdough shapes or make
playdough shish kabobs
-try some playdough nature printing
-here are 10 ideas to get the most fun from play dough
–these ideas are cute too.
What fun crafty things have you been up to
with the kiddos this week?
Link up below and share those fabulous ideas with us!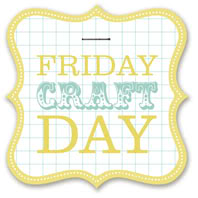 linking up here