Who says breakfast can't be healthy AND fun!? These fruity owl pancakes are a creative way to start your kiddos day off right, with an extra serving of fresh fruit!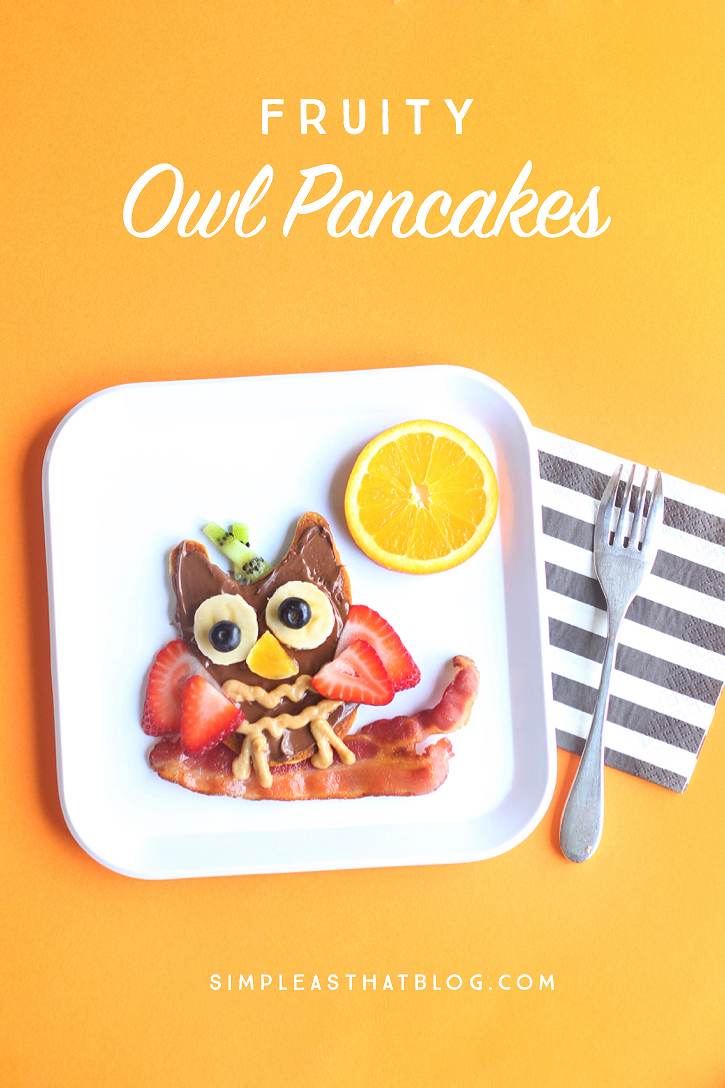 Hey there! It's Carisa, from Messes to Memories, and I'm back with a delicious food art idea. Every time my kids even see cute owls they get excited so I decided that some owl pancakes were just what we needed!
Pancakes are one of the easiest things to start with if you want to get creative with food. It has taken a while, but I've learned some great secrets for making pancake food art! I love making fun pancakes for breakfast – you can see some more fun pancake food art here!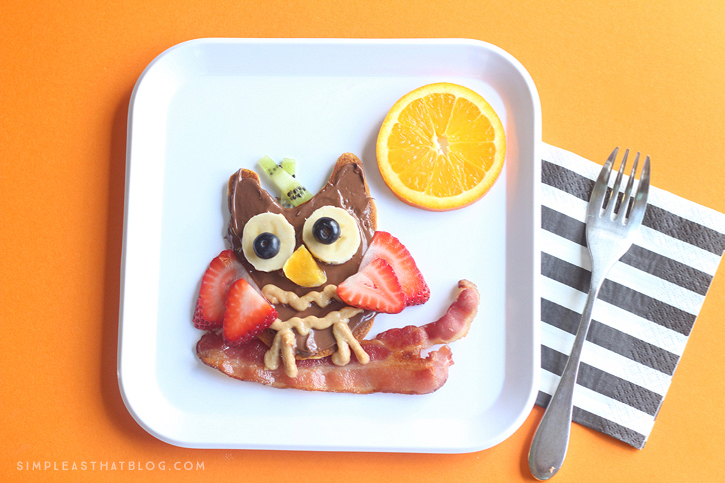 The trick to great pancakes is getting a good batter. You don't want it too thick or it's hard to pour, but if it's too thin it will run all over. Consistency is key!!
If you want to make fun pancakes on a regular basis, I definitely recommend investing in some squeeze bottles! They make pancake art so easy! I promise, it's a little addicting. I love it when the kids climb up at the table wondering what art I'm making on the skillet!
After making your pancakes, cut up some fruit and let the kids get creative! I usually model a few ideas for them, then let them do their own thing! It's awesome to see how their creative minds work. They sure get a kick out of it.

Owl Pancake Food Art
A fresh, fun breakfast idea with the cutest owl pancakes and lots of fresh fruit!!
Ingredients
Pancake batter
Bananas
Kiwi
Blueberries
Strawberries
Orange slices
Nutella
Bacon
Whipped Peanut Butter Cream Cheese
4 oz cream cheese
¼ cup peanut butter
¼ cup powdered sugar
1 tsp vanilla
Instructions
Bake the bacon in the oven at 400 for 10-15 minutes (cook it until you like it, I like mine crispy).
Prep pancake batter and let sit for a minute while you slice fruit and heat up the skillet.
Make your cute owl pancakes, cook on one side for 1-2 minutes and then flip.
Add all of the Whipped Peanut Butter Cream Cheese ingredients to a food processor and mix well.
Once the pancakes are done top, add a strip of bacon for a branch and top with Nutella, Whipped Peanut Butter Cream Cheese and fruit.
Here's a short video of us putting together our owl pancakes:
Leftover pancakes are great to pull out for quick snacks, too! Check out more adorable food art in the Fun with Food series!