My girls and I have had a lot of fun doing silly hairdos for some of our favourite holidays! We did this
Rudolph hairdo for Christmas
and this
Silly Spider hairdo for Halloween
and we thought we'd continue the tradition with a fun hairstyle for Easter! We call this Funny Bunny hair and it really is so easy, just follow the steps below to create the look yourself!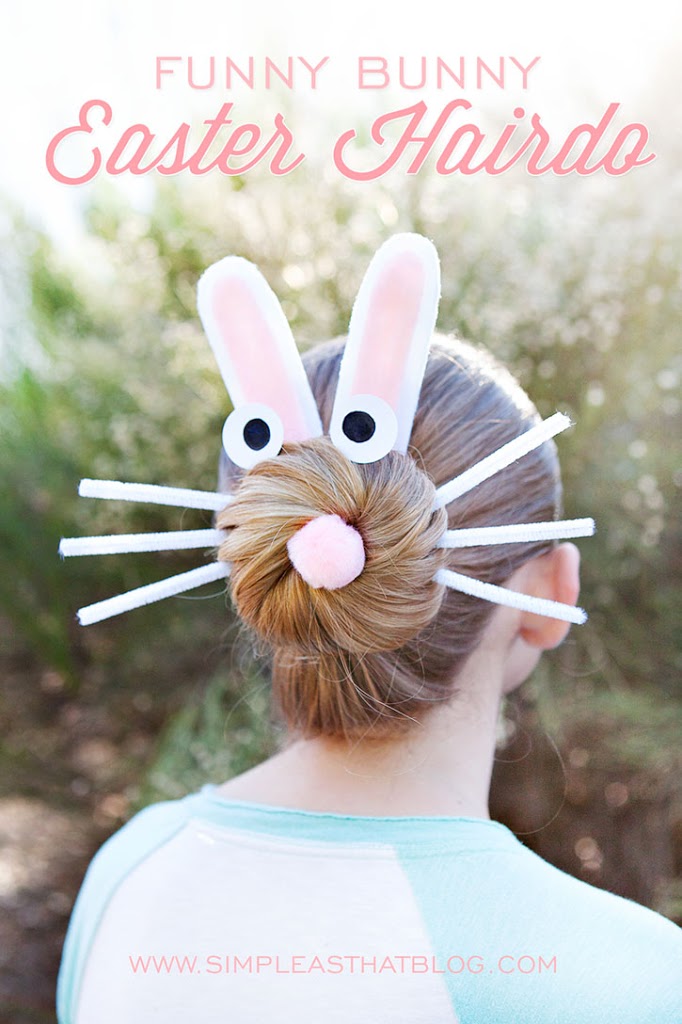 We started with a simple ballet bun and a short list of supplies that we picked up at our nearest
Michaels Craft Store
! The bun itself isn't anything fancy. I simply put my girls hair in a pony tail, then wrapped the remaining hair around the elastic, twisting as I went and securing it with bobby pins around the base.
Supplies you need to create this funny bunny hairdo:
Scissors
Large googly eyes
White pipe cleaners
Pink + White felt
Bobby Pins
Hot glue gun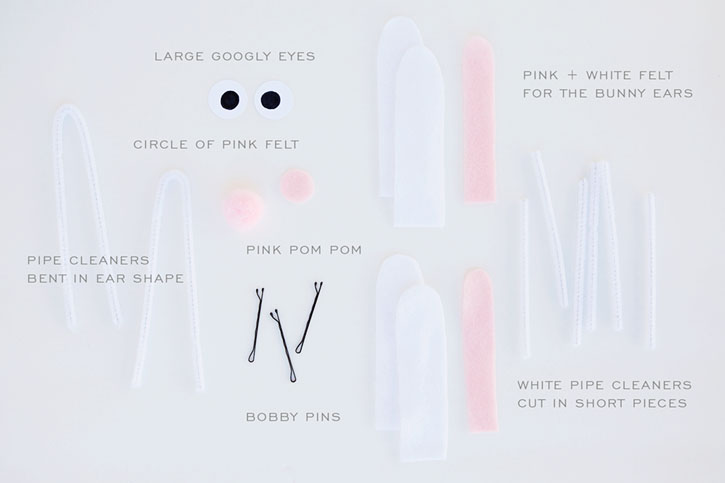 How to make the bunny pieces:
1. For the bunny's nose, we c
ut a small circle out of pink felt.
2. Next we slipped the pink felt circle inside a bobby pin.
3. Using a hot glue we glued the pompom to the felt.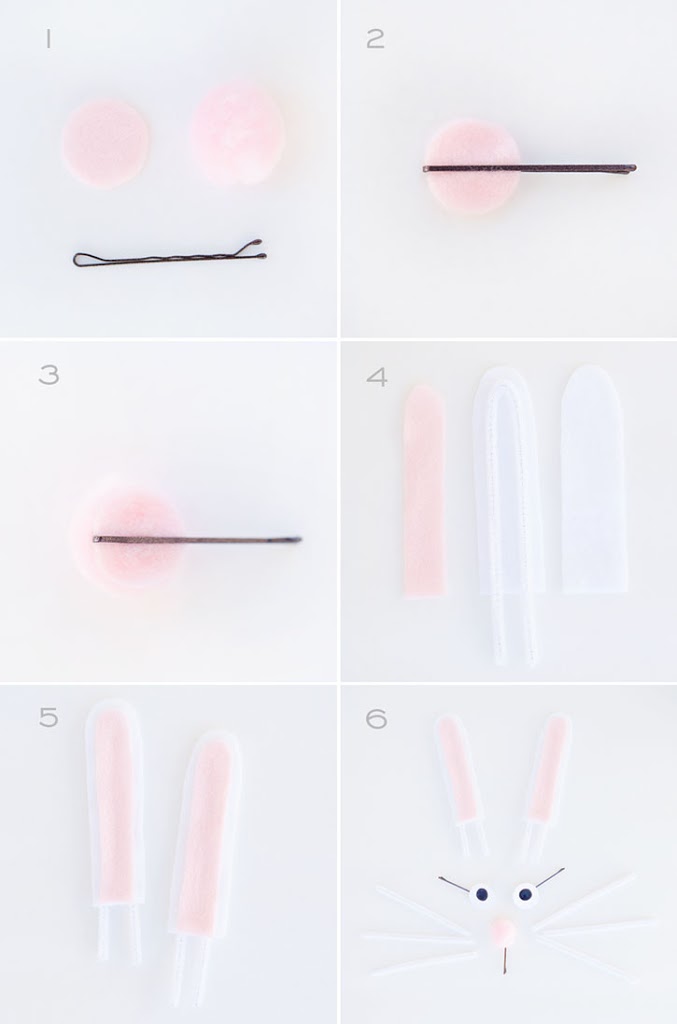 4. For the bunny's ears, we cut out two pieces of white felt in the shape pictured above. We also cut one piece of pink felt the same shape, but slightly smaller, to fit inside the white pieces.

5. We then bent a white pipe cleaner in the shape of the ears. With the ends sticking out the bottom slightly, we placed the pipe cleaner between the two layers of white felt and glued in place. The pipe cleaner is what will help the ears keep their shape and allows you to push the ears down into the hair bun.

6. We then glued two large eyes that we made using cardstock and a black sharpie to two bobby pins for the bunny's eyes. You can also use extra large googly eyes for this.

7. Lastly, we cut 3 white pipe cleaners into 3 equal parts for the bunny's whiskers.
Next, we placed the bunny's eyes into the top of bun, just in front of the ears. Then we added the bunny's nose to the centre of the bun. We finished things off by adding the bunny's whiskers sticking out either side of the bun. That's all there is to it!
I hope you have as much fun with this fun Easter hairdo as we did! My girls are so excited
to
wear their hair to school like this later in the month!
For more Spring and Easter inspiration be sure to visit Michaels Stores on Pinterest!
If you liked this tutorial you might also like:
Easter Book Page Bunting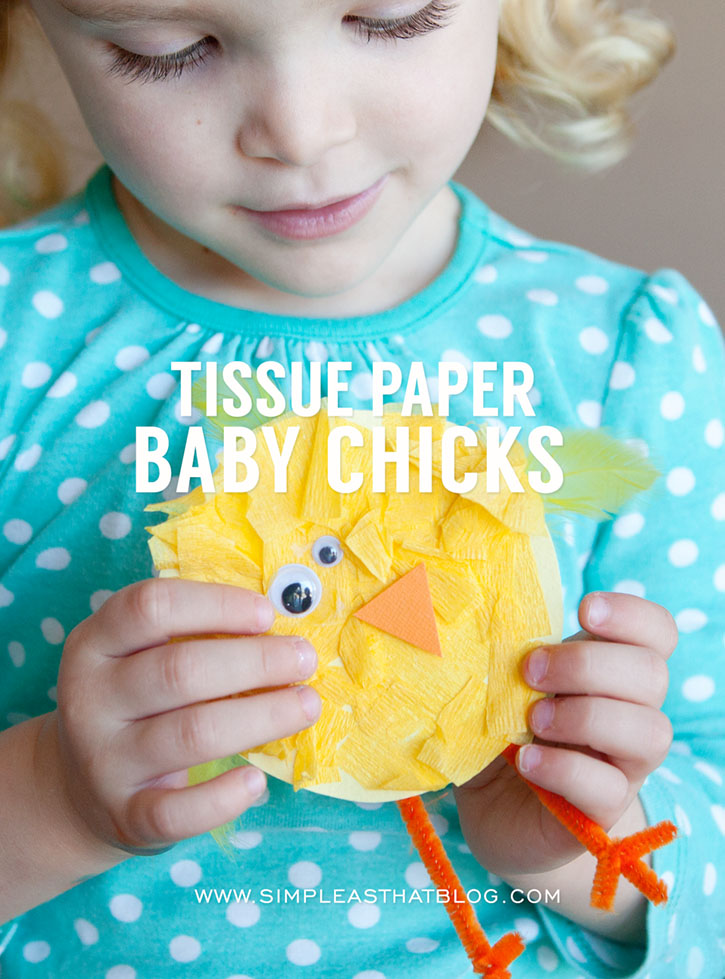 28 Kids books for Spring + Easter