Our trip started late on a Friday afternoon, we all met our guide at the parking area at the base of the trail. You can start hiking from here but we opted to take quads and four wheel drive vehicles up this back country road to a clearing where we set up camp for the night. After a relatively good nights sleep we woke up early the next morning and drove the vehicles up a little further to the start of the hiking trail and we were on our way to the caves.
We hiked through an alpine meadow area, passed the official campsite where back packers hike to and usually camp for the night if they're hiking in all their gear. Then the rest of the trail was through shale and up over mountains.
Here I am at the top, not quite to the caves yet, but stopping to look back over where we'd hiked from. The view was absolutely amazing!
Here's a view of the hiking trail from below near the base camp. Labelled number 1, you can see the area of shale we hiked through up to the top of that ridge then we made our way west towards the area labelled number 2. At the base of that large peak we went over the other side. From there it's a short distance to the cave entrance.
Once over the ridge it's mountains for as far as the eye can see. This is my sister and her husband taking in the view. From here we could see the cave entrance and we were so happy to have made it this far!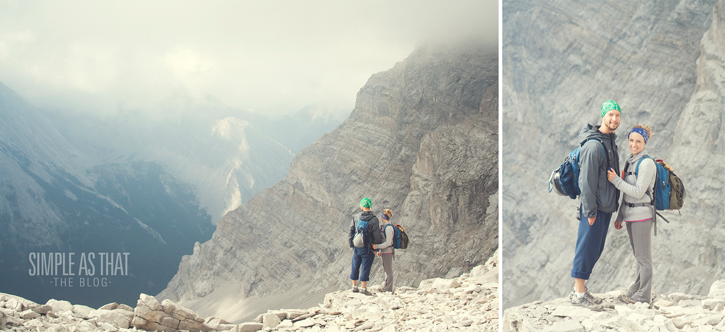 A quick shot of me and my Merrell's! They've been with me on all our adventures this past Summer. Love these shoes!