How to take Christmas tree photos. These sweet photos will be a keepsake year after year. Tips and tricks to get the best shots of your tree and pajama clad children.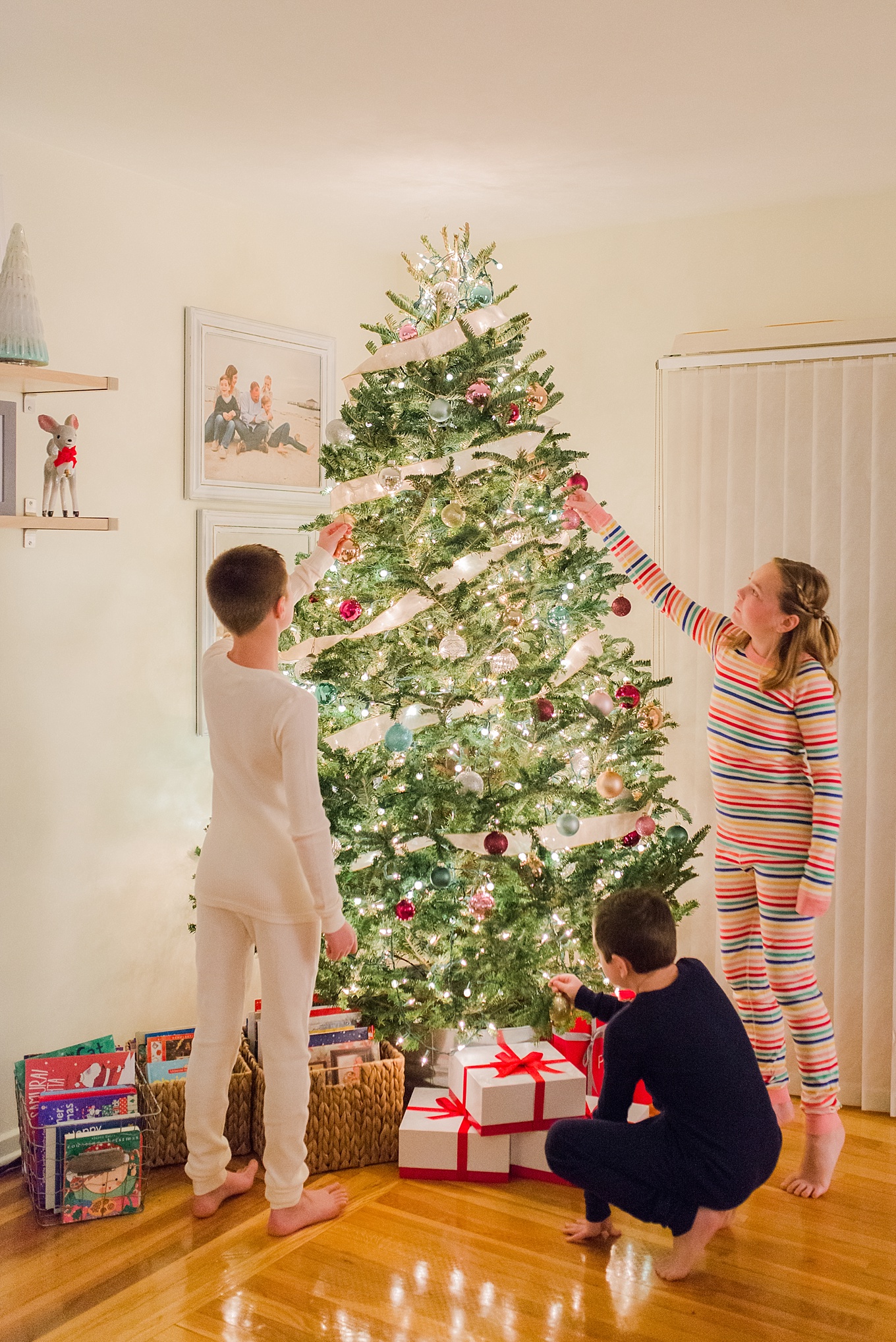 The holiday season is one where I rekindle my love of photography each year. There is something about the twinkle lights and the sparkle that make me want to take my camera out and capture the holidays in a new way to cherish from year to year. It makes me so happy to drag the tubs of holiday stuff up and to go through all of the decorations and the albums that I make for each holiday season. My children aren't babies anymore and I know that my years of having them all around my tree are numbered. I get very sentimental as soon as the Christmas books come out.
Christmas tree shots are one of my favorites to take each year. I love that the only light source is the light from the tree. The twinkle lights illuminate my babies faces and I love having these keepsakes to look at forever and ever. They aren't hard to take, but there are some things that make it much easier.
To get ready:
Learn from me and do your best to hide the cords from the lights or at the very least try to use a cord that is a similar color to your floor or baseboards.
Add some wrapped gifts to put around the bottom of the tree. I also put the book baskets there to help fill the space. It makes it look festive and homey.
To get the prettiest, twinkliest effect, add more lights (a few extra strands) than you think that you do. I like to use regular white lights and the mini white globe lights that are a little larger. I think that it adds a nice variety.
Put the kids in Christmas jammies. You can do it in fancy Christmas dresses, but I like them in comfy jammies, and they are a part of our Christmas Eve tradition.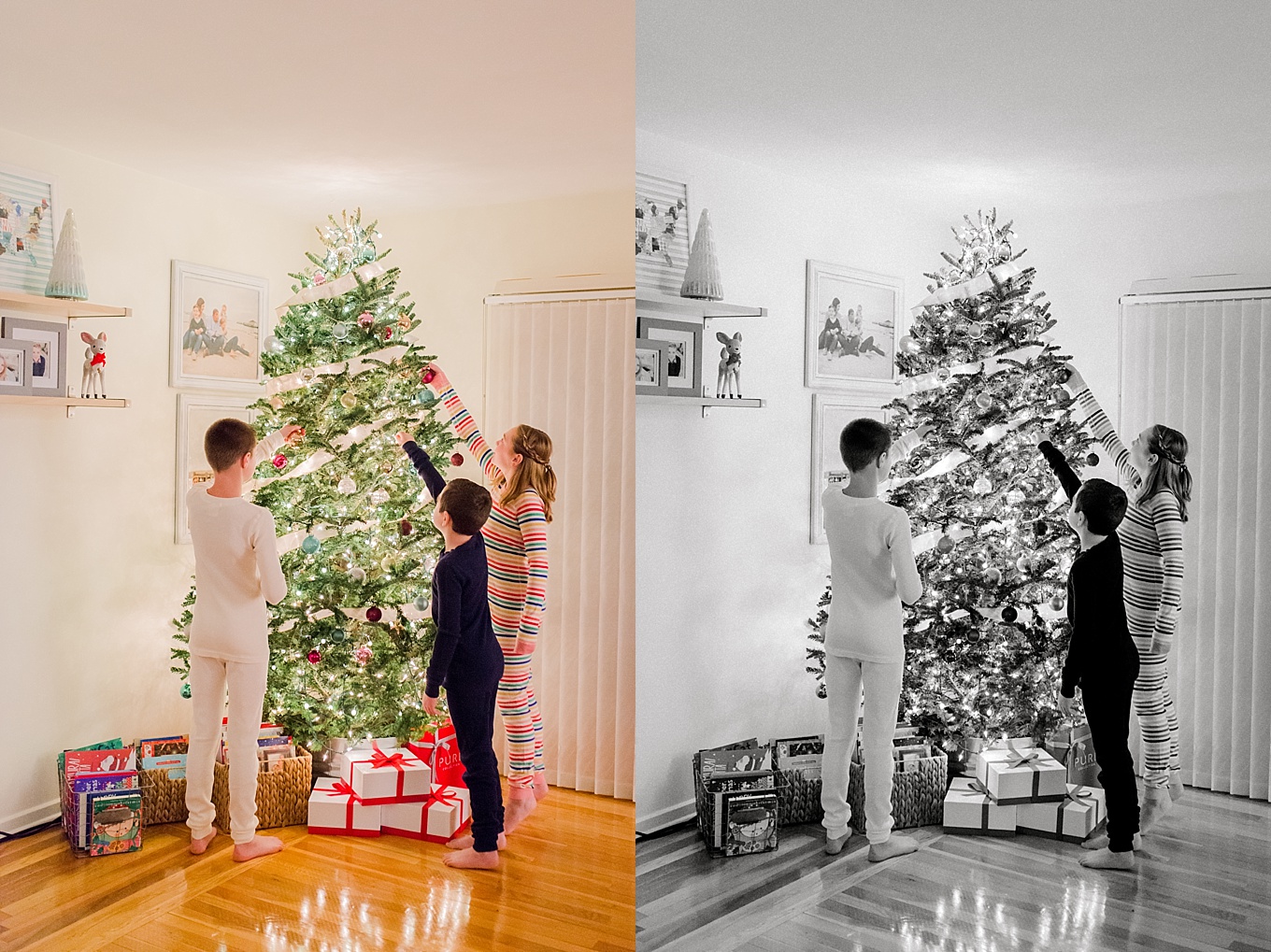 How to take Christmas tree photos:
Turn off all of the lights in the room. The only light available should be from the lights.
You can use a tripod or shoot handheld. I'm super lazy and don't like using a tripod. And I like to be able to move around and get closer shots and details.
Use a shutter speed no slower than 1/200th of a second. I need a fast shutter so that I don't get any camera shake. If you use a tripod, you could probably go a little lower.
We aren't working with a lot of light, so my apertures are f/2.0 and lower. Some of these are f/1.4, so the fast shutter helps get it into focus.
My ISOs are HIGH. In the 2000 to 4000 range.
I use AUTO white balance. Your colors are going to be wonky because of the Christmas lights, so you will need to adjust these in post-processing.
I use Lightroom presets on all of my images. I like the Refined Collection for my color images and Mastin Labs Ilford for my black and white.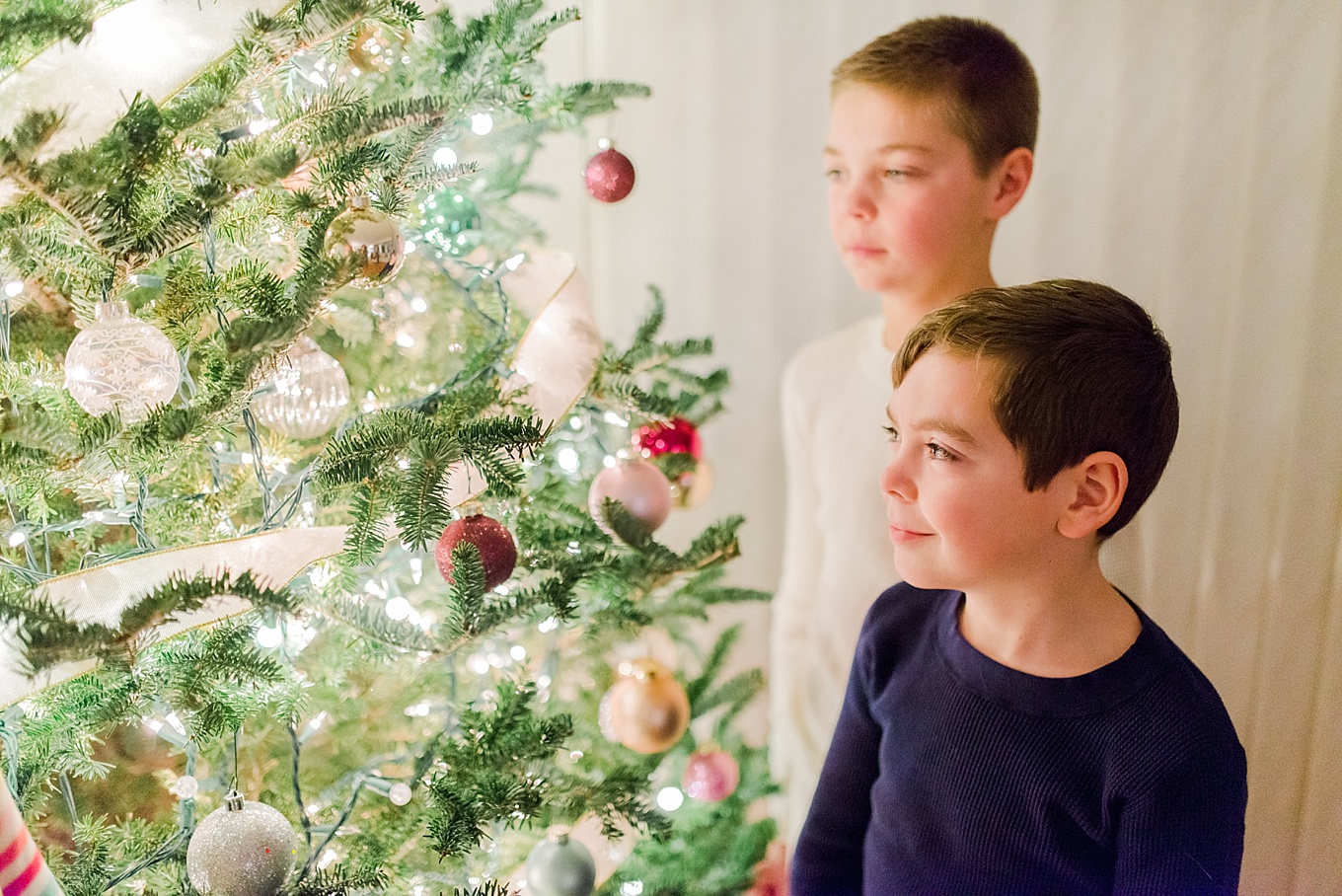 Helpful Tips:
Because of the high ISOs, your images are going to be a little noisy. (They are going to have some digital grain.) These days, cameras do incredibly well at high ISOs so it isn't that big of a deal. You can run it through some Noiseware (this one is free and easy to use) if it bothers you, but I don't like how it can soften the image. If it is really bad, I might make it into a black and white. Black and white can hide a lot of flaws. (Like something a little soft, something noisy, or if the color cast is tricky.)
Your meter is going to be all over the place. I only really care about the skin, so that is what I expose for. It's a bit of trial and error, so I rely on the LCD instead of my internal meter.
Bring out a keepsake or a special ornament. Having photos of these things will be nice if they should break. Or just to have the memory of it with your children.
Have them do something. I have them read a Christmas book, trim the tree, sip cocoa, or look through their stockings. It is helpful to have them moving a bit. It adds story to the image and interest.
At the end of the holiday season, make an album. I do this on New Years Day. It just as much a tradition as taking the pictures. I love sitting down and making these books. It is the last thing I put it in the decoration bin as I am cleaning up for the year.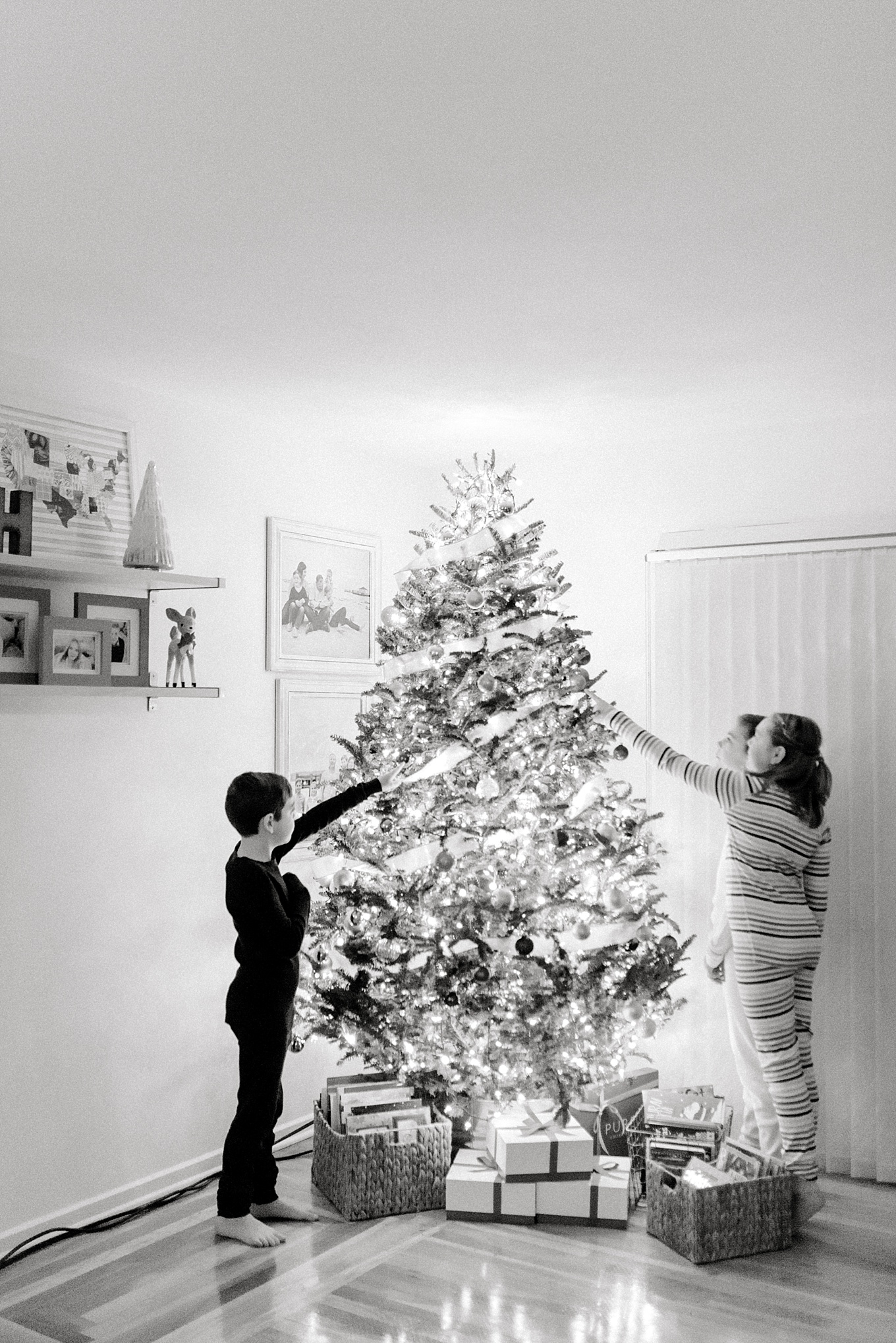 Taking these pictures is one of my favorite things to do each year. The end result is magical and something that I know I will cherish forever and ever. Happy Holidays!
This post contains affiliate links. If you click through and make a purchase, I may receive a commission (at no additional cost to you).