Join us for part 1 in this 12 month series, "One Year to More Organized Photos." Taking photos is just the first step in preserving your precious family memories. Making sure your treasured photos are safe and accessible is a legacy you'll leave to your family – and today the journey to more organized photos begins!
A few weeks ago I announced this brand new (and exciting) series: "One Year to More Organized Photos!" and I'm so excited to kick things off today! This is an area that so many of us struggle with – including myself – and I've decided that 2015 is the year to get a handle on all these photos!
In this digital age, the sheer volume of photos we have to organize it astounding and when faced with such a daunting task, it can quickly get overwhelming. I haven't known where to begin and so I've avoided the mess my images are in for too long!
Over the past three weeks I've slowly begun the process of getting my photos in order. From printed images, to digital – I'm ready to get things in order and am thrilled to be on this journey to more organized photos with you!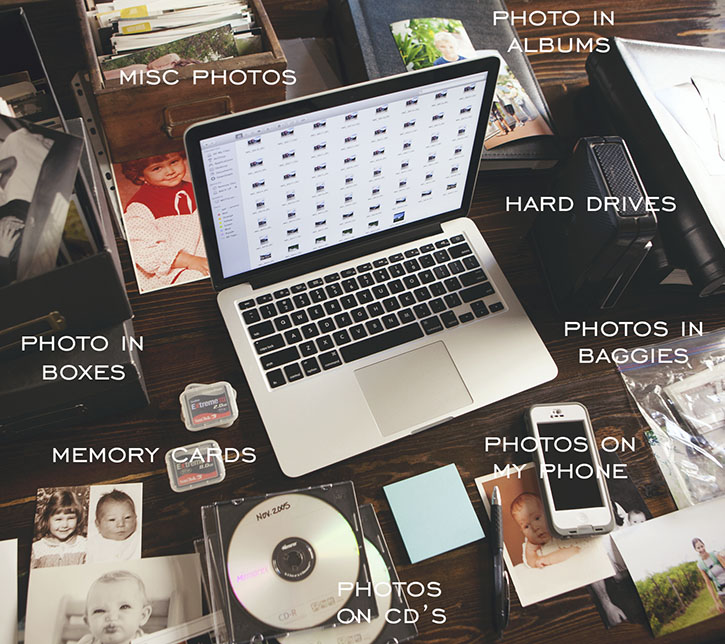 Does this scene look familiar to any of you? I've got photos in boxes, on CD's, on hard drives, in baggies and photos on my phone. They're everywhere! If you've let your photos go as long as I have, it's going to be a process to get it all under control, but believe me, it's possible and today is the day to start!
Getting my photo clutter under control is going to be a big job and I think it's important to be aware that such a huge undertaking isn't going to get fixed in 1 day, 1 week or even 1 month. The key is breaking the process up into smaller , manageable tasks and enjoy the process! This isn't going to happen all at once, it's going to take time and I'm determined to take this next year to get my photos organized and develop a system that works for me to KEEP them organized!
Where to begin
Today we're going to start at the very beginning! The first step in organizing all those photos is finding them all! If you're anything like me, you may have photos scattered around the house! Where could they possibly be? They could be on your computer, on hard drives, saved on discs, tossed in a box, stored online, in albums or on your phone.
The first step in this whole process is to gather your photos together in one place to see what you're dealing with.  I literally brought all my photos together and piled them on the kitchen table to see what I'd gotten myself into! You could do the same or simply jot down a list of places where your photos are stored on this handy printable I designed to help you as you get started in this process.
Click here to Download the One Year to More Organized Photos Getting Started Worksheet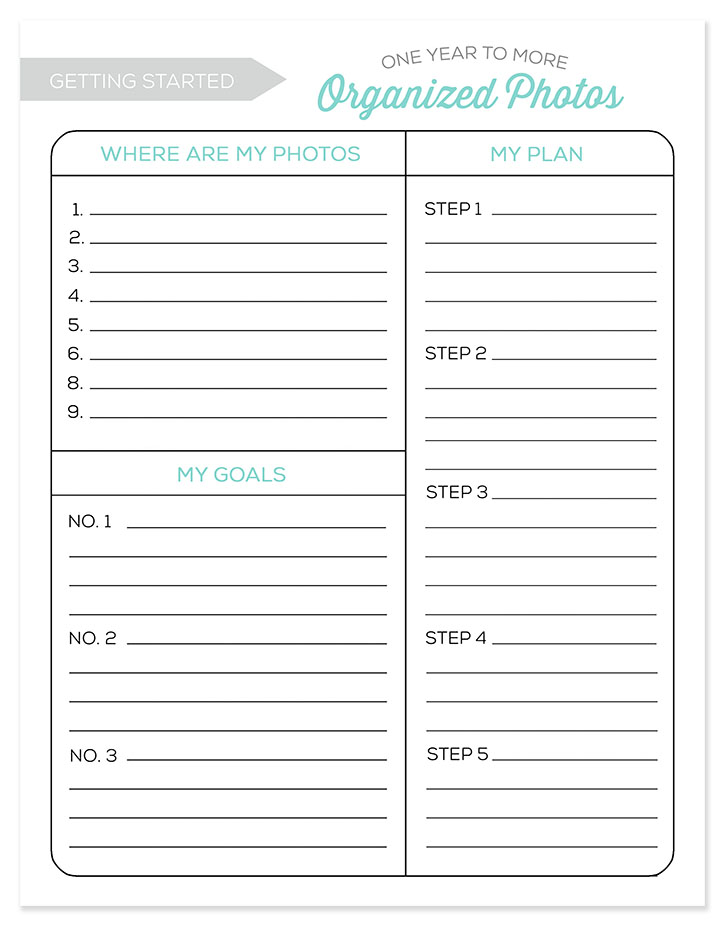 Set some goals
Once you've found all your images, have a look through them all and see how many there are stored in various locations. Jot down some notes on years/dates and where to find them and keep these notes handy so you can refer back to them when it comes time to start organizing. This step is all about evaluating – we're not sorting yet, we're simply taking stock of WHAT needs to be organized.
Next, set some goals for yourself. Maybe you want to get your printed photos in albums. Maybe you're eager to develop a system for organizing your digital images. Whatever your goals may be when it comes to photo organization, get them down on paper so you can start coming up with a plan of exactly how to make those goals a reality!
My top three goals for organizing my photos this year are:
1. To get my photos printed and in albums. I have hodge podge of printed images in boxes and I hope to get those sorted and then start on printing images that I have stored on my computer/hard drives and get them in albums!
2. I want to downsize my collection of digital photos. As a photographer, I take a lot of photos and the reality is, I just can't keep them all! I am eager to purge my collection and get rid of any saved duplicates I may have and unnecessary photo clutter and really minimize the number of images I'm storing.
3. I want to get in the habit of regularly backing up my images. I've been ok at this, but have never been consistent. First thing I need to do before I can get a system in place is
Make a Plan
Once you've jotted down a few goals it's time to put a plan in place! Think of what you need to do first! For me, it's going to be to sort the photos I already have printed. I feel like I need to do that to avoid printing duplicates when I start going through my digital collection, so that's where I'm going to start. When formulating your plan some things to keep in mind are:
1. How much time do you have to devote to photo organization? An hour a day? A week? Set a realistic timeframe for yourself based on your personal schedule and go from there.
2. Where is the best place to work on this project? The best place for me is the kitchen table where I can spread everything out in front of me, but I can't leave things out where little hands can touch and we do need to eat meals. What I've done is reserved a big plastic storage container as my "in progress" bin. This is where I can keep the majority of my photo junk and all the supplies I need to work with. When I have an hour here or there I can bring it to the table, set it out and work then put it all back in the bin when I need to clean up.
3.  Keep things simple. I can't stress this enough. When coming up with an organizational system that you can stick with the best ones are always the simplest. I'll be sharing more in upcoming posts with specifics on HOW I'll be organizing my images and what systems I have set in place – but always, always, keep it very basic and simple!
This first step in the organizational process is a big one and will set the tone for the rest of this project so don't get ahead of yourself – remember to take it slow and not expect results immediately.

I can't wait to see your progress! I'll be sharing updates as I continue to work on my photos on Instagram, you can follow me here: rebecca_simpleasthat. I'd love to see how things are coming along for you as well! Snap a quick photo and tag your photos #OneYeartoOrganizedPhotos! This is going to be amazing! Just think of what we're going to accomplish this year – this truly is just the beginning!
Supplies you May Need
In preparation for the next posts coming in the series as we dive deeper into the organizational process, here's a quick list of supplies you may need. These certainly aren't things you have to have to get your photos organized but they are products I know and trust and I will be using them throughout the series!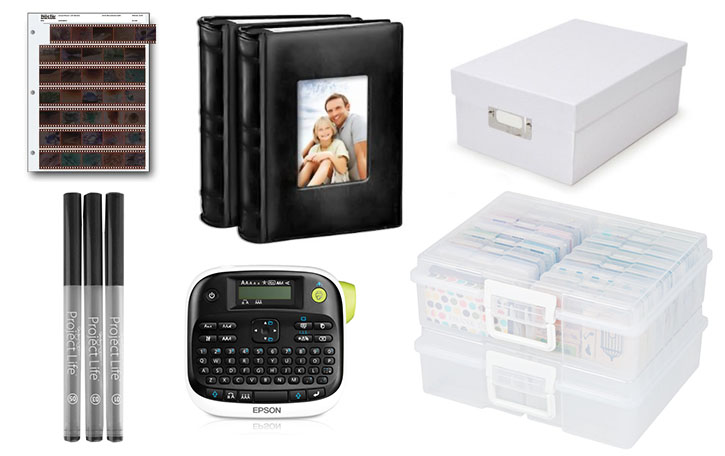 1. Archival safe Pens. When it comes to writing dates on photos and in albums you want to make sure you choose archival safe pens. I love using Project Life pens, I always keep a set or two of these in stock. Did you know that sharpies are archival safe and acid free as well? These fine point sharpies are great for writing on CD's, jotting down dates in albums, etc.
2. Photo containers. I've been using these 4×6 plastic photo storage containers by IRIS for years and love them! Not only are they great for safely storing photos they're also the perfect size for organizing crayons and other kids craft supplies! This is a large size photo keeper by IRIS and it comes in a set of two so you get 32 of the 4×6 containers. FYI these 4×6 containers fit perfectly in the IKEA Raskog Utility Cart, they're such  great size for photos, project life cards and more! I can't say enough good things about these little containers!
3. Photo albums. Albums can be expensive and after shopping around I purchased a large number of black faux leather albums from Costco (see image above) to house my printed photos. I love the look of them, they fit a lot of photos (300+) and the price was great – $19.99 for a set of two.
4. Photo boxes. These are another great option for photo storage. Photo boxes can be purchased inexpensively at your local craft store. I will mention that I've had my boxes for a number of year and while they've been great, they haven't held up through a number of moves and lots of use. Most of the lids are now damaged and I'm looking to invest in more of the plastic IRIS containers as soon as I can.
5. Negative Sleeves. If you have a lot of photos from the pre-digital age you may also have a number of negatives that need storing. I purchased a set of negative sleeves a few years ago and have yet to get my negatives in them – but that's something I plan to do over the course of the year. These sleeves are a great, safe way to store your negatives.
6. Label maker. When it comes to organizing my photos I plan to organize by year and date and will be labeling my containers, etc. using my handy label maker. I have this Epson Labelworks model and it's been great!
Have questions or ideas related to what I've shared today? I'd love to hear your thoughts in the comments below! There are so many ways to go about organizing your photos and it's always great to hear how other people are tackling the challenge! 
*Post contains affiliate links.