I'm excited to welcome my friend Angie Lucas to the blog today! Learn more about her simple approach to journaling and enter to win a spot in her upcoming online workshop, Grammar-Free Journaling at Big Picture Classes!
Hi all! I'm so excited Rebecca gave me the chance to introduce you all to a little something I like to call "grammar-free journaling."
As you may or may not know, Rebecca has long been a fan of "point-form journaling," which I suppose is the Canadian way of saying "bulleted lists." (But the Canadian way sounds just SO MUCH more elegant, doesn't it?) But no matter what you call it, it's one of the 12 stress-free writing strategies I'm going to share with you in my upcoming workshop, Grammar-Free Journaling, which starts this Thursday at bigpictureclasses.com.
What is "grammar-free journaling"? Well, I'll tell you. In my 4-week workshop, I've gathered 12 fun strategies for writing journaling for scrapbook pages in new and exciting ways,
with absolutely no paragraphs required! You can forget about sentence structure, paragraph flow, punctuation, and anything that stresses you out about writing—and still tell great stories. In no time, you'll be journaling in
checklists, spreadsheets, pie charts, lists, quizzes, and even a bit of painless poetry.
Here's one of my favorite layout examples from the workshop, which shares a five-question quiz that I sent to six other scrapbookers (three of them under the age of 12!) and asked them all to create their own take on it. My layout shares simple, list-style journaling for each question, which is tucked inside those cute pockets.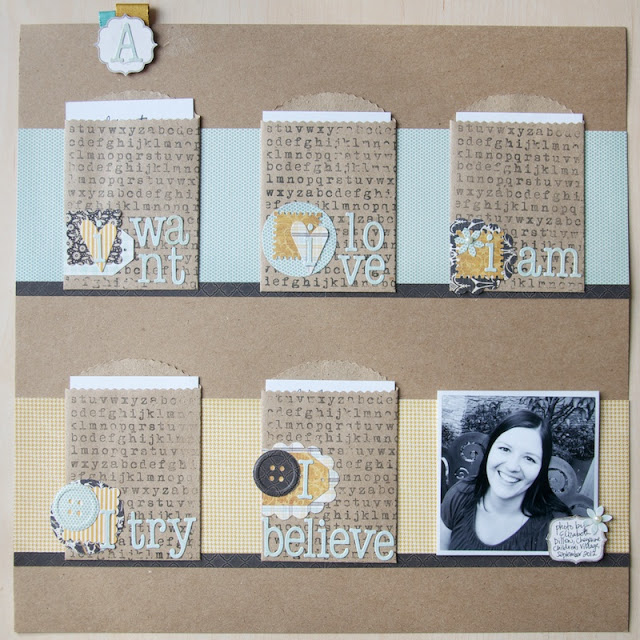 Join me in class and you can peek inside those pockets! But beyond that, I promise you'll be inspired to tell stories you've been meaning to tell in unique ways—and you'll find new stories to tell that you wouldn't have discovered or told otherwise.
I invite you to join me in
Grammar-Free Journaling
which starts February 14th at
Big Picture Classes
. Because you're a Simple as That fan, you can
save $7 off of your registration with code RCGRAMMARFREE!
Code expires February 14, 2013.
GIVEAWAY!!
**Winner chosen according to random.org. Congratulations to Destiny!
Leave a comment on this post that shares your favorite grammar rule (ha!) and one winner will be chosen to join the Grammar-Free Journaling workshop for FREE.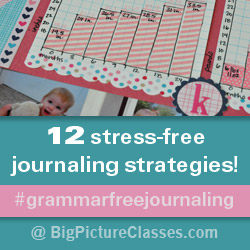 Who is This Angie Person?
Angie Lucas is the former managing editor of Simple Scrapbooks magazine, where she edited my book, Real.Life.Scrapbooking.
, back in the day. She's now the Editorial Director at BigPictureClasses.com, a mom of a 2-year-old, and a lifelong word nerd.