Healthy Earth Day Snack Cups – create these easy Earth Day snack cups and go green this Earth Day with these 10 healthy snack ideas! When you're done crafting and snacking don't throw these cute cups out! Use them to hold pencils and crayons or plant something in them!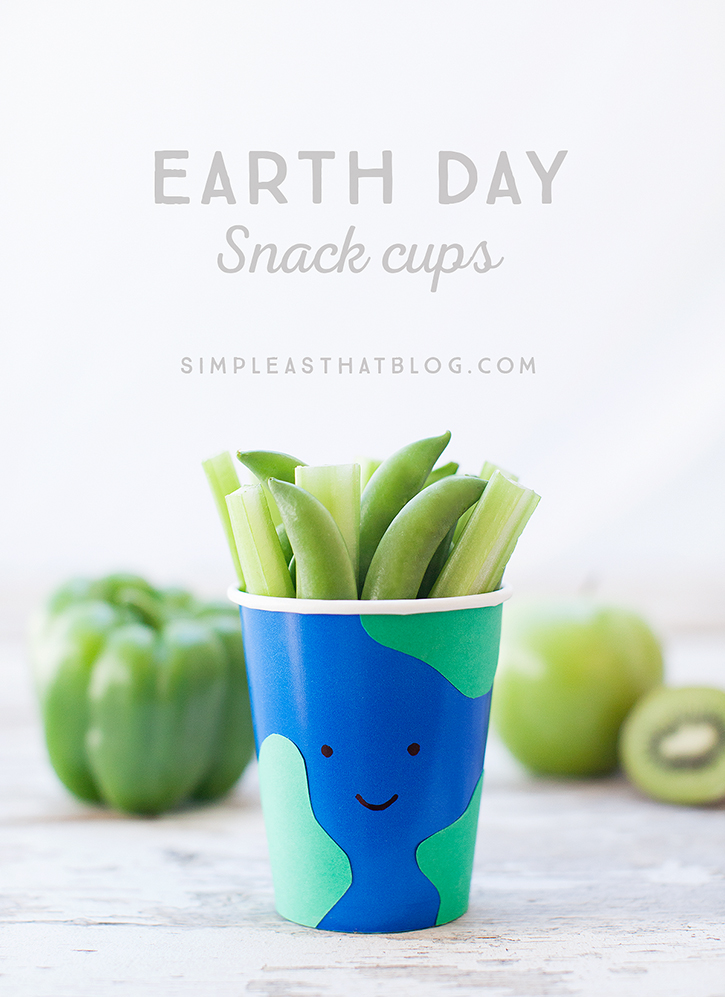 One item I always keep on hand for crafting with the kids – PAPER CUPS! They come in lots of fun colors and they're so inexpensive! Last week I shared how to make these Easy Earth Day Cups. You can get the quick how-to here.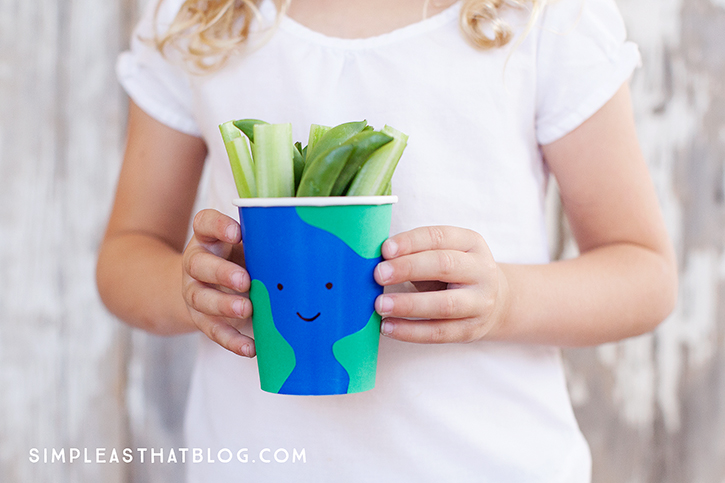 Not only are these cups perfect for Spring crafting, they also help encourage kids to eat healthy! Anything to make fruits and veggies fun and exciting for kids is a win in my book – this is an easy way to do just that!
What you'll need to make Earth Day Treat Cups
There are so many things you could use these fun cups for! Snacks are just more fun when you eat out of a cute cup! Here are a few more healthy things you could put in these Earth Day cups!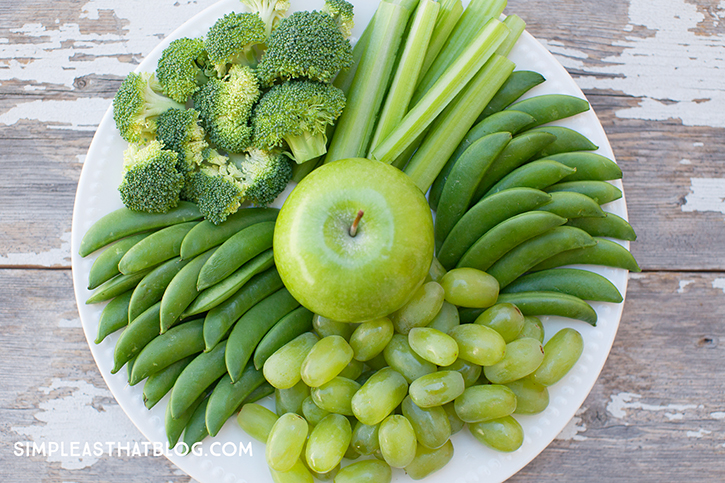 Healthy, Green Snack Ideas
Snap Peas
Cucumbers
Green Peppers
Brocoli
Pistachios
Green Apples
Celery
Green Grapes
Green Smoothie
Honey Dew Melon
Go Green!
Don't throw those cute Earth Day cups away when you're done snacking! Reuse your Earth cups to hold pencils or crayons, plant some herbs or small flowers in them or go on a scavenger hunt collecting nature treasures and keep them in your cup! There are all kinds of creative ways to use these cups for Earth day or ANY day!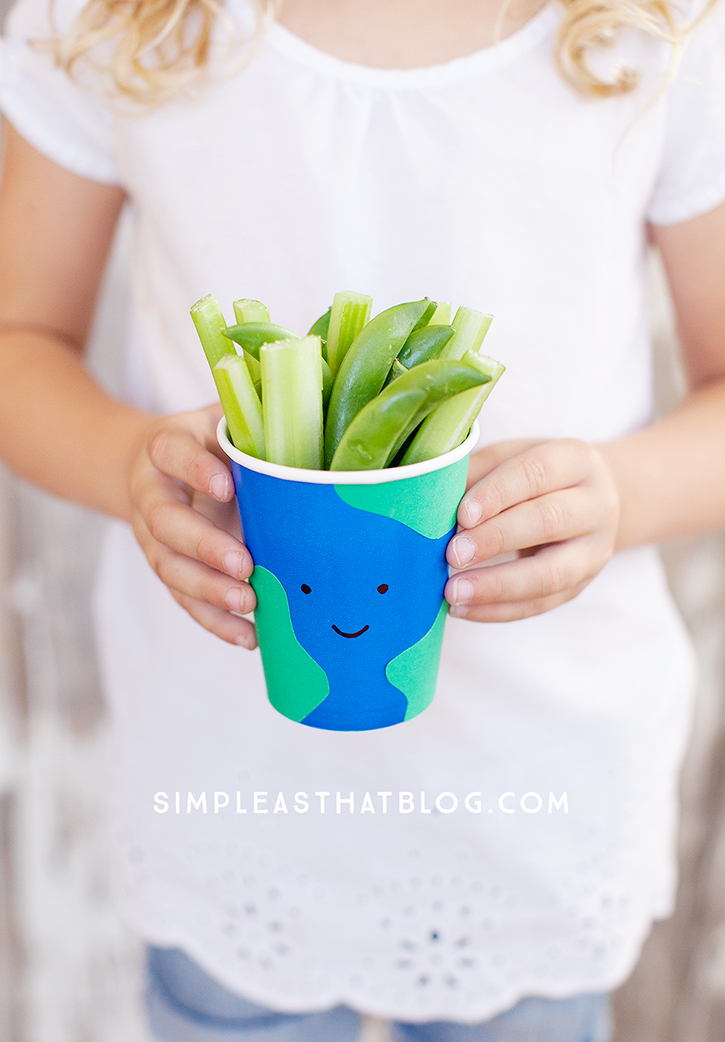 In case you haven't noticed, we've been busy creating all kinds of fun paper cup crafts! We just can't get enough of them! Paper cups come in such a wide range of colors and are available at craft stores, party supply shops or the dollar store. I always have them on hand because they're so fun to craft with. Check out our Christmas, Halloween and Spring paper cup crafts!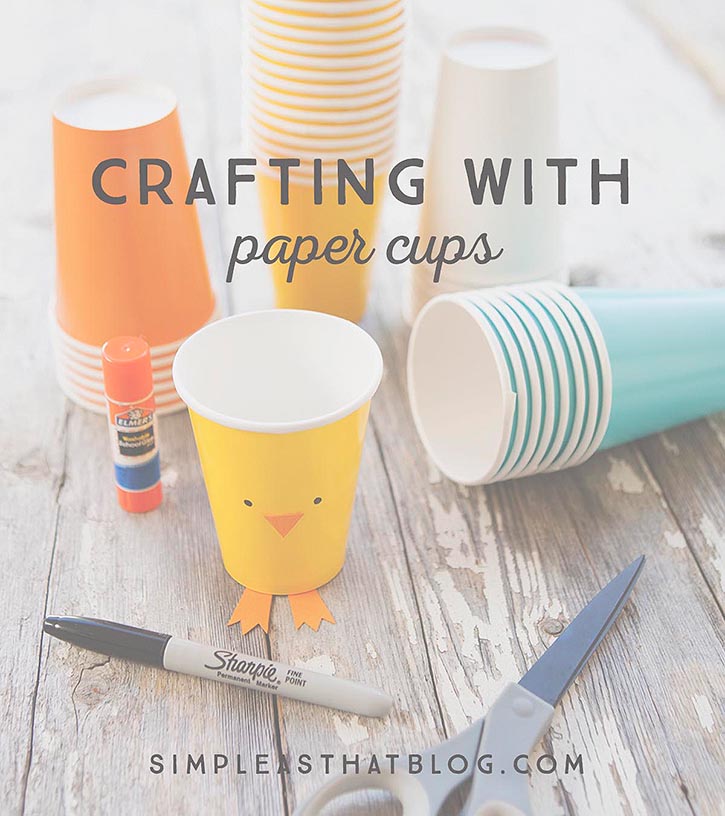 If you enjoyed this post you may also like…
25 Recycled Tin Can Crafts and Projects
Summer Photo Scavenger Hunt for Kids
5 Ways to Protect Kids Hair from the effects of Chlorine
Printable "Let's Pop it!" Popcorn Boxes