These healthy oatmeal blender pancakes are packed with protein, whole grains and fibre! The best part is, they taste delicious and are 100% kid approved! We love these for breakfast topped with our favorite fresh fruit!
When healthy tastes good you know you've found a winner! These oatmeal blender pancakes are something our whole family enjoys!  They're quick, easy and because they're packed with healthy ingredients, they're deliciously filling!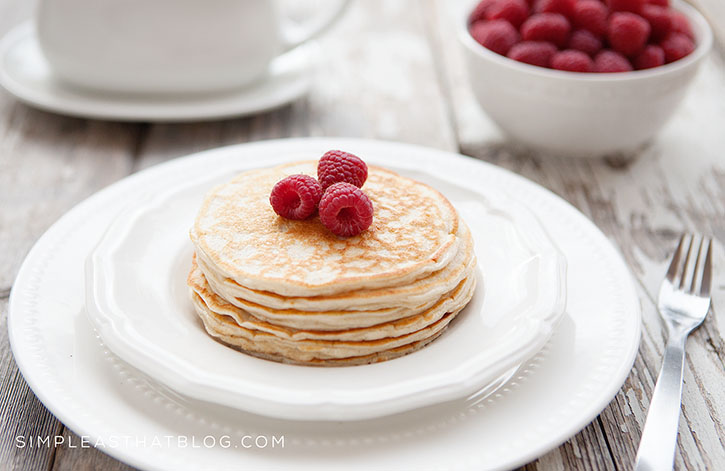 This recipe is prepared in the blender which means clean up is a breeze! We use our Vitamix when we make these pancakes and it does an amazing job! We use our Vitamix almost daily, it's an appliance we couldn't live without!

Low Carb Blender Pancakes
Ingredients
2 cups old fashioned oats
1 - 16 oz container (or 2 cups) low-fat cottage cheese
2 cups egg whites
4 tsp baking powder
2-3 tsp honey / sweetener
1 tsp vanilla
Instructions
Place 2 cups Old Fashioned Oats into blender and blend until they turn into a fine powder
Turn the blender off and add 1-16 oz container (2 cups) low-fat cottage cheese and 2 cups of Liquid Egg Whites
Add 4 tsp baking powder
-3 tsp sweetener - we use honey but you can use another favorite sweetener of your choice.
Add 1 tsp of vanilla.
Blend well.
Heat a nonstick griddle or frying pan over medium heat. Cook until browned on both sides.
Makes 18-20 large pancakes.
This recipe makes a family size batch of pancakes (about 18-20) so if you want less it's easy to half!
Recipe adapted from the Trim Healthy Mama.
I love the texture of these pancakes and I love knowing we're eating something good for us as we enjoy one of our favorite breakfast foods!
My kids love to top their oatmeal pancakes with nutella and bananas. I love raspberries, strawberries or syrup. Any way you like them, these pancakes are delicious and a great, healthy breakfast alternative that kids will love!
If you liked this post you might also enjoy…