Healthy Oatmeal Chocolate Chip Cookies – Even my kids can't tell these healthy cookies are gluten free and sweetened with honey! It doesn't get better than healthy dessert!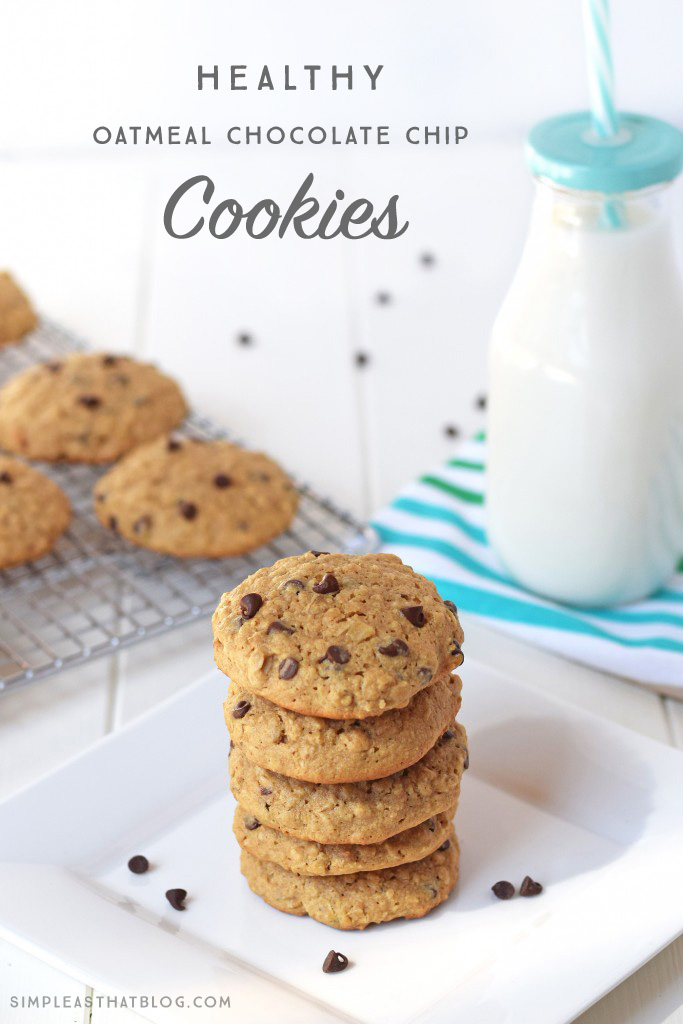 Hello! It's Tiffany from Feel Great in 8, I'm excited to be back today with another delicious, healthy recipe (that you'd never guess was healthy!). Seriously, even my kids couldn't tell that these Healthy Oatmeal Chocolate Chip Cookies are made without any flour or refined sugar!
That makes this the perfect mom recipe! I never want my kids to feel deprived or like they are missing out. I want to be the mom that has cookies waiting when they get home from school and I love baking with my girls. But, I also worry about making sure my kids eat plenty of healthy foods and don't overdoes on sugar.
Like I said, these cookies are perfect! Made with only real food ingredients – oats, honey, unrefined coconut oil, and natural peanut butter. I even used healthy dark chocolate chips and all my kiddos and their neighborhood friends devoured them!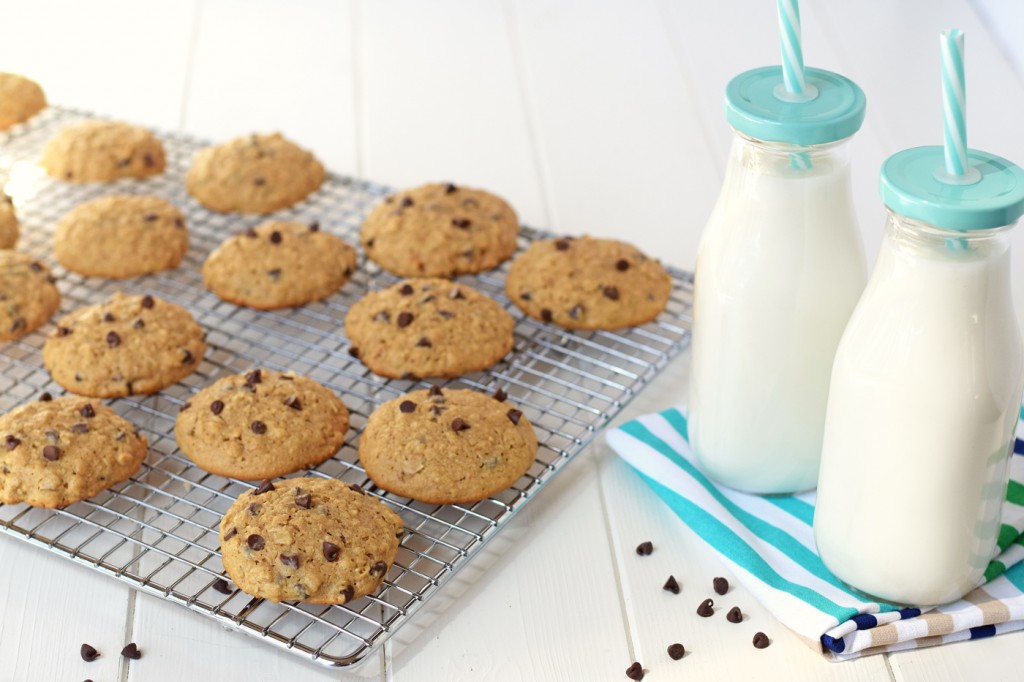 Before I share the recipe, there is one tip you need to make this recipe perfect. When you mix the dough, you'll add melted coconut oil. You can cook the dough immediately, but with the melted oil the cookies will end up flat as a pancake. If you're a fan of flat cookies (my husband loves them), go ahead and cook the dough right away. But, if you prefer fluffier cookies, you'll want to chill the dough for 30-45 minutes first.
I will usually make one pan immediately and let the other half of the dough chill for a bit. Flat cookies for my husband and fluffier cookies for me. The kids love them either way. 🙂
After you try these awesome healthy cookies, come back and try some of my other favorites! 
3 Ingredient Peanut Butter Banana Cookies
Healthy Dark Chocolate Fudge Drop Cookies
Chocolate Chunk Banana Oatmeal Cookies
Healthy Oatmeal Chocolate Chip Cookies
Healthy Oatmeal Chocolate Chip Cookies - Even my kids can't tell these healthy cookies are gluten free and sweetened with honey!
Ingredients
1 cup oat flour (grind oats in the blender until flour consistency)
⅔ cup old fashioned oats
⅓ cup quick oats
1½ teaspoon baking powder
½ teaspoon salt
1 tablespoon cornstarch
½ cup honey
¼ cup natural peanut butter
1 egg
4 tablespoons unrefined coconut oil, melted
1 teaspoon vanilla
½ cup mini chocolate chips
Instructions
In a medium bowl mix together the oat flour (ground oats), old fashioned oats, quick oats, baking powder, salt, and cornstarch.
Add the honey, peanut butter, egg, coconut oil, and vanilla. Stir until well combined. Add the chocolate chips and mix well.
Refrigerate the dough for 30-45 minutes.
Preheat the oven to 3325 degrees F and line a baking sheet with parchment paper or a baking mat.
Spoon out 1-2 tablespoons of dough and make a ball with your hands. Lightly flatten the dough and place it on the baking sheet. Repeat with the remaining dough. Bake cookies for 10-12 minutes or until they are light brown. Let cool on the baking sheet for 5 minutes before removing to finish cooling on a wire rack.
Notes
To ensure that these cookies are gluten free, make sure to check that each ingredient is gluten free.
Recipe adapted from Bless This Mess Please