How to hang a photo gallery wall the easy way – I'm sharing the secret! Create a beautiful gallery wall with this no-hassle hanging trick!
We moved 6 months ago and it's taken me this long to actually hang a few photos on the walls. We're in a less-than ideal rental house for the time being and I've really struggled with making this house a home. This months Michaels Makers challenge was just the push I needed to start embracing this house and add a few personal touches to the walls.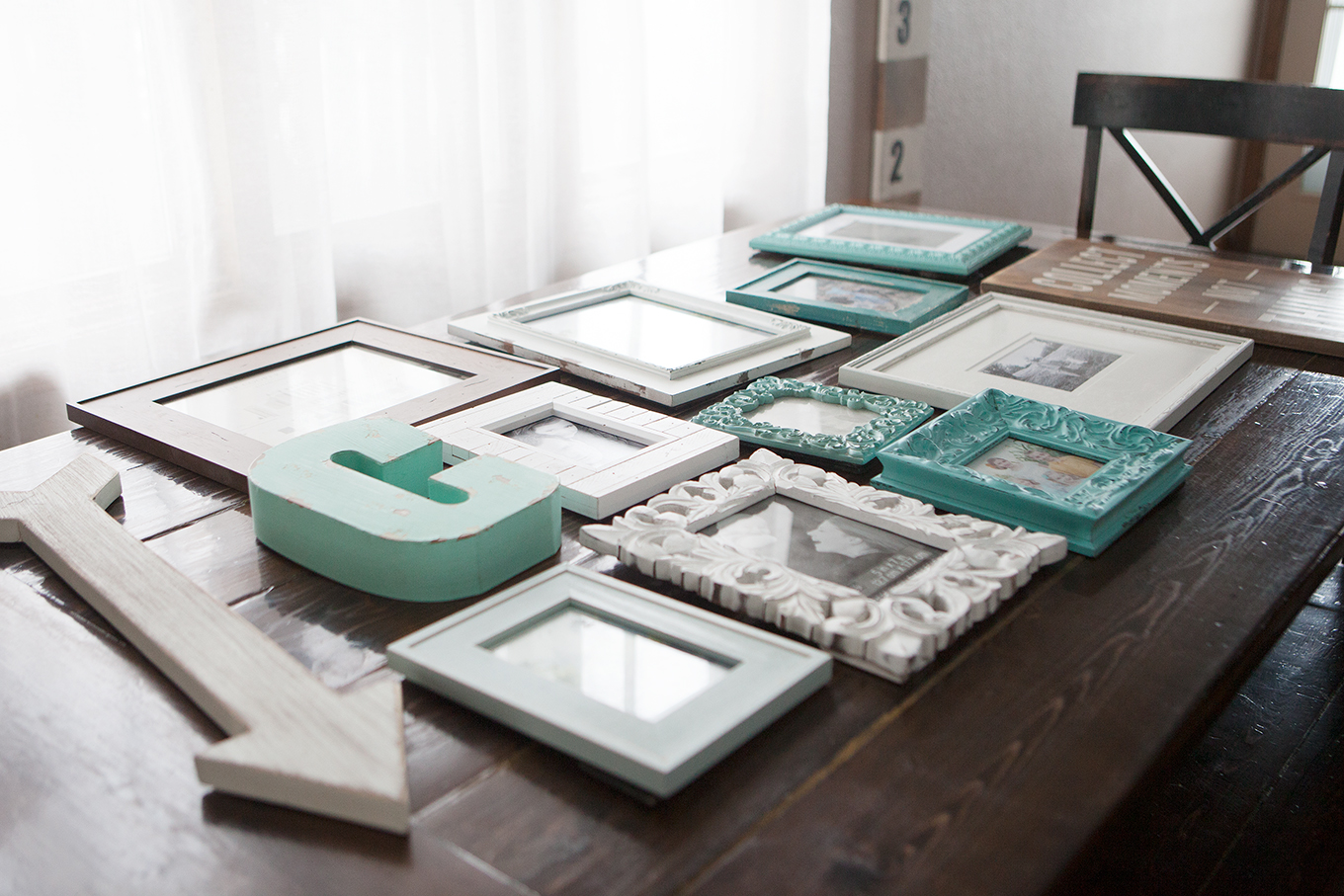 Being in a rental I want to be extra careful when it comes to hanging things on the walls. We don't want to do any unnecessary damage. We're also here temporarily so up until this point I've been reluctant to invest in hanging anything knowing that we're going to move again. I realize that waiting to decorate and hang a few things on the walls was holding me back from embracing this house and all of its quirks. Hanging these photos was just what I needed to help make this house feel more like a home.
How to Hang a Gallery Wall the Easy Way
Below I'm sharing instructions on how I made this gallery wall work for me in a rental house and how I was able to hang it quickly and easily without any help! I don't know why I put this project off for so many months because it has been the perfect addition to our home decor. We got all of our supplies at Michaels Craft Stores except for the wooden arrow and the Collect Moments Not Things sign.
Supplies
Command™ Medium Picture Hanging Strips
Photos and Photo Frames
A Level
Instructions
Step one is to select your photos and frames. I decided on a variety of family photos, a shot of my husband and I and a favorite photo of the kids. I went to Michaels to choose a number of coordinating frames. Once I had my photos in the frames I started arranging the frames on the floor in front of the wall I would be hanging them on so I knew how much space I had to work with.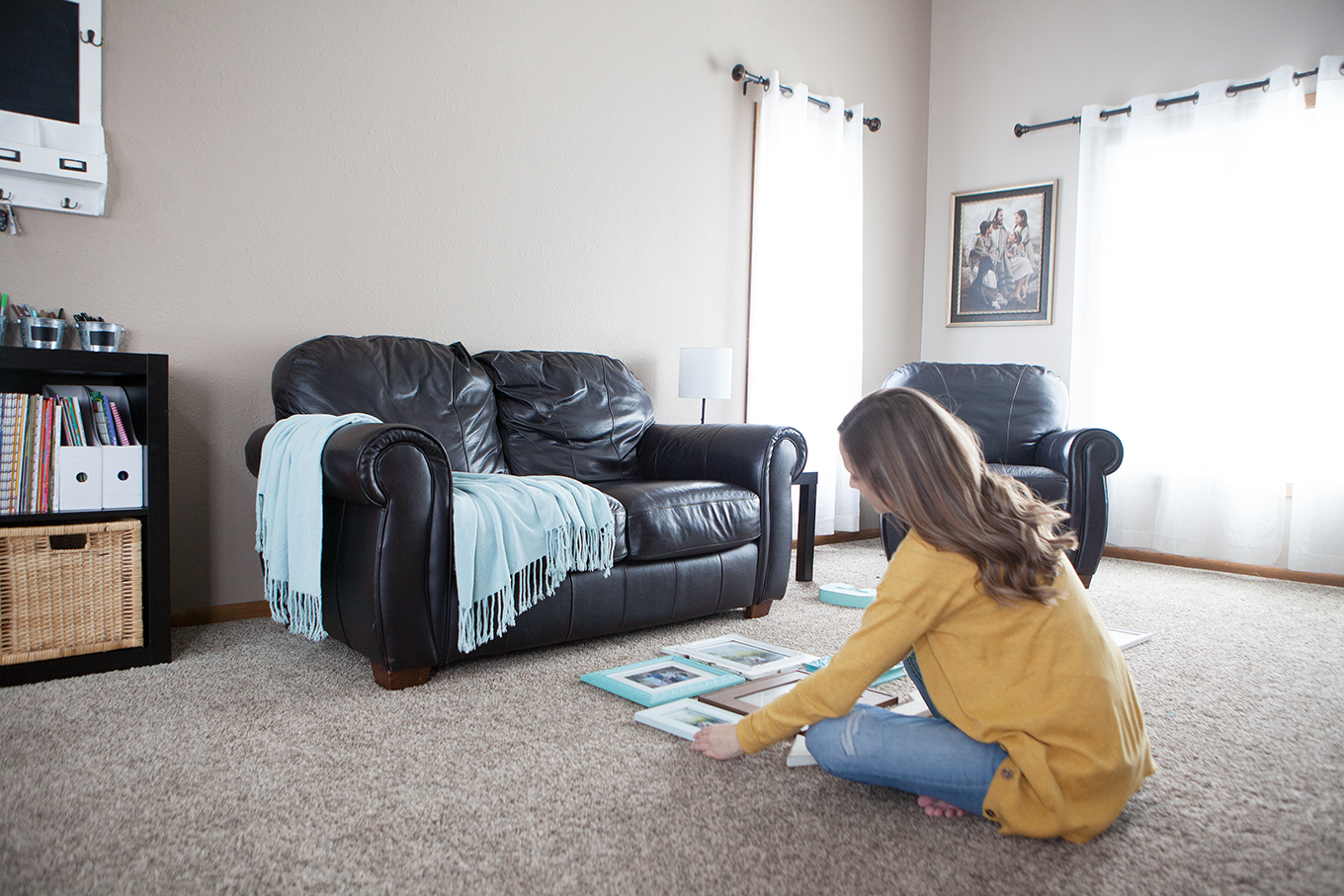 I spent a few minutes deciding on a configuration for the frames. Once I knew where my frames would be placed in relation to one another I was ready to start hanging. This is the part of the process that has always intimidated me! My husband typically does this sort of thing but a demanding work schedule means he couldn't help with this project, so I was on my own.
The Secret to Hanging a Gallery the Easy Way
I decided to hang these frames the easiest way possible – no holes, nails or tools of any kind! I used Command™ Medium Picture Hanging Strips and you guys, they're amazing! It has never been so quick and simple to hang frames. I'll be using these to hang everything in our house from now on!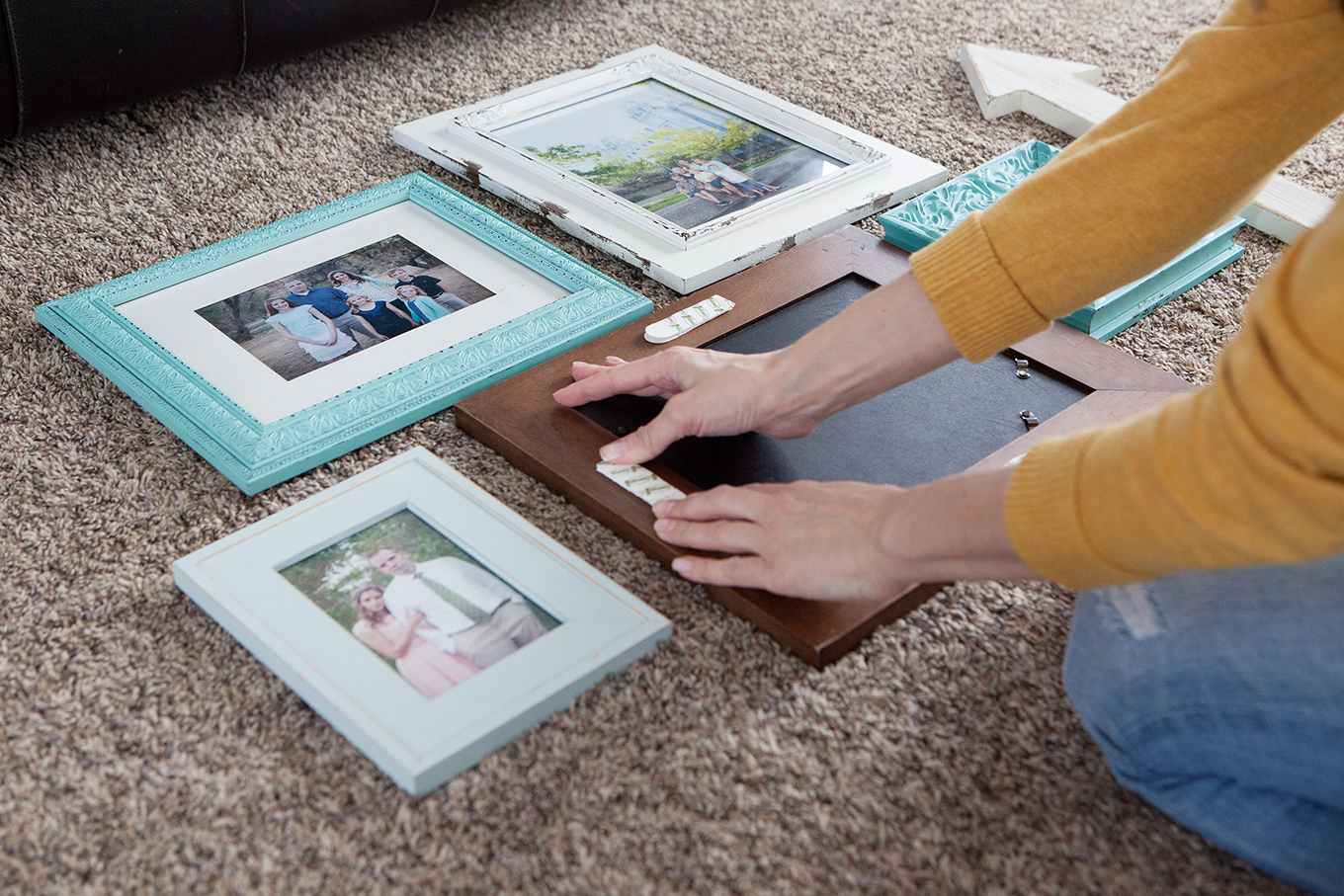 The first thing you need to do is clean the surface where you'll be hanging the frames. Next, separate the command strips and then take a set of two and press the fastener sides together until they snap. Now remove one of the green liners and adhere the command strip to the frame. Use as many command strips on the frame as you need, I used four per frame.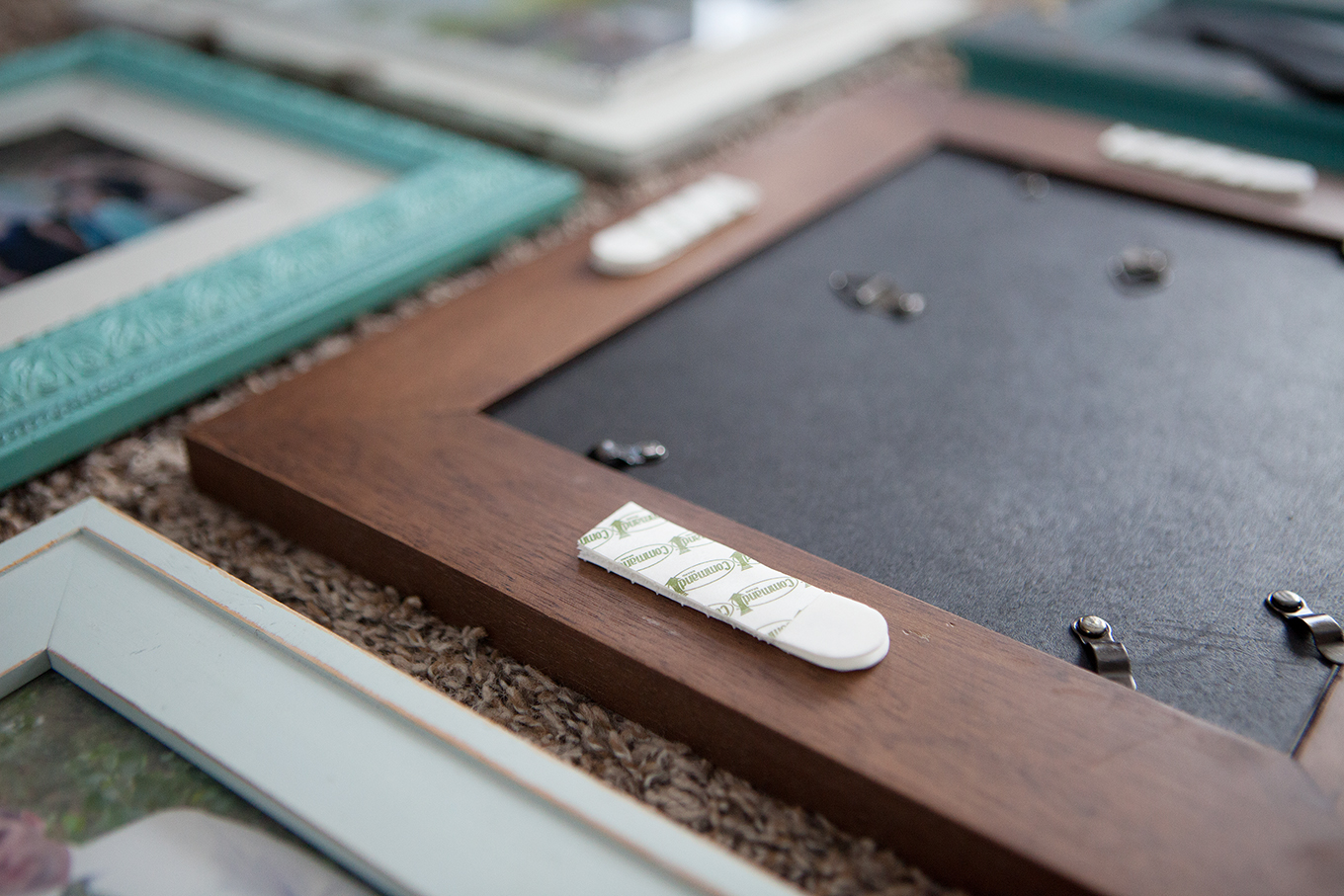 Now remove the rest of the green liners and prepare to place your first frame on the wall. I started with the arrow in this configuration as a base. I positioned it on the wall, centered it above the couch and checked it with the level. I then pressed it firmly against the wall and held for 30 seconds. I repeated this with the remaining frames in the gallery and it only took me a few minutes. It was easy to reposition any frames I needed to and I'm confident with how secure the frames are on the wall.
I'm so pleased with how this little cluster of frames looks. It really brightens up our living room and is helping to make this house feel more like a home! Another bonus of using these command strips is that when it comes time to move again they peel off the wall easily leaving no holes.
If you enjoyed this post you might also like…
Budget Friendly Family Command Center
Refreshing your Home with Michaels
Refreshing your home for spring is as easy as swapping out a few décor pieces or adding pretty faux florals. Michaels has everything you need to get started! Looking for more inspiration?
Make sure you visit Michaels' blog, The Glue String, to see the rest of the Michaels Makers' Spring Refresh project ideas.