How to Make a Floral Headband – create your own beautiful floral headbands with a few simple steps. Use as a photo prop, for a special occasions or to dress up any outfit! 
As a mom of three girls I've grown quite the collection of hair accessories over the years. I love to make my girls headbands and clips – it's less expensive than buying them and I can customize the colors to their different outfits.
Michaels has such a gorgeous collection of Spring florals and I wanted to create my girls some beautiful floral headpieces. I also wanted them to be comfortable to wear so we tried our hand at making our own and they turned out beautifully! Below you'll find a quick tutorial on how to make your own!
Materials
Spring Florals
Glue Gun / Hot Glue
Scraps of ribbon or lace
Elastic
Felt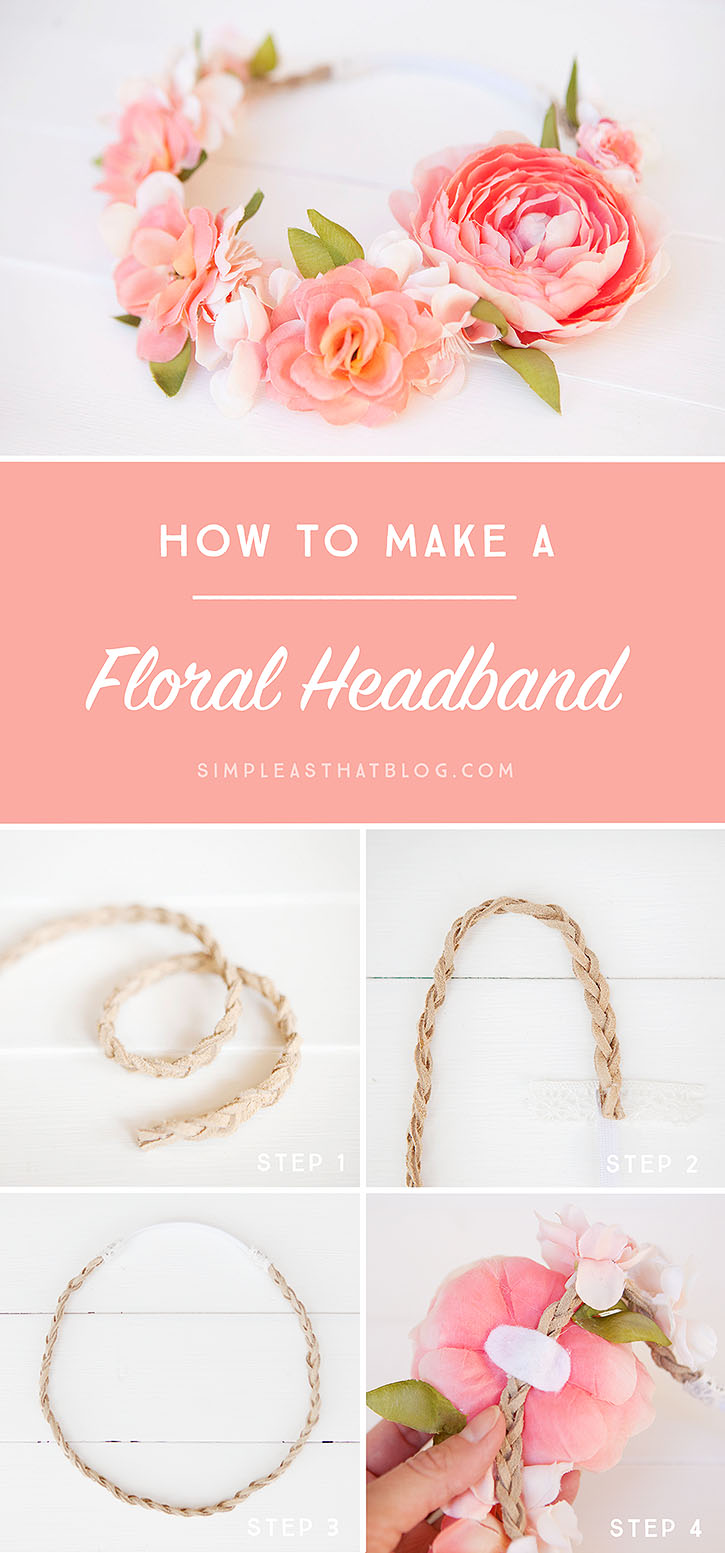 Step No. 1
First step is to create the backbone of the headband. First, hot glue three pieces of leather suede cord together. Braid them together until they're the length that you need for the headband. Make it about 1-2 inches shorter than the circumference of the person's head that you're making it for. Once your braid is complete, hot glue the three ends together. Trim off any excess pieces.
Step No. 2
Attach a short piece of elastic to the ends of the braided piece. This will make the headband stretchy and more comfortable to wear. If you're making it for a smaller child it will also allow the headband to grow with the child. Hot glue the elastic to each end. Wrap a small piece of ribbon or lace around the ends of the elastic and the braided pieces hot glue together to secure.
Step No. 3
Now that the headband is finished it's time to add your flowers. Remove flowers from their stems. Attach largest flowers first, if needed you can secure them to the headband by hot glueing on the front and also attaching a small piece of felt ot the back to secure it from the back.
Step No. 4
Continue around the rest of the headband glueing flowers and leaves until the headband is as full as you'd like.
Michaels new Floral Market has over 500 new blooms and freshly picked projects make this the prettiest spring ever.
Just by swapping out a few décor pieces or adding a lovely floral arrangement can completely transform your home for the fresh, new season.
If you don't know where to begin, you can always take a look at some of the fun projects on Michaels.com or the other 49 Makers' ideas on The Glue String for to see how they personalized their crafts!
You could win a Trip to the Makers Summit!  The event last year was amazing and it would be so fun to see YOU there!