Back in January the kids and I went on a little ice fishing trip with my family. It was such a fun day and I've been meaning to get these pictures blogged for the longest time!
Get ready for photo overload…
Our ice fishing adventure took place at Pine Coulee reservoir just North of where I grew up in Alberta, Canada. My brother Chris is the fishing expert in the family and invited us all out for the day.
He had all the fishing equipment and all we had to do was show up to enjoy the day. Thanks again Chris, you're the best! The day started off a little cool, the wind was blowing, but we all huddled up in the fishing shelter to stay warm. Keeping busy toddlers from getting their feet wet in the holes in the ice kept us busy.
Early on in the day we caught the one and only fish we saw. Wouldn't you know, as soon as the kids and I left the fish really started to bite! 😉
This is one of my favourite shots from the day. My brother Chris and their little two year old son Jaxson.
The kids all got to try fishing, there was sledding and plenty of warm hotdogs to eat for lunch.
Emily loved clearing the fishing holes and trying to catch a fish.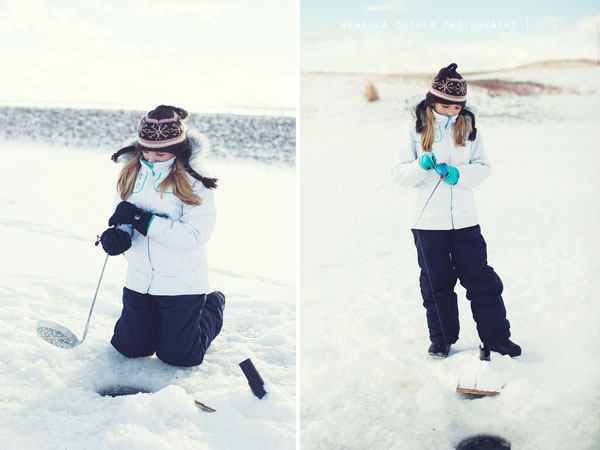 When the day started out I thought we were going to freeze but we managed to stay pretty warm between the fishing shelter and multiple cups of hot chocolate. The wind eventually died down and it turned out to be a beautiful day! Once little miss had had enough we decided to pack it up and head home.
We seriously had so much fun! My kids were in heaven in the snow and I didn't freeze….very much. 😉 I had so many layers on and hand/feet warmers in my mittens and boots so I was actually pretty toasty. Yay for ice fishing adventures, yay for playing in the snow and yay for time spent with family!