Melted Crayon Rock Art – looking for something fun to do this afternoon with the kids? Let them get creative with crayons and hot rocks! It's easy, you're sure to have the supplies on hand and you're kids will be amazed with the results!
I find the Summer to be such a perfect time to make things with the kids. I love that our open schedule allows more creative time and that if we want to, we can even take our creative mess outside. I've been wanting to try this melted crayon rock art for some time now and I'm so glad we did! It turned out to be a lot of fun and it was much easier than I thought it would be!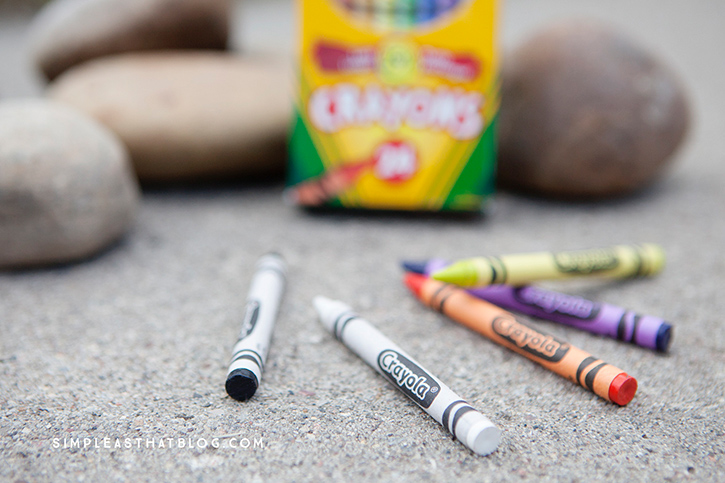 What you'll need
Crayola crayons
Smooth, round rocks
Baking sheet lined with tinfoil
Oven mitts and/or hot pads
Newspaper to keep your work surface clean
Your oven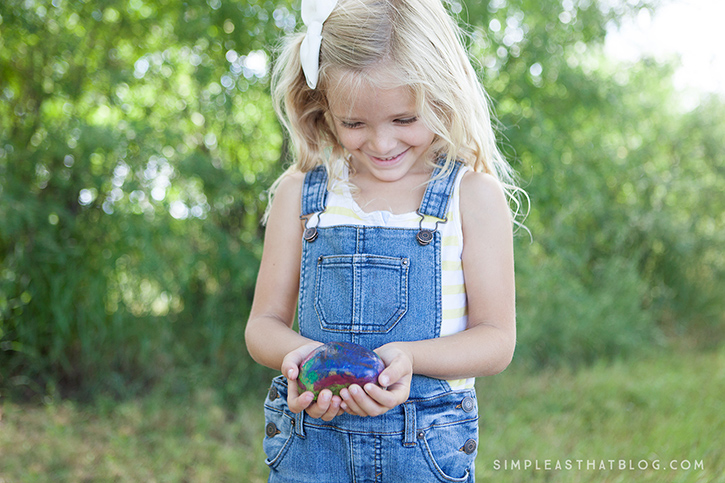 How to make Melted Crayon Rock Art
1. Gather some smooth, medium size rocks to use. Hunting for rocks around my parents farm was half the fun of this little project!
2. Give the rocks a quick wash!
3. Line a cookie sheet with tinfoil, place the rocks on it and put in the oven at 350 degrees for 10-15 min.
4. While you're rocks are baking take a minute to peel your crayons. Hint: Crayola's glitter crayons would be so fun for this project!
5. Once your rocks are done carefully remove them from the oven and place on a covered, heat-proof work surface using an oven mitt. We did our melted crayon rock art outside on the sidewalk!
Caution: make sure children understand NOT to touch the rocks. They are very hot! This is an activity that requires adult supervision. 
6. Now comes the fun! Use your peeled crayons to draw on the hot rocks! My kids were absolutely delighted by this process – I was too!
7. Once you're done creating your little works of art let the rocks cool completely before handling.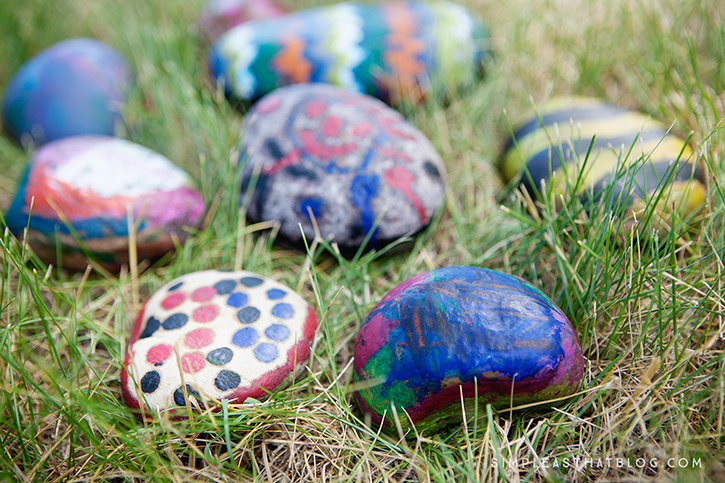 Michaels Big Brand Sale
It was so fun helping Michaels celebrate their Big Brand Sale, which launches next week, and getting to create a project using product from a brand that I love! We use Crayola products all the time when we craft!  They're great for keeping the kids occupied at home and to bring art-inspired learning into the classroom at school!
Michaels carries all kinds of Crayola products for your next project in stores and on Michaels.com – and the best part, all Crayola product is on sale from 8/2-8/8 – just check out the Big Brand Sale for more details.