Mixed Berry Cream Cheese Muffins are bursting with fresh strawberries, blueberries, and raspberries…as well as a surprise swirl of cream cheese filling!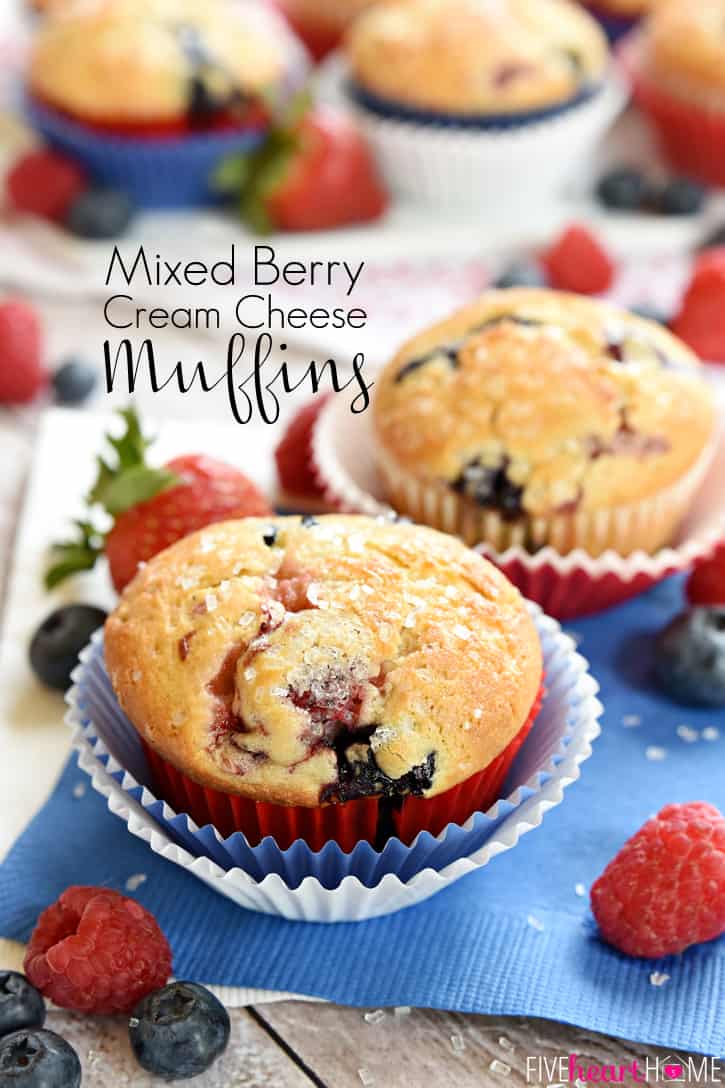 Hi there, fabulous Simple As That readers! It's Samantha from Five Heart Home, and I'm thrilled and honored to be here today! As a little intro, I live in Texas with my hubby, our two energetic boys, and our sweet baby (okay, toddler) girl. The days are crazy but the love is plenty between the five hearts that make up our home! And when I'm not wrangling kiddos, I'm sharing quick and easy, family-friendly, real food recipes (plus the occasional free printable) over on my blog!
Muffins just so happen to be one of my favorite things to make…and share…and eat! So I thought it would be fun to bring over one of my latest muffin creations…these tender, mouthwatering Mixed Berry Cream Cheese Muffins. And yes, they're as good as they sound! 😉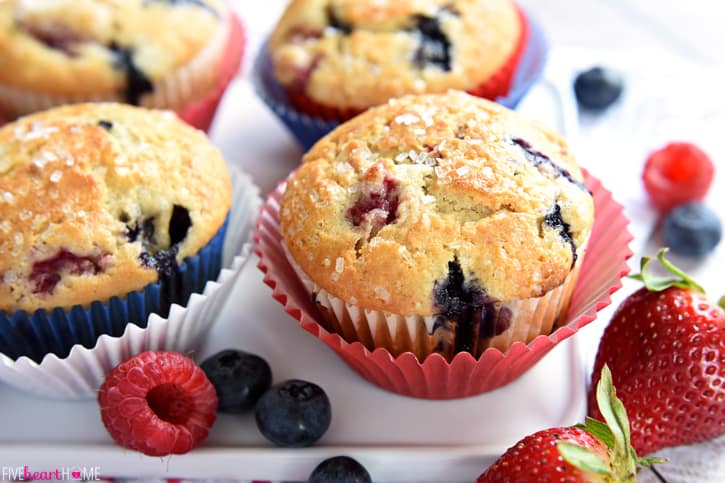 Basically, I took my favorite Classic Blueberry Muffins and decided to jazz them up a bit. It's such a simple, delicious recipe to begin with, and I make it year-round using fresh or frozen blueberries. But since fresh berries will be sweet and plentiful for the next few months, I decided to mix things up by incorporating strawberries, blueberries, and raspberries into my beloved muffins (blackberries would be tasty, too!). And then, to further elevate things a notch or three, I added a dollop of sweetened cream cheese to the center of each muffin. Yum.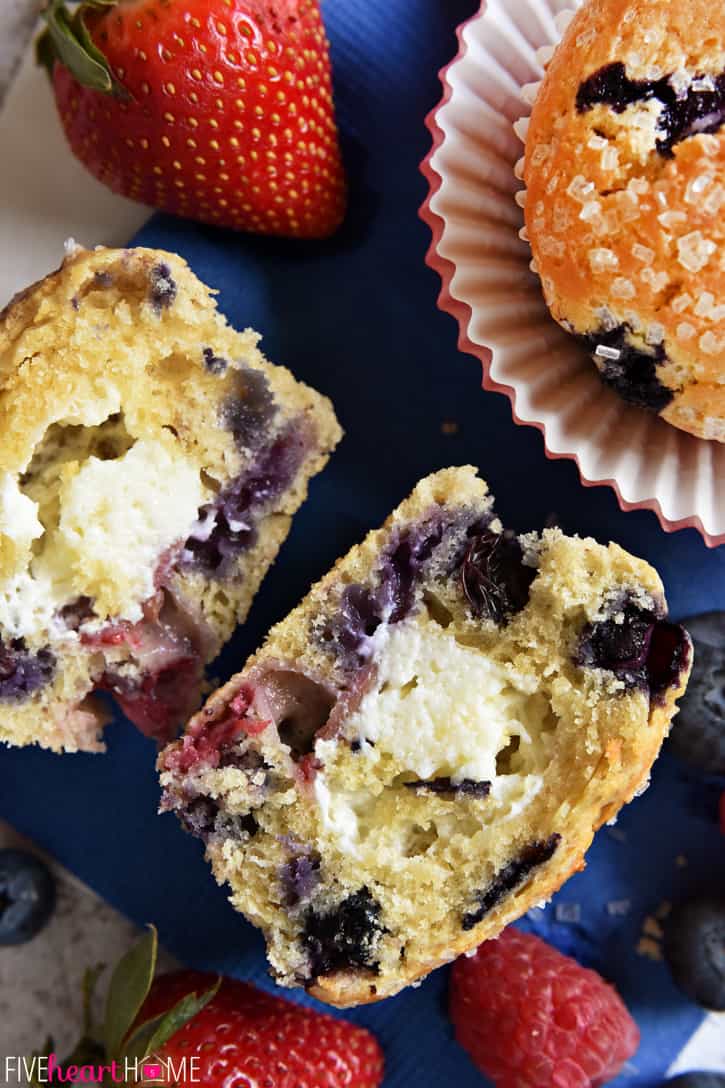 The resulting baked treat is loaded with juicy berries, and the cheesecake-like center is such a fun, decadent surprise. While you could certainly top these muffins with your favorite streusel or crumb topping, I decided to keep things simple with a sprinkling of crunchy sparkling sugar. You can't beat easy, pretty, and sweet!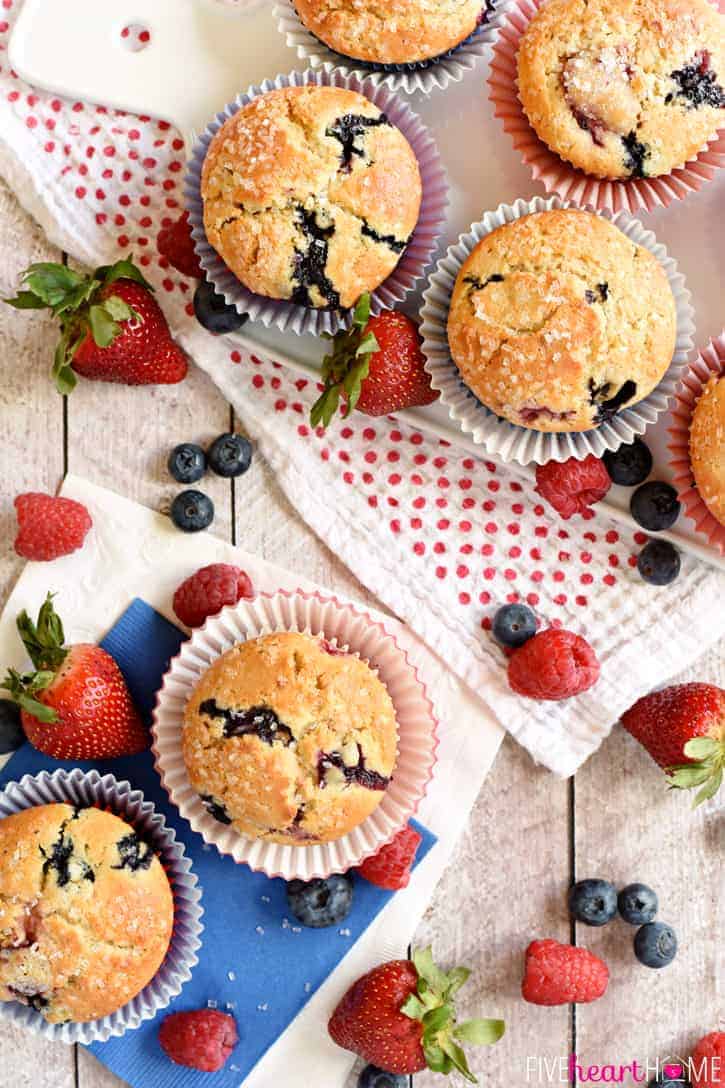 Muffins make such a great, grab-n-go breakfast or snack, and this batch sure didn't last long at our house. As a bonus, my offspring were none the wiser that I added a wholesome touch to this recipe by using whole wheat pastry flour. In fact, these muffins are so light and fluffy that nobody would ever suspect they include whole wheat!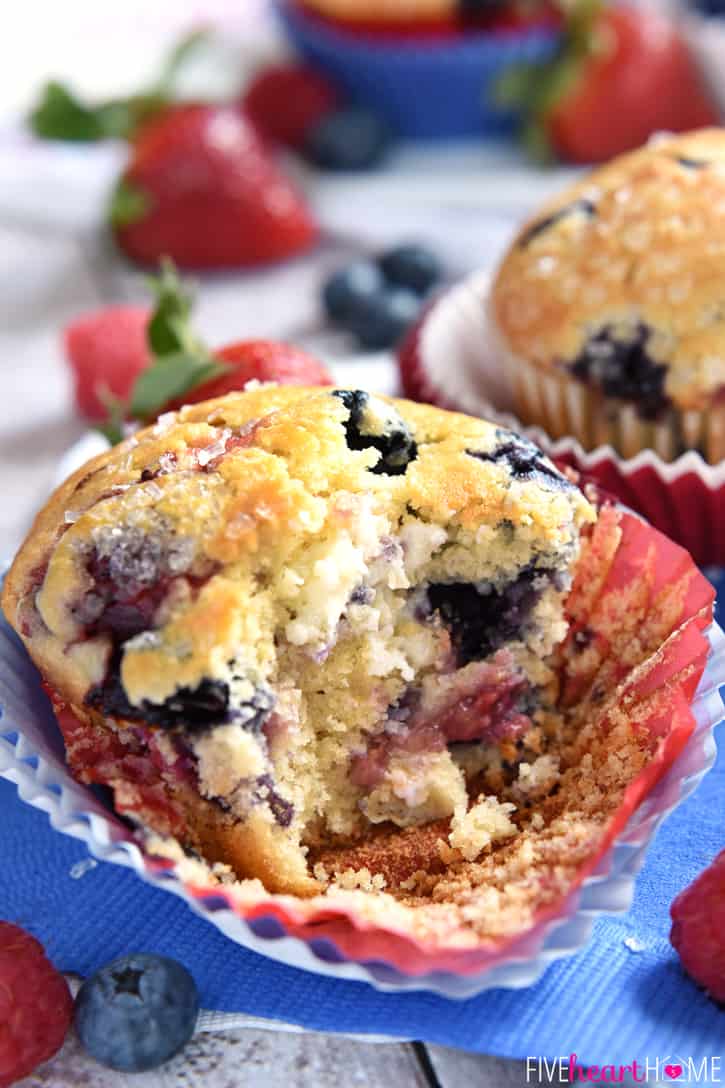 So who's ready to get baking? I hope you have a chance to try these Mixed Berry Cream Cheese Muffins soon, and I hope they're a big hit if you do!

Mixed Berry Cream Cheese Muffins
Ingredients
3 cups flour (all-purpose white flour OR whole wheat pastry flour OR half of each)
1 cup sugar
1 tablespoon baking powder
¾ teaspoon salt
½ cup (1 stick) butter, softened
2 eggs
1 cup milk
1½ teaspoons vanilla
2 cups mixed berries (such as blueberries, strawberries, raspberries, and/or blackberries), fresh OR frozen
4 ounces cream cheese, softened
2½ tablespoons sugar
Sparkling sugar, for sprinkling on top (optional)
Instructions
Preheat oven to 400°F. Line 18 muffin cups with paper liners.
In a large bowl, whisk together flour, 1 cup sugar, baking powder, and salt. Work in the softened butter with an electric mixer or fork, until butter is in tiny bits, similar to coarse sand. Blend in the eggs, milk, and vanilla until all ingredients are incorporated, but do not overbeat. Gently fold in the berries.
In a small bowl, mix together softened cream cheese and 2½ tablespoons sugar until smooth and blended. Set aside.
Scoop a heaping tablespoon of batter into each prepared muffin cup, adding just enough that the bottom of the muffin liner is covered. Add a small dollop (about a teaspoon) of cream cheese mixture to the center of each muffin cup. Top cream cheese with another spoonful of batter, evenly dividing the remaining batter between the muffin cups. If desired, sprinkle the top of each muffin with sparkling sugar.
Bake for 20 to 25 minutes or until muffins just test done with a toothpick, taking care not to overbake. Remove muffins from pans and cool on a wire rack, or eat warm out of the oven.
Tips and Tricks
I've had good results baking this recipe with both white flour and whole wheat pastry flour, or a combo of the two. Whole Wheat Pastry Flour is 100% whole wheat, but it lends quick breads a lighter taste and texture, more akin to that achieved by using white flour.
I always like to make sure that the eggs and milk are somewhat at room temperature so that they don't chill the butter and cause little lumps when I mix them in.
If you use frozen berries, don't thaw them first….doing so will just make them all mushy.
Stop By Five Heart Home
I'd love to have you stop by Five Heart Home sometime for more recipe inspiration, or connect with me via the social media links below! Thanks again to Rebecca and all of her lovely readers for having me today. 🙂
Facebook  |  Google+  |  Pinterest  |  Twitter  |  Instagram  |  Bloglovin'
In the meantime, here's one of my family's favorite dinner recipes… 😉
King Ranch Chicken Casserole {with no 'cream of X' soup}