More than 40 Easy Elf on the Shelf Ideas — a bank of more than 40 easy Elf antics to help you keep this tradition stress-free and fun!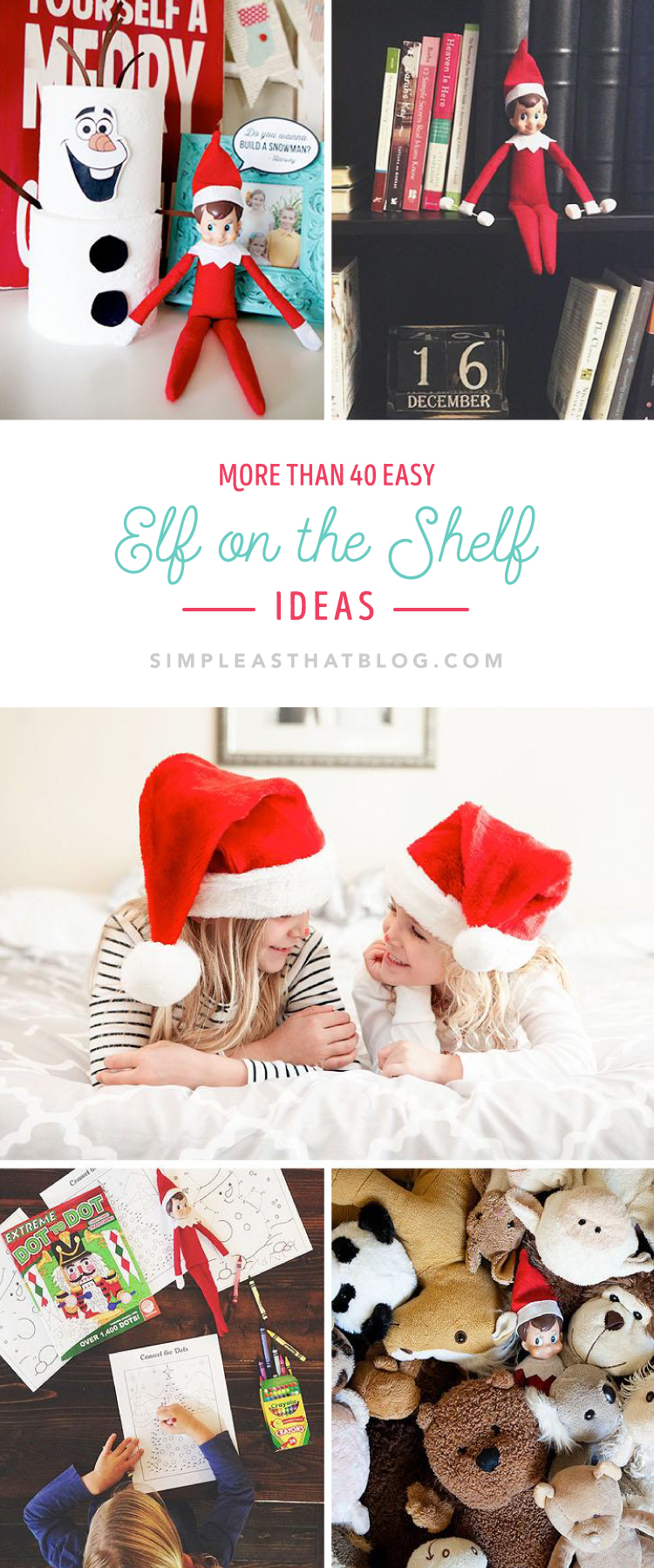 Today I'm sharing 40+ simple Elf on the Shelf ideas to incorporate into your December activities without overextending yourself. I love this tradition and my kids do too, but the only reason I continue to love it is because I keep it EASY. Nothing too messy, nothing over the top… The Elf isn't the center of our Christmas activities; he's just a fun addition.
Our kids light up each morning as they go see what new place our elf, Harvey, is hiding. He repeats some of his same silliness year after year — and that's ok. The kids look forward to seeing if or when he'll do some of the things he did the year before. I've even noticed that throughout the year, they often reminisce about Elf's antics that made them laugh. That's how I know it's a tradition that — for us — is worth keeping. It brings our kids joy that they remember all year long.
That said, the moment it becomes a stress or a burden for me, that's when I take a step back and return to the basics on this tradition.
My Advice On Keeping Elf on the Shelf Easy and Fun
Plan ahead – this Elf Planning Calendar and resource list is great!
Don't feel like you need to reinvent the wheel. It's ok to repeat what your Elf has done – in fact, kids look forward to his usual tricks!
Incorporate Elf's antics into holiday traditions you already do in December.
Here's a big bank of EASY, stress-free Elf on the Shelf ideas that I've used over the past three years — to help us all get a jump start on this tradition and to keep it simple!
50+ of the Easiest Elf on the Shelf Ideas Out There
Elf sends the kids on a scavenger hunt for Christmas tree ornaments.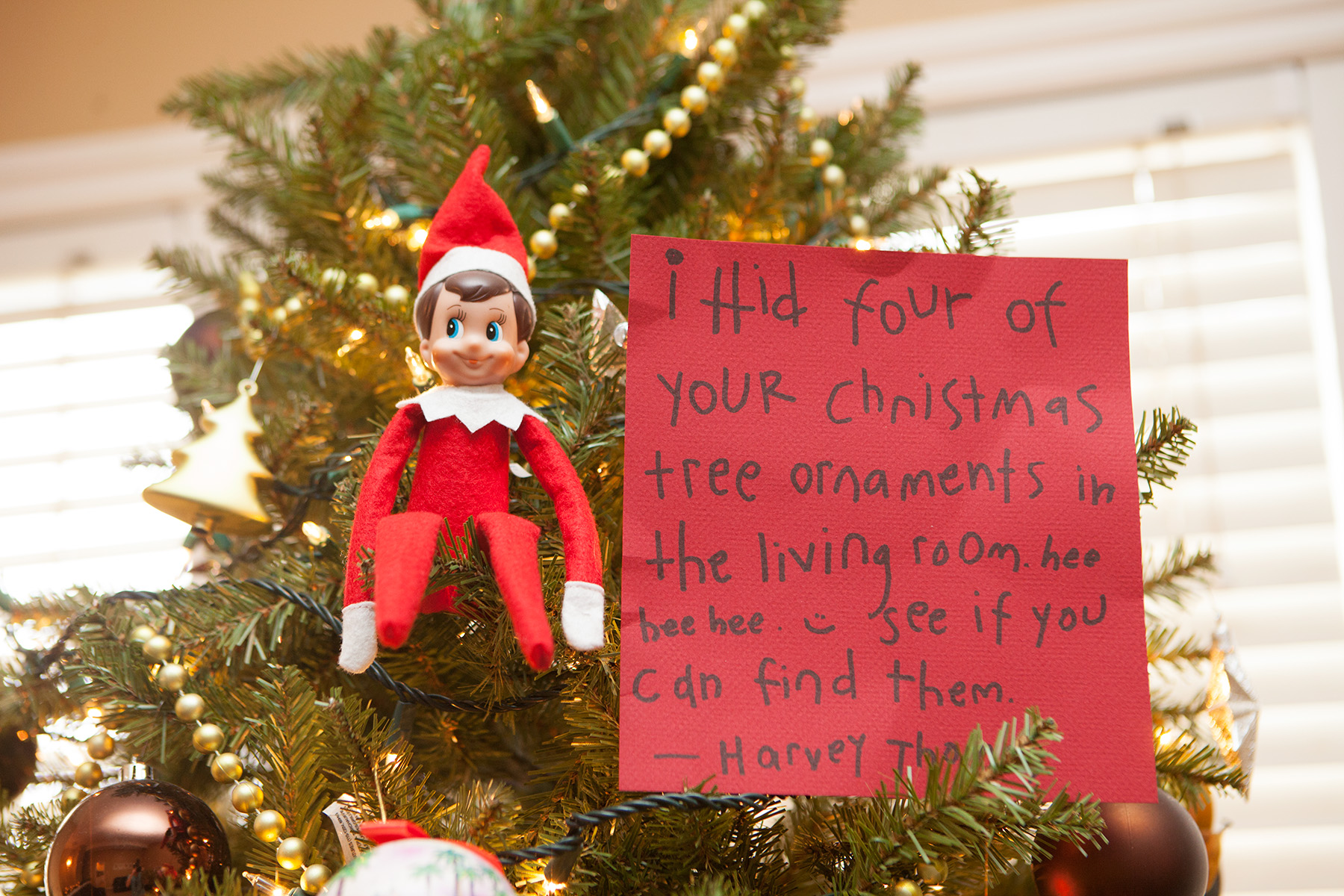 Elf draws silly faces on framed photos with dry erase marker.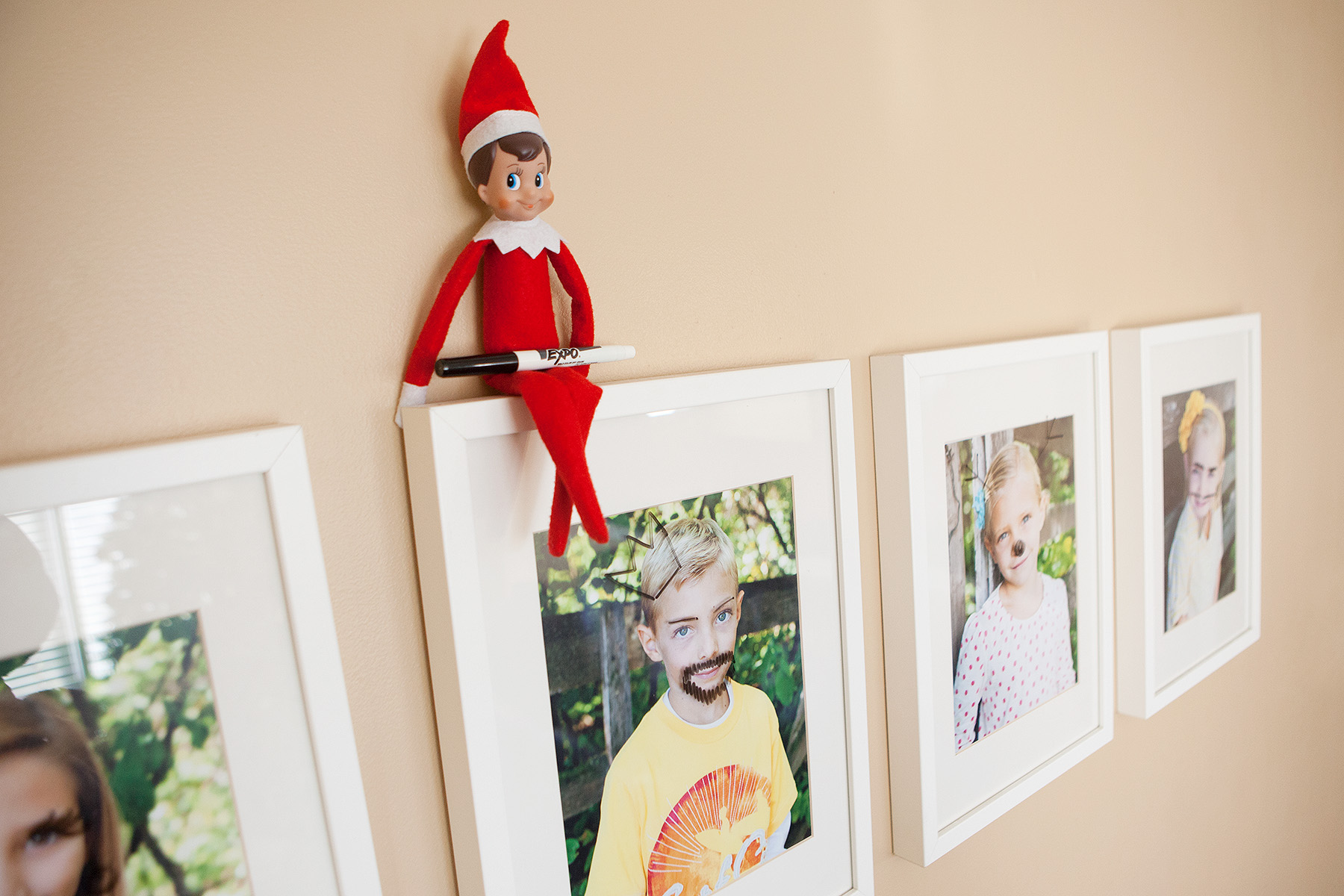 He toilet papers the tree!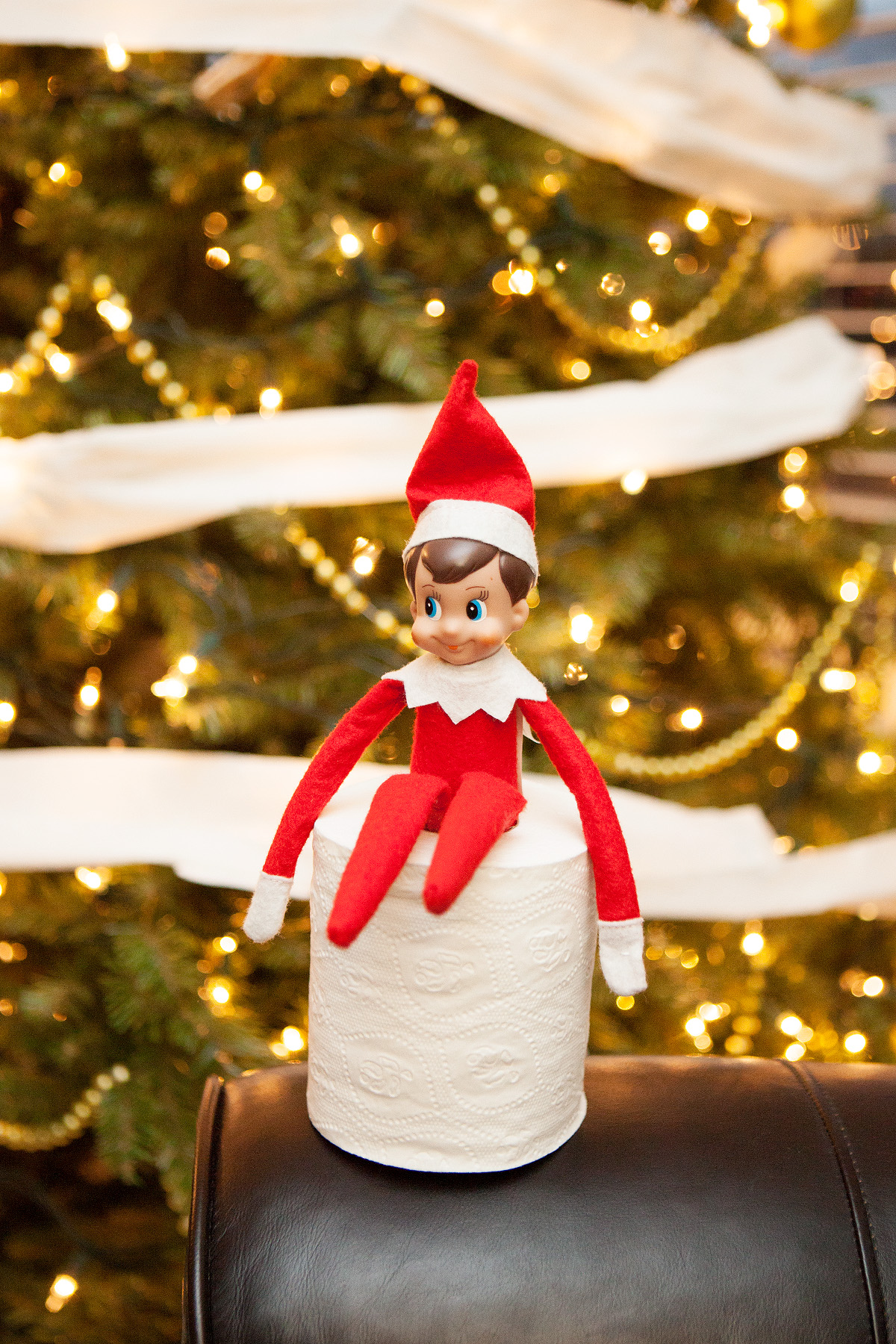 He reads the story of the first Christmas to the nativity people.
Elf…
Brings a new Christmas puzzle for the kids!
Hides in a child's backpack for them to find on their way out the door to school.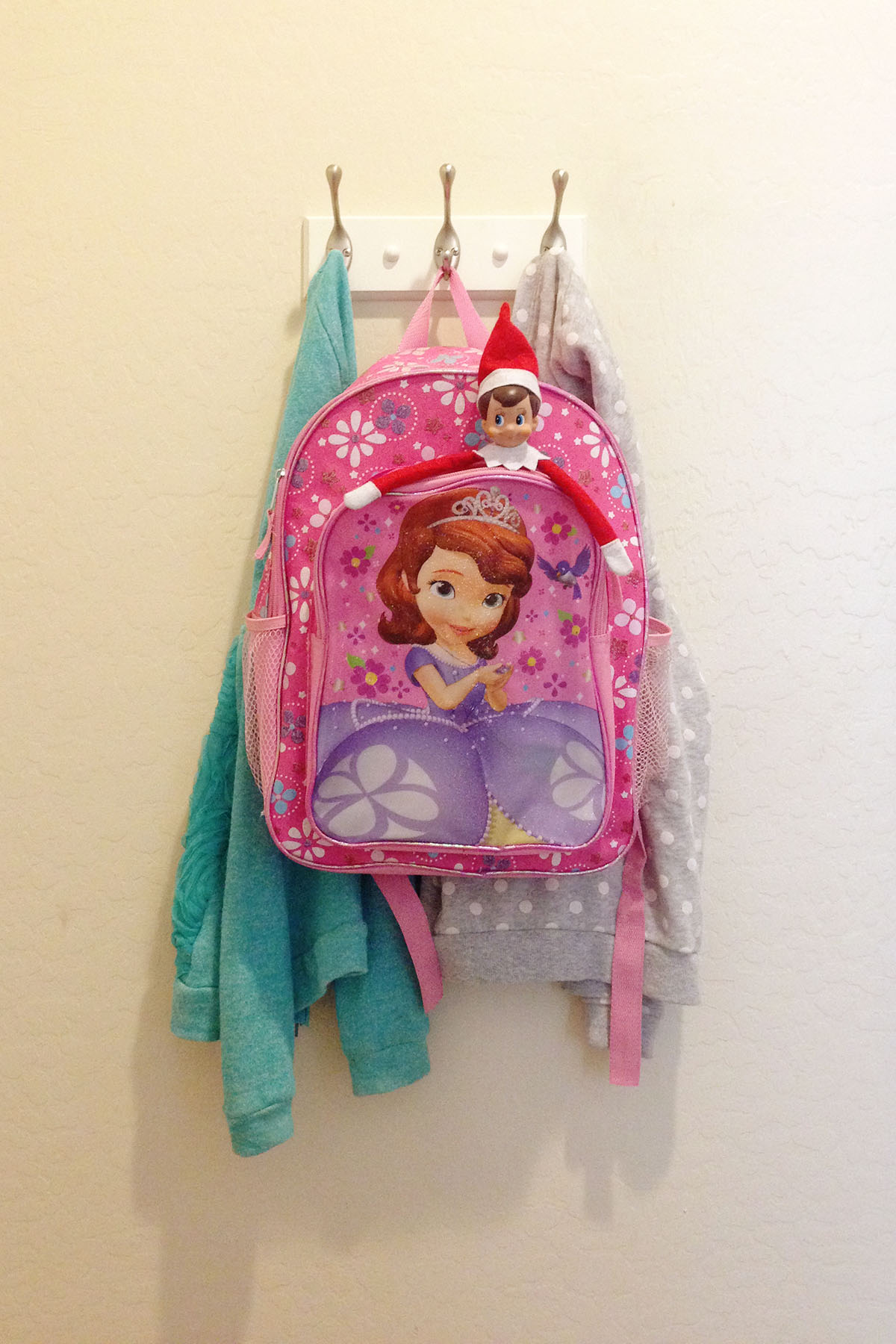 Raids a child's piggy bank!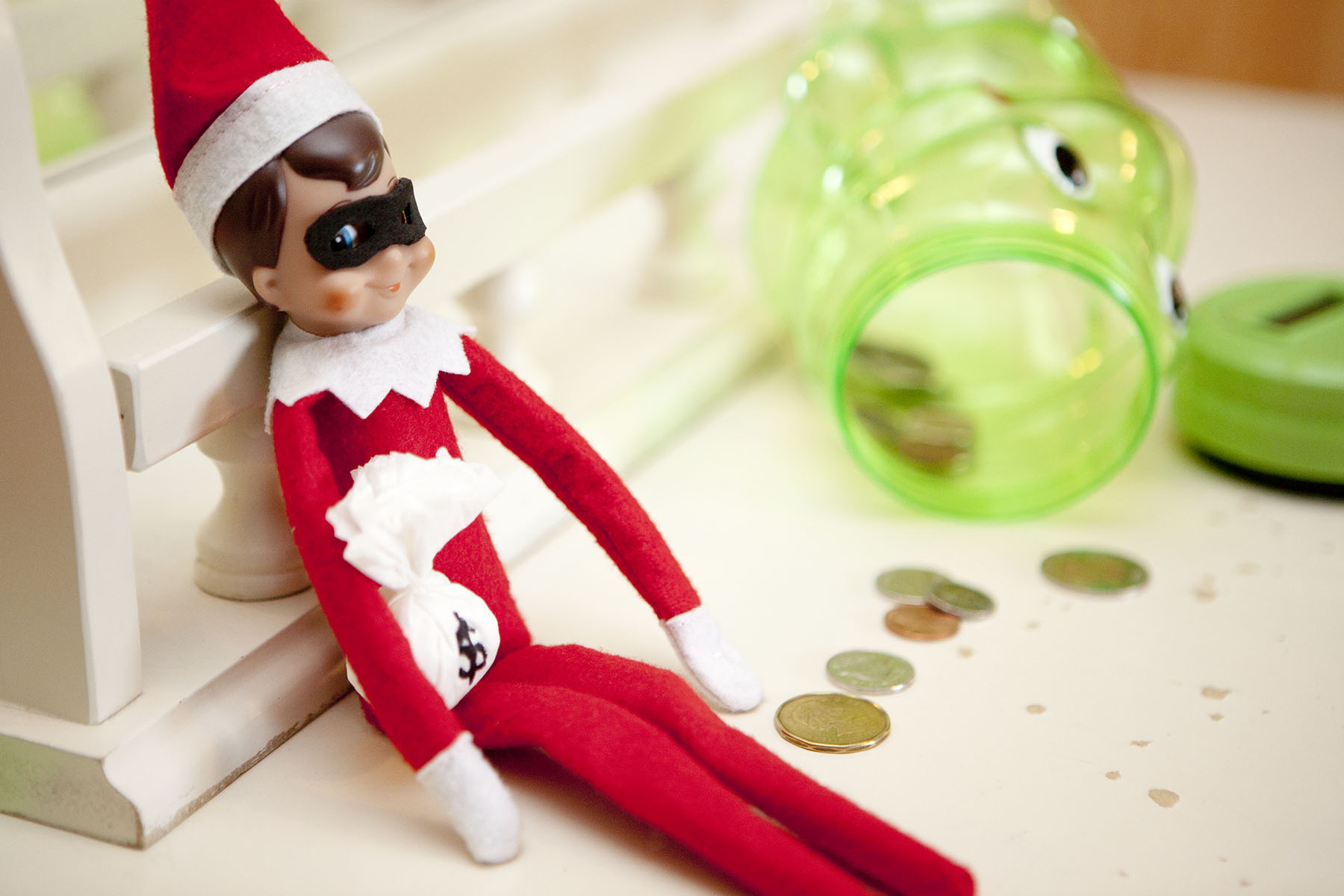 Makes an Olaf Snowman out of toilet paper! You can download the free Olaf printables to make your own here.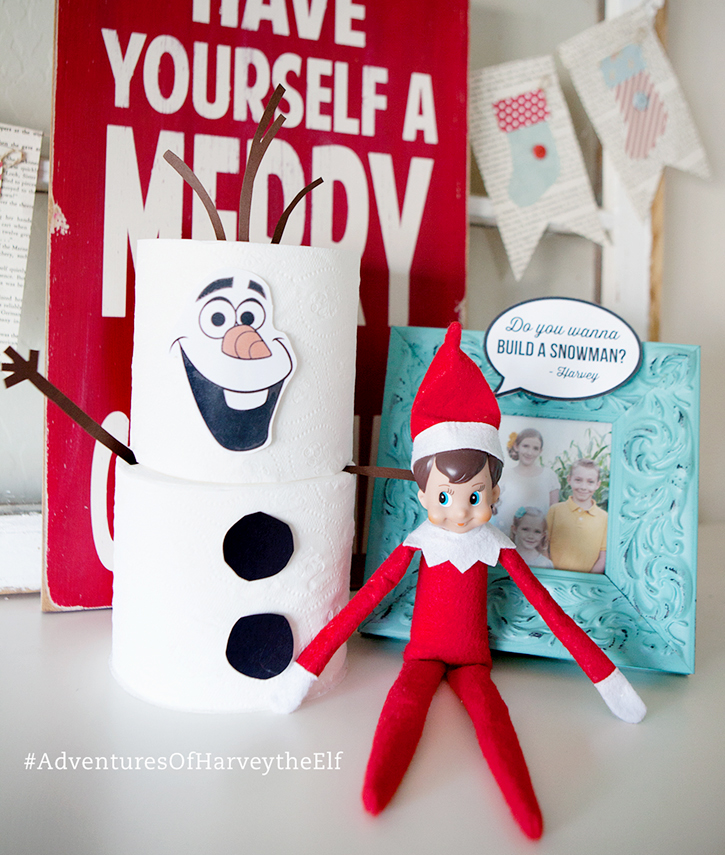 Hides in a house plant.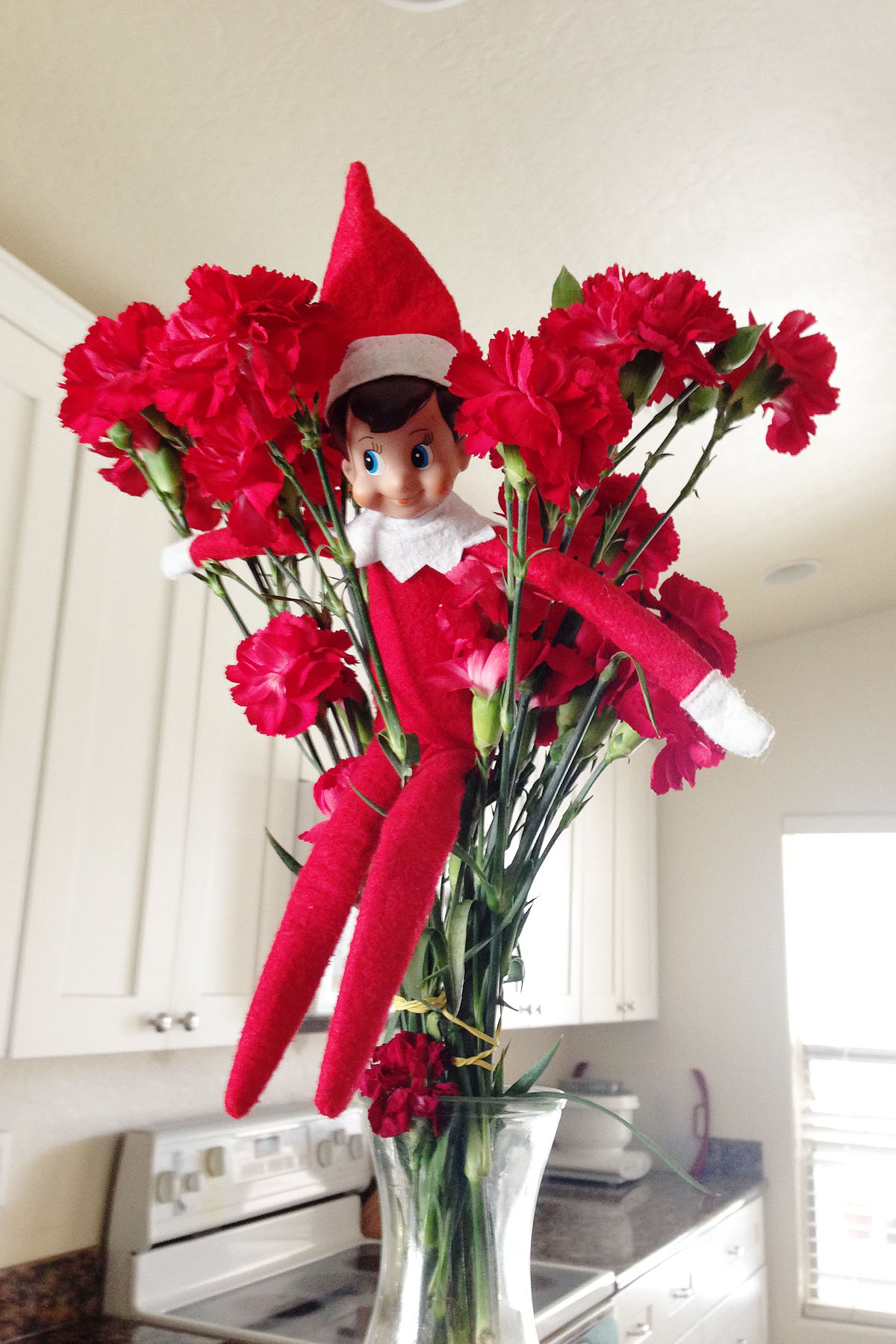 Has a little too much fun drawing Rudolph noses on all the kids while they slept (using washable markers of course!)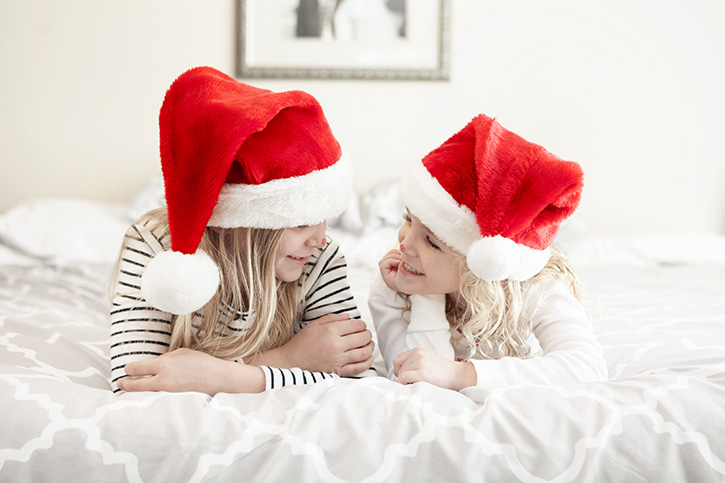 Makes paper snowflakes.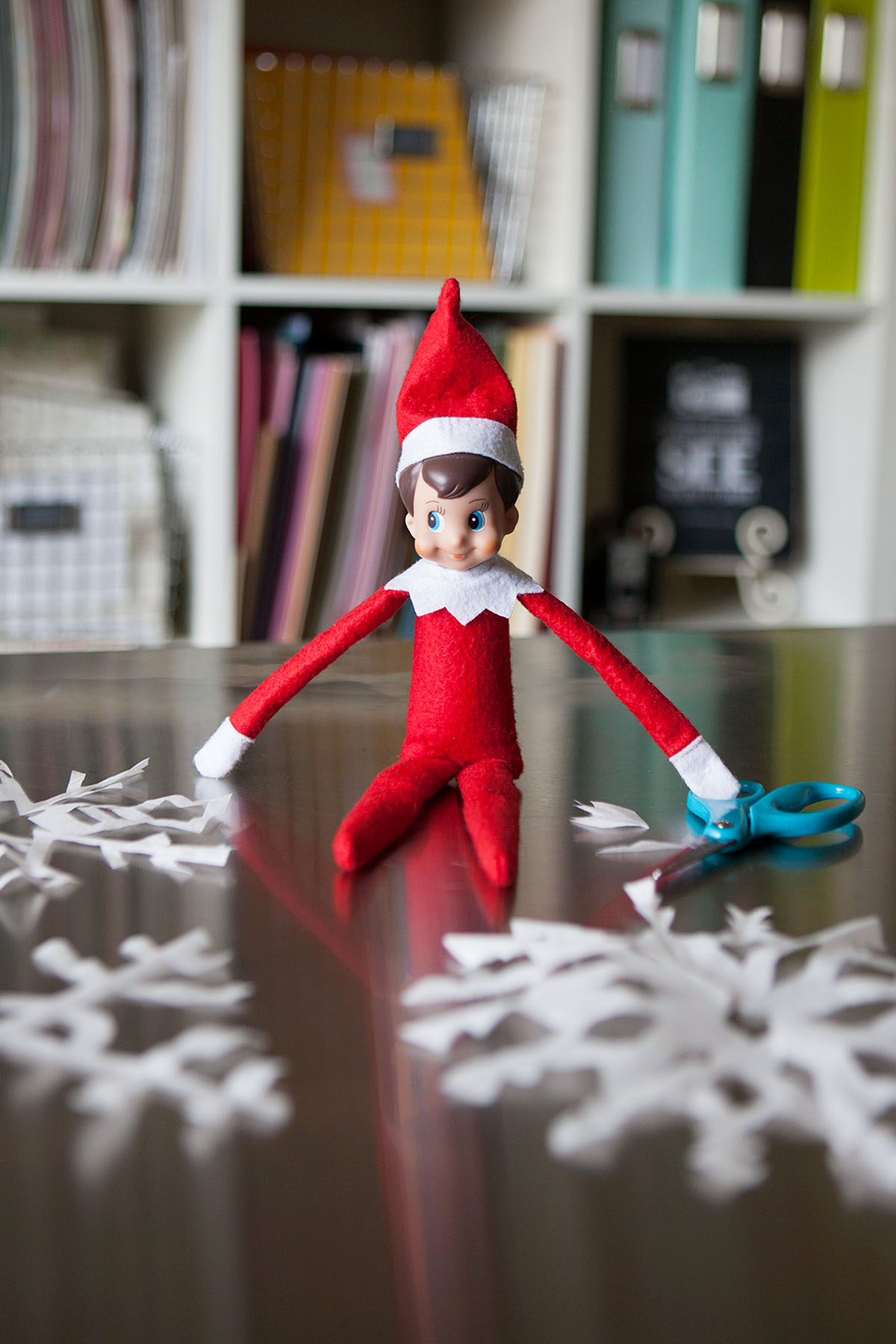 Attempts doing a puzzle.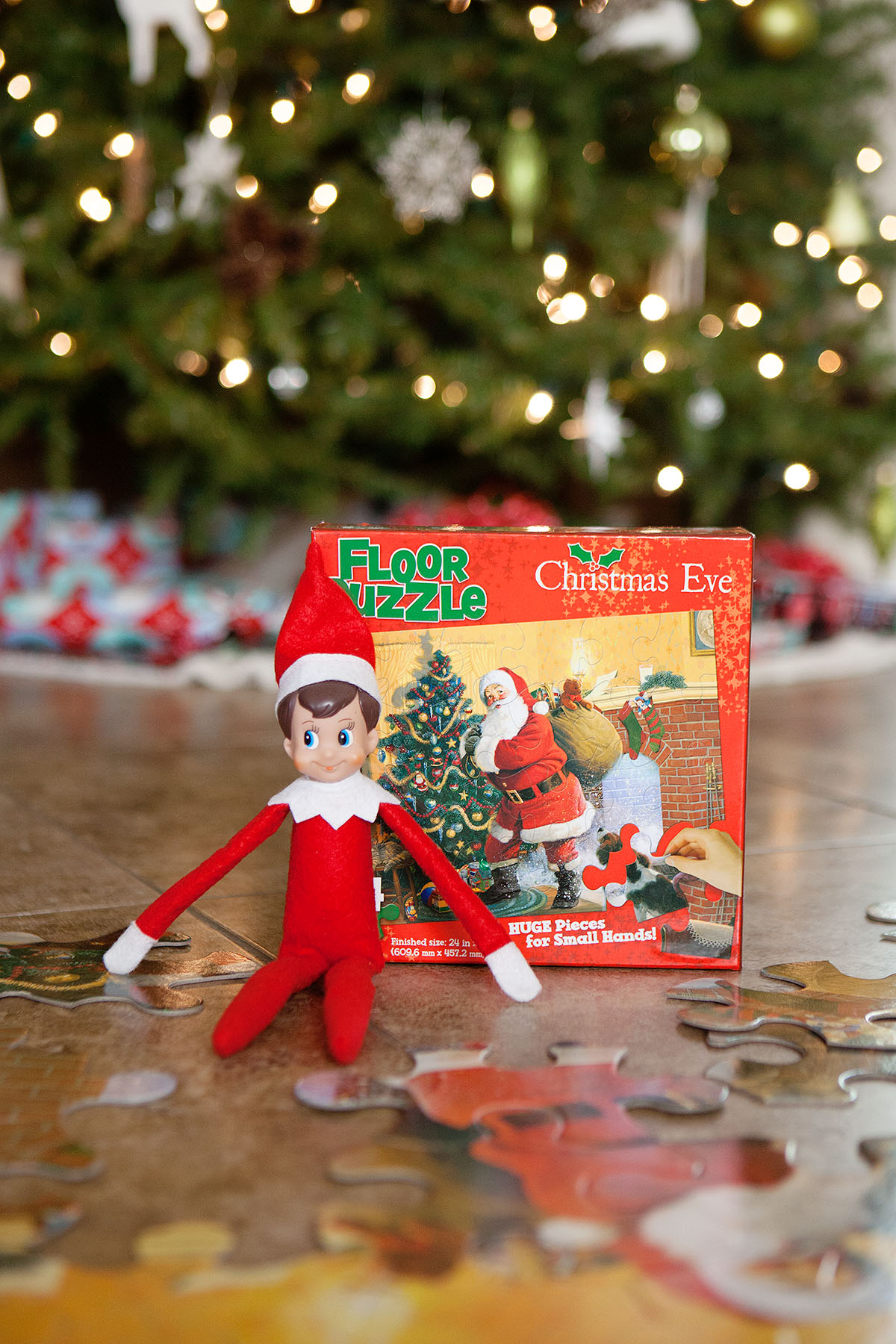 Hides in a pile of stuffed animals.
Delivers letters from Santa.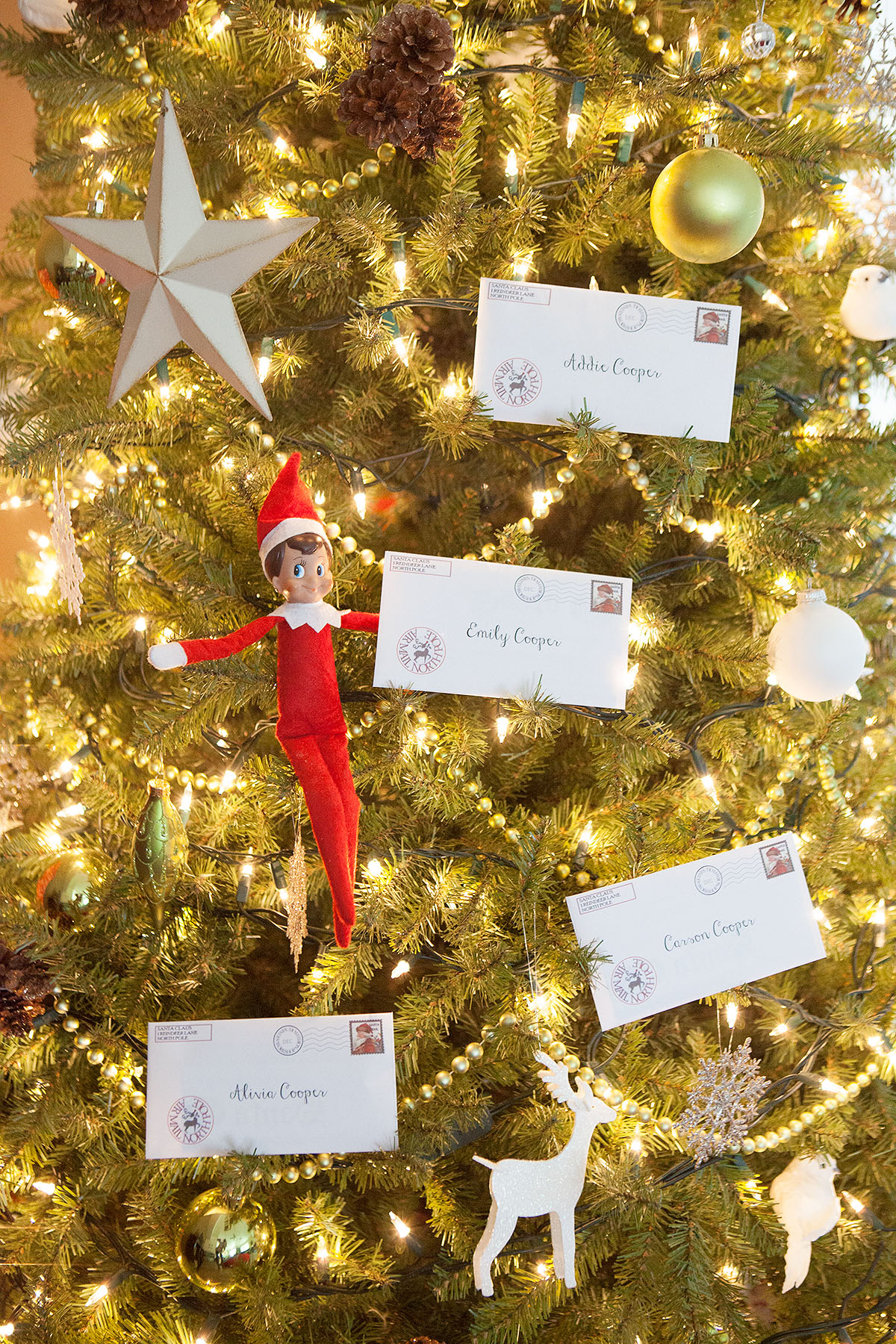 Swings by the tree.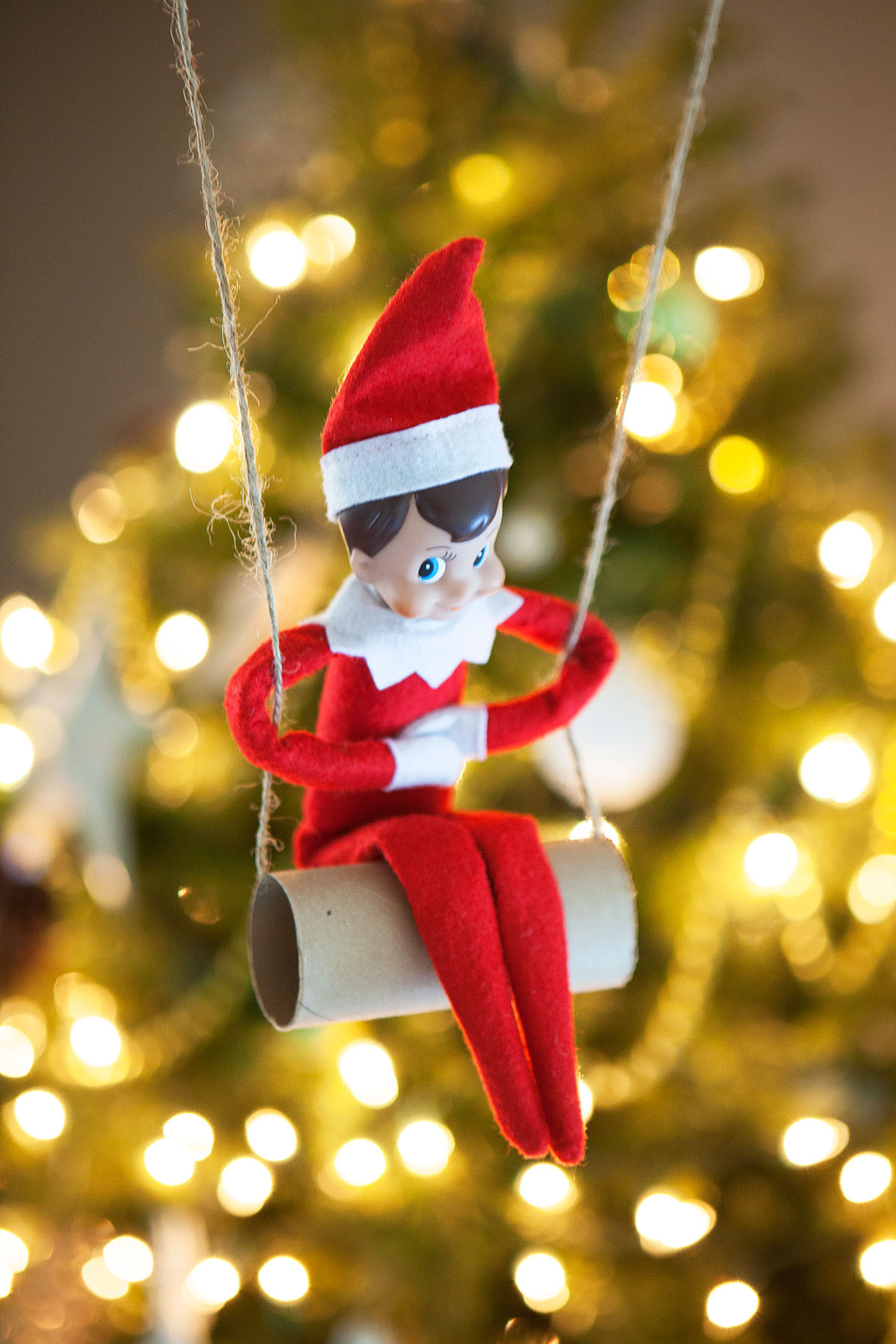 Colors in a Christmas coloring book.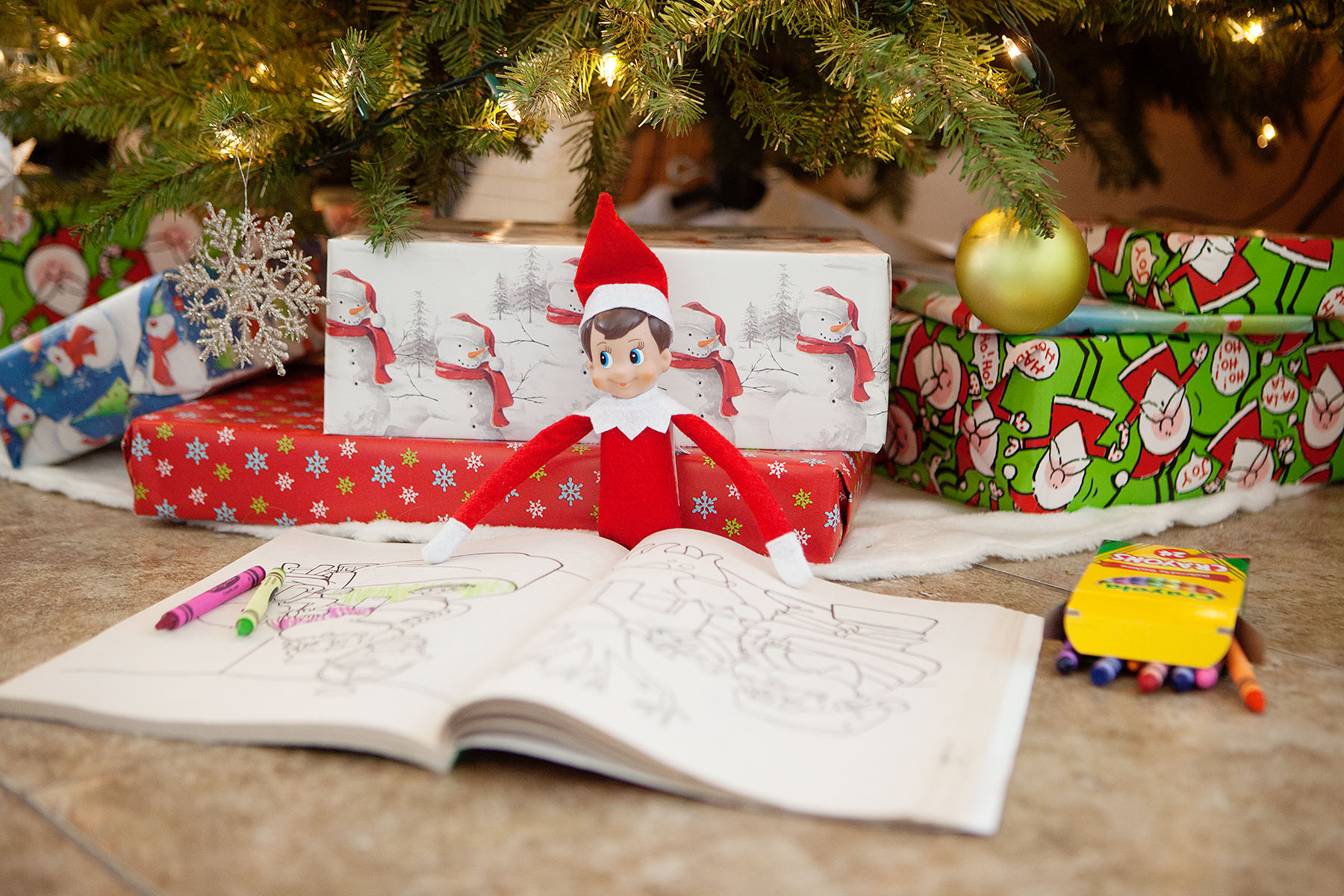 Has a little run-in with the army men.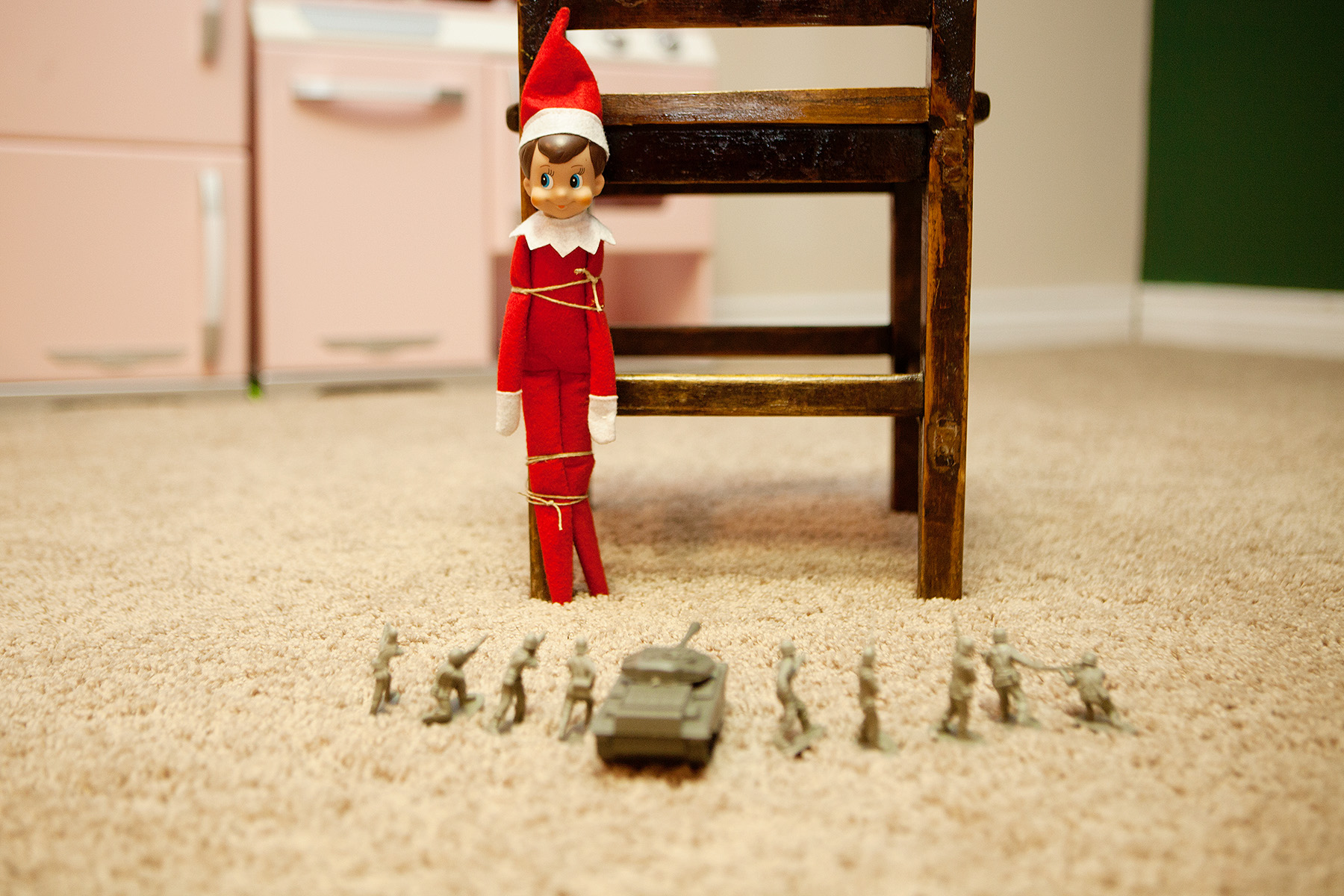 Gets himself a sweet drink. Delicious!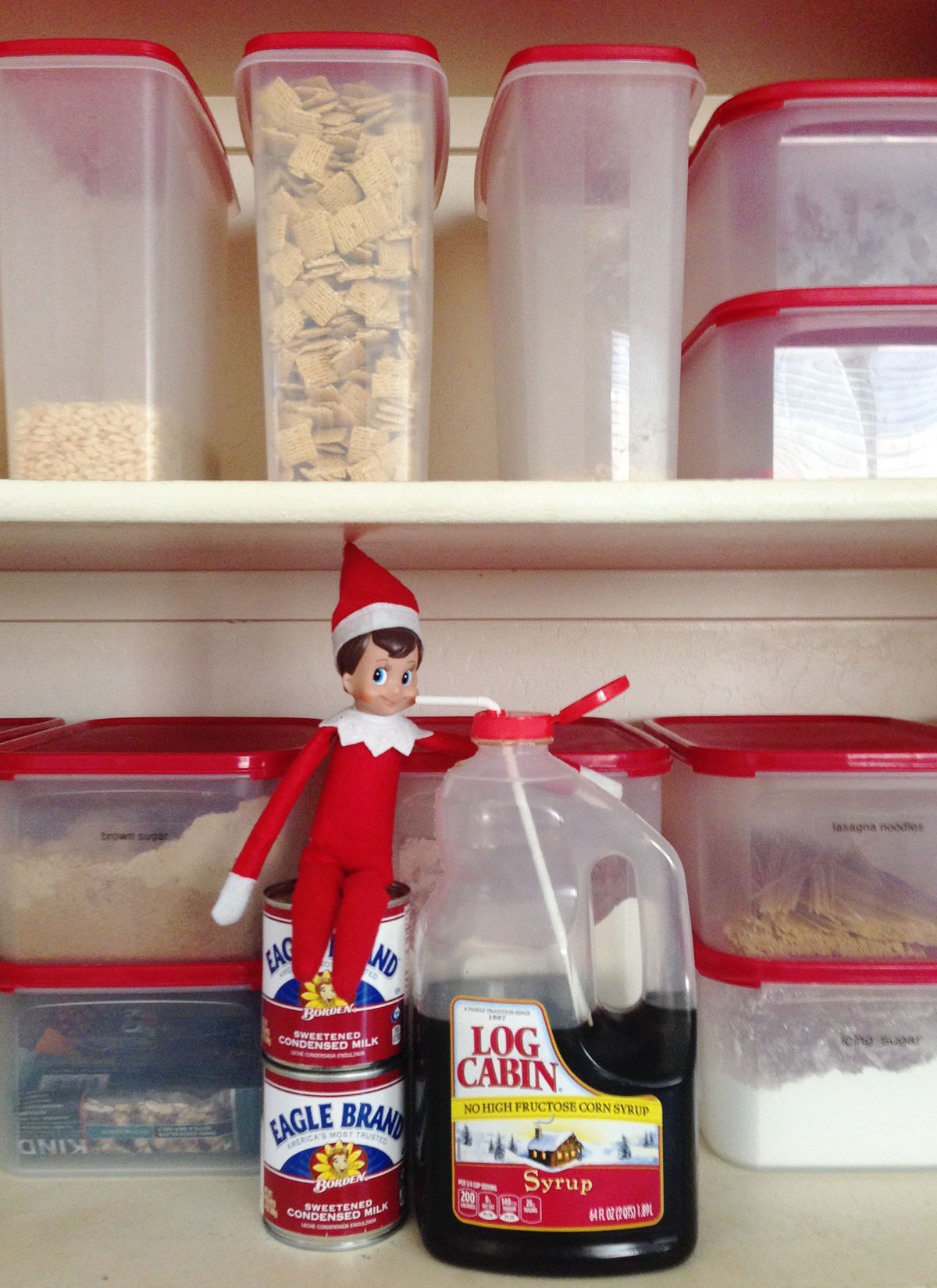 He leaves special notes for each child.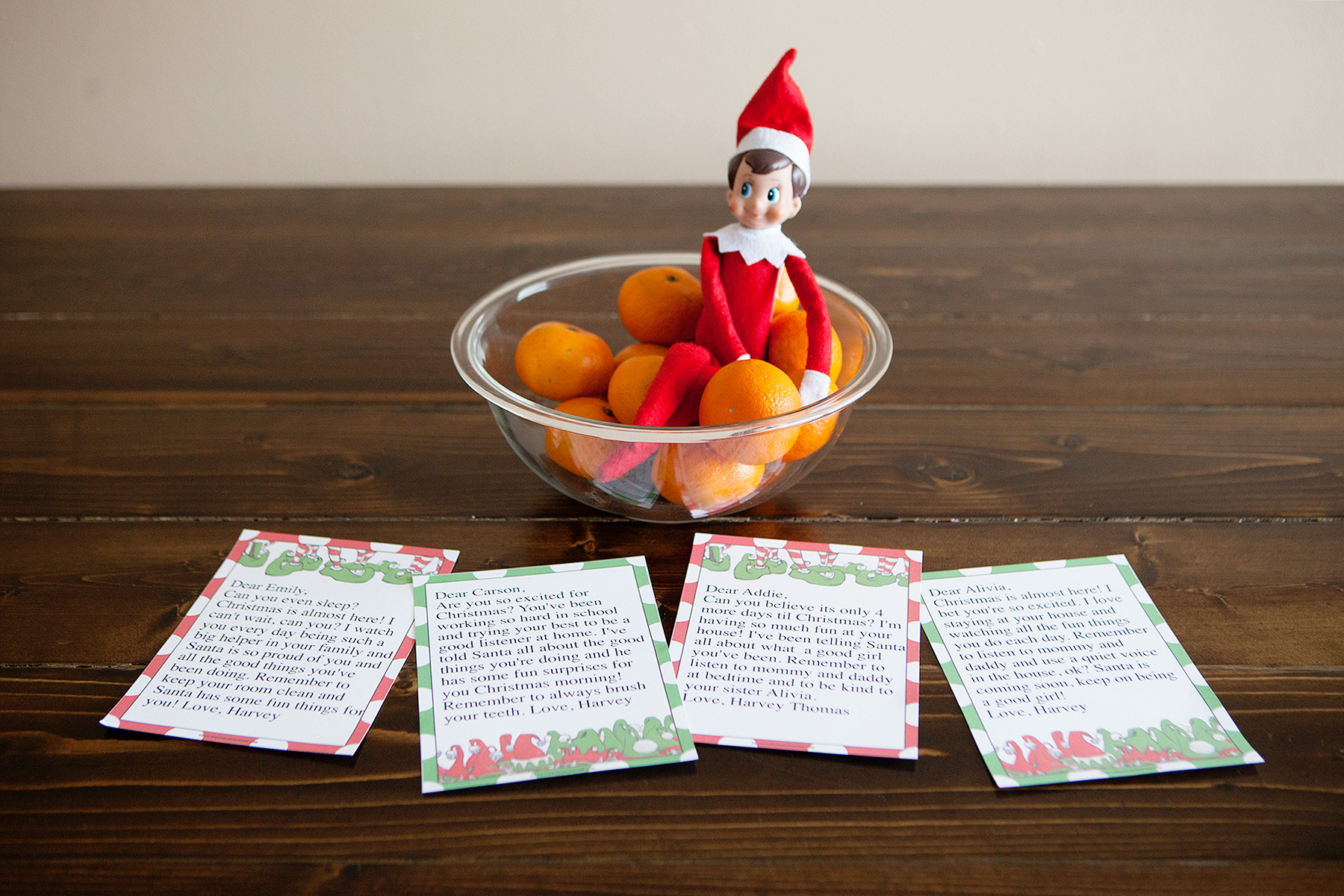 He brings a special coloring book, coloring pages, or dot-to-dot activity pages. (You can print free ones online or find the Extreme Dot to Dot books here.)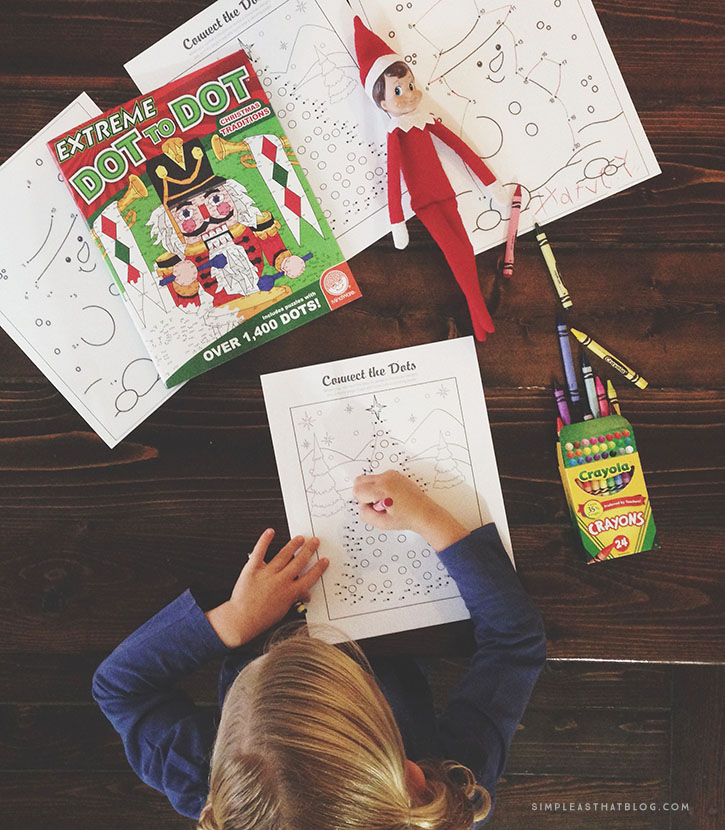 He sends the kids on a candy-cane scavenger hunt!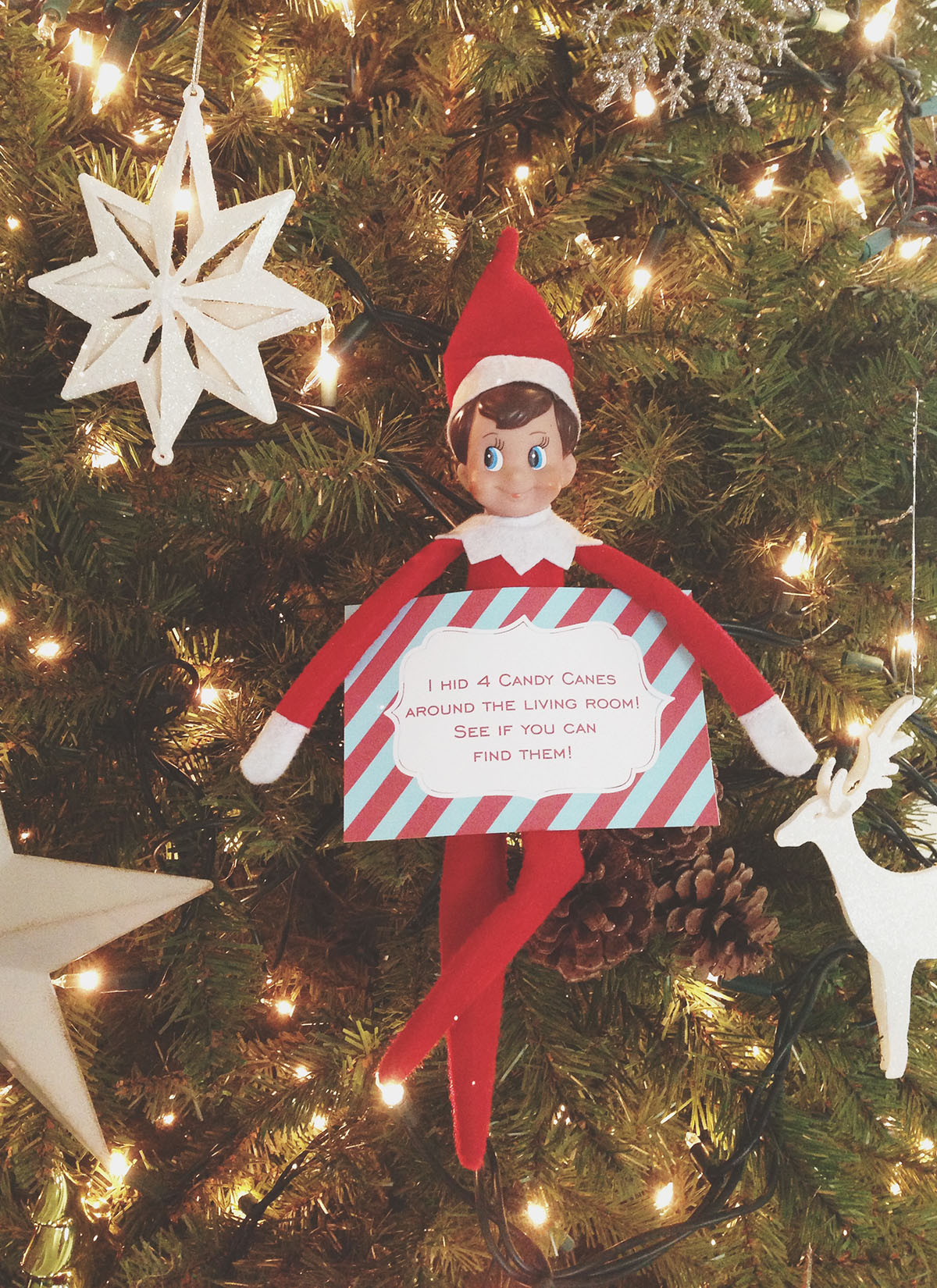 He makes a mess while trying to wrap presents.
He delivers a special after-school snack — snowballs! (powdered donuts)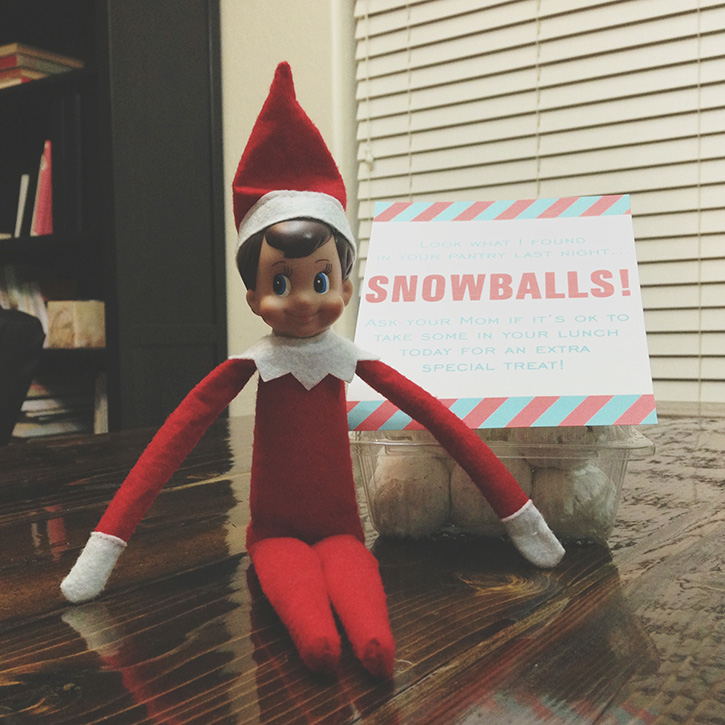 He plays a game of Minecraft.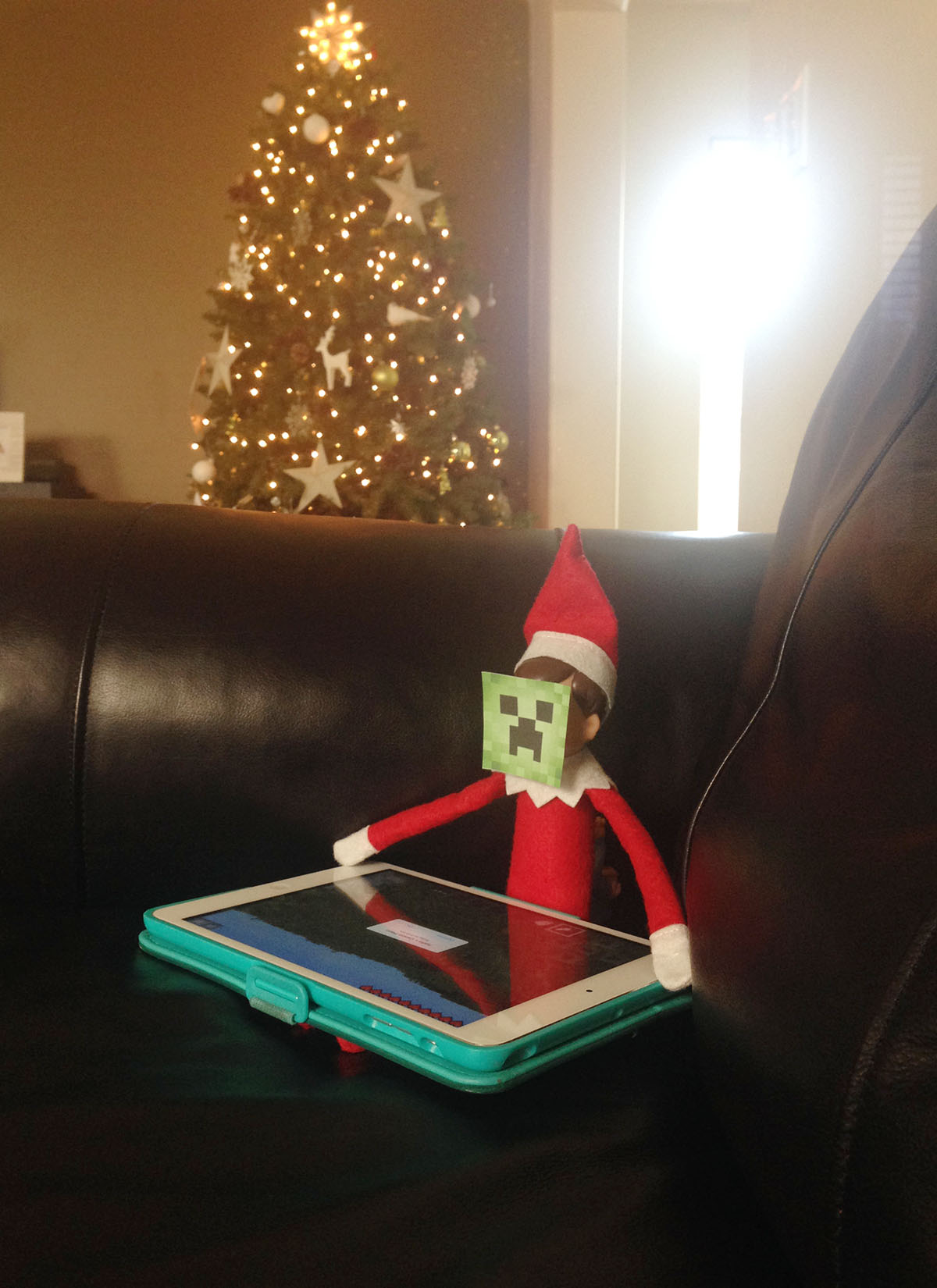 He reads a book. Here are 50 of our Christmas favorites.
He has some fun with the copy machine.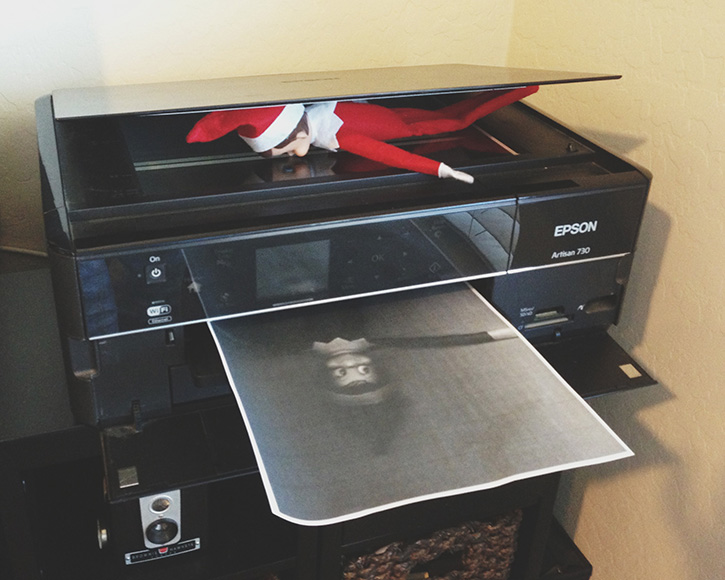 He's counting down the days until Santa arrives.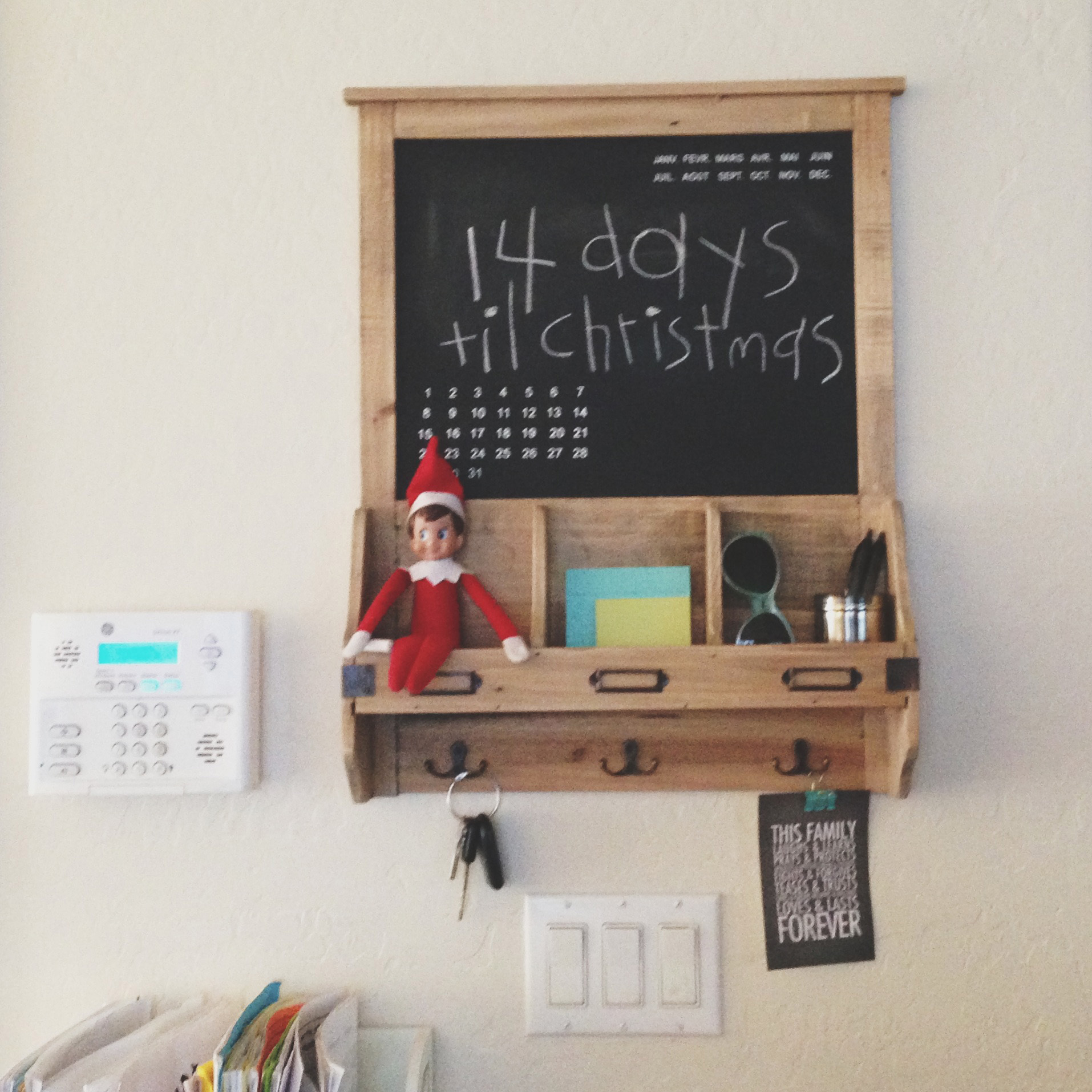 Oops! Another run-in with the army men.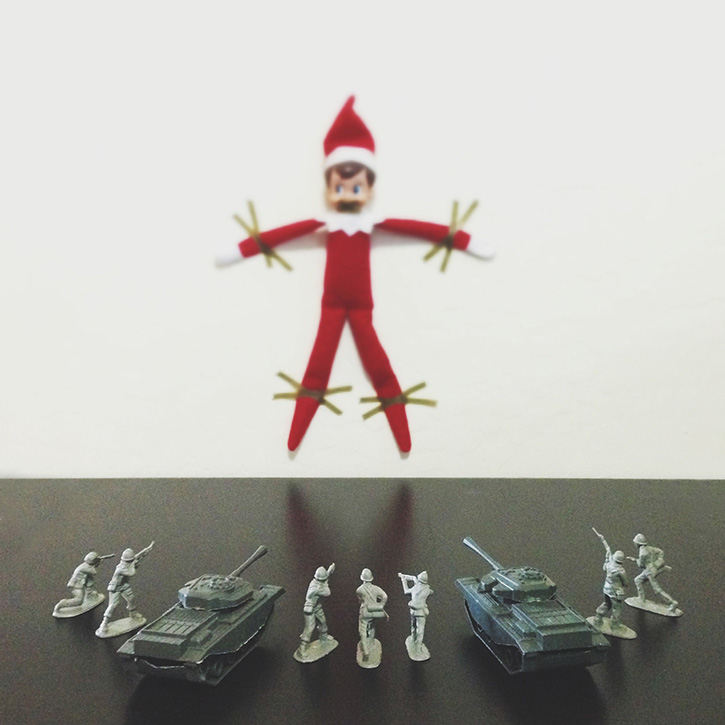 Brrrr….we're not sure what he's doing in there!?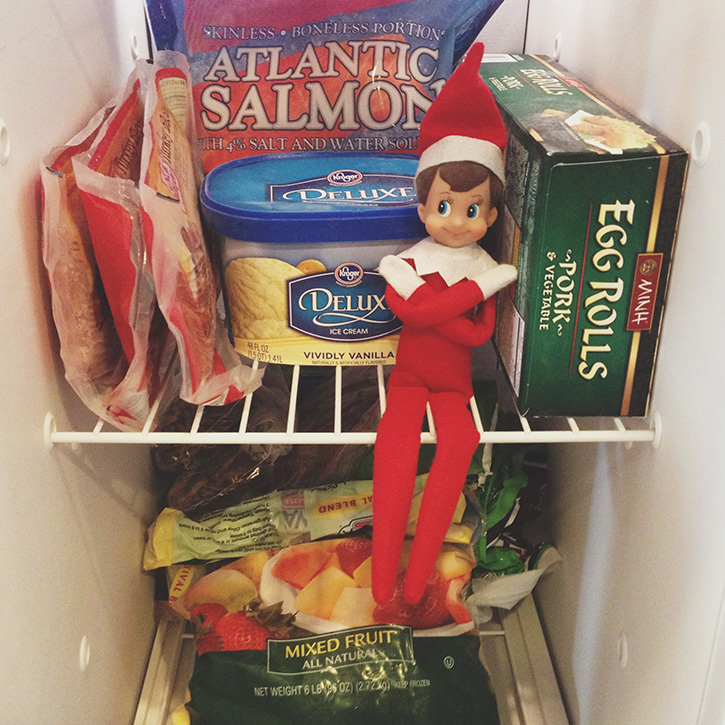 It's a dinosaur parade.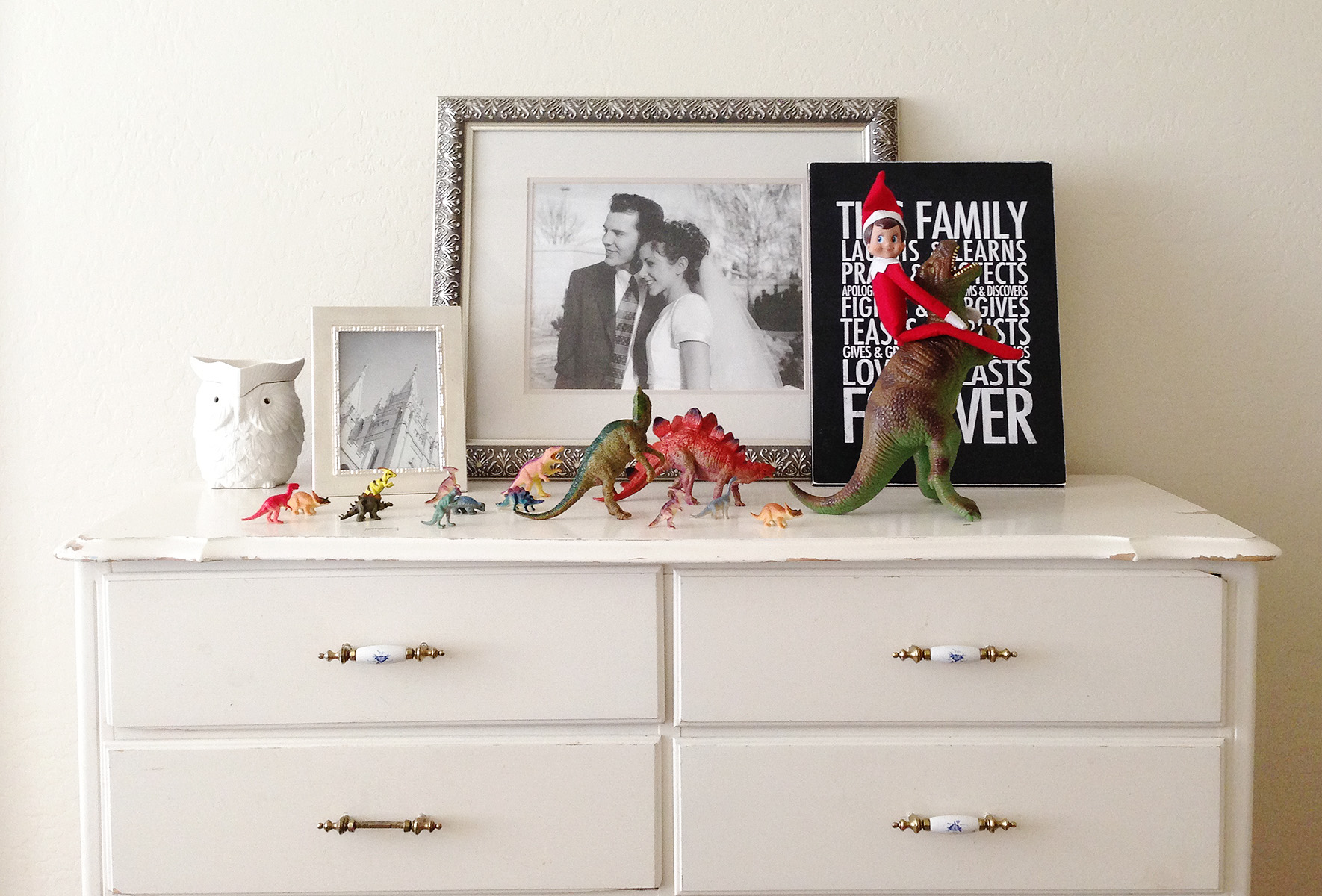 He plays a piece on the piano.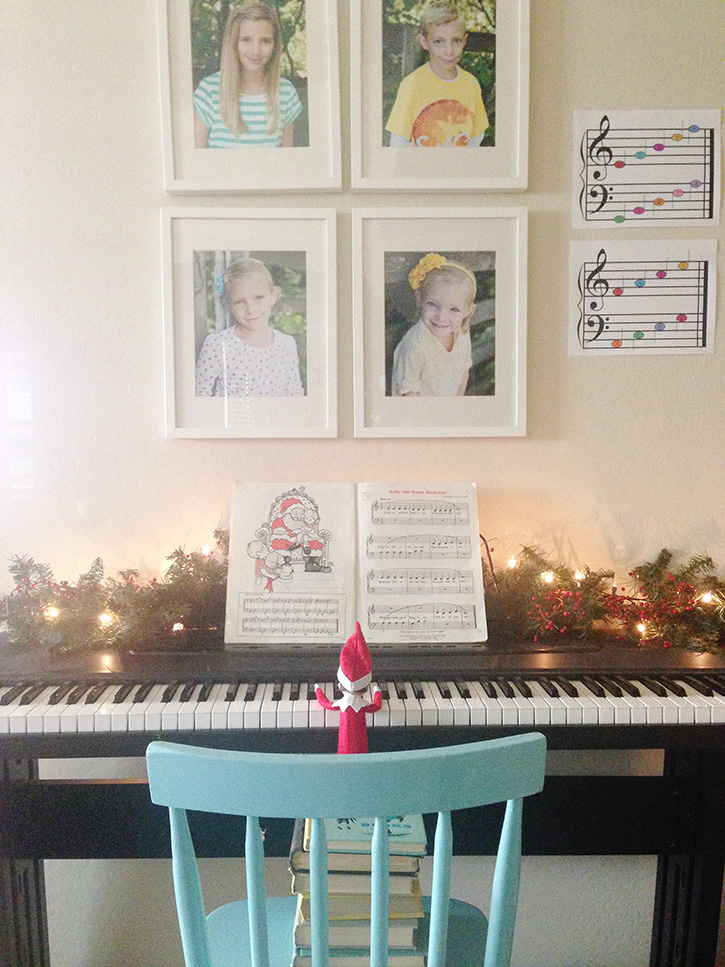 He leaves a message using M & M's.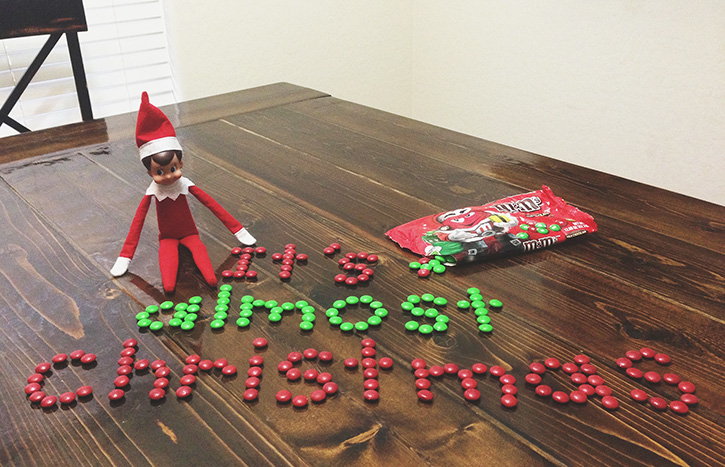 Someone was snooping in the presents!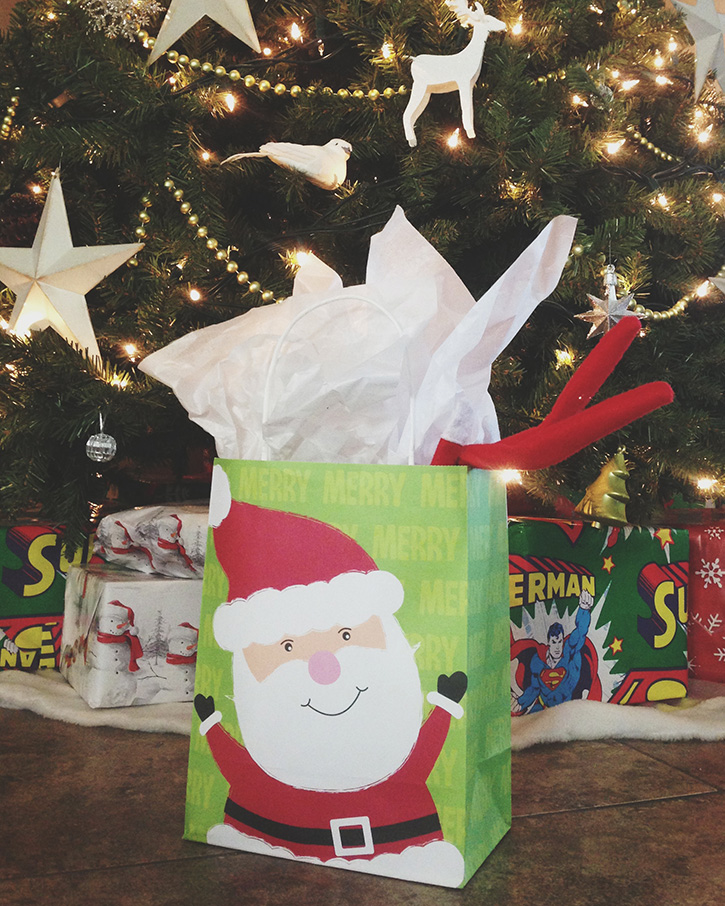 Snowball fight!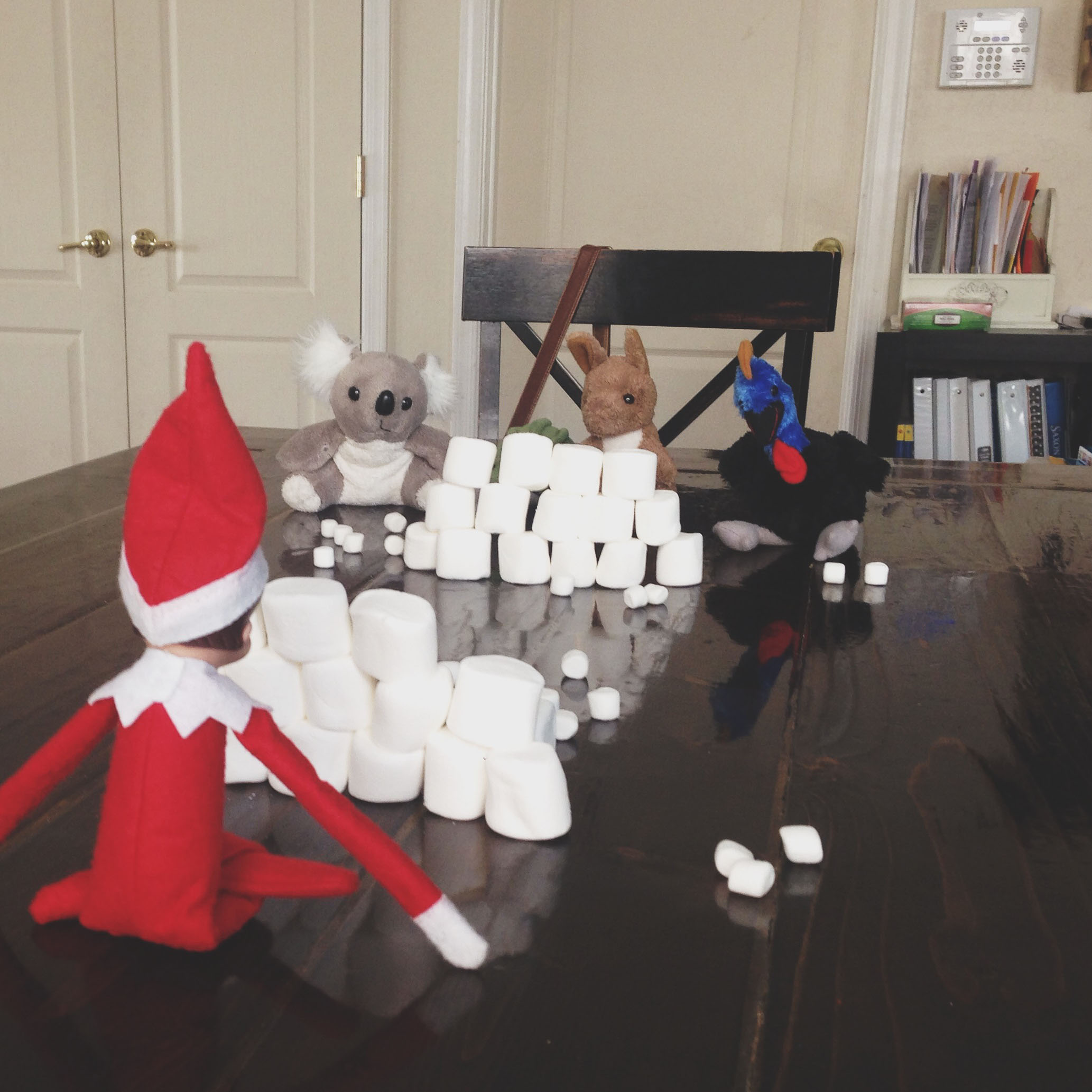 He brings a special delivery – a gingerbread house to make!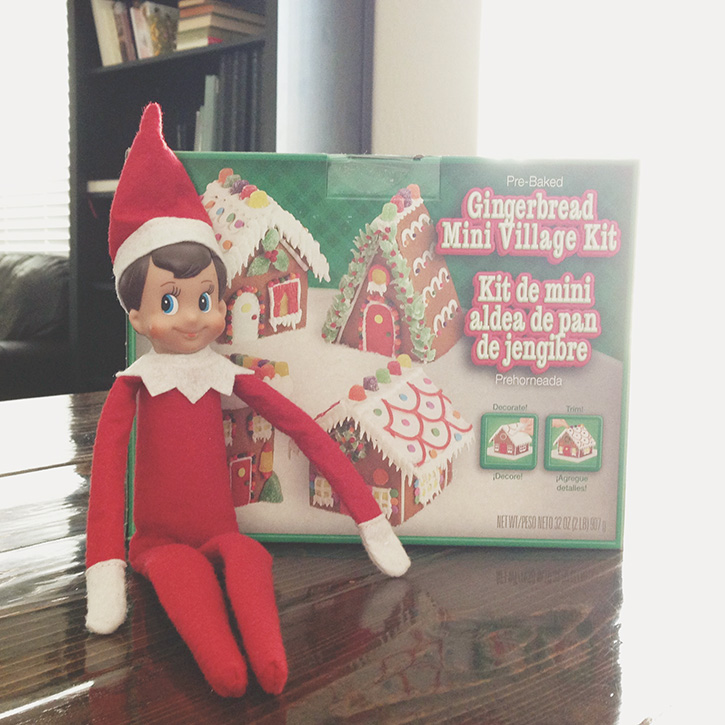 He can't forget his daily workout.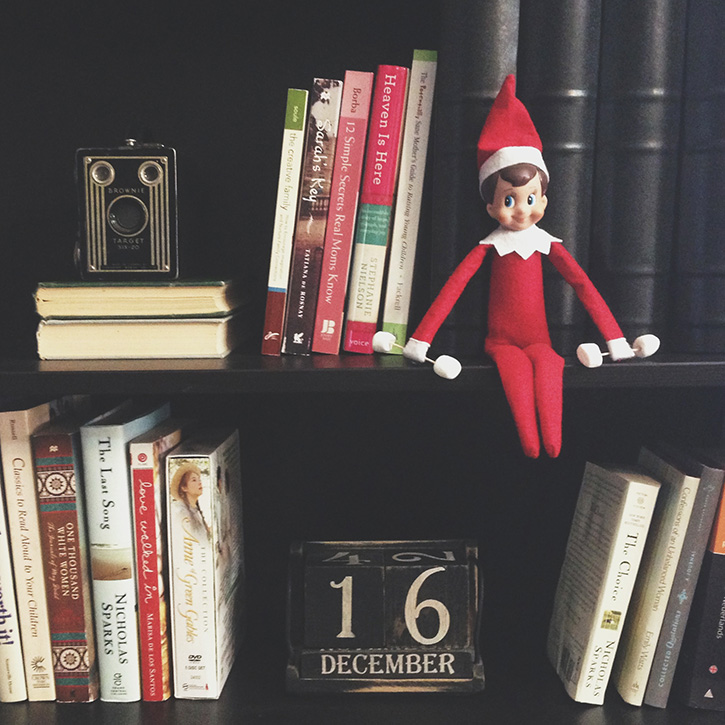 He ziplines from the Christmas tree.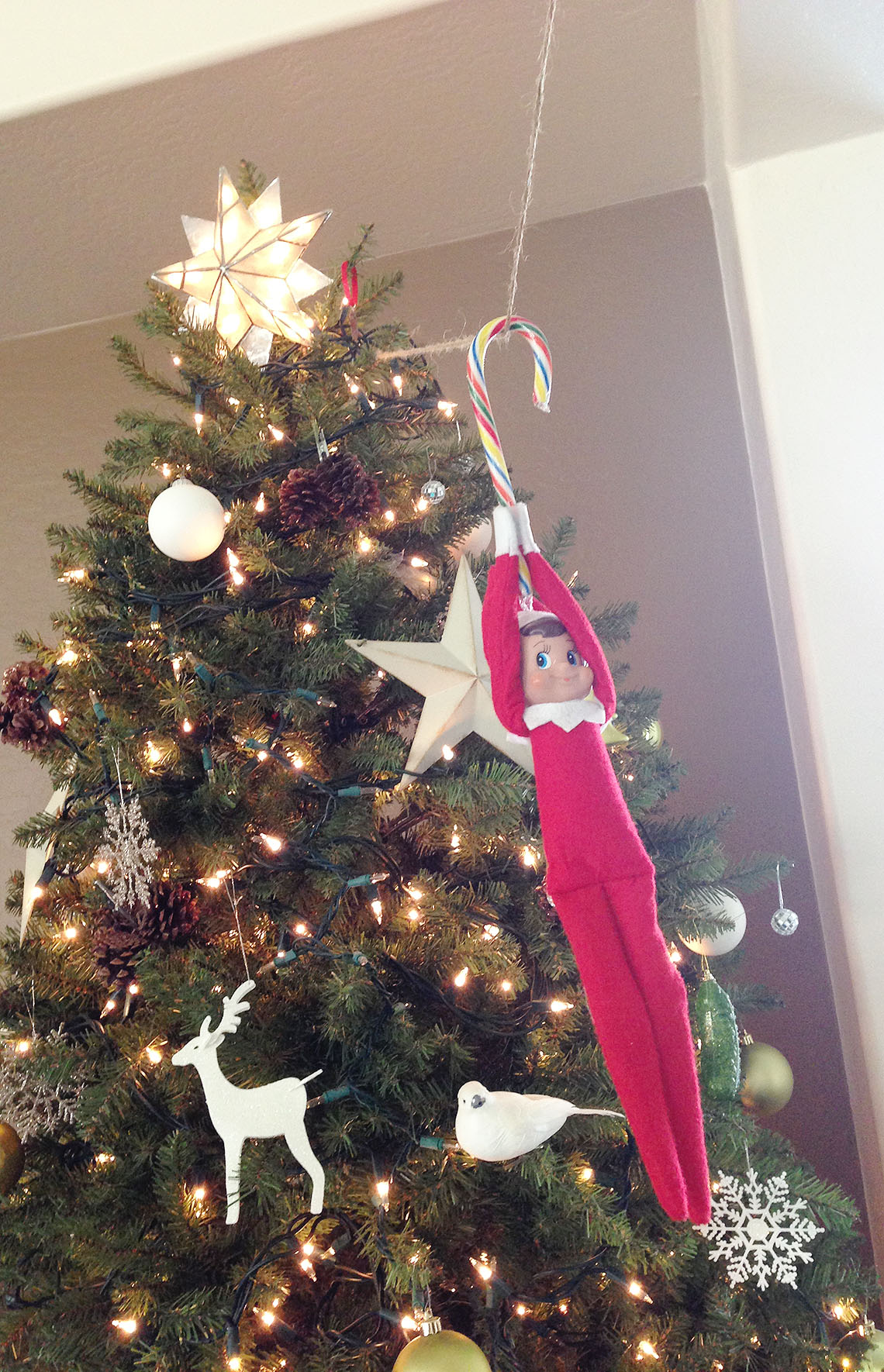 Does your family do this tradition? We'd love to hear about some of the easy and memorable mischief your Elf has gotten into!