Review the inspiring messages that were shared in October 2014 General conference with a fun game of General Conference Pictionary! Perfect for Family Home Evening, Activity Days, YM or YW! Download for free below!
Last weekend we listened to LDS General Conference as a family and there were so many wonderful, uplifting messages that were shared. To help reinforce the messages and continue to learn from them now that Conference is over I put together this simple General Conference Pictionary game. It's a quick Conference recap featuring words and quotes from some of my favorite talks!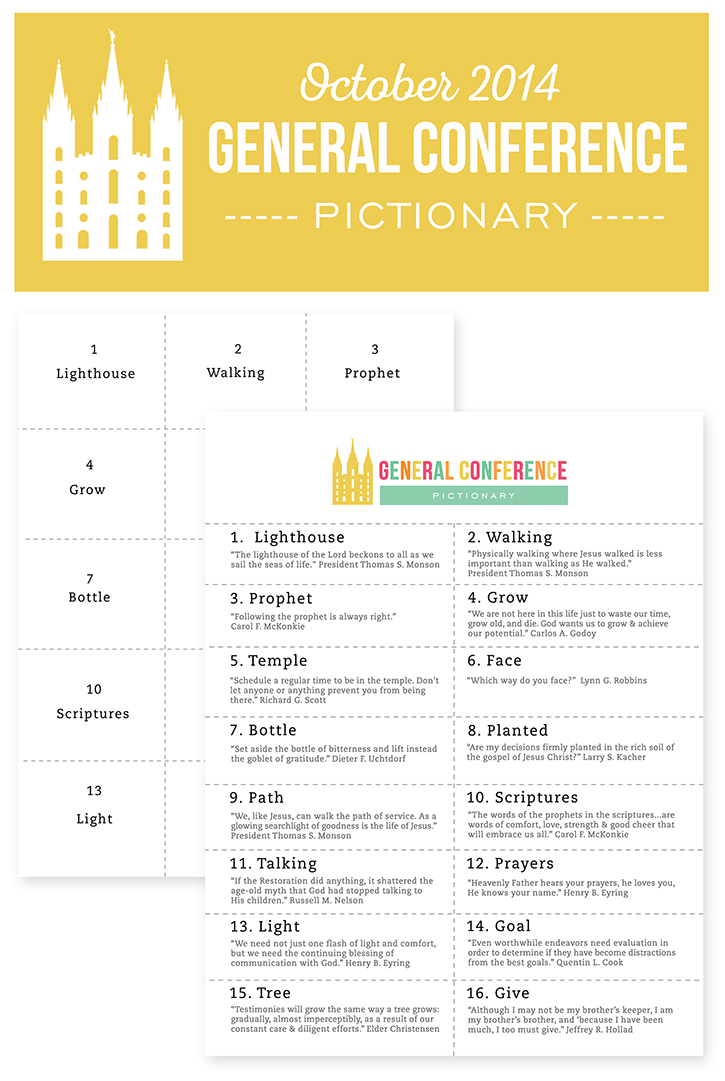 >> Click here to download October 2014 General Conference Pictionary Prinatbles <<
We had fun playing this with our group of 10-11 year old Activity Days girls this week, but it would be perfect for Family Home Evening, Primary or for YM and YW ages. Here's how to play:
-Download and print out the General Conference Pictionary printables on white cardstock
-Cut out the word squares. You may choose to laminate them so they will last. I use this inexpensive laminator for all my laminating projects and it works great!
-You'll need something to draw on (paper, white board, chalkboard) and something to draw with (pencils, expo markers, chalk.)
-Divide into two teams. Each team takes turns choosing a word card and drawing it while their team tries to guess the word. Typically no speaking is allowed, no giving word hints and each player that is drawing is timed. If the timer runs out before your team guesses the word, it's the other teams turn. The rules are pretty basic and can be changed up to suit the age of the players.
-Once the word has been guessed, use the word/quote list provided in the download to discuss which quote the word came from and who shared it during conference.
This game is a simple and fun way to review the conference messages and I hope you enjoy! Looking for more printables from October 2014 Conference? Check out my quote printables here, I've shared 14 of my favorite Conference quotes turned high res printables and they're available to download FREE for personal use. I'll be continuing to add more prints to that post so check back often.