This past friday I was finally feeling ready to start up our weekly craft day again so we dug out what little supplies I had on hand (1 pad of construction paper, 1 gluestick and some crayons to be exact) and we made pumpkin faces.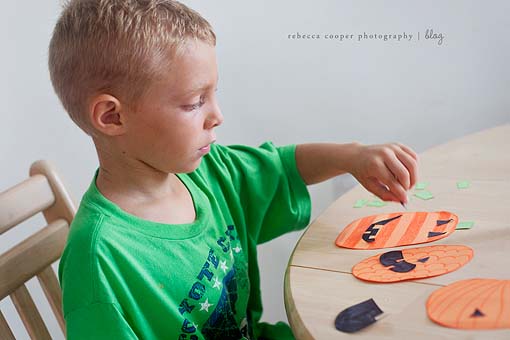 I made the pumpkin shapes for the kids and cut out a variety of eyes/noses and mouths from black construction paper. The kids had a blast creating their own unique pumpkins.
Imagine the cuteness if these were made from orange/green pattern paper & black cardstock? Maybe a little distress ink around the edges…so many possiblitlies – if you don't live on an island sans scrapbook supplies that is. 😉
All in all these little pumpkins were a lot of fun for the kids and I happened to enjoy making them as well.
quick to put together + small supply list + easy cleanup = perfect friday craft
View more of our friday craft adventures here, here, here and here.
I also thought you might enjoy this old post full of fun halloween links from last year.
this post is participating in: