Add some patriotic flare to your home decor with this DIY Red, White and Blue wall art. Download the free printable and learn how to make your own below!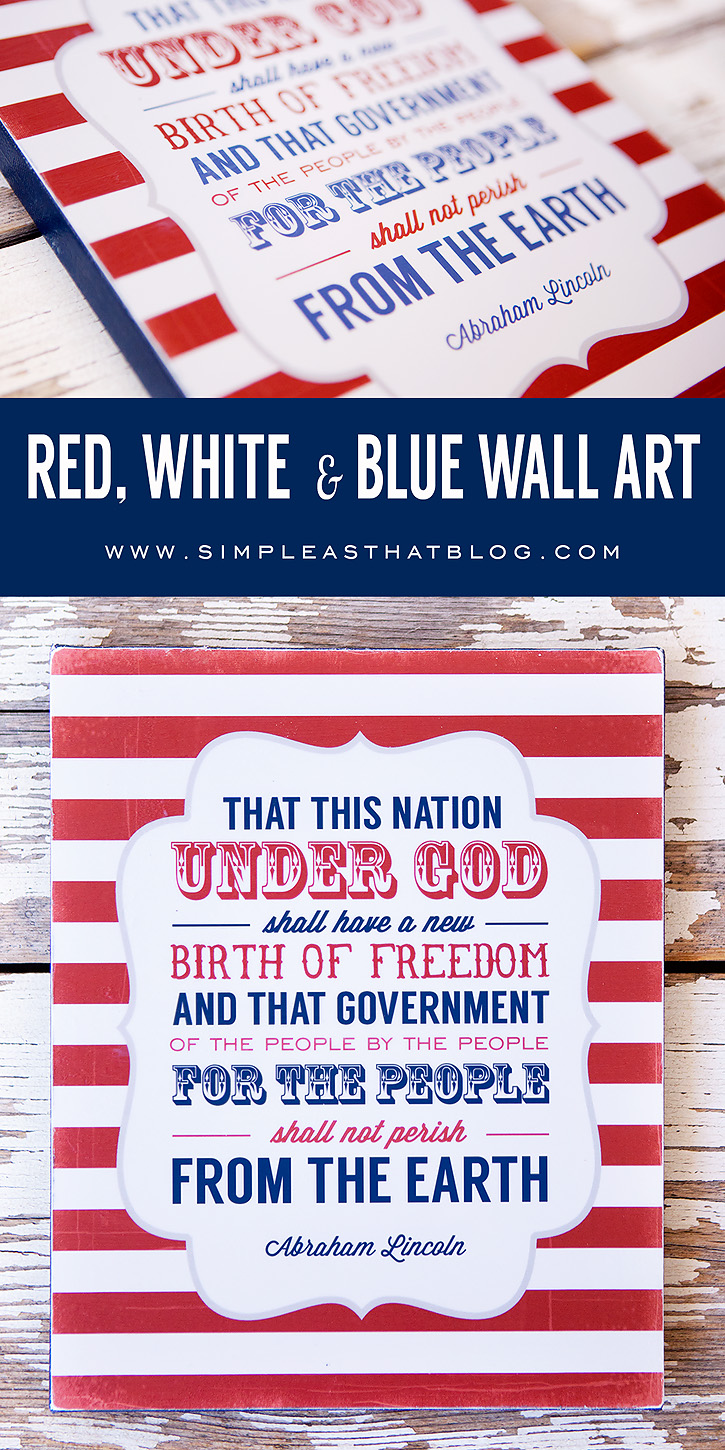 Today I'm joining 7 other amazing bloggers to bring you a fun patriotic themed blog hop chalk full of free printables! My contribution is this 8X10 Independence Day wall art. I turned it into a simple DIY canvas piece and I love how it turned out! Take a peek at all the fabulous printables being shared along with my quick tutorial!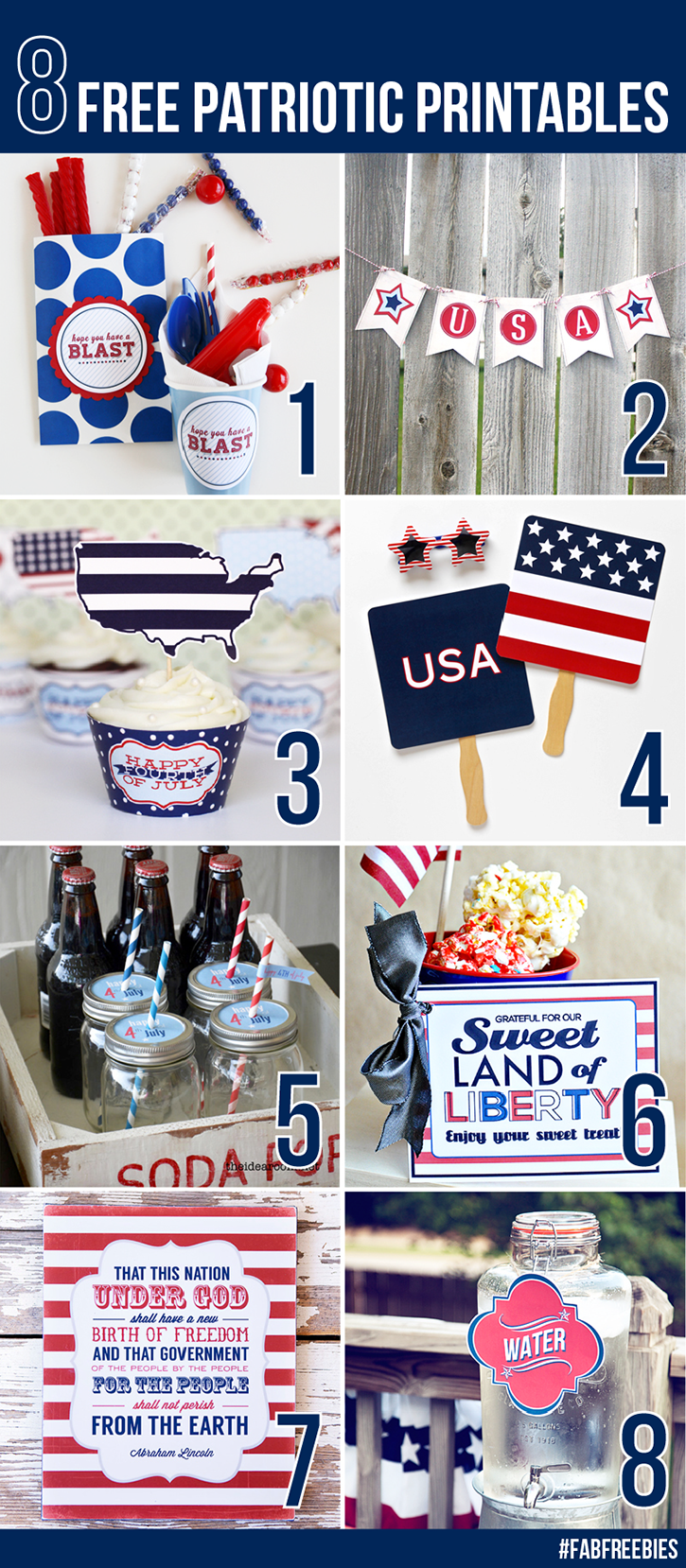 Supplies for Red, White and Blue Wall Art:
8×10 print of the Red, White and Blue Wall art
8×10 canvas
Matte Mod Podge
Foam brush
Sand paper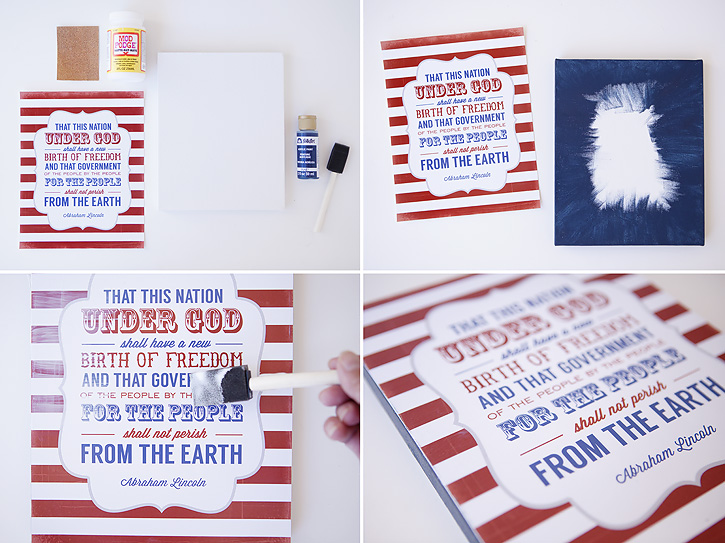 Make your own Red, White and Blue Wall Art:
1. Click here to download the Red, White and Blue Wall art then order as an 8×10 print from your favorite photo lab.
2. Purchase an 8×10 canvas from your local craft store and gather the rest of your supplies.
3. Paint your blank canvas with navy blue craft paint. Paint edges and direct brush strokes to the center of the canvas. Don't worry about covering completely in the center as this part will be covered by the print. Allow to dry.
4. Apply a layer of Mod Podge to the front of the canvas. Place Red, White and Blue print on top of Mod Podge layer. Smooth out any wrinkles with foam brush.
5. Apply a generous layer of Mod Podge on top of Red, White and Blue print smoothing out any wrinkles as you go. Keep brush strokes straight and even if possible. Cover edges of the canvas with Mod Podge as well. Allow to dry.
6. Once the Mod Podge has dried completely, lightly sand the edges of the canvas to create a worn effect.
If you want to keep things even simpler, you can order the 8×10 print pictured above, throw it into a frame and call it a day! I picked up this cute frame at Walmart for about $10 and the 8×10 print cost $1.49 at Costco. Inexpensive, simple and perfect for the 4th of July!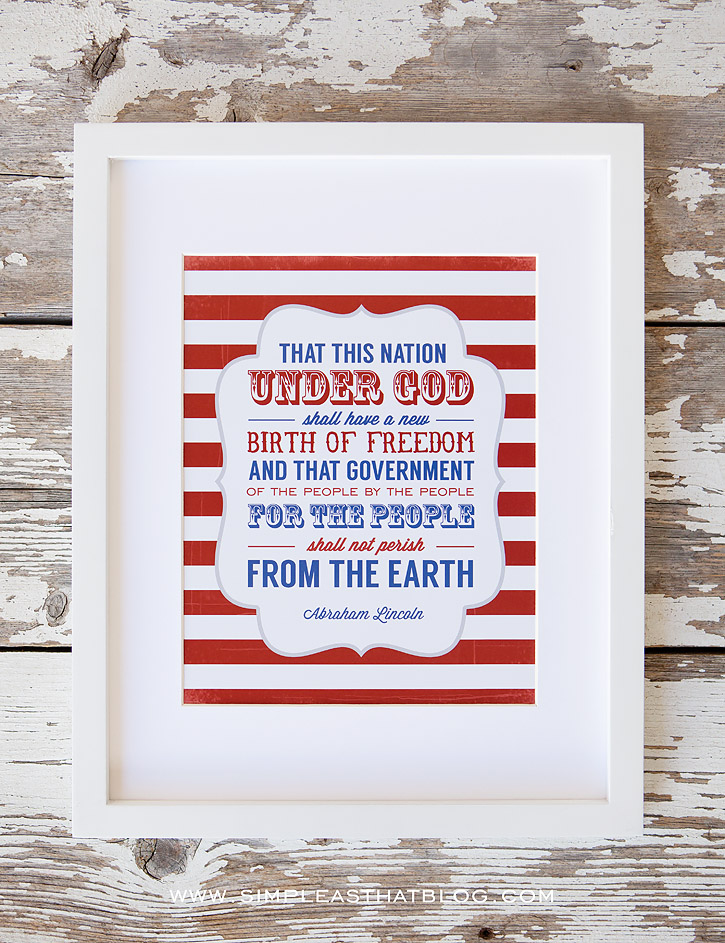 Make sure you check out the other bloggers in this Independence Day roundup! I can't wait to collaborate with these ladies each month and for all my Canadian friends, watch for a Canada Day version of this same project coming to the blog soon!
1. Eighteen25: Have a blast this 4th of July with these fun tags that make great party favors!
2. The Crafting Chicks: Print, cut and hang this festive USA Banner.
3. Kiki & Company: Eight printable cupcake wraps that make any dessert patriotic!
4. Paging Supermom: Patriotic Parade Fan to create your own cooling summer breezes.
5. The Idea Room: Patriotic mason jar drink labels.
6. Thirty Handmade Days: Fun "Sweet Land of Liberty" tag featuring Patriotic Popcorn Balls.
7. Simple As That: Free printable Red, White and Blue Wall Art.
8. Whipperberry: Can't have a summer party without water, and here's a free printable tag.