Bring some excitement to your dinner table with Sesame Ginger Salmon and Vegetables. It's a tasty, 30-minute meal that's accessible for the whole family!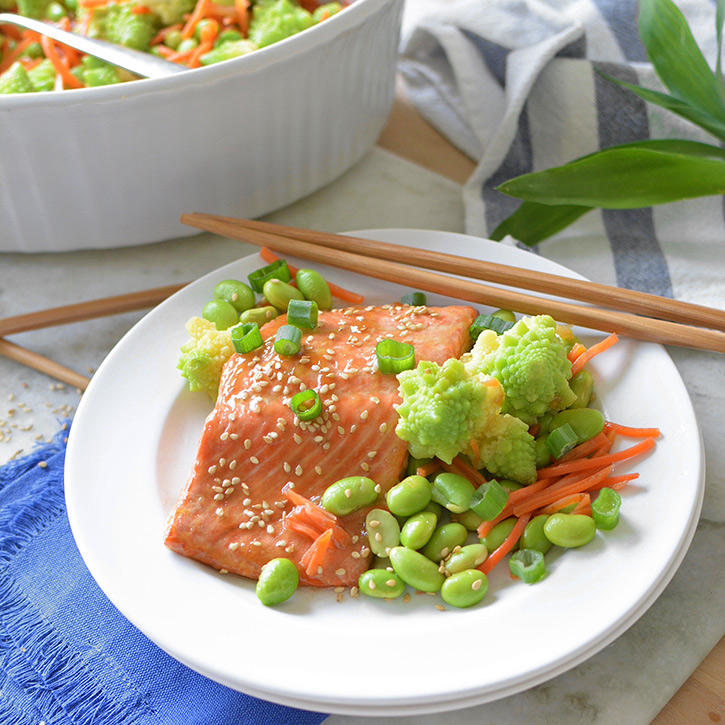 When it comes to trying new food, much of the motivation of parents and kids alike is driven by "does it look good?" I mean, how else have we become convinced by the food industry to try things like Jello Jigglers and Lucky Charms that are essentially nothing and contain nothing like what humans have eaten through the centuries? It's all those fun shapes and bright colors! I'd like to argue that if we add fun shapes and bright colors to healthy foods, perhaps our kids will then be more willing to give those a try, too.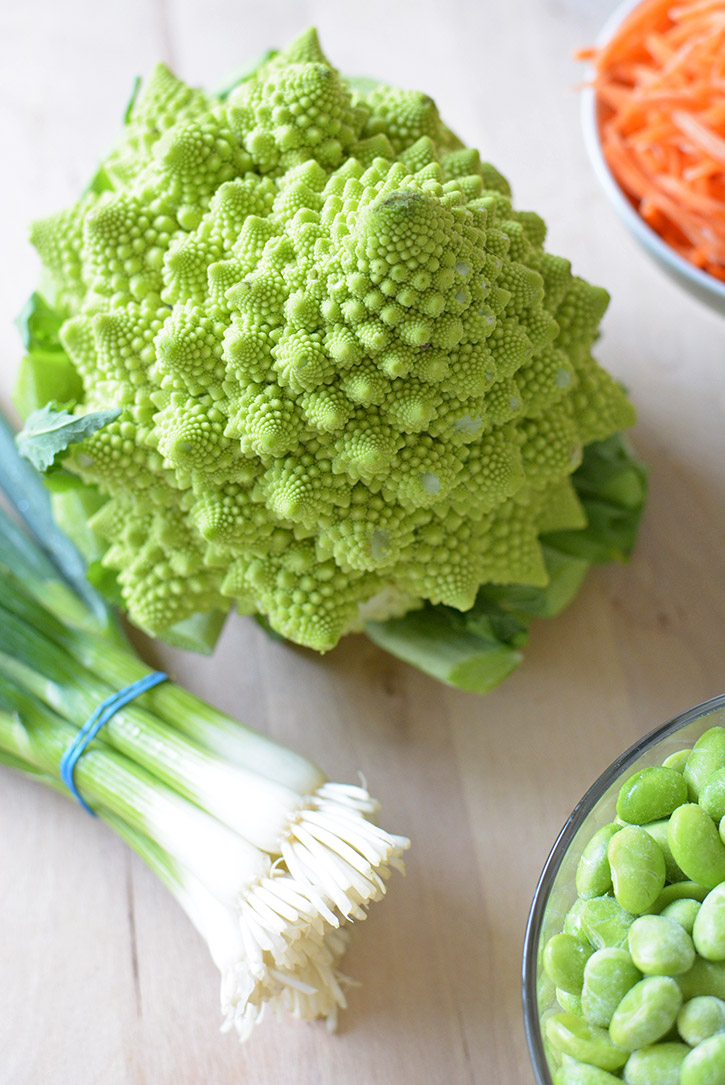 With that in mind, today I'm introducing you to what I consider to be one of the world's most beautiful vegetables: Romanesco Broccoli. Aside from it's brilliant green color, it consists of numerous swirls that interconnect into one gigantic swirl. And if you have a moment to be a bit of a nerd with me, you may observe that it follows the golden ratio. The golden ratio, or "golden mean," is a geometry equation that goes all the way back to Ancient Greece and has been recognized as not only being aesthetically pleasing, but following its mathematical structure is something that has been a source of  inspiration for artists, architects and photographers alike in their pursuit of beauty. How's that for a nice little math/history/art lesson for the dinner table?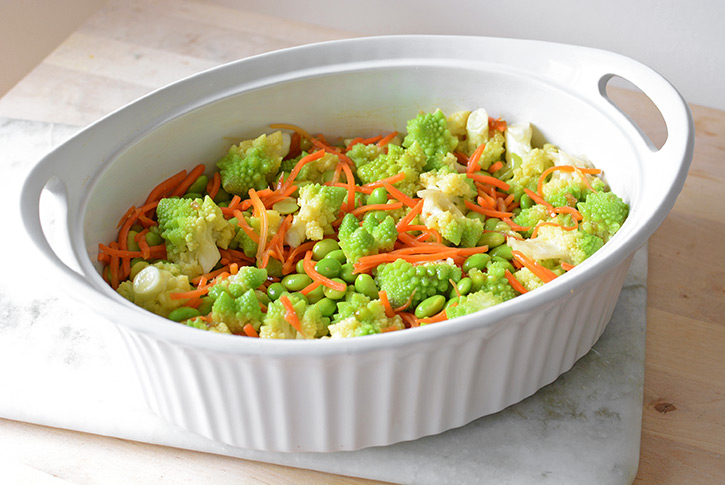 How to describe the taste of Romanesco Broccoli? Although it has broccoli in it's name, I feel that it actually leans more towards cauliflower based on texture and taste. It's a milder, nuttier, and sweeter cauliflower. Overall, I prefer it to both cauliflower and broccoli, and I think kids will take to it's milder flavor as well. You may be thinking, "Where in the world am I going to find this vegetable?" I'm happy to report that I've been regularly seeing it at a few grocery stores in my area. When you come across it, buy it and make this recipe. I think your whole family will love it! If you can't find Romanesco, you can substitute cauliflower and it will be almost as good. 🙂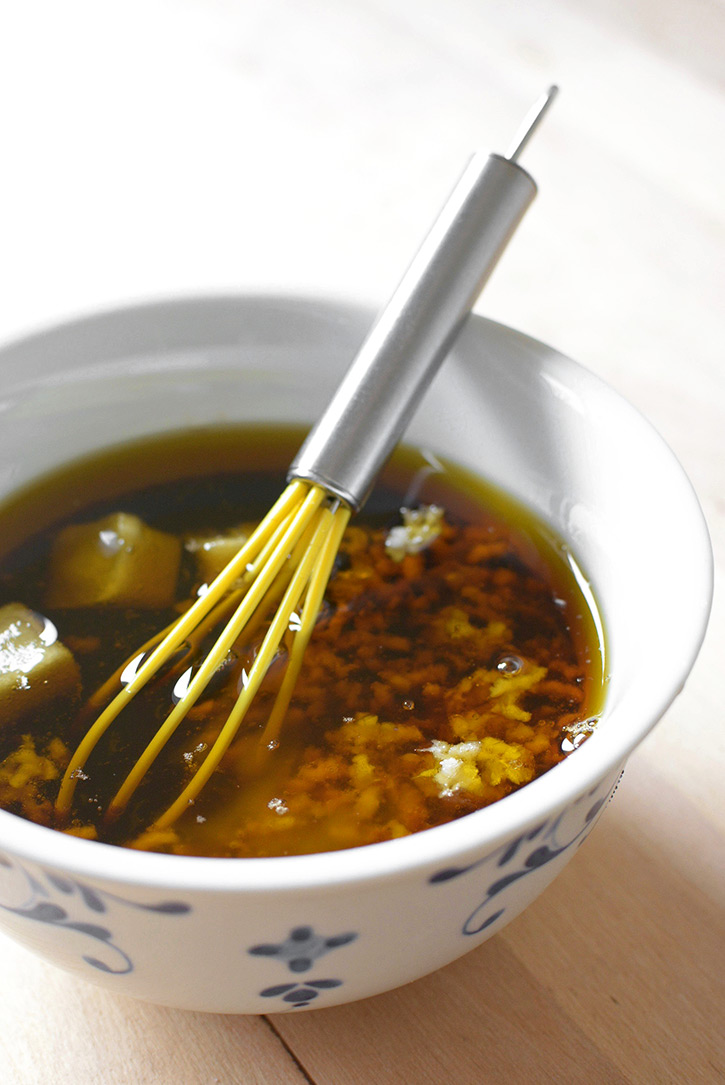 Now on to making this meal… It's incredibly easy to put together. You will have a healthy, home-cooked meal on the table in 30 minutes flat. To save on time, I bought frozen, shelled edamame and pre-shredded carrots from the produce section.  To prep the Romanesco broccoli, simply cut it into bite-sized pieces in the same way you would cut up broccoli (just try to preserve some of those pretty swirls). Lightly steam the vegetables and then whip up my easy sesame ginger sauce. Half of it will go on the vegetables and half will go on the salmon fillets before being popped into the oven. Before you know it, dinner is served!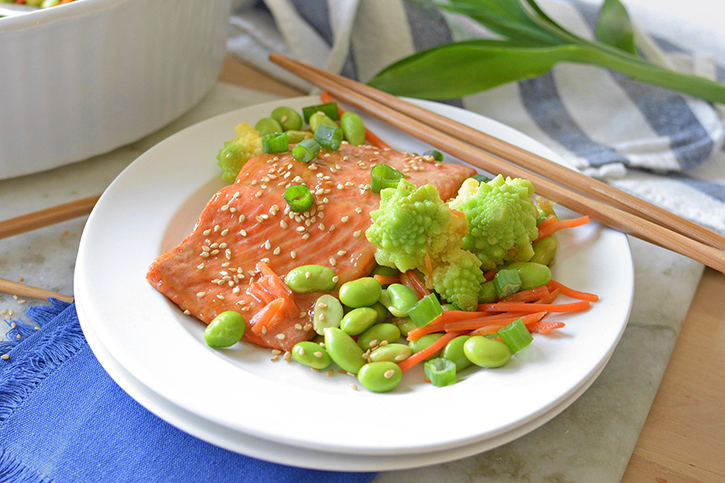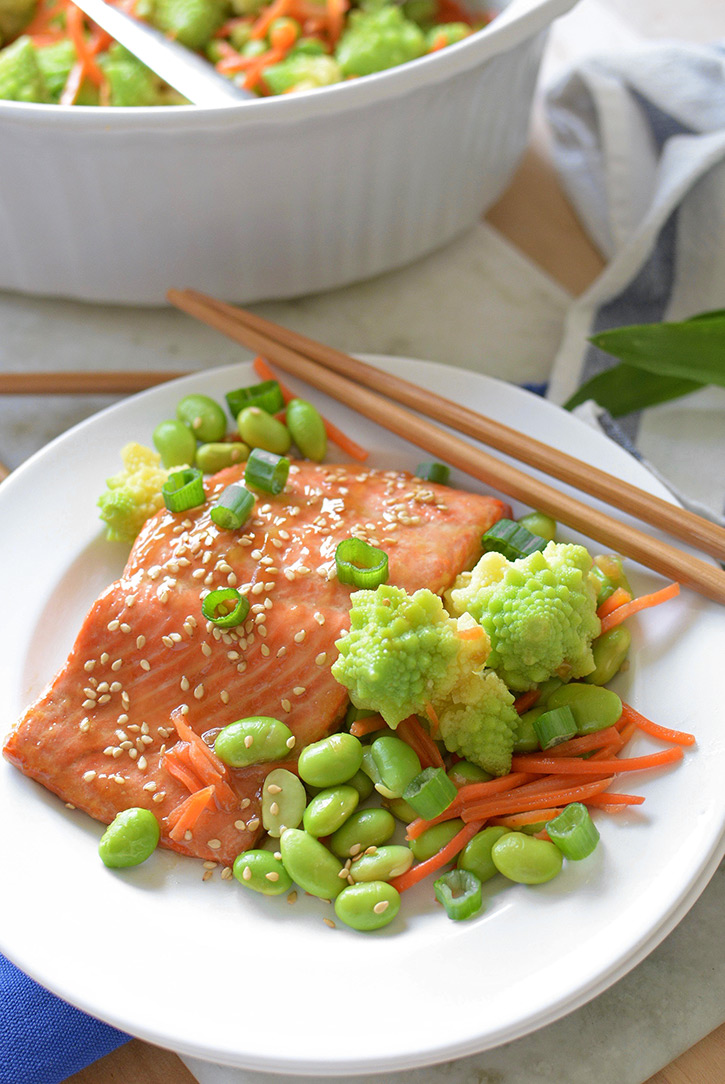 Sesame Ginger Salmon and Vegetables
Bring some excitement to your dinner table with Sesame Ginger Salmon and Vegetables. It's a tasty, 30-minute meal that's accessible for the whole family!
Ingredients
1 head Romanesco broccoli or regular cauliflower
2 C shelled frozen edamame
2 C shredded carrots
4 salmon fillets
½ C chopped green onions
1½ Tbsp toasted sesame seeds
Sauce
1 Tbsp vegetable oil
1 Tbsp sesame oil
⅛ C honey
2 Tbsp rice vinegar
2 Tbsp brown sugar
2 Tbsp low sodium soy sauce
2 cloves minced garlic
1 Tbsp fresh or frozen ginger
2 tsp corn starch
Instructions
Preheat oven to 450ºF.
To begin, steam the vegetables by pouring about 1 inch of water into a pot, inserting the steamer, and then bring to a boil. While you are waiting for the water to heat, cut the Romanesco broccoli into bite-sized pieces. If you can't find Romanesco, it is actually more similar to cauliflower than broccoli, so feel free to substitute with traditional cauliflower. Once the water is boiling, add all of the vegetables to the steamer, cover, and steam for 4 minutes.
While the vegetables are steaming whisk together all of the sauce ingredients and then divide in half.
Once 4 minutes have passed, remove the vegetables from the steamer and mix them together with half of the sauce in an oven-safe dish.
Next, prep the salmon by covering a baking sheet with tinfoil (to save on dishes) and by arranging four salmon fillets skin side down, taking care to make sure that all of the bones have been removed. Using a basting brush, coat each piece of fish with the sauce.
Bake the fish in a 450ºF oven for 4 minutes and then re-baste with the remaining sauce. Return the salmon to the oven along with the oven safe dish of vegetables and bake for another 2-4 minutes or until the salmon easily flakes and has an internal temperature of 145 ºF. The vegetables will also be hot and steamy and their sauce will have thickened.
Serve the salmon and the vegetables together immediately and garnish with toasted sesame seeds and chopped raw green onions.
Notes
This is a light and nutritious meal. If you have extra hungry mouths to feed, consider serving with white or jasmine rice.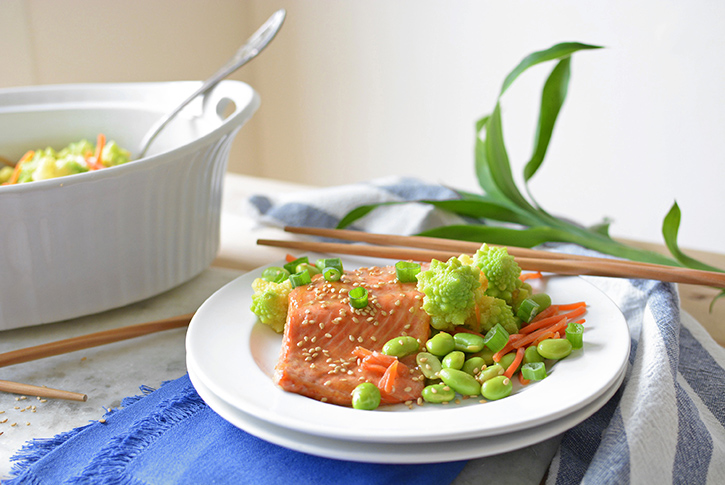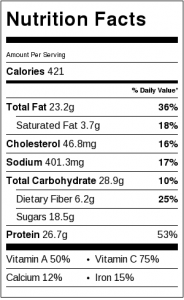 ---
 Hungry for some more healthy, family-friendly meals? Check out these recipes…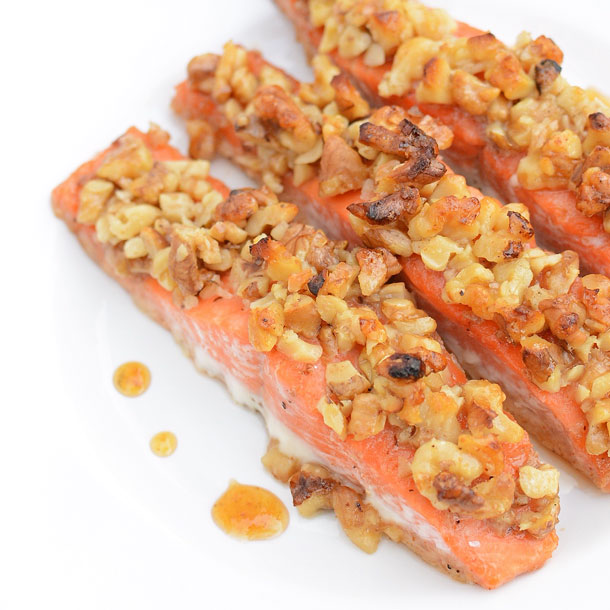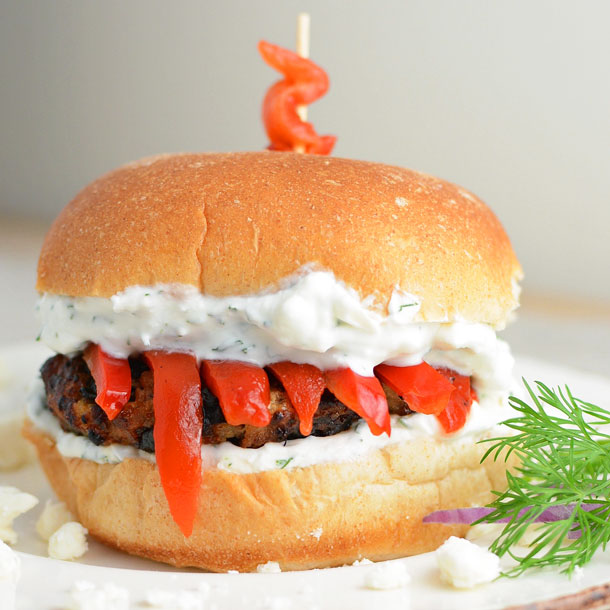 Israeli Couscous and Sugar Snap Peas