Today is our second post in the new Simply Photography Series and I'm so honored to welcome Angie Warren to the blog today! She has some really valuable tips for shooting photos indoors! Thank you so much for being here Angie!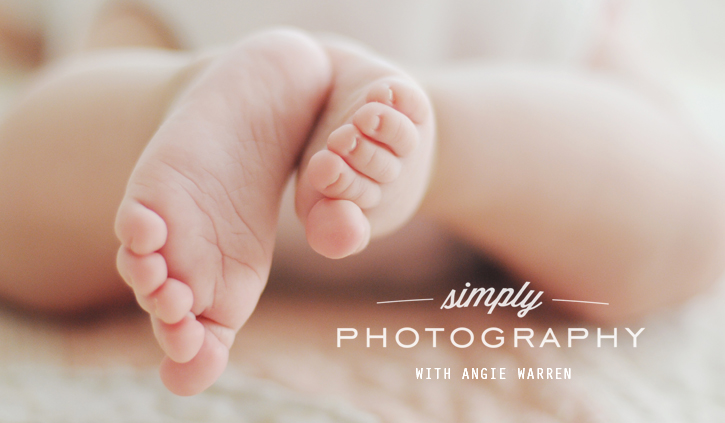 There was a time when my Ketti bag was full of gear: body, prime, telephoto, macro, even a Lensbaby. I had this vision that I needed all of this to be a good photographer, when in reality I simply needed what I loved most. That ended up being my good ole prime lense, my 35mm.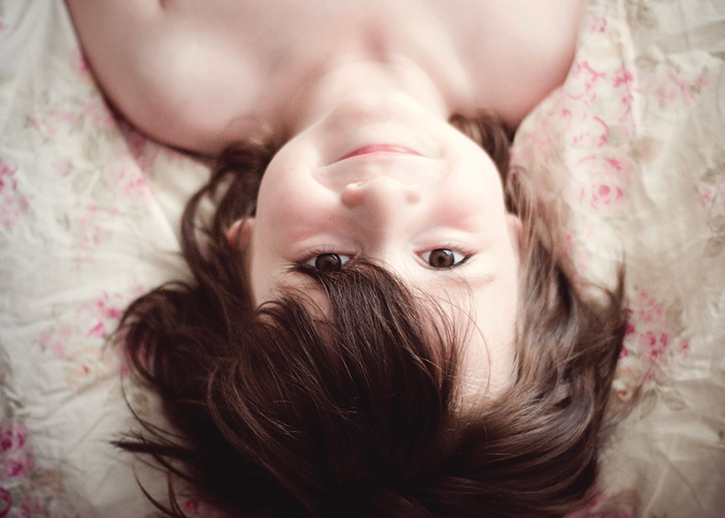 What I love the most about this lens is that I am able to shoot outdoors as well as indoors, and low light doesn't stand a chance. In fact, documenting my little family within the walls of our home is one of my favorite things to do! I do this using only natural light, shooting my camera in manual mode.
I'll be sharing some of my favorite images today, as well five tips and tricks that have helped me along the way.
Look for the light.
I believe the most important component in a good photograph is light. You may be surprised to know there are many light sources within your home, ones you may or may not typically think about.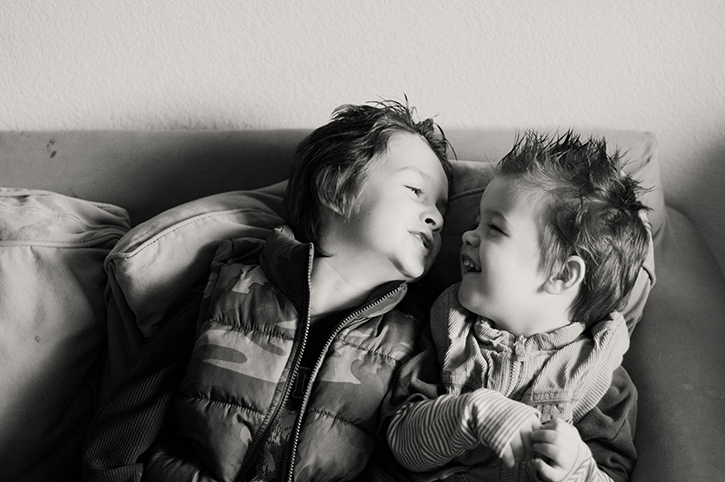 When I set out to take photographs inside, I am immediately looking for natural light sources. I pull back curtains and open the blinds. Positioning myself and my subject (my kids) in a variety of ways so I can see how the light hits them. If windows aren't an option, I open the front or sliding glass door. Even one window or door can provide enough light and shadow to create a lovely image.
Shoot in manual + basic equipment.
As I mentioned, my camera bag now holds only two very important things: my Nikon DSLR body and 35mm prime lens. That's it, folks! I know with this lens I can adjust my settings to allow the most light to enter my camera.
A prime lens, whether 35mm or 50mm, gives you the opportunity to change your f/stop sometimes as low as f/1.2. I don't have the fanciest high end 35mm, mine goes to f/1.8, but it works plenty good for me. The opposite of this, a kit lens (the lens that comes with a camera "package") won't allow you to move your f/stop lower than f/3.5 and this makes a huge difference in how much light it allows in.
As a general rule this is how I approach shooting in manual mode indoors:
ISO. Inside, no matter the light or time of day, my ISO is the first adjustment I make. If there is a lot of light and it is mid-day I might be able to dial my ISO to 200-400. If it is later or lower light I will go up to 800+. I've been known to shoot as high as ISO 3200 indoors (I love grain, more on that below!).
Aperture. Next important for me, is my f/stop. In my every day, whether inside or out, I never shoot about f/2.8. It's just a personal preference. Inside in low light, I am shooting at f/1.8 (the lowest number my lens will allow me to go to). I have to hold my camera steady and watch my focus, but this dials the aperture wide open, letting in as much light as it can.
Shutter speed. Lastly in the trifecta of exposure, is shutter speed. This can be tricky because the slower your shutter speed the more light is allowed in. On the contrary, the slower the shutter speed the more blur you're likely to encounter. I watch my light meter, but shutter speed is number three in my list of 'priorities' when shooting indoors. Another personal preference is, I don't like it to go below 1/90 if at all possible.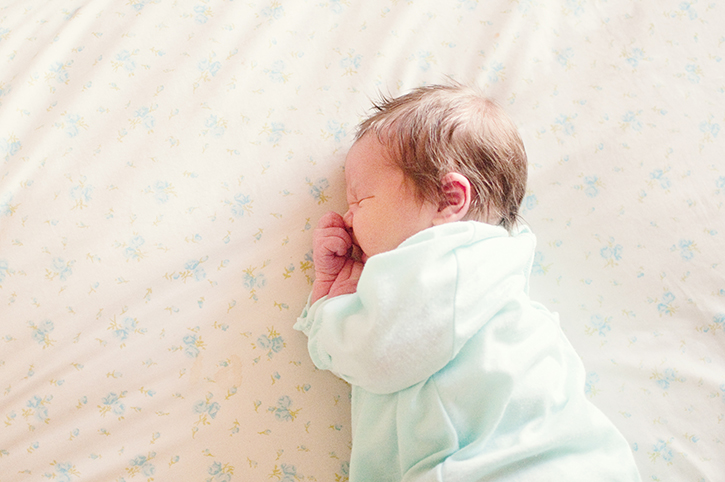 Positioning yourself + subject.
When I'm documenting my children that means I am shooting them as they are. Whether it be playing video games, reading a book, or working on a craft – I try not to be involved in any way. These are the every day moments I want to remember so I don't intrude. In this situation I position myself in ways to shoot them with the best light. Meaning, they stay where they are (say, their bed for example, reading a book), and I move myself around the room until I feel like I've got it.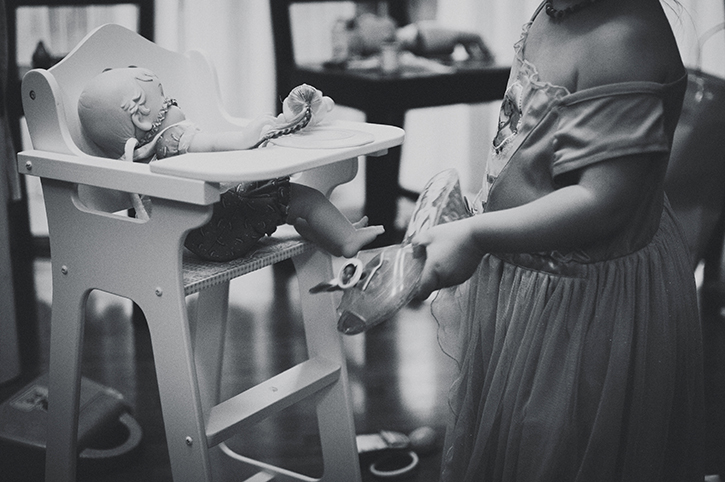 When I'm wanting an intentional picture, say before church, or of my daughter showing me her new baby doll, I will position her in such a way that the light is just where I want it. For example, looking around the room and seeing a big window to my right. I place her on the opposite wall and myself in between. This way the natural light is hitting her (and my back is toward it), I am now able to take a crisp, clear, well-lit, photo.
Change perspective.
It is so very easy to get stuck in a rut of shooting from the hip, looking down at your children, or overall laziness in snapping photos. I try to remember to change up my perspective!
As a general rule when I am documenting my family, I like to change my perspective at least five times. Example: I am taking photos of my kids eating breakfast at the table. Here is what I'm going to shoot.
Pulled back shot from the living room, ensuring I am capturing the entire scene.
Get in close and shoot a cropped image of my two year old's chubby hands gripping her spoon. Bonus points for milk dripping off!
Stand on a chair and shoot my son from above.
Move to the kitchen and shoot from their level.
Focus in on each child's face from standing.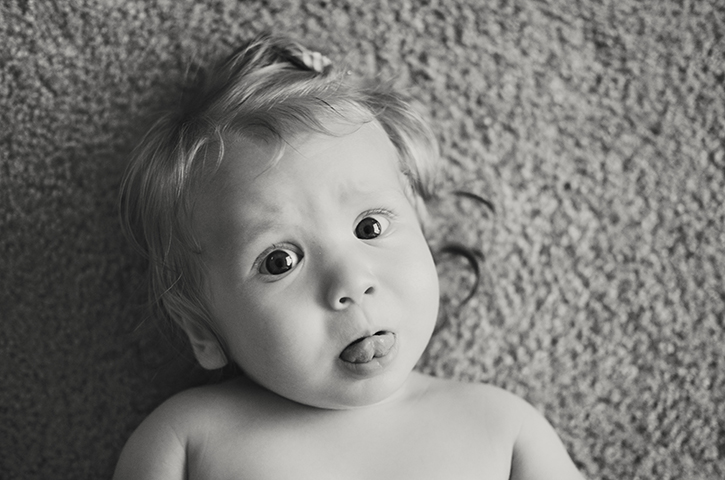 This ensures I am not going to upload my memory card and have thirty photos that all look the same. When I was in business, this idea helped me to create a gallery of images that were all unique and my client's had a hard time choosing (then they simply want them all!).
Just shoot.
As much as the rules are important, and they are, I have to remind myself that life is messy, and loud, and beautiful, and fleeting. If the light is dim and I have to dial my ISO to 3200, I embrace the grain. If my shutter speed is low and there is motion blur, I know I'll remember how my boys never sat still. If the skies are dark and I can't get great natural light, I shoot anyway.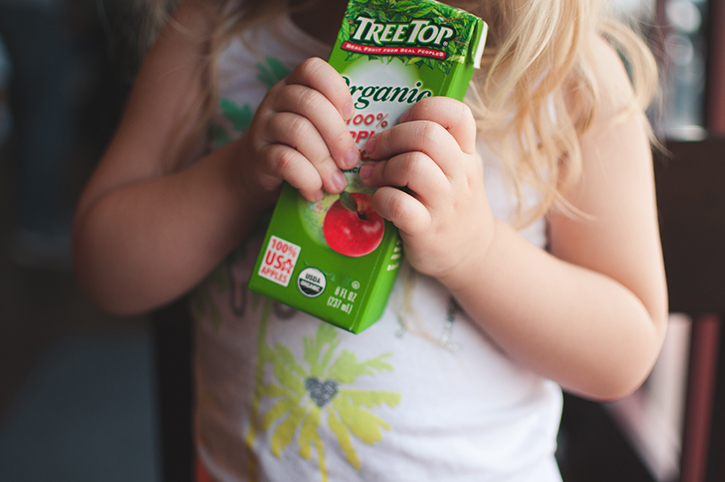 You will never regret documenting your children, especially within the walls of your family home. These are the days and years they will want to remember, and by photographing them, you are giving them a gift no one can replace.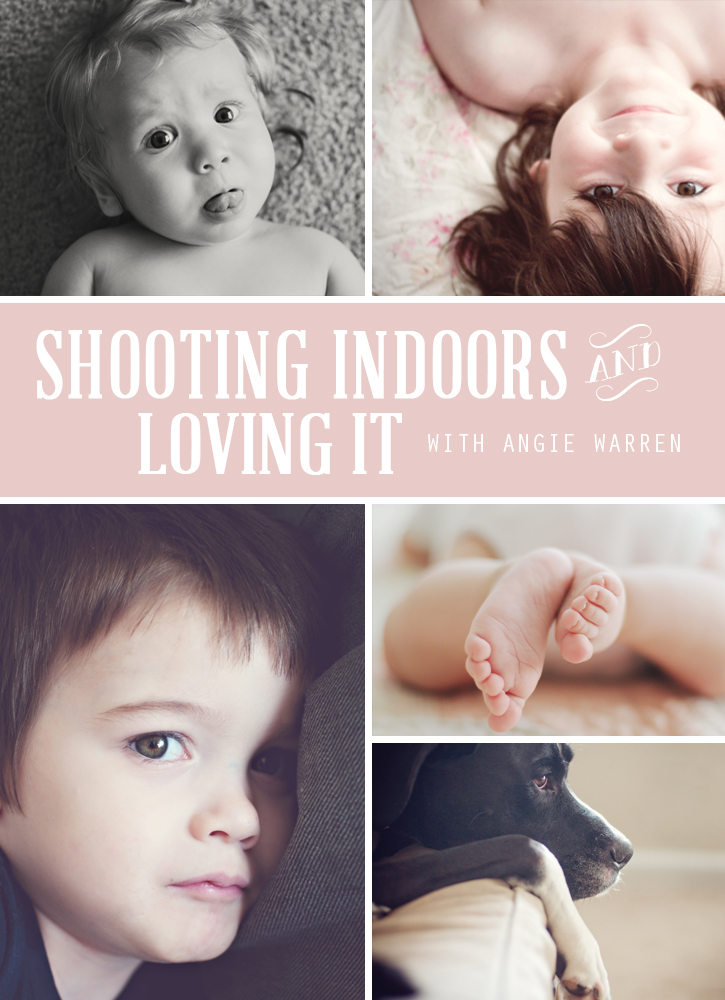 Angie Warren lives with her husband and three kids in beautiful Northern California. A former professional photographer, she now devotes her days to teaching this craft to an amazing group of high school students, as well as documenting her own children every chance she can get. In her free time she loves to paint, read Outlander, and work on her upcoming memoir. Angie has authored two e-books; one ondocumenting your days, and the other about making the most of shooting with your mobile phone. Read more about Angie as she shares her thoughts on photography, motherhood, and grief, on her blog. 
Don't miss the first post in the Simply Photography series here: Embracing the Life in Lifestyle Photography by Lacey Meyers. Stay tuned for more inspiring, back to basics photography tips coming in June!