Simple Christmas Treat Cups – quick and inexpensive fun for the kids this holiday season! These cute cups are perfect for party favours, classroom treats and double as an easy holiday craft!
A few years ago I created these Halloween treat cups and they were so much fun I just couldn't resist coming up with a Christmas version! My kids loved making these little cups with me and they're so easy and inexpensive – they're perfect for holiday crafting!
Supplies
small red pompoms
scissors
We made three varieties of treat cups – Snowmen, Santas and Reindeer. Let's start with the Santa cups.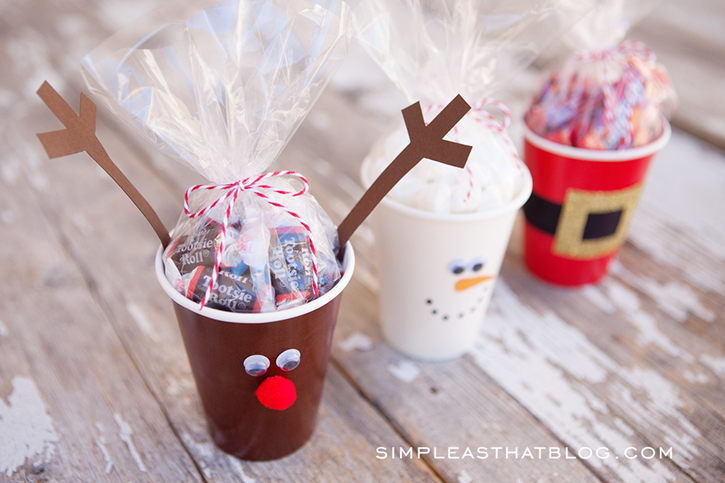 Santa Treat Cups
Start with a red cup and next cut out a strip of black construction paper for Santa's belt. Be sure to cut in a curve so it will fit properly around your cup.
To cut my black strip I took apart a paper cup and traced the shape.
Attach the black strip of paper around the center of the red cup to make Santa's belt.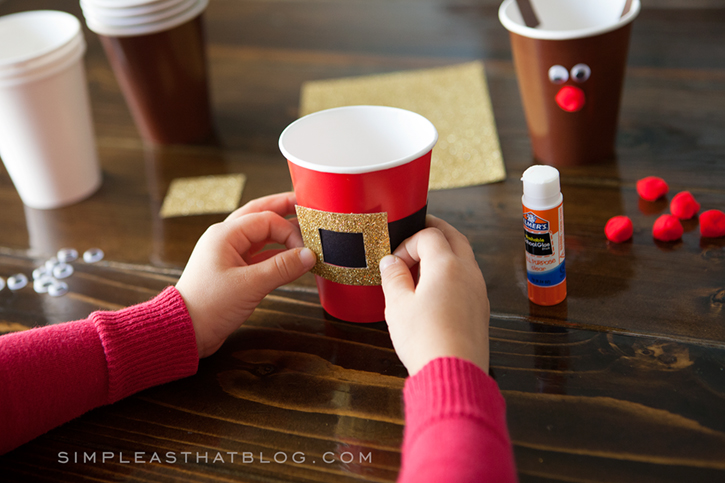 Next cut a square out of gold glitter paper and cut out the centre of the square – this will make Santa's belt buckle.
Attach it to the front of the cup in the centre over top of the black strip of paper.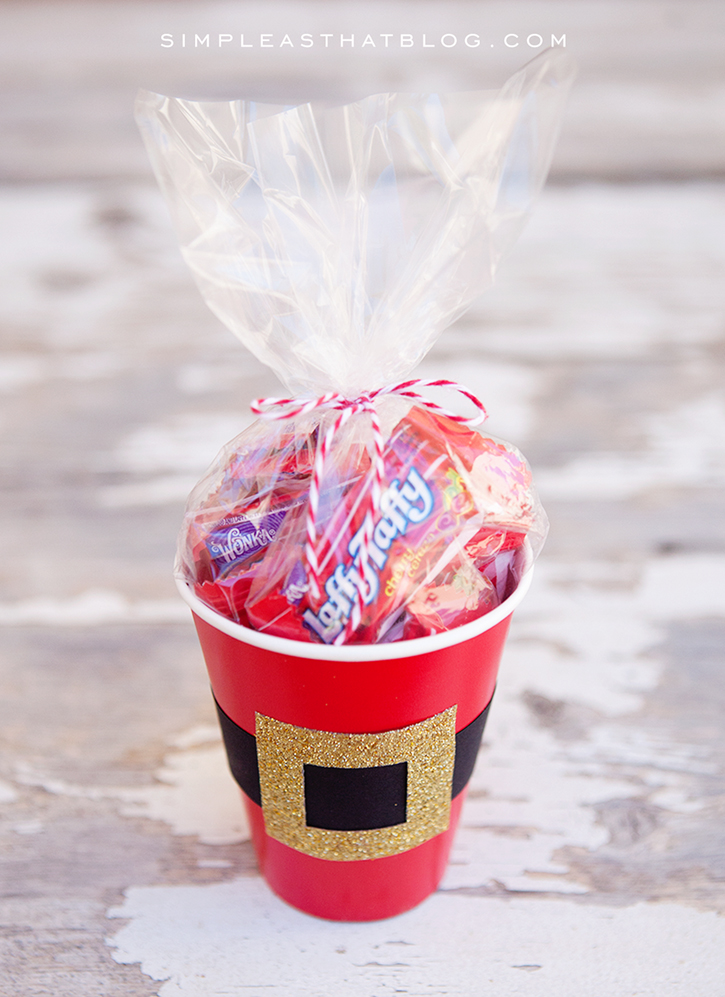 Reindeer Cups
To make the reindeer cups, start with some brown construction paper.
Cut out two small antlers. You could also use brown pipe cleaner if you want.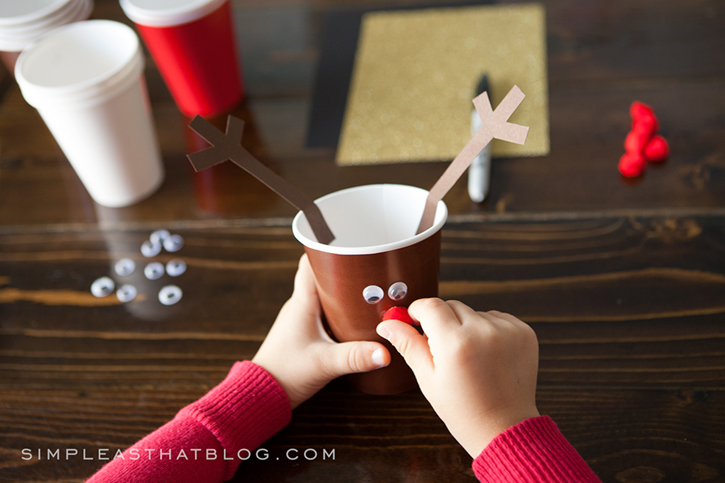 Attach your antlers to the inside of the cup on either side.
Next attach the googly eyes and a small red pompom for the nose.
We used tootsie rolls but this homemade Chex Mix Christmas Crack would also be perfect to put inside your reindeer treat cups!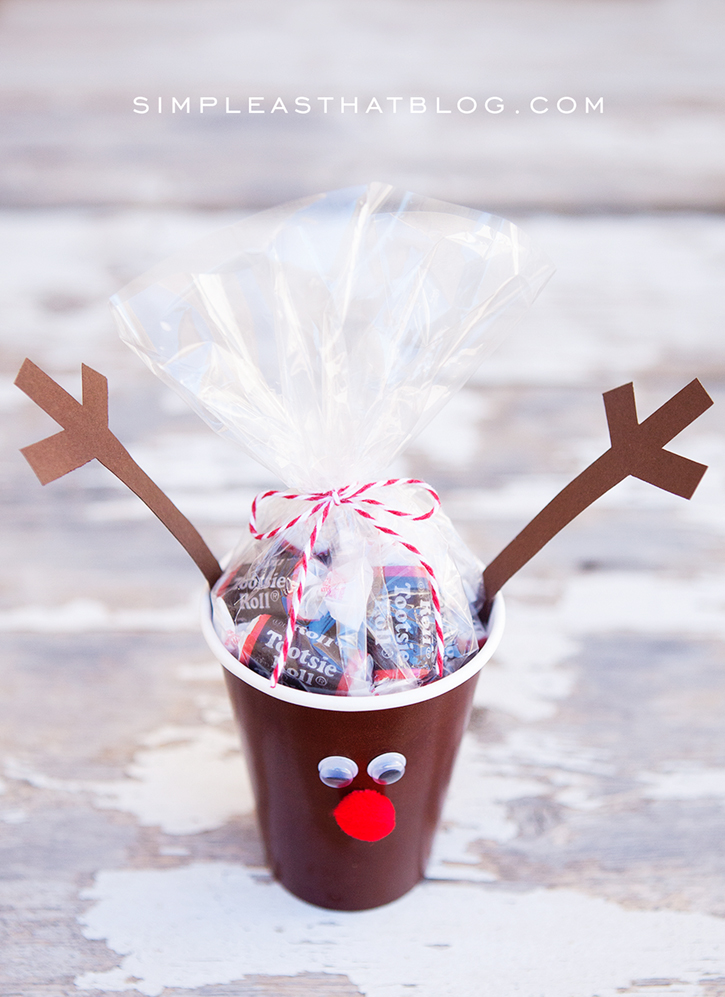 Snowman Treat Cups
Begin by attaching two googly eyes to the front and centre of a white cup.
Next cut out a small triangular piece of orange construction paper for the nose.
Attach the nose just below the two googly eyes.
Next, using a sharpie, draw on the snowman's mouth.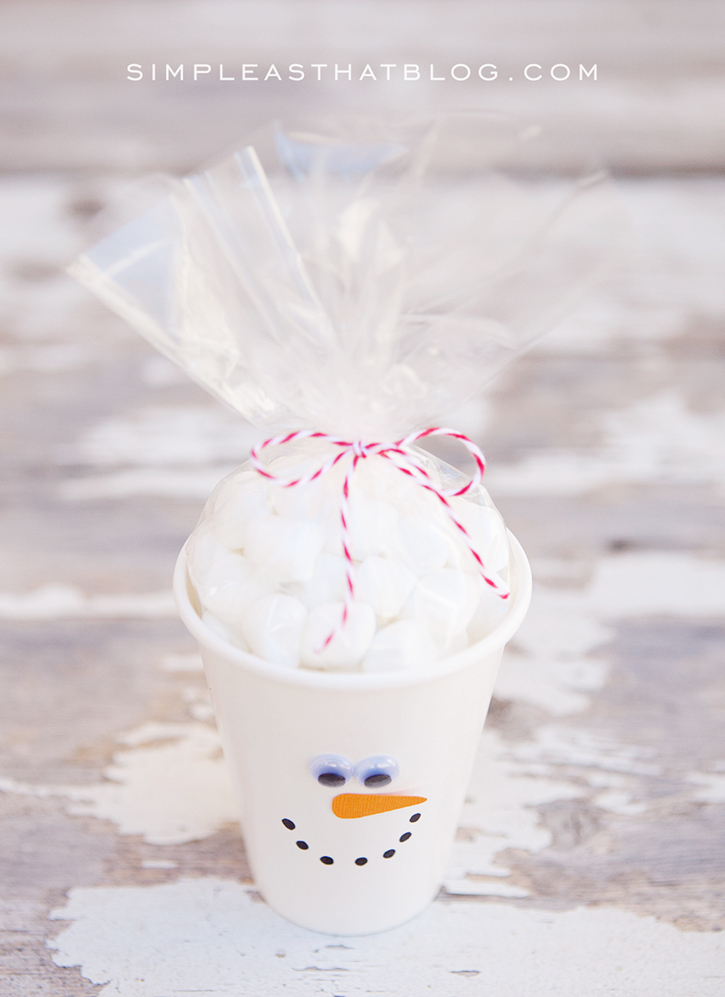 Once your treat cups are put together it's time to add your treats. I chose to fill each cup with a color coordinating treat. Cherry laffy taffy for the Santa cups, tootsie rolls for the reindeer and marshmallows for the Snowmen. There are all kinds of yummy holiday treats you could add to them – you could even choose healthier options like pretzels, chex mix, popcorn, etc.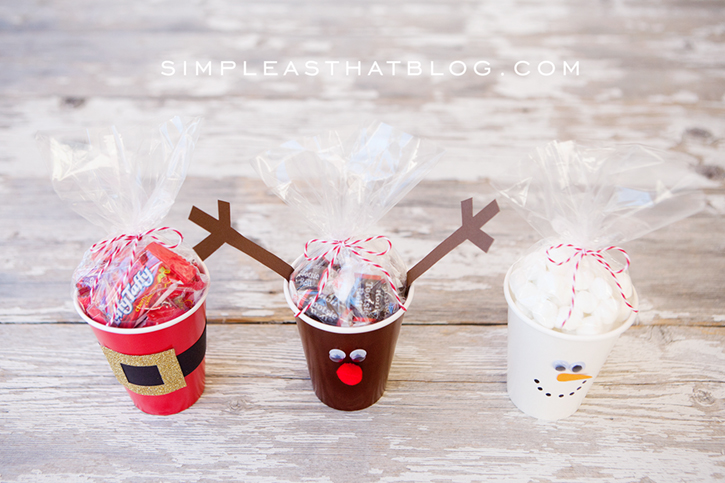 Put your treats in a small cellophane bag, tie it shut with some coordinating ribbon or twine then add the bags to your treat cups.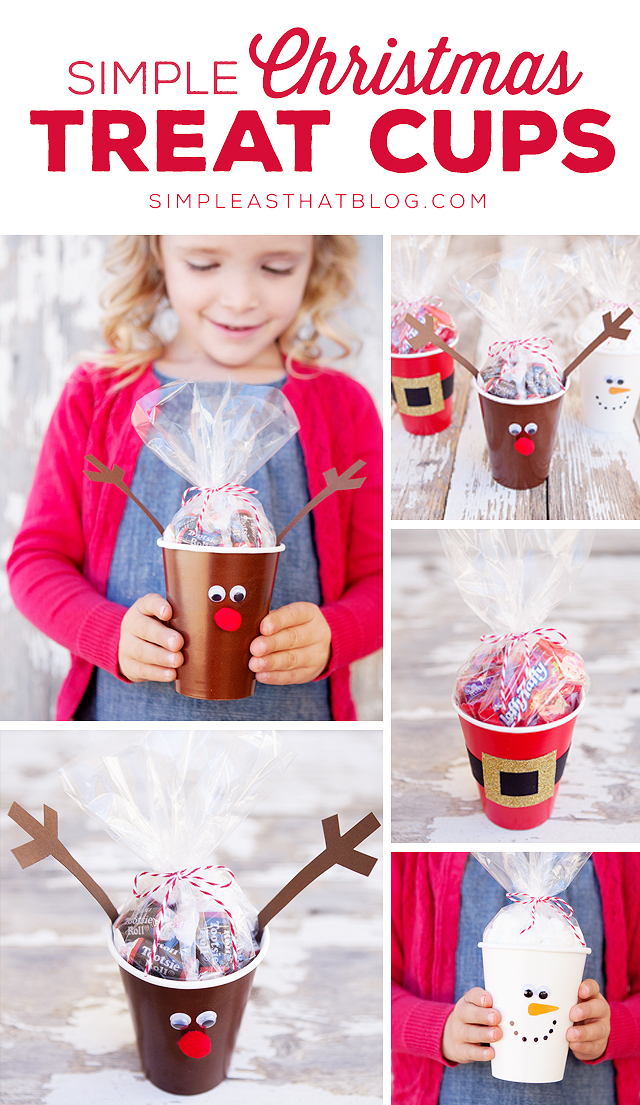 We made these treat cups last week for a family movie party. The kids put their own together and then I gave them a variety of Christmas treats they could fill their cups with. They snacked on their treats while we watched a favorite holiday movie and it was a fun (and simple!) activity to do together.
If you liked this post you might also enjoy…