Simple Fall Pumpkin Banner –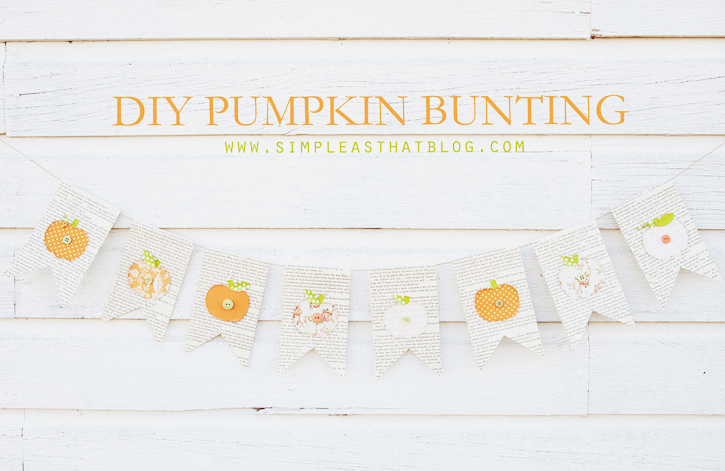 A couple of weeks ago I put together this simple pumpkin banner for Fall. I just can't seem to get enough of these
simple book page buntings
! Pretty soon I'll have one for every season! They're so quick and easy to put together and add just the right handmade touch to our holiday decor. Scroll down for a supply list and instructions on how to create your own pumpkin bunting!
What you'll need to make your 
pumpkin bunting:
some string or twine

|

a
 stapler

| 
buttons

|  
orange + green coordinating pattern paper

|

g
luestick or other type of adhesive

|

s
ome pages from an old book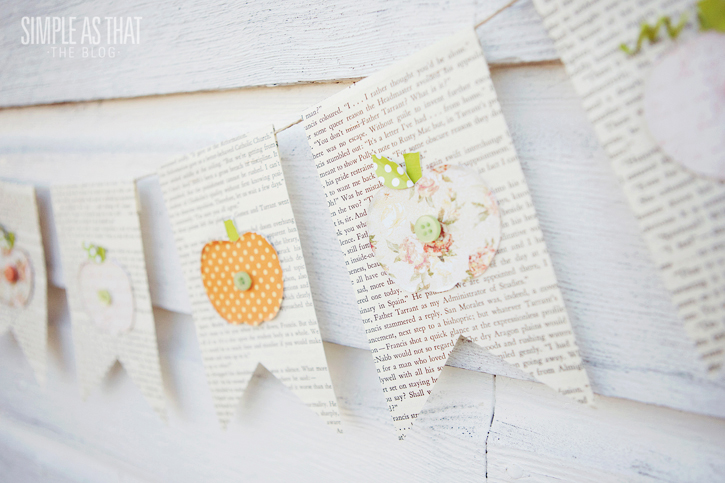 Here's how you'll put it together:
1. Using your book pages cut out however many rectangles you'd like
approximately 3.5″ x 6″ in size.
2. Snip out a triangle shape from the bottom of your rectangles. Hint: From left to right, find the center of your rectangle then measure approximately 1 3/4 " from the bottom to find where the top point of your triangle will be.
3. Cut out the number of pumpkins you'll need for each piece of your bunting.
4. Attach pumpkins to your bunting pieces being sure to allow enough room to fold over the top edges. Place a button in the center of each pumpkin. I also added a small leaf to some of my pumpkins.

5. Now you're ready to put your bunting together. Simply cut a length of string and attach banner pieces to string by folding top edge of banner pieces over the string + staple. Space banner pieces evenly along the string by sliding them back and forth as needed.


I hope you enjoy our little pumpkin bunting as much as I do! It was a lot of fun to put together and looks so darling hanging up in my home office!
 If you like this project please leave me a comment, pin it or share via facebook/twitter. 🙂
It's so helpful to know what projects you like so I can keep on sharing more tutorials and craft ideas that you enjoy!