Simple Handmade Toy Camera – encourage creative play with this simple, toy camera made with a small cardboard box and other items from around the house!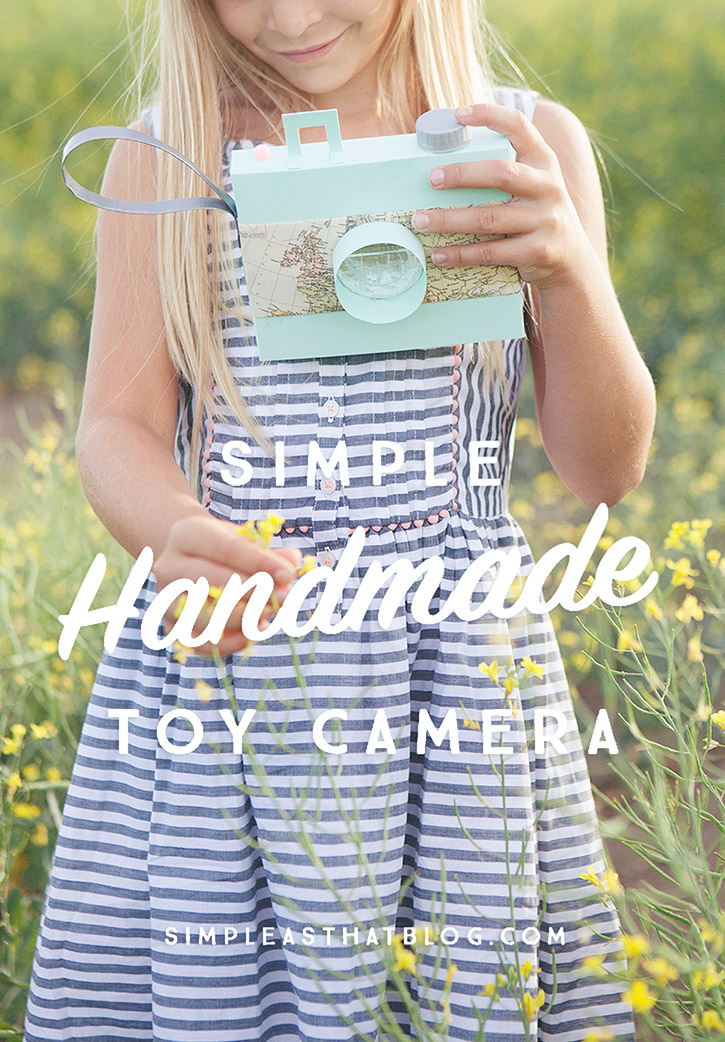 Summertime is made for crafting and this past week the kids and I created these cute handmade toy cameras thanks to inspiration from Michaels Craft Stores!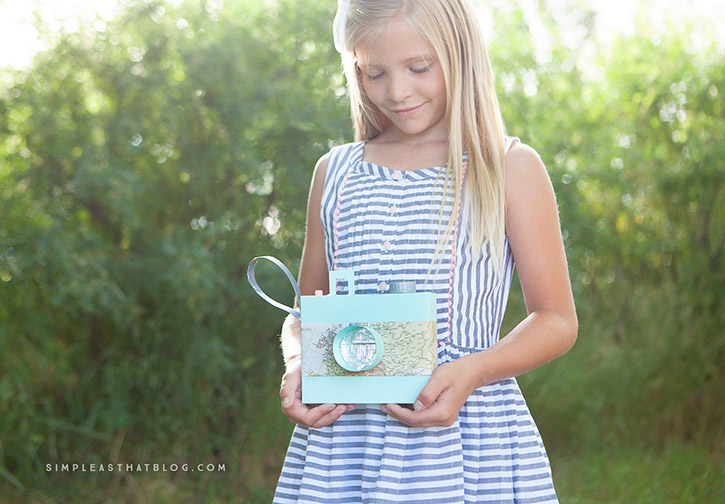 As a photographer I'm always snapping photos of my kids! Helping them make their own cameras gave them the opportunity to turn the camera on Mom for a change and have all kinds of fun playing photographer!
Feel like getting crafty with the kiddos this afternoon? Follow the instructions below to make your own toy camera!
Supplies
Small cardboard box
Construction Paper or Cardstock
Duck Tape
Colored Pony Beads
Scissors
Gluestick
Low Heat Glue Gun (adult only)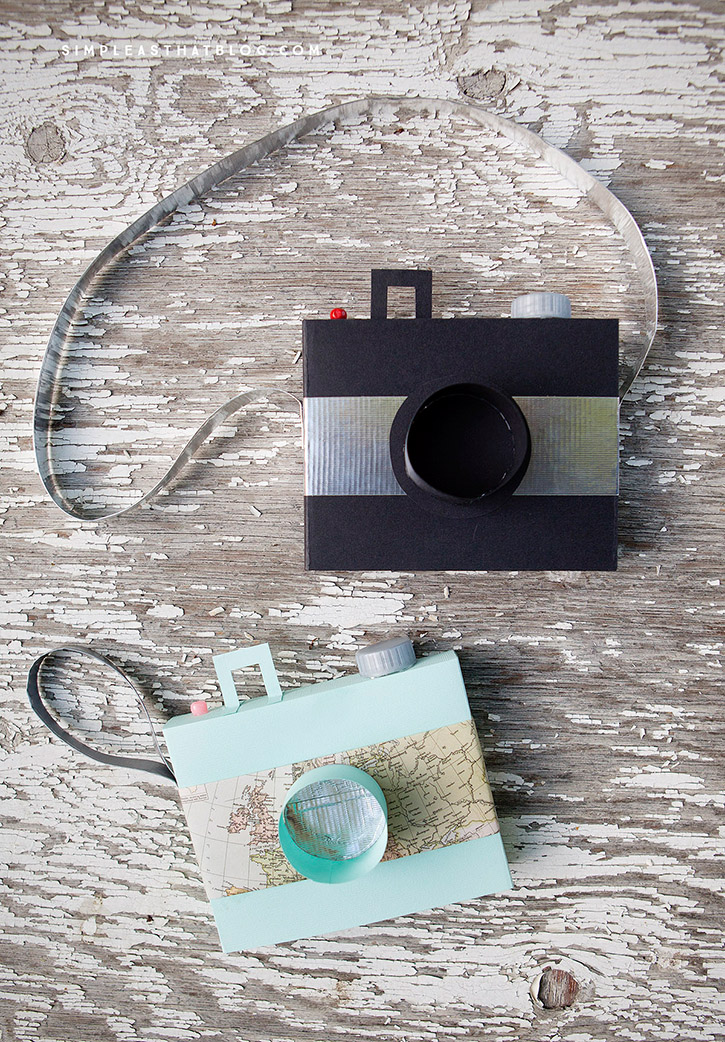 For full instructions for this project visit Michaels.com. We added a few little custom tweaks to our cameras by adding some colored cardstock, a handstrap on one and some vintage map paper to give the turquoise camera a bit of a vintage flair. You can customize these little cameras any way you'd like!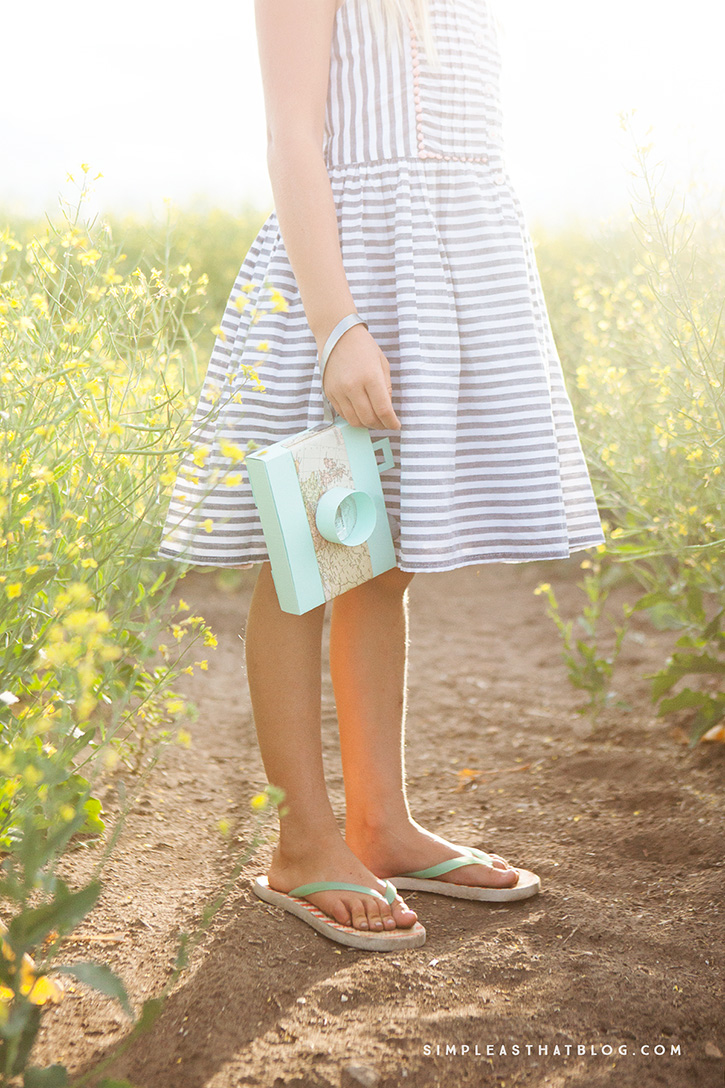 As fun as it was to actually make the cameras, I think the most fun came when the kids played with them afterwards! They had a ball pretending to take photos of animals and flowers around my parents farm and even snapped a few selfies while they were at it! This was such a fun Summer project to do together!
Passport to Imagination
Would you like to create a make believe camera like the ones we did? Michaels is offering a kids' summer crafting program, Passport to Imagination, every Monday, Wednesday and Friday from 10 am – noon from June 14-July 31 at every Michaels location across the U.S. and Canada.
Passport to Imagination takes kids on an imaginary seven-week summer road trip from the beach to the country fair and more! The Michaels classroom will teach different crafts each session.This weeks theme is "FLEA MARKET" and they'll be making – you guessed it – cameras!
Craft in Style with Gymboree
As a mom, I've been long time fans of Gymboree clothing! Gymboree offers cute, coordinate looks that help your little ones enjoy the little and big moments this summer—from craft time to flea market time.
Since 1976, Gymboree has proudly watched kids learn and grow through the power of play and seen firsthand the desire from Mom for cute, comfortable, coordinated style at an everyday great price.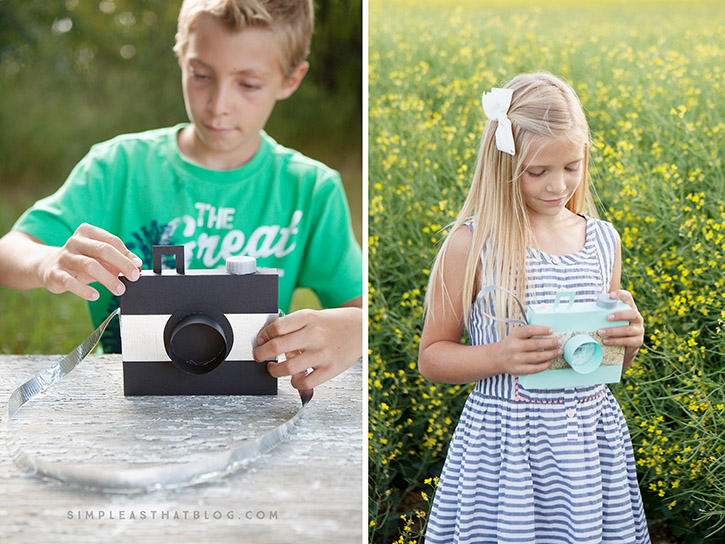 #CraftInStyle Instagram Weekly Sweepstakes
Gymboree is hosting a 7-week weekly Instagram sweepstakes, which ends on August 2, encouraging Mom to share a photo of her family getting crafty and inspired by each week's summer destination. The weekly winner will receive a $100 Gymboree gift card, a $100 Michaels gift card and craft supplies!
All you have to do is:
• Follow @Gymboree and @MichaelsStores on Instagram
• Post a picture of how your family crafts in style
• Tag your photo with #CraftInStyleSweeps