Tis the season for Christmas parties, school concerts and dance recitals. With three girls, anything that will help simplify holiday hairstyles is ok in my book. That's why we love these spiral ringlet formers. Find out why we love these curlers so much and how I use them in my girls hair plus I'm sharing a roundup of simple holiday hairstyle ideas for girls.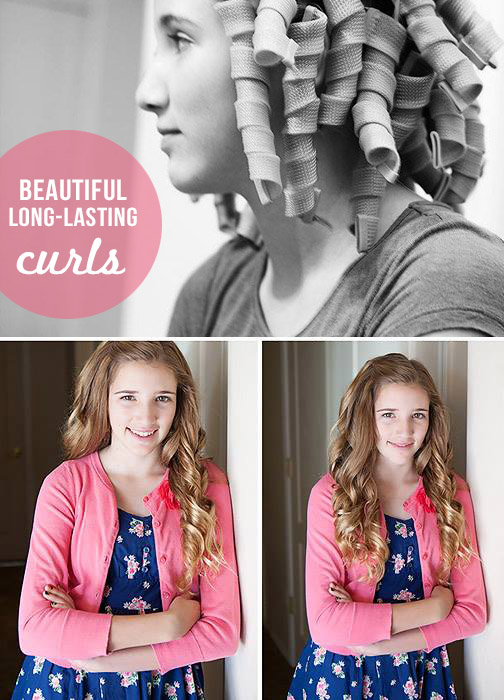 I'm definitely NOT a hair expert, but with 3 girls I'm always on the look out for products that help me manage all the hair we have going on around here! These type of curlers have worked so great for us and I'm hoping to share some quick tips on how we use them.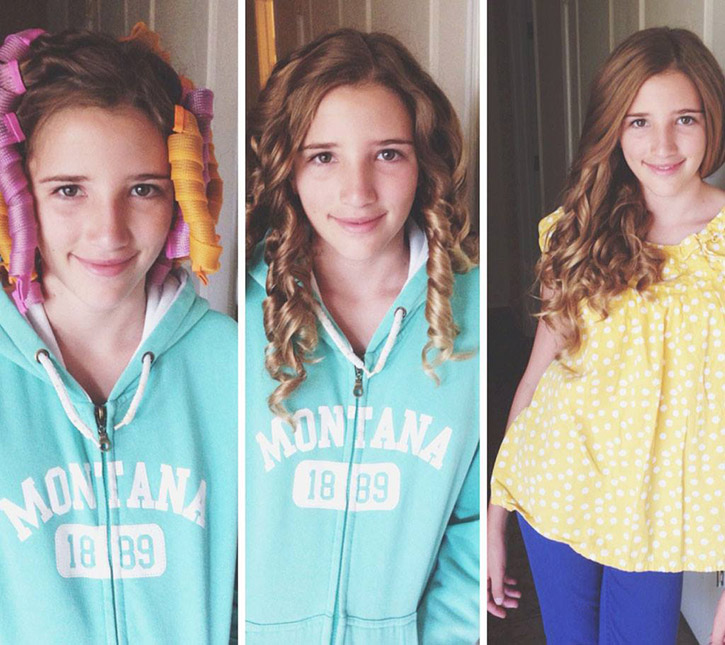 My oldest daughter has long, thick hair that doesn't hold curls for very long so I mostly bought them to try on her hair. The curl  formers that we bought were the LONG and WIDE size. They are 50cm long and came in a package of 40. Here are a couple of different purchase options:
Hair Curler Magic Spiral Ringlets Former – $12.99
Official Curl Formers Extra Wide and Long – $68.99
We purchased the cheaper knock-off brand and they worked perfect for us. The wand that came with the kit we purchased wasn't very good, so we did end up buying the official Curl Former Wand — the other kept coming apart when I used it but the curl former wand works wonders. There's definitely a bit of a learning curve for getting the curlers in, but I googled how to put them in and found plenty of youtube videos that helped a lot!  These are the videos I followed to learn how to use them.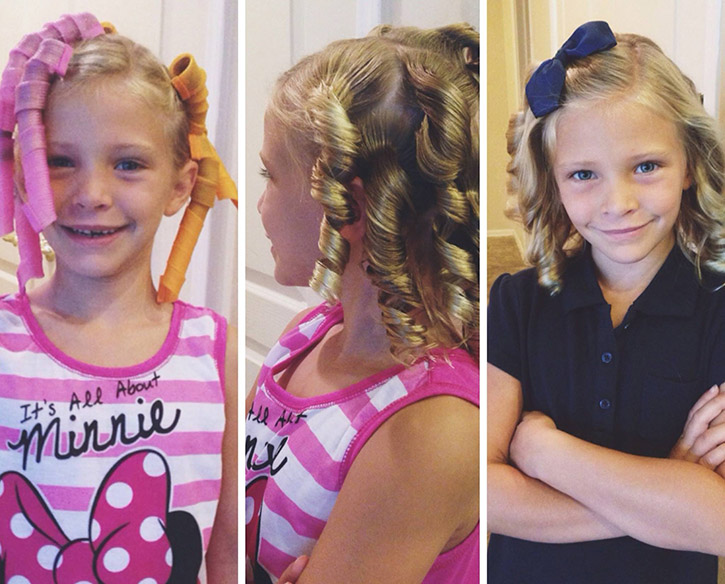 Spiral Ringlet Former FAQ's 
 1. Do you put the curlers in dry or wet hair?
We put them in damp hair. After my girls have a bath/shower in the evening we put them in before bed. Hair is towel dried,  not soaking wet. Damp hair makes it easier to put the curlers in. When the hair begins to dry it gets harder to slide the hair through the curlers so I use a spray water bottle to dampen any dried hair as I'm putting the curlers in.
2. Do you sleep in the curlers?
Yes. My girls sleep in the curlers. We put them in after a night time bath or shower then they sleep in them and we take them out in the morning. By morning their hair is completely dry and the curls are set.
3. Do the curlers fall out while sleeping?
Once the curlers are in they are in to stay. We haven't had any fall out while sleeping. The top edge of the curlers has a silicone lip that secures the hair.
4. How long do the curls last?
I've been amazed with how long the curls stay in my girls hair! When I curled my oldest daughters hair with a curling iron (which would take me 45 minutes or more on her thick, long hair) the curls wouldn't last the morning. With these curlers the curls have lasted 2-3 days. Until her hair needed to be washed again. They just got a little looser each day, but were still pretty.
5. How long does it take to put the curlers in?
They aren't hard to use – I'm getting faster each time I use them…..it does take some practise to get the hang of them, but once you have a rhythm going they go in relatively fast. I'd say it takes me 25-30 minutes to put them in my oldest daughters long hair and 15-20 min in my middle daughter's hair.
6. What product do you use in the hair?
I read that some people use mousse to help the curls set, but we've only used leave-in conditioner. I sprayed my girls hair with Healthy Sexy Hair which helped the curls to come out soft and not frizzy. 
7. How many curlers do you need to curl you daughter's hair?
The set of spiral ringlet formers we bought had 40 pieces and we used about half of them on my oldest daughter's hair which is thick and long. I could have done two of my girls hair with the 40 piece set.
Those are just a few quick tips that have helped when we're using these fun curlers. If you think of anything else you'd like to know just post your questions in the comments and I'll try to add my answers to the post. These curlers are so great for creating beautiful holiday hairstyle's and have been such a timesaver for me when it comes to curling my girls hair.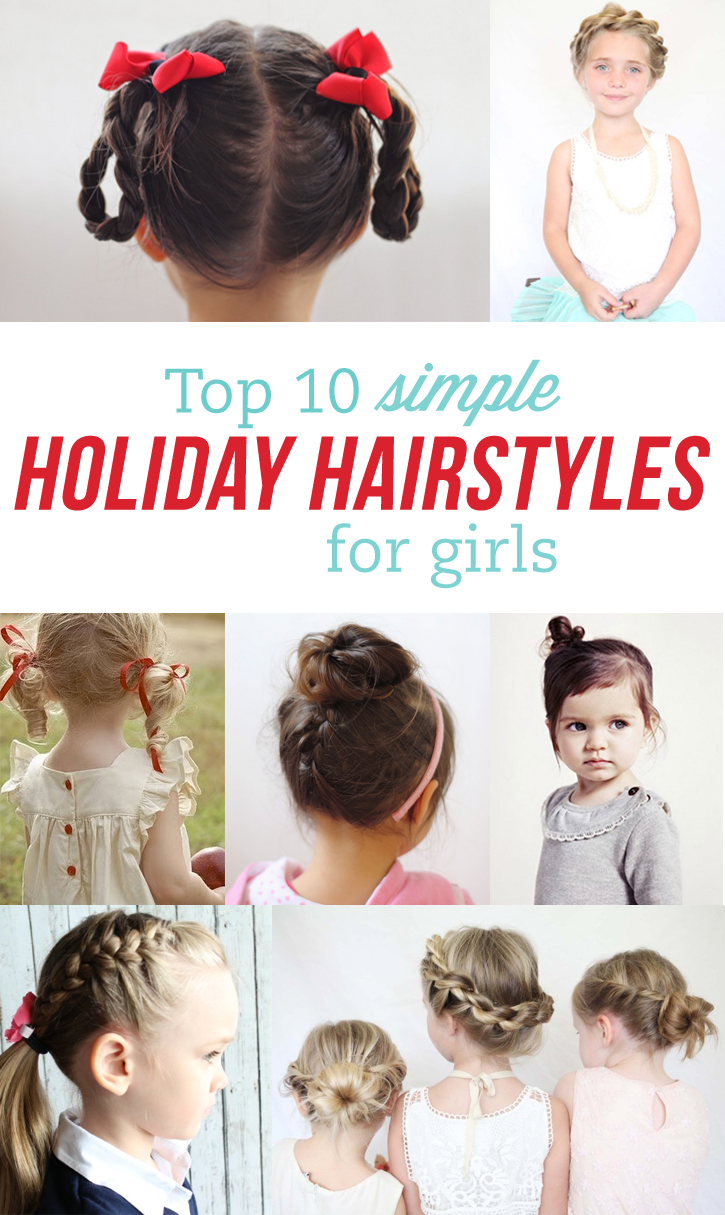 Top Ten Simple Holiday Hairstyles for Girls
1. Cute up-do's 2. Sweet Roll 3. Fancy Piggy Tales 4. Braid into a Bun 5. Twisty Bun 6. Twisted Ballerina Bun 7. Loopy Bun 8. Simple Side Braid 9. Quick Messy Bun 10. Waterfall Braid