DIY Photo Collage for Mom – Mother's Day is this Sunday and if you're still looking for a unique, meaningful gift for Mom, give this DIY Photo collage a try!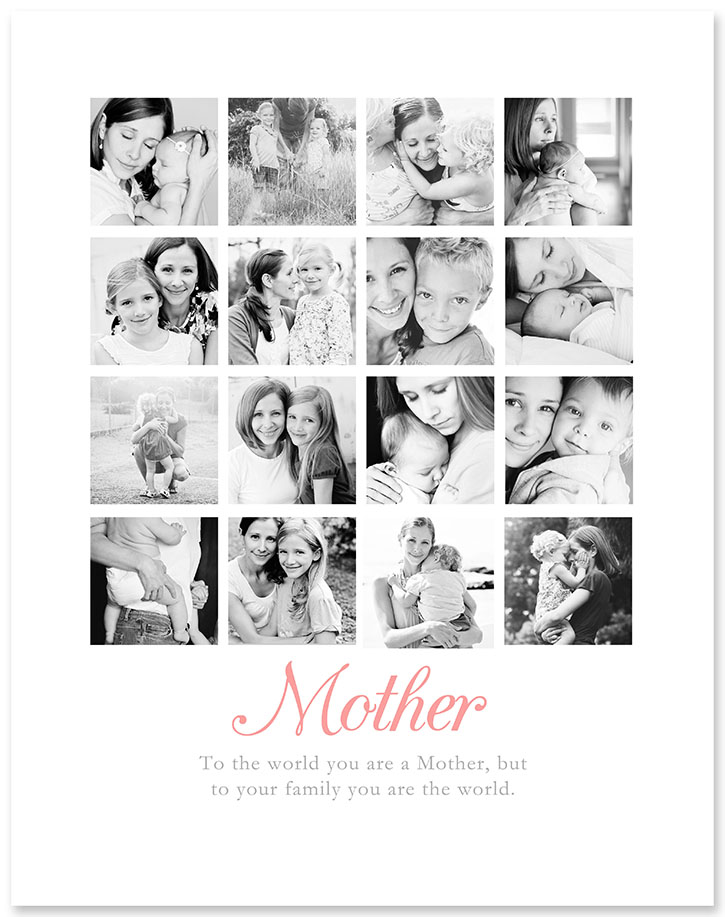 I think any mother, grandmother, Aunt or Mother-in-Law would love to receive a handmade gift full of photos with her loved ones!
If you have some knowledge of Photoshop or Photoshop Elements you can create one of these photo collages by hand and have it printed at your favorite photo lab for framing.
If you need a little more guidance to help you make your own collage I've got a FREE digital template for you to use to make this project even simpler!
When you first open up a digital template in Photoshop or Photoshop Elements it will look like this: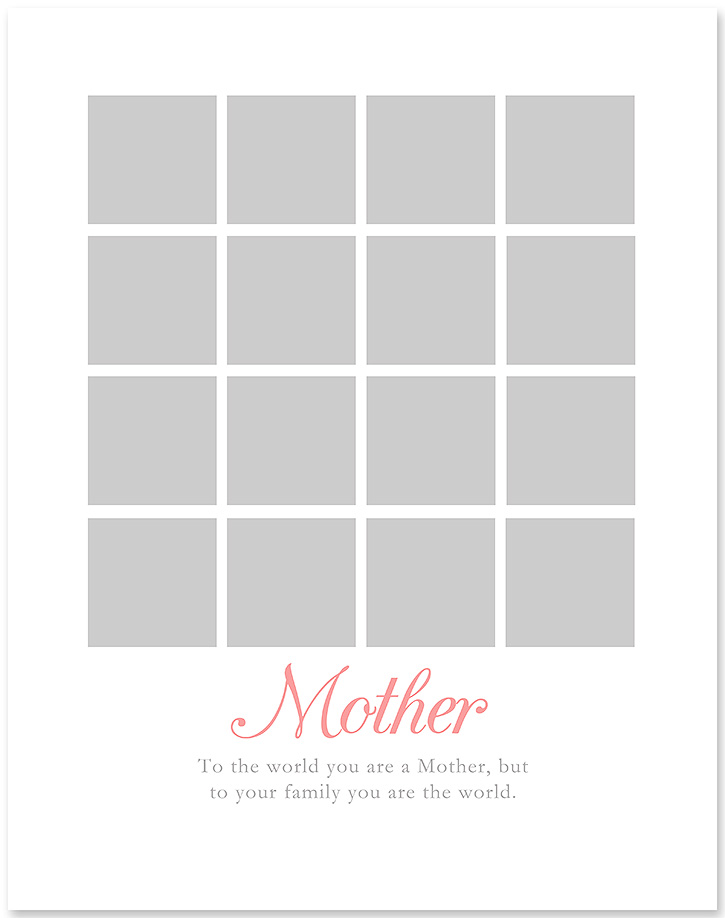 Using Digital Templates to Create Handmade Photo Gifts
Templates can be such a valuable tool when it comes to creating personalized cards, digital scrapbooking or even blogging. I've been keeping things quick and simple in photoshop by using templates for years!
Here are some quick tips for how to use templates. Use these guidelines to create a beautiful photo collage for Mom this Mother's Day!
1| Download and open the collage template in Photoshop/Photoshop Elements. The blank grey boxes are where you'll add your photos. Open your layers palette and you will see that each grey box is on a separate layer.
2| Open the photos you'd like to add to the template. Drag and drop or copy and paste them into the template. When you do this they will automatically create a new layer within the template.
4| Within the layer palette, drag each photo layer directly above the grey square where you'd like the photo positioned. While still on your photo layer, in the upper right corner of the layer pallette click the little downward arrow which will open a drop down menu. Scroll down to CREATE CLIPPING MASK. This will link your photo and the template photo layer so that your photo will become the same shape as the template layer.
5| Next you'll need to resize your photo to fit within the given shape. Click Cntrl-T and while holding down the shift key to make sure there's no distortion, drag your photo to make it smaller or larger as needed.
6| Continue doing this until you've added all your photos being sure to create clipping masks with the corresponding photo layers within the template. Flatten your image and save as a JPEG to order prints at your favourite photo lab.
Using PicMonkey to Create Handmade Photo Gifts
Picmonkey is also a great way to create a frameable photo collage just like this one! Use their handy collage maker to create a photo collage – they have some great, pre-made designs or you can customize it yourself.
Tip: If you want to add text to your collage like I did, create your photo collage first. Save it. Then using the EDIT menu, open your newly created collage. Add your text and save it again when finished. Remember, that if you're planning to print your finished product be sure to save it at the highest quality/resolution.
Picmonkey is such a great, easy to use photo editing option and their collage maker plus design studio features make it so fun to create handmade photo gifts!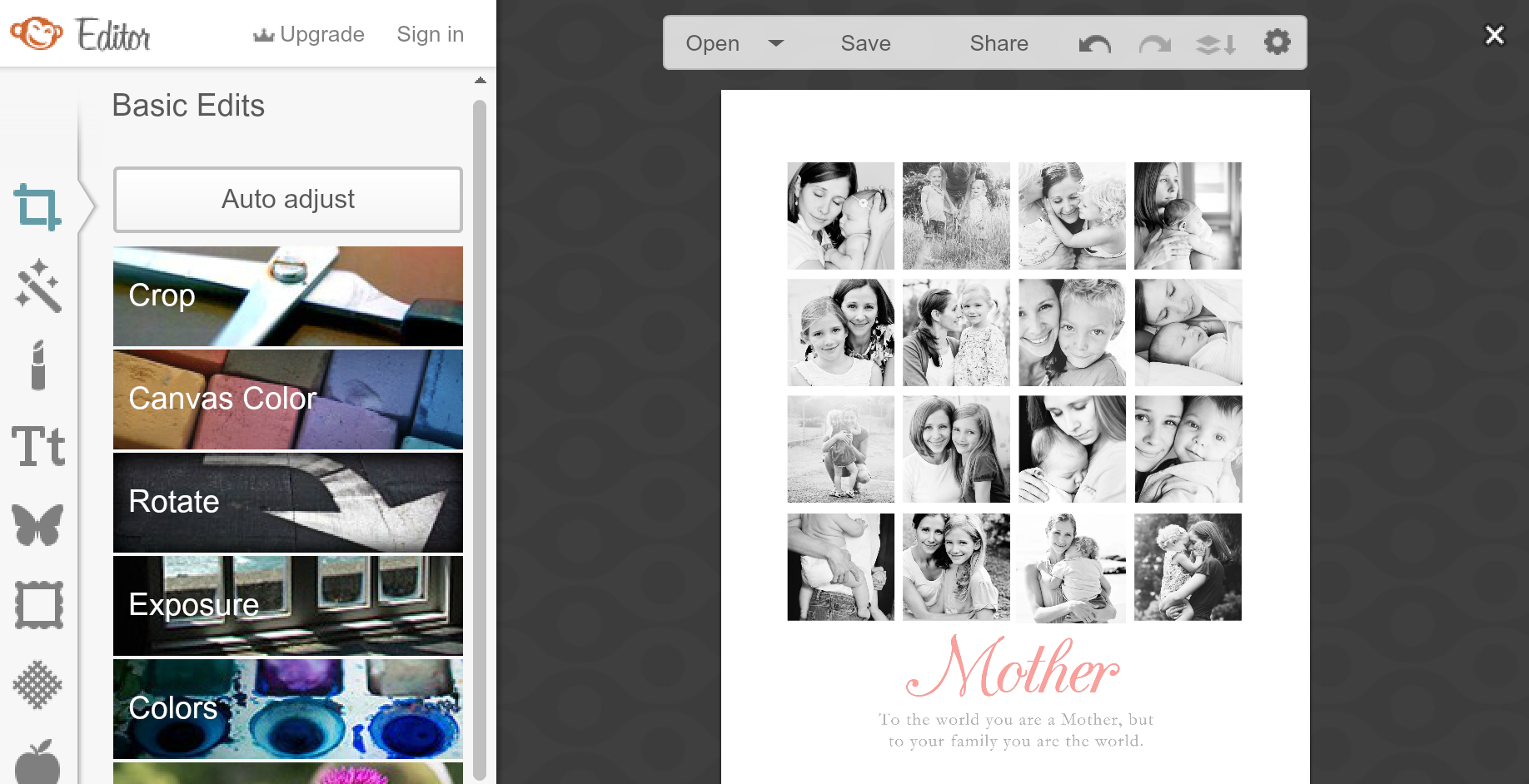 I just love the way these photo collages look framed and displayed in my home and I know any Mom would be thrilled to get a handmade gift like this for Mother's Day this year. Click the button below to download your free Mother's Day collage template!