Countdown to Christmas with this simple and meaningful advent calendar. Use pre cut snowflakes or have the kids join in and cut out their own! Use the free printable activity ideas and follow the tutorial to make your own Snowflake Advent Calendar. 
December 1st is sneaking up on us and its time for the countdown to Christmas to begin!! I shared our snowflake advent calendar a few of years ago – we've been using this simple countdown since 2009. This little advent is made up of 25 snowflakes, each one when turned over reveals a Christmas related activity to do each day from December 1st through Christmas day.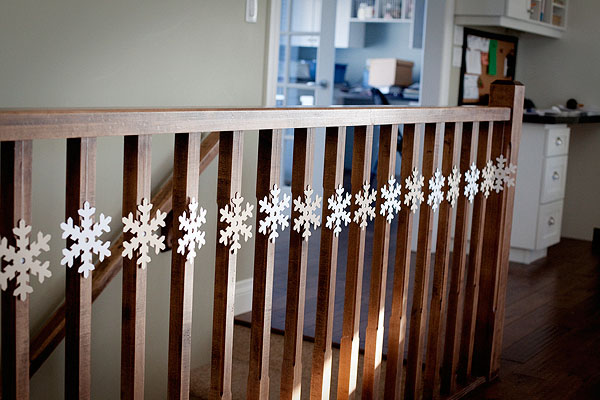 We've stuck with this advent calendar for quite a few years now and it's become a tradition my kids look forward to every year. Every year, I pack these paper snowflakes up in a box, with a roll of twine and some mini clothespins to be used again the next year.
I wanted to share a few more details on how you can put your own simple snowflake advent together and share how we display our snowflakes in our home.
Supplies you'll need:
-white and kraft colour cardstock
-you can use pre-purchased snowflakes
-get the kids involved and make your own paper snowflakes
-if you have a silhouette or cricut machine you can cut your own snowflakes out of cardstock using this flakey dingbat font.
-glue dots or foam adhesive squares
-a list of 25 Christmas activities –  click here to download and print ours
-twine and mini clothespins

How to put it together:
1. Cut out all 25 of your snowflakes. I alternated between white and craft cardstock for mine.
2. Print out your list of countdown activities & cut each one out in small strips.
3. Attach the word strips to each snowflake using the glue dots or foam squares.
4. You can punch a hole in the top of each snowflake to hang them or display them like we do, on a string by a mini clothespin like a bunting. That's all there is to it!
The snowflakes would look really pretty hanging from a mantle, but we don't have one so we just hang them on the wall in our living room.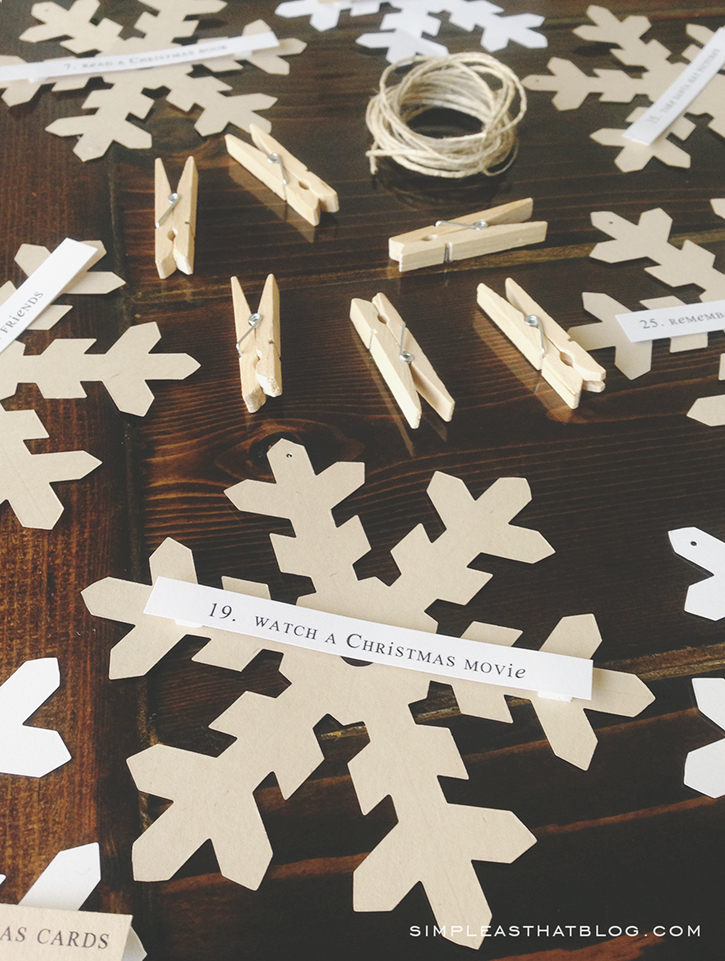 You can make it a fun family activity to make the advent calendar and then enjoy the daily activities together throughout the month of December. When we put up our advent we hang the snowflakes so the activity isn't showing and each morning the kids take turns flipping over the days snowflake to display the activity for the day.
We keep things really simple as far as what we do on the countdown. Sometimes it's read a Christmas book, or watch a Christmas movie. Other days we may make a Christmas treat together, write letters to Santa, address Christmas cards – or other things we'd already be doing during the holidays.
There are so many fun Christmas advent ideas out there. I'm always drawn to ideas that are simple and classic. I've heard many families enjoy the Lego Advent Calendars. We've never purchased one ourselves, but I have no doubt my kids would love one of them.
This vintage inspired Christmas calendar from Ella Claire is just beautiful. Simple white envelopes + that ladder + the striped ribbon is perfection!
This little advent idea just might be the simplest one I've seen yet, but it's so awesome! I love the washi tape and that it's displayed right on the fridge!
We also do a Christmas Book countdown each year and often times the two countdowns run into each other. I have "read a Christmas book" dispersed a few times throughout our advent calendar to allow some rest days from activities because I don't like having our days over scheduled, especially during the holidays.
You can read more about our book countdown here – why it's so special to me and the kids and find out what some of our most loved books are.
I'd love to hear about what your family does to countdown to Christmas! I'm always so interested to hear what holiday traditions other family's enjoy!  Please share with us in the comments! 🙂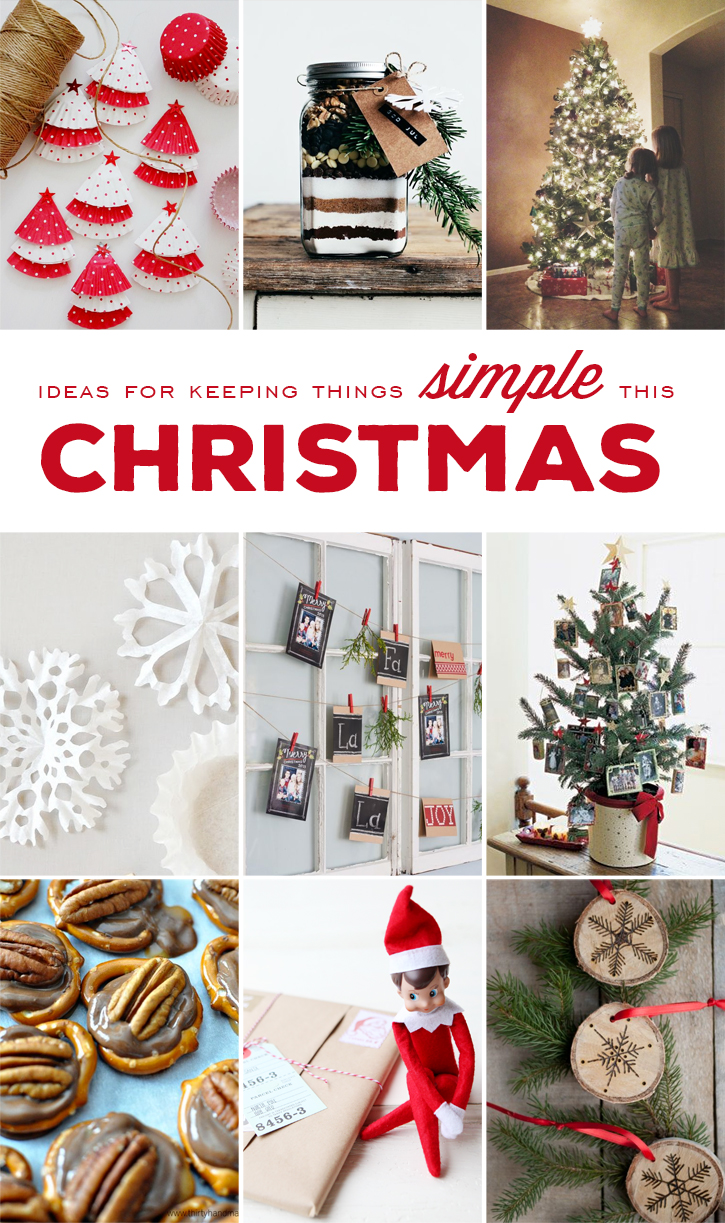 I believe in the magic of the holidays. I believe in family traditions, celebrating the birth of the Savior and the joy that comes from giving to others. Over-spending, stress-filled holiday preparations, elaborate decorating projects and baking ideas have a way of overshadowing the real meaning of the season. Join me in an effort to keep things simple this Christmas with easy to follow craft tutorials, inexpensive gift ideas, no-fuss baking projects and more!
Follow Rebecca – Simple as That Blog's board Simple Christmas on Pinterest.