There's nothing quote like the wonder of a child at Christmas time. Our sweet 6 year old Addie is soaking up all the excitement and magic of the season and it is pure joy to watch her. She wrote a darling letter to Santa this week. Her number one wish is for a pair of 'kowgrl boots' and I can't wait to see her surprise when she opens them Christmas morning! Experiencing the simplest of joys with my kids during this Christmas season is so special and I'm grateful for the way they encourage me to slow down and enjoy the magic right along with them.

"If we could all see the world through the eyes of a child, we would see the magic in everything."

Now it's your turn to share what simple moments you've been celebrating this week! Join Stacy of KSW and I for Simple things Sunday! You can share your photos on both of our blogs using the linky tool below or join us on instagram using hashtag #SimpleThingsSunday. Stacy on Instagram // Rebecca on Instagram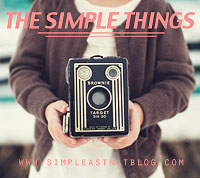 What is Simple things Sunday?
This weekly photo share is all about
taking time to photograph the everyday details that make your life unique, beautiful, and special. Each Sunday we gather here to share our photos with each other. To enjoy the beauty that can be found in the ordinary and to be reminded of just how important the simple things are.
Just a few quick rules to play:
1. Grab a Simple things Sunday button and include it in your simple things post.
2. Link back directly to your simple things post not your blog/website.
No links to other linky parties, giveaways or craft projects pretty please.
This linky is all about the photos.
3. Be sure to pop by and visit at least 3 other links and leave a comment.
Leave as many as you can.