Hello everyone. I've been putting this post together in my mind for weeks now and going back and forth on a hard, but necessary decision, to do away with our weekly Simple things Sunday photo link party here at Simple as That. I love this weekly meet-up and while I'm sad to see it end, it's become necessary to simplify my commitments and move the Simple things Sunday link party exclusively to Instagram, starting this week.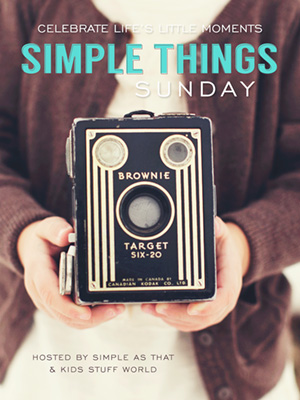 I'll be sharing my STS images on Instagram going forward and really hope you'll join me over there! Just use hashtag #SimplethingsSunday and feel free to tag me in your photos with @rebecca_simpleasthat so I can see your weekly photos!
I'm so sorry for any of you that aren't on Instagram! As I said, it was a hard decision, but one that I know I needed to make right now and I appreciate your understanding.
It's my hope, that focusing the #SimplethingsSunday photo shares to Instagram will make it easier for me to connect and really get to know those of you that join us each week. I've felt like I was spread so thin these past months and always wished I could visit more of your blogs and comment on your photos!
We've got a great community of #STS members sharing on Instagram and I look forward to carrying on the weekly tradition of capturing life's simple moments!
Best wishes, Rebecca