Slow Your Pace: A free, 30-day challenge to help you stop rushing through life and find more rest.
When I Knew It Was Time to Slow Down
A couple of years ago, I was always running, never resting—operating on empty.
I was serving in my church, volunteering at school, running a business, driving my kids to practice after practice, and more. I was being pulled in so many directions, and I thought that being more productive and powering through it were the only ways I'd ever "keep up."
It wasn't until I faced an eye-opening health crisis that I began to take a hard look at the pace I'd been moving through life and the effects it was having on my health and my family.
Being forced to slow down was both difficult and a blessing. The lessons I learned during that period made me pause and evaluate the choices I'd been making and sparked changes in my life that I never knew I always needed.
Why I Chose to Slow My Pace and Why You Should Too
For years that little voice inside my head was telling me I needed to slow down, and I wish I'd listened to it sooner. Maybe I would have avoided the screeching halt that my life came to when my health hit rock bottom.
But at the time, I allowed voices outside of myself to dictate where my attention was focused.
Does the burden of everything you have to get done feel heavy? Are you exhausted? Do you suffer from headaches, fatigue, mood swings? Are you tired of chaos and longing for calm?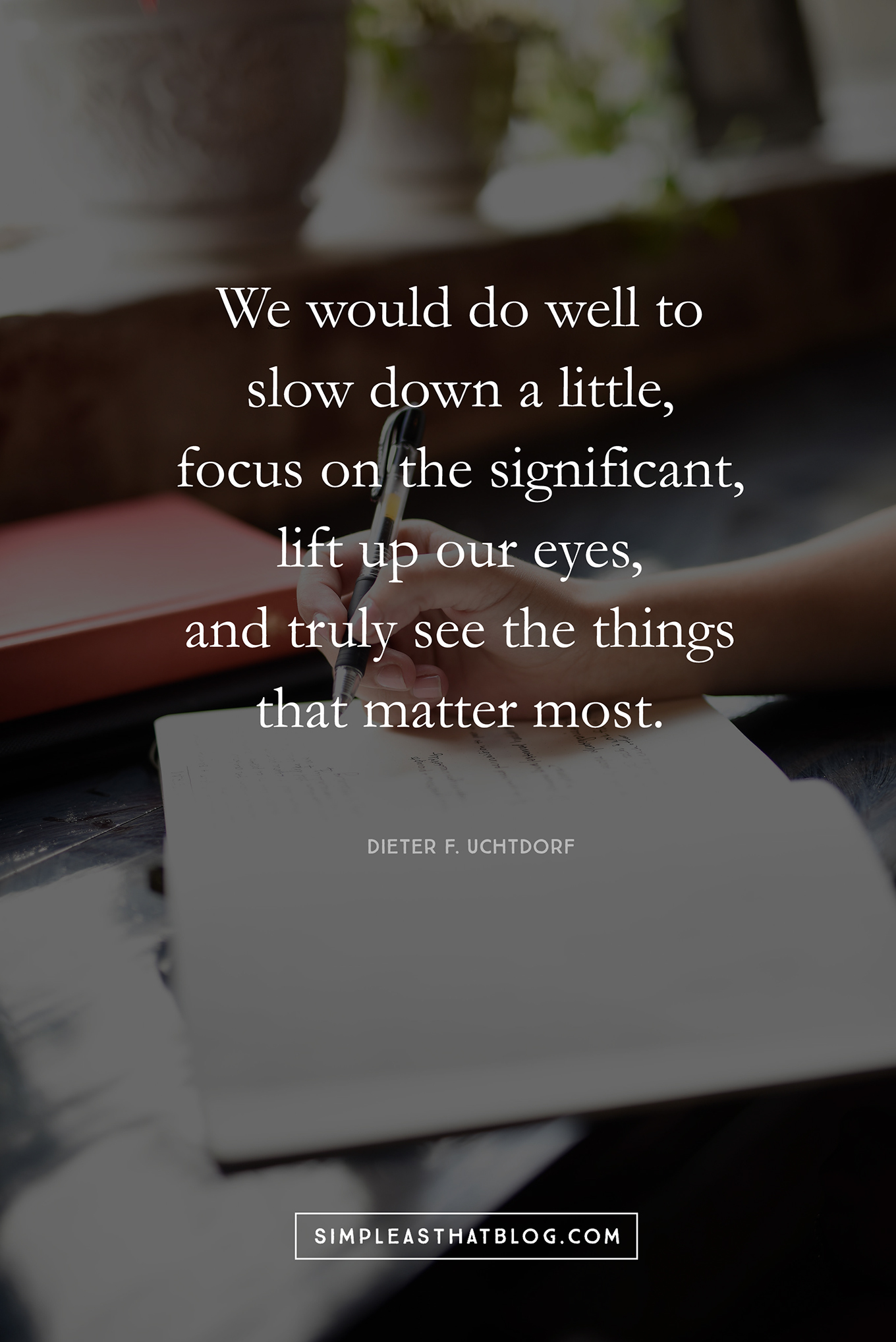 It's time to let go of what others say you should be doing and live at a pace that's right for you.
I used to spend the better part of my days putting out fires, racing from one thing to the next, always trying to cross one more thing off my to-do list. I was moving through life so quickly that I was missing out on life's smallest joys—the very things that mattered most to me.
It started slowly at first. The changes I needed to make didn't happen overnight—and it still takes renewed daily commitment. But the little ways I've decided to intentionally slow my life down have made such a difference. I'm finding pockets of peace throughout my days instead of pushing through, like I used to. And I'm prioritizing peace and rest.
Slow Your Pace: A Free 30-Day Challenge
I know I'm not alone in feeling this need to slow down. I've spoken with so many women who are feeling overwhelmed, just like I was. They know that they can't keep up their current pace, but having the desire to pull back and actually doing it are two different things.
Maybe you have been pumping the gas on your life for so long that you don't know how to change. Maybe you can barely imagine it, even though it sounds incredible to just let go.
I began with one small adjustment at a time, and I recommend you do the same.
I said no to one or two things. I started to taking a yoga class. I learned more about deep breathing. Over time I began to develop new habits and was able to tune in to that inner voice that I know was guiding me all along, but I'd been too busy to listen to.
If you're struggling with wanting to slow down but don't quite know where to begin, I've put together a 30-day calendar to help you! Thirty small, practical ways you can start your journey towards living at a more deliberate pace.
I promise you… these small changes will add up to big results in the areas of your life that really matter.
The challenge kicks off May 1st!
All you need to do to participate is download and print the challenge calendar. Then display it where you'll see it daily.
If you'd like to join us in the private Motherhood Simplified facebook group, please do! We'll keep each other accountable during the month.
I'll be posting more of my thoughts on each of the daily calendar prompts throughout May, and I'd love to share in your progress.
If you liked this post you might also enjoy…