Tips for Organizing Kids' School Papers – tame your child's school paper clutter with this simple filing system. Contain their precious school momentos from pre-K through grade 12 all in one place. In the post you'll find a list of supplies, free printable labels and yearly questionnaires to get you started.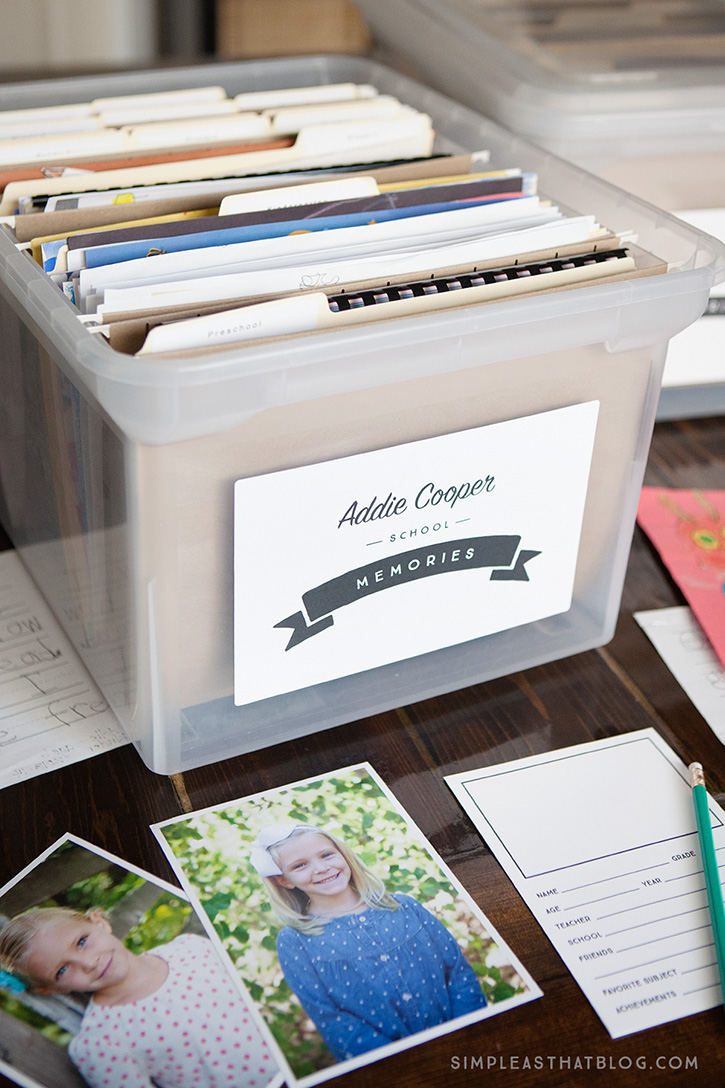 This is a project I've been meaning to tackle for years now and at the beginning of September I was finally able to get the kids school paper clutter under control thanks to our new School File Boxes.
You guys! I don't know why I didn't do this sooner. This has seriously been life changing! Not only do these file boxes give us a place to store all of the kids papers long term, it has also helped us cut down on daily paper clutter as it comes home from school.
With this file system in place I find that I go through the kids papers more regularly. We have a place to organize the things we decide to keep and because we have an allotted space where we can store things, we have to be selective about what we hang on to and what we let go.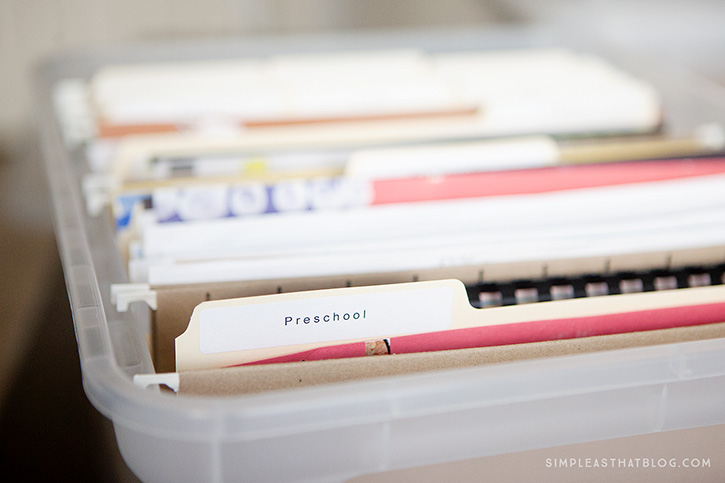 This certainly isn't the only way to get a handle on all those school papers, but it's worked like a dream for us so I wanted to walk you through how you can easily set up this system yourself if it's something you think would work in your home.
Supplies you'll need
You can purchase any of the supplies listed at your local office supply store or on Amazon, the prices were very compatible at both when I was shopping around. Once you have the supplies you need you can start putting together the file boxes. I decided to put the boxes together for all of my kids all the way from pre-K to grade 12 at the same time so they're ready for each grade as they come and so they'd all coordinate. It was also easiest to print out all the labels I needed at the same time.
Here's a quick little video tour of our file boxes:
Print out the file labels according to package directions. Attach them to each folder. Place the hanging folders inside file box. Add one or two grade folders to each hanging file.
In each grade folder I include things like report cards, notes from teacher, special assignments and small pieces of art.
Any projects too large to fit inside the file box we photograph and discard or we store them in a separate container for larger keepsakes.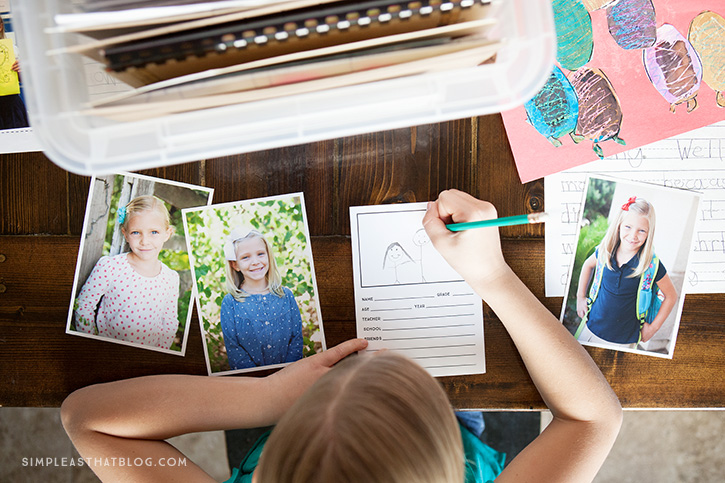 Beyond the school papers themselves, I also include a 5×7 school photo in each grade folder. I attach them to the front of the folder itself. I wanted to include some key information about each child in the corresponding grade so I put together some simple questionnaires that the kids could fill out.
Have kids fill them out at the beginning or end of each school year with information about their teacher, age, friends, etc. and they can illustrate them with a quick picture. Slip the questionnaire into the grade folder or glue it inside the front.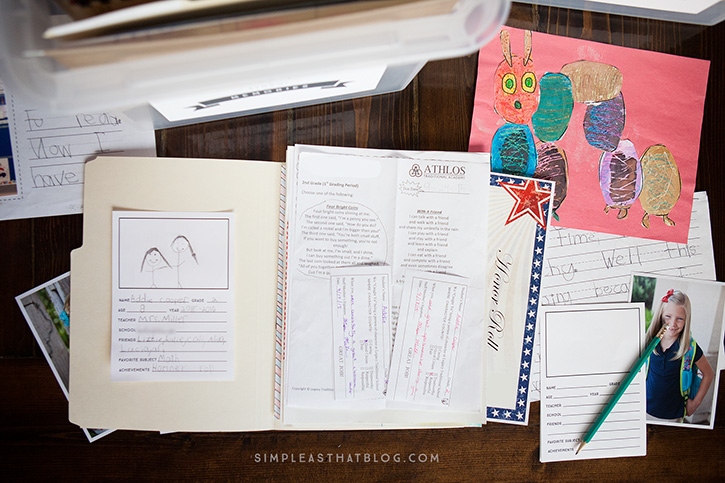 I also printed out a label with the kids name on it for the front of each of their boxes. I created some simple artwork, printed them on Avery shipping labels and then attached them to the front of each file box. You can download blank file box labels using the links below. The "school memories" graphics are on them, you just need to add your child's name.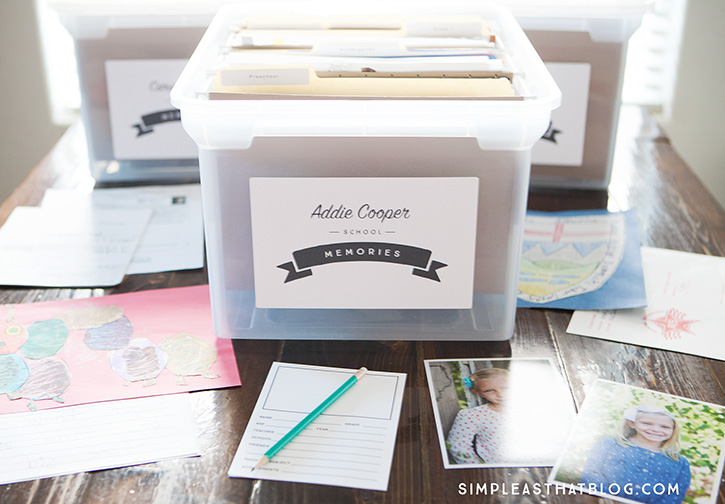 Have your child write their name or add their name using your favorite photo editing program or at PicMonkey.com using their text editor. If you want to just print the school file labels, use the PDF file link below. If you want to edit and add text yourself then download the JPG file.
I can't tell you how pleased I am with how this system has been working for us so far. We've simplified the paper mess ten fold in our home thanks to these handy file boxes. If this helps you get the paper clutter under control in your home too then my mission here is complete!
If you have any questions at all feel free to shoot me an email or ask in the comments. I'm happy to help.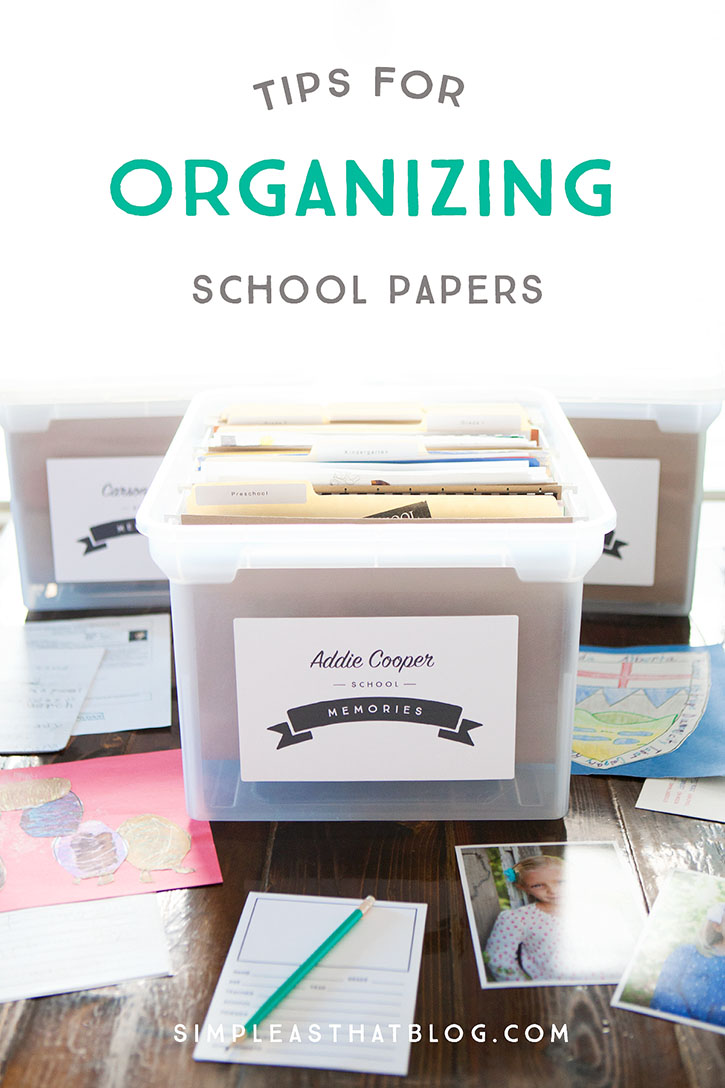 More Inspiration from the Simple as That Archives