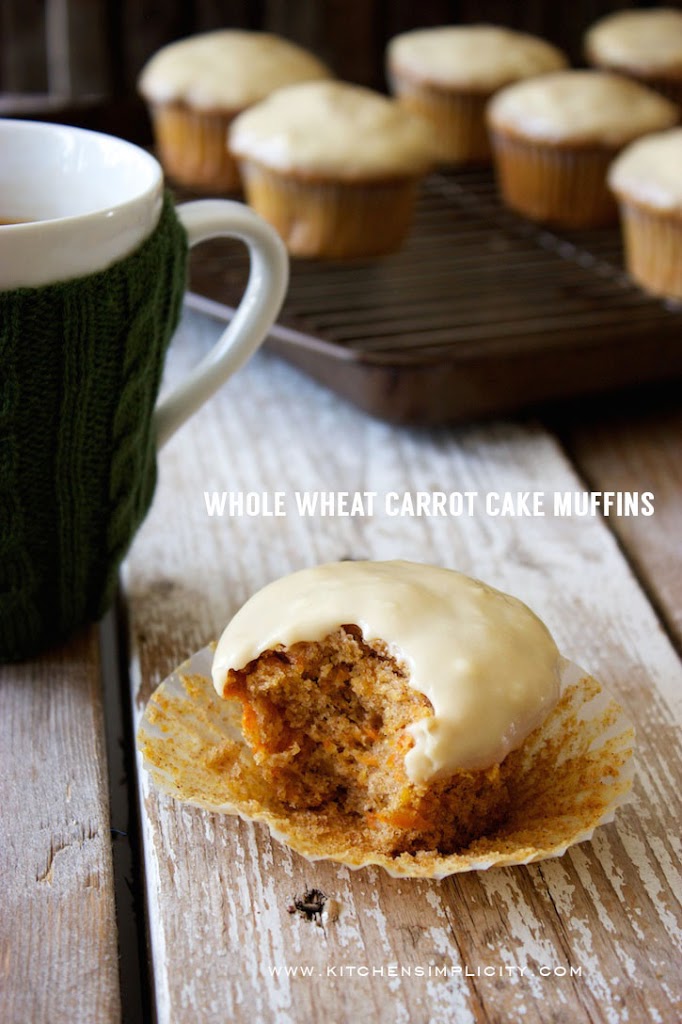 I'm so pleased to welcome the lovely Cheri, of Kitchen Simplicity to the blog today! She is sharing one of her delicious recipes with us! These carrot cake muffins sounds divine and I can't wait to try them!
Carrot cake. What is it that makes it so synonyms with spring? Is it the craving for fresh spring and summer vegetables? Or is it simply the fact that spring = Easter = bunnies = carrots = cake (because really what other associations do you need to turn a healthy vegetable into a decadent cake)?
This time around I decided to keep things on the healthier side by using carrot cake as inspiration for some tasty whole wheat muffins.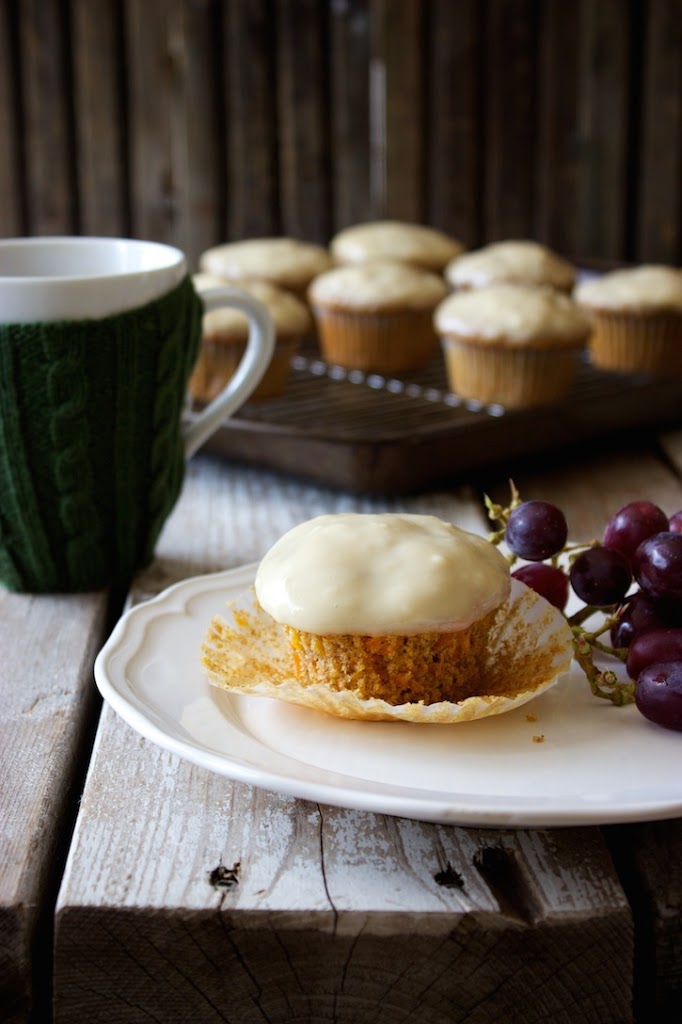 The base is fluffy and light, more the texture of a cupcake than a muffin, even though they are 100% whole wheat. And, rather than a thick layer of frosting, the tops are dipped in a sticky cream cheese glaze sweetened with brown sugar and maple. They are just decadent enough to feel like a treat while still being healthy enough to enjoy for breakfast.
If you're looking for an Easter hostess gift, brunch potluck item, or simply a fun baking project to make with the ! kids, these muffins are perfectly suited for spring.
Whole Wheat Carrot Muffins with Maple-Brown Sugar Cream Cheese Glaze
Muffins
1.5 cup whole wheat flour
3/4 cup sugar
1/2 teaspoon salt
2 teaspoons baking powder
1 teaspoon ground cinnamon
1/4 teaspoon ground ginger
1/4 teaspoon ground cloves
pinch nutmeg
1/3 cup extra virgin olive oil
1 egg
1/3 cup milk
1 teaspoon vanilla extract
1/2 cup sour cream or Greek yogurt
1.5 cups shredded carrots
Glaze
4 oz. cream cheese, room temperature
2 tablespoons butter, room temperature
2 tablespoons brown sugar
2 tablespoons maple syrup
1/2 teaspoon vanilla extract
In a large bowl whisk together flour, sugar, salt, baking powder, and spices. In a separate bowl whisk together oil, egg, milk, vanilla, and sour cream. Stir into flour mixture just until evenly combined. Fold in shredded carrots. Spoon evenly into 12 paper lined muffin cups. Bake at 400oF for 20 minutes or until a toothpick inserted near the centre comes out clean. Allow to cool 5 minutes before removing to wire racks to cool completely.
For the glaze: beat together cream cheese, butter, and brown sugar with a wooden spoon or beaters, until smooth. Beat in maple syrup and vanilla until well blended. Once muffins have cooled, dip the tops in the glaze, or spoon the glaze over. Store, covered in the fridge. To freeze: place on a baking sheet in the freezer until frozen, wrap individually in plastic wrap before placing in a large sealable plastic bag to store.
Makes: 12 muffins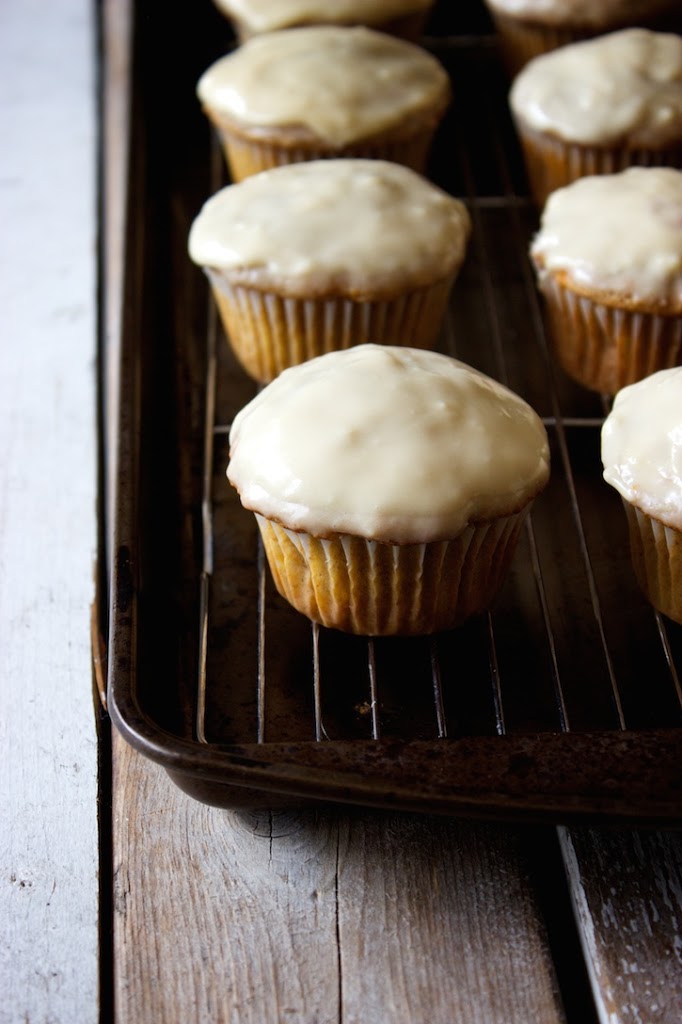 Thank you so much for this yummy recipe Cheri! For more scrumptious recipes, meal ideas and beautiful food photography, be sure to swing by Kitchen Simplicity! Here are just a few more of Cheri's recipes that caught my eye!

Follow Kitchen Simplicity: Facebook | Instagram | Pinterest

Have a wonderful Easter weekend everyone! 🙂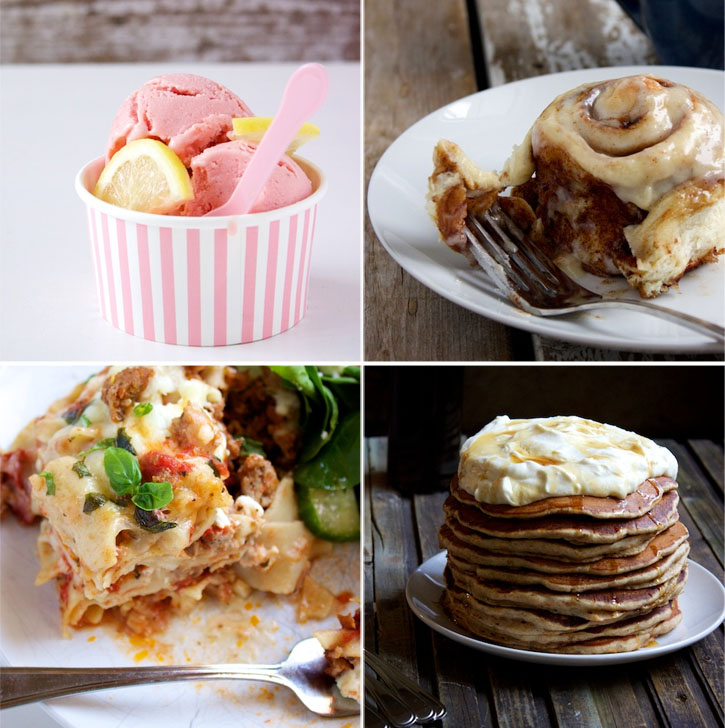 Strawberry Lemonade Frozen Yogurt
Classic Cinnamon Rolls
Skillet Lasagna
Carrot Cake Pancakes with Whipped Cream Cheese Topping