1 Second Everyday Video Project – Make everyday moments magical by recording 1 second of video everyday! It really is the little things that matter most.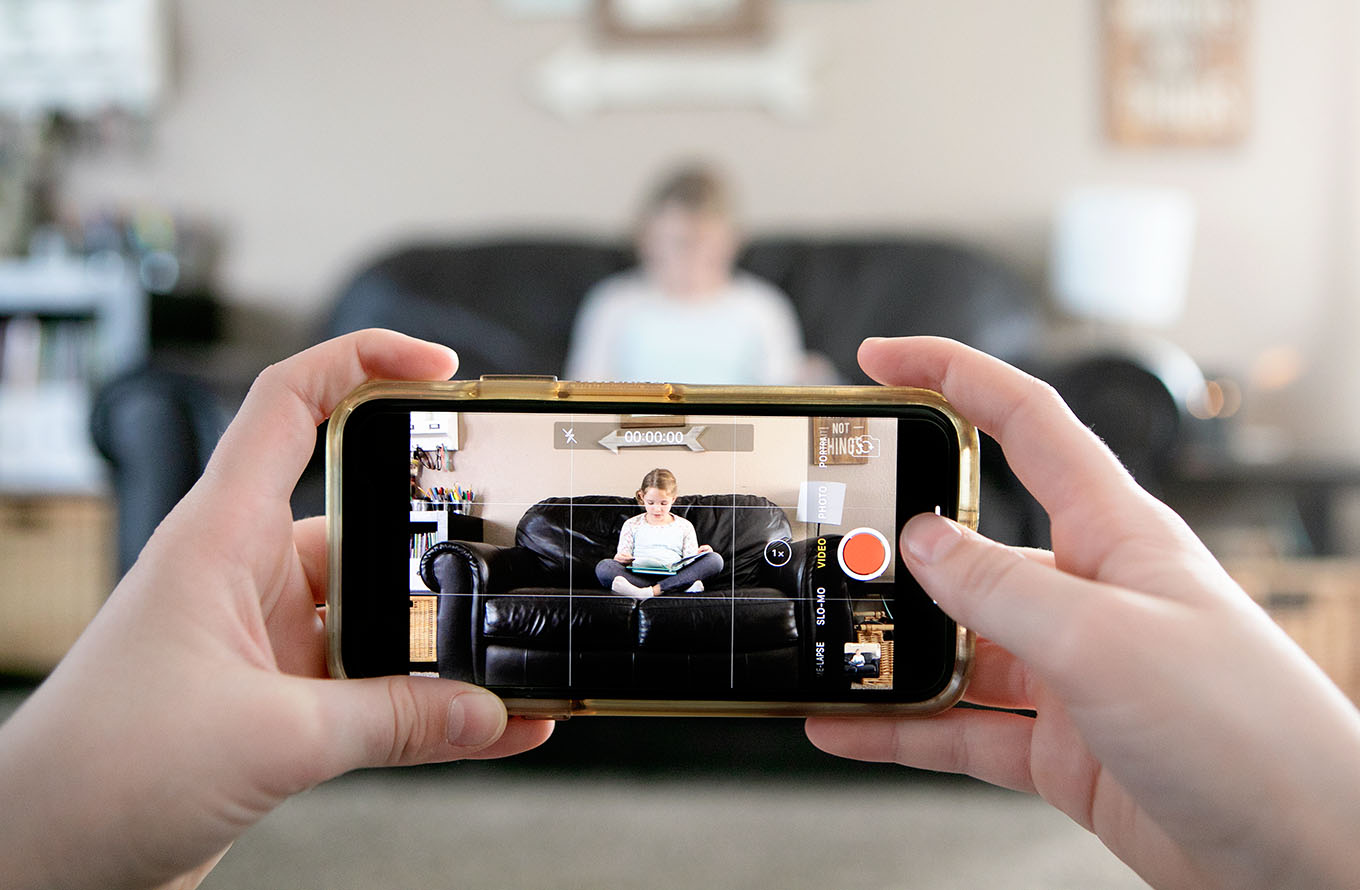 Our photos and videos shouldn't just exist on our phones and hard drives. They should be shared, enjoyed and relived over and over with the ones we love.
One of my favorite ways to ensure that our precious moments live on is by creating slideshows for my family to enjoy. I've put together slideshows for birthdays, summer adventures or family vacations, and my kids watch them over and over.
Preserving memories from these bigger life events is fun, but when it comes to remembering the everyday details, I started a new project a couple of years ago that I'm loving so much! I use the 1-Second Everyday app on my phone to record 1-second video snippets from our daily lives, and at the end of the year, the app compiles them into a beautiful video montage.

Why I Love This Video-a-Day Project
I first started using the 1 Second Everyday app to record our family memories at the beginning of 2017, after watching another photographer's year-end video, made with the app. I found myself tearing up while watching, and I didn't even know this family!
A year later, on December 31st, 2017, I tucked myself into the couch with my family all around me and I listened to everyone's reactions as we watched our own montage video. It was so special to watch together and to witness the abundance of memories we created together in only a year. My kids still pull up that video from time to time and watch it with smiling faces.
As a photographer, still photos are so important to me, but recording video footage of our family's everyday life has added a layer of richness to the way we preserve our memories.  Video clips let us hear the sounds of our lives; they capture facial expressions and body movements and mannerisms that I know I'd otherwise forget.
And I want to remember these things.
Our 2018 1 Second Everyday Video
Song used in the video is Hand to Hold by JJ Heller. Isn't it beautiful. You can license it for commercial use at Musicbed.com or download on iTunes here.
How the 1-Second Everyday App Works
One of the reasons I love this project so much is that using the 1 Second Everyday app makes it so easy! They've thought of everything in order to make the process as simple and user-friendly as possible.
Here's a quick run-down of how the app works. As always, if you have any other questions please ask in the comments, and I'll be happy to answer.
Step 1. Download the app.
Step 2. Shoot your video clip. I usually shoot my videos using my phone camera, just because it's so accessible and I'm so familiar with it. But if you'd prefer to shoot from within the app, that's an option as well. One tip I would share is to shoot your video for at least a few seconds so you have more footage to choose from when it comes time to trim your clip.
Step 3. Clip your video. Open the app and select the date you shot your video. This will pull up all photos and videos on your phone that were taken on that date. Select the clip you want, and using the trimming tool (the little scissors in the top right corner), choose exactly what second of video you want to include in your video diary.
*Note: You can choose the standard 1 second of video or if you would like to add 1.5 seconds of video from a particular clip press the plus button in the lower left corner of the trim tool.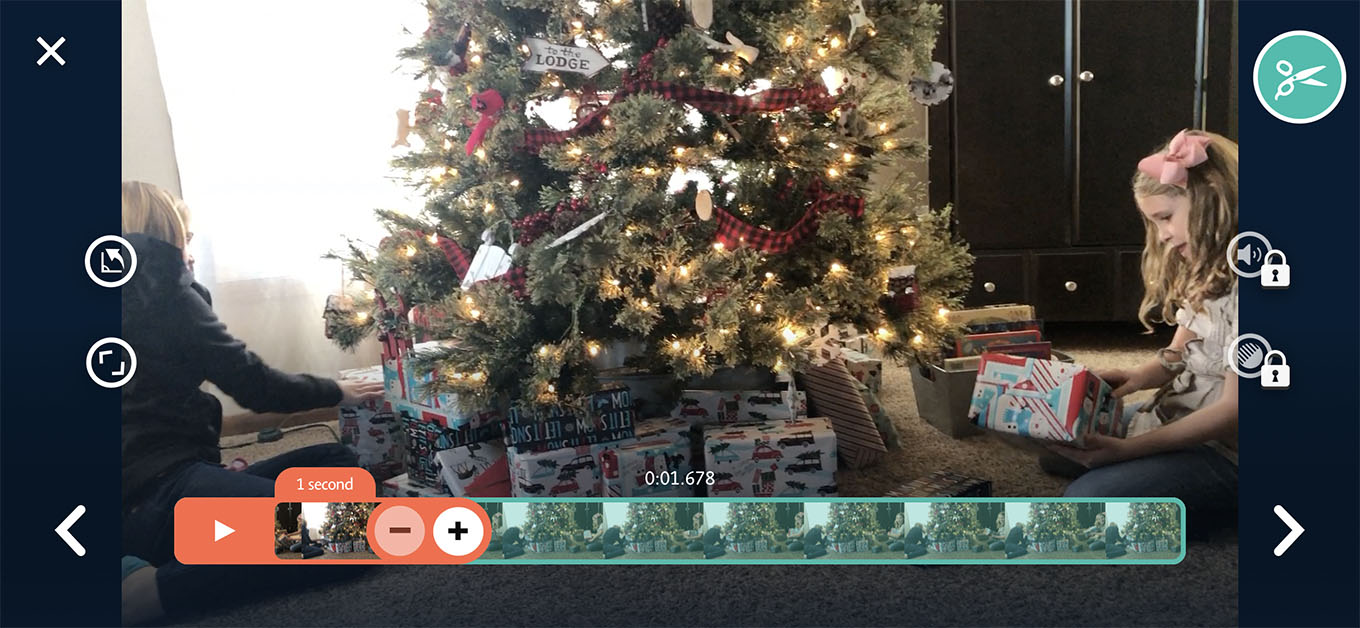 Step 4. Export your finished video. I love watching our video compilation as I'm putting it together throughout the year. To preview a mashup of all your video clips, press the play button in the lower right corner. You can then watch a mashup of all the videos you've recorded or set a custom date range to view.
My 1 Second Everyday Philosophy
For me, 1 Second Everyday isn't about capturing a moment EVERY SINGLE day. It's about collecting 365 moments throughout the year. I've chosen to let go of the idea of doing this project perfectly, and that has made all the difference. I'll collect enough moments to put together a beautiful overall picture of our life, and I can do that without being too rigid with myself.
Letting go of the idea of doing this perfectly has kept this project fun and free from pressure. Sometimes I'll take more than one video in a given day, and I can add both of those clips to my finished video. Some days I won't take any. I think this is what has helped me stick with it.
This is also why when I put my final video montage together at the end of the year, I don't use the mashup option within the app. I actually put my video together in iMovie and use video clips that are saved on my phone via the app without the date stamp that is typically in the lower lefthand corner. Watch our video from 2017, and you'll see what I mean.
Our 1 Second Everyday Video from 2017
How to Remove Dates from Video Clips
I've put together a 4-minute video below that walks you through how to access your 1 Second Everyday video clips without the date stamp on them. I created my video last year in iMovie using these date-less clips, and I had a lot of people asking how I managed to do it. I'm finally getting around to sharing exactly how! Watch the video, and if you need any further clarification, let me know!
Tips for Your Taking Video Clips
I'm definitely not a professional videographer, but there are a few things that I've learned when it comes to taking my daily videos:
Keep your phone in landscape orientation. This consistency will ensure all of your videos are the same size and direction and will make for a more cohesive finished video.
Make sure you capture some sort of movement in your video. This adds to the visual interest.
Use a portable tripod and get in the shot once in a while! You won't regret getting in a few frames—I promise! If you need some motivation, read my thoughts on why it's so important that we moms step out from behind the camera once in a while and into the recording of your family's story!
Avoid zooming in. If you need to get closer to your subject, use your feet. Zooming in on your phone drastically effects the video quality.
It's best that as the person taking the video, you remain still. Leave the movement to your subject. 1 second of video isn't very long and if there's too much movement on the part of the videographer, it's hard to follow the action.
Don't Be Afraid to Commit
If you're feeling nervous about starting 1-second everyday—don't be, friend! It's a lot of fun, and as I said, I think the key to keeping it that way is not getting hung up on perfection. You'll miss some days, and that's okay! Catch up when you can. Insert a clip from a previous day. Whatever moments you're able to capture will be so worth it, and with the hack I shared above, dates won't matter anyway!
If you feel like easing into this project, maybe just choose a chunk of time to devote to it. Record 1-second every day for a month. For the summer. For a semester at school. See how it goes, and if you love it, keep on going!
One thing that helped me get into the habit of taking my (almost) daily videos was to set an alarm on my phone. It goes off daily at a specific time to remind me to capture my video that day. Over time taking these videos has become a habit.
Songs for your 1-Second Everyday Year End Video
I used this beautiful song, You Are Home Robert Kelly, in my video last year and as I've been on the hunt for the perfect song for 2018, I've come across some fun ones that are perfect for family movies! If you'd like me to share the list with you drop your email address below, and I'll send it to you!
Troubleshooting with the 1 Second Everyday App
I plan to continue adding to this section of the blog post. If you have questions or issues as you work on your video throughout the year, let me know and I'll share the solutions here with everyone!
What if I forget to take a video one day?
If you forget to take a video clip one day, it is possible to import video clips from a different date. I do it all the time! You also have the option to import photos as well. It's also totally fine to just skip a day. In the final mashup of all of your clips only the dates where a clip was added will actually be included, and a missed day here or there won't matter.
What if I shoot a video in the wrong direction?
The app does have a rotation feature. Try that. If you shot in portrait mode you can still use those clips; just crop them in iMovie or use them as is if that's fine with you. The app will add black on either side of the clip to fill in the space.
If you liked this post you might also enjoy…