10 Tips for you next Family Road Trip – Summer is here and for many of us that means it's time to pack up the car and head out on the open road in search of adventure! Here are some quick tips to make the most of your next family road trip!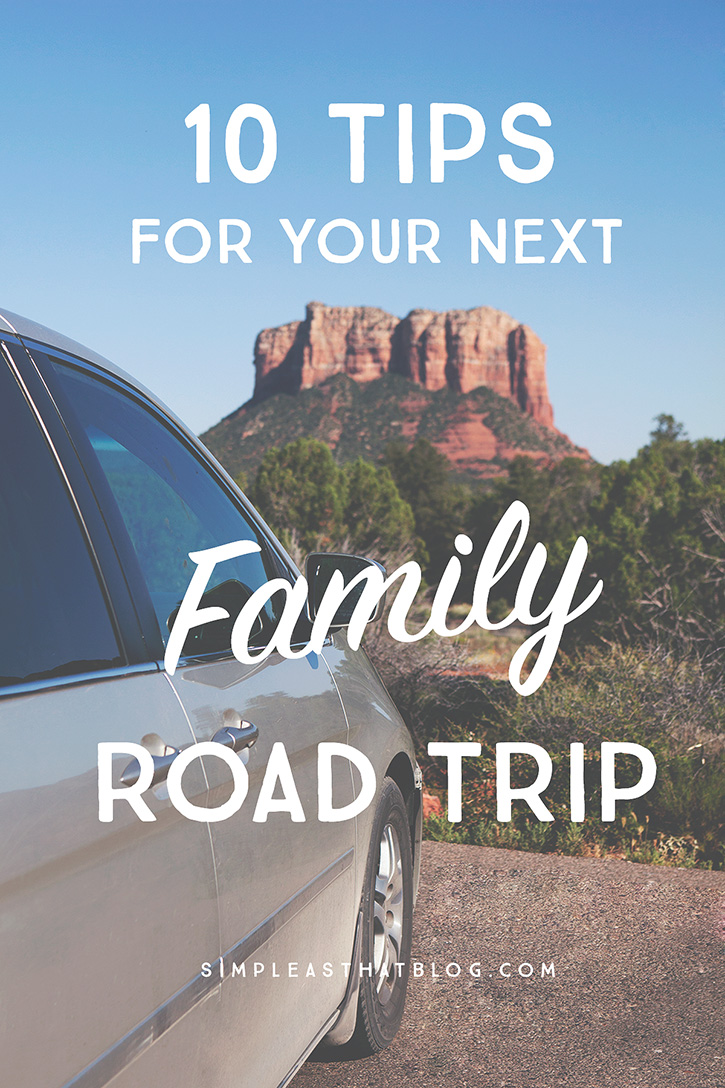 We're no strangers to spending a lot of time on the road! We love to travel and as a family of six living on a student budget, traveling by car is the most affordable way to go. We've logged a lot of miles on our mini van traveling from Arizona home to Alberta, Canada and many places in between over the years. We've been road tripping with the kids since they were babies and we've learned a few tricks of the trade along the way.
Our most recent trip took us to beautiful Sedona, Arizona and today I wanted to share some tips that not only help make our family road trips bearable, but truly memorable as well!
10 Tips for you next Family Road Trip
1. Have a plan. Having a plan is key to setting the tone for your trip and involving the kids in that plan is even better! Map out your route and make plans for pit stops along the way and show the kids the route you'll be taking. I find that if my kids have a clear view of how far we're going and an estimate of how long we'll be traveling between pitstops it helps a lot.
2. Be flexible. A plan is great but it's also important to be flexible. Traveling with kids can be unpredictable so try not to be ruled by the clock. I find that frustration sets in when we have a plan to be somewhere by a certain time and we fall behind schedule. Loosening up those expectations and allowing some wiggle room for unexpected stops will help things go smoothly.
3. Break it up. It's important to break the trip up into manageable sections. You may choose to set a timer for how long it will be before your next stop or give kids particular points. We use a timer a lot at home and it translates well in the car too. Breaking the trip up into smaller chunks makes it feel more manageable for the kids and gives us some short term goals and checkpoints to work towards.
My kids do well with traveling for 2-3 hours at a time. If we aren't stopping after 2-3 hours we'll break out a new activity, a snack or a movie. Reaching these little milestones along the way helps prevent the kids from getting overwhelmed. One more thing my kids like that helps break up the trip is switching seats with their siblings. At certain pitstops we'll have a switch-a-roo. Changing seats is something small that does so much to refresh everyone, alleviate fighting and offers a new perspective.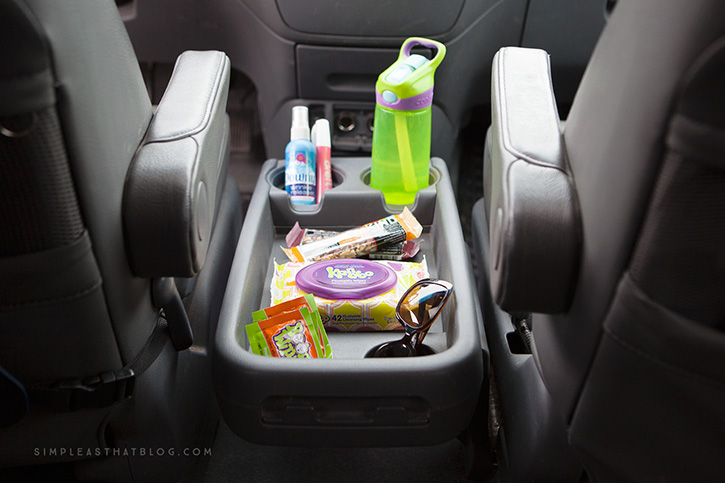 4. Keep it simple. I find that packing for a road trip is a delicate balance between not packing too much and making sure to bring the essentials. I'm a list person, so I keep a packing list that I'm always trying to narrow down to the bare essentials. Packing too much gets so overwhelming with the sheer volume of things we have to keep track of. When packing, keep things simple, you'd be surprised with what you can make do without. Among our core essentials (which I'll be sharing more of below) here are a few things we took with us on our recent trip to Sedona that were handy:
Water bottles for everyone in the vehicle. The kids could refill at pitstops as needed.
Diaper wipes for spills, sticky hands, etc.
We don't leave home with out our car adaptor
Portable activities for the kids – these pocket doodle books are a favorite.
Dreft to-go instant stain remover pen – makes me feel more at ease about spills that are going to happen (plan on it!). I keep this handy pen in the vehicle at all times.
Boogie Wipes – gentle on small noses that always seem to get dried out in the car.
If you'd like to try these products, you can download a boogie wipes coupon here and coupons for Dreft stain remover here.
5. Keep things organized. Keeping the vehicle organized while we travel helps me stay sane and also keeps things calm and clutter free. A few ways we keep things organized are with these seat back organizers. They hold so much and do wonders for keeping things off the floor! I use these clear plastic 4×6 photo holders for organizing so many things at home and on the road! They are perfect for holding crayons, card games and other small items that can easily get lost in the vehicle.
When we travel in the car the kids each get to bring one bag that holds 2-3 activities, a favorite toy, a couple books and some snacks. As they take things out of their bag they're responsible for putting them all back in as soon as they're done with them. I'm pretty strict about this so we don't have everything spread all over the floor getting stepped on and so we don't misplace things during our trip.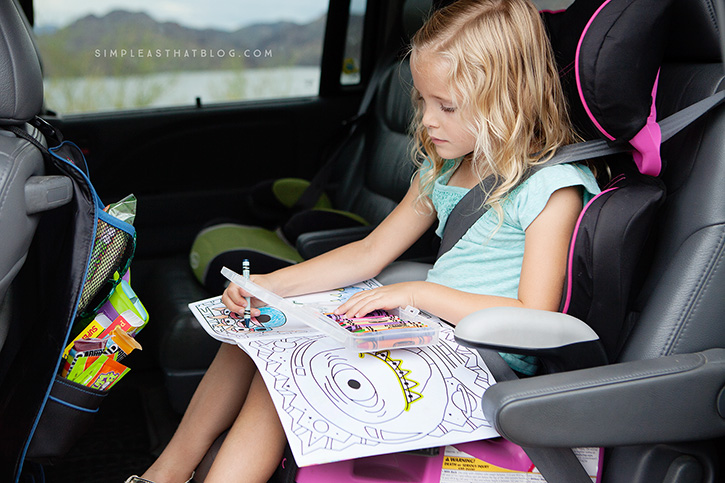 6. Vehicle Inspection. An inexpensive vehicle inspection can quickly pay for itself in fuel costs and peace of mind. According to Inspectacar Inc these are 5 things you should check on your vehicle before heading out on the open road this Summer:
Check tire pressure and the condition of your tires. Every five pounds per square inch (psi) of tire pressure you lose can translate into a two per cent loss of gas mileage. You can usually find your recommended pressure on the inside of the driver's side door.
Check the level and the quality of your coolant. Coolant not at the right level and condition can cause overheating and poor A/C operation.
Window washer Fluid should be topped up. Travel season is also bug season make sure it's full but remember if is summer only Fluid it needs to be changed before winter if you live in a colder climate
Check belts and hoses. They're typically made of rubber and Summer temperatures can cause them to deteriorate. Make sure they're in good shape by looking for cracks or missing segments. This could save you from being stranded on the side of the road. A cheap belt replacement can save an expensive tow.
Make sure your vehicle maintenance is all current including fluid (oil, coolant, etc.) and filters have been checked. Changing a dirty air filter can reduce fuel mileage dramatically.
7. Be prepared. It's so important to be prepared for emergencies that may arise while traveling. It's a good idea to keep the  following items in your vehicle: a flashlight with extra batteries, jumper cables, leather gloves, roadside flares, paper towels, portable tool kit, duct tape, etc.
A first-aid kit in your vehicle is also a must and I'll be sharing a post in the coming weeks with a detailed list of essential first-aid items that are important to have on hand while on the road and give you a peek at what's inside our car first aid kit.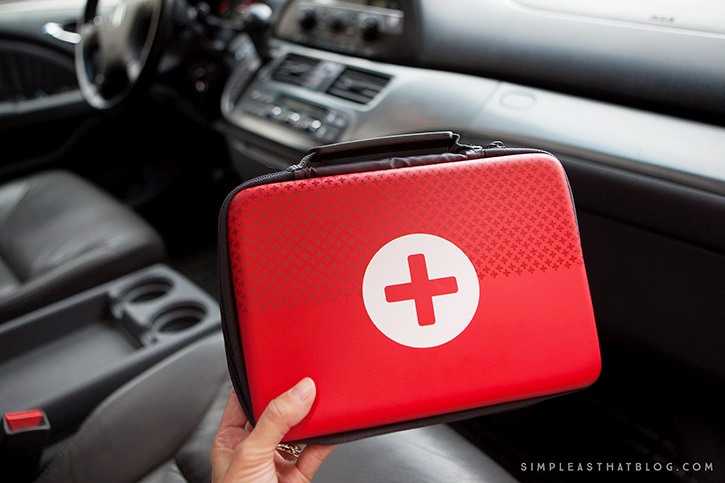 8. Things to do. We like to bring some fun things for the kids to do in the car to keep them entertained. We've tried a number of different products through the years and here are a few we've found the kids enjoy the most in the car:
We usually bring 2-3 movies that the kids haven't seen yet
This travel BINGO game is always a hit
Boogie Board writing tablets are a lot of fun for drawing on and help cut down on paper clutter
Spot-it! is one of our all time favorite games to play in the car
These pocket doodle books are so cute! My kids also love these 1001 Things to Spot books
We go to the store before our trip and let the kids pick out a special treat for the car
9. Pack a separate hotel bag. If you're going on a long road trip and will be making stops to stay overnight along the way I recommend packing an overnight bag that is just for the hotel. You don't want to have to pack everything in and out of the hotel room. Having a bag with essentials like pajamas, toothbrushes, toiletries and a change of clothes makes it really easy when you stop to take just the things you need into the hotel and leave the rest packed neatly in the vehicle until you get to your final destination.
10. Get Comfy. If you're comfortable in the car it makes it so much more pleasant when it comes to driving long distances. Dress in comfy, stretchy clothing and we always bring along a few items to make sure everyone is comfy and cozy on our drive. The kids each bring a small blanket and a pillow. If you don't have room for a full size pillow these travel pillows are great! Not everyone in the car is comfortable at the same temperature so the blankets are perfect for people who are too cold and great for catching a quick nap too!
Have some tips to share that help make your family road trips run smoothly? Let us know in the comments!
Disclosure: This post is a part of the Mom to Mom Advice Campaign with KSW Media. Special thanks to Dreft and Boogie Wipes for sponsoring this project and today's conversation. All content and opinions as always, are my own
If you liked this post you might want to check out…
5 Quick Tips for Scenic Travel Photos
Outdoor Family Adventure Series