Bat Book Page Banner – this banner is quick and easy to put together and will add just the right handmade touch to your Halloween decor. Scroll down for a supply list and instructions on how to create your own bat book page banner!
We have one of these book page banners for nearly every season . They turned out super cute and were completed in 30 minutes from start to finish! How's that for a quick and easy Halloween craft!
What you'll need to make your own Spooky Halloween Bunting
String
Stapler
Buttons
Black cardstock
Gluestick or other adhesive
Pages from an old book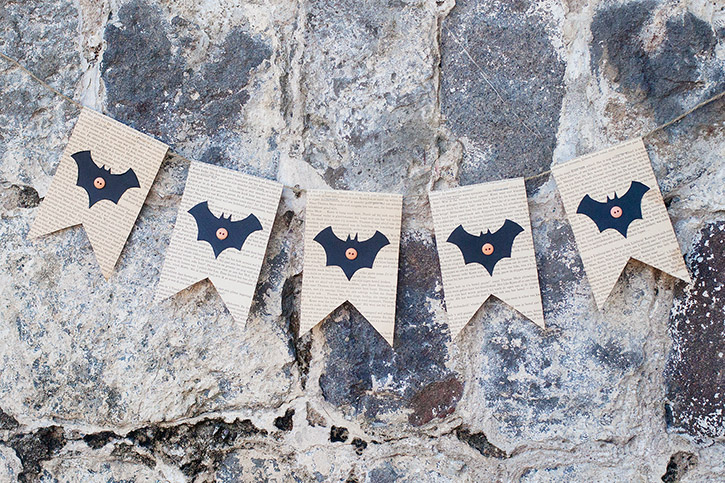 Here's how you'll put it together
1. Using your book pages cut out 5 or more rectangles approximately 3.5″ x 6″ in size.
2. Snip out a triangle shape from the bottom of your rectangles. Hint: From left to right, find the center of your rectangle then measure 1 3/4 " from the bottom to find where the top point of your triangle will be.
3. Cut out the number of pumpkins/bats you'll need for your banner. Here's a great source for bat templates if you do want to draw your own.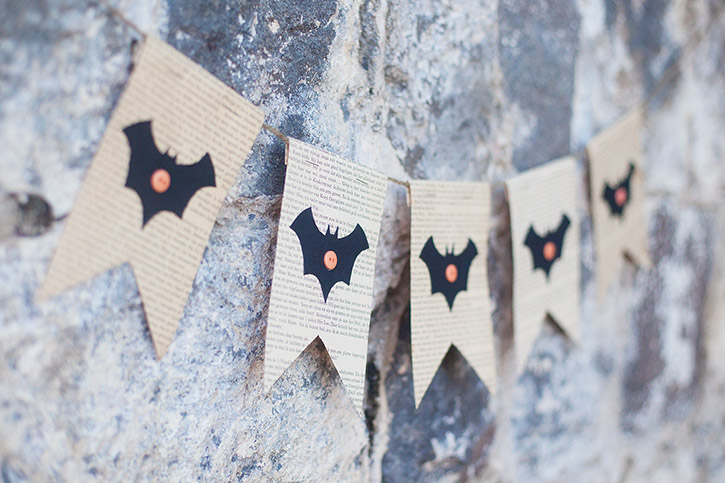 4. Attach bats to your banner pieces being sure to allow enough room to fold over the top edges. Place a button in the center of each bat.
5. Now you're ready to put your banner together. Simply cut your length of string and attach banner pieces to string by folding top edge of banner pieces over the string & staple. Space banner pieces evenly along the string by sliding them back and forth as needed.
6. Now hang that cutie up somewhere and enjoy your new Spooky Halloween decor!
For more Fall/Halloween inspiration visit these posts
Tips for Taking Pumpkin Photos