Berry Coconut Frozen Yogurt – This sweet and refreshing dessert is the perfect summer treat! No one will every guess that it's healthy!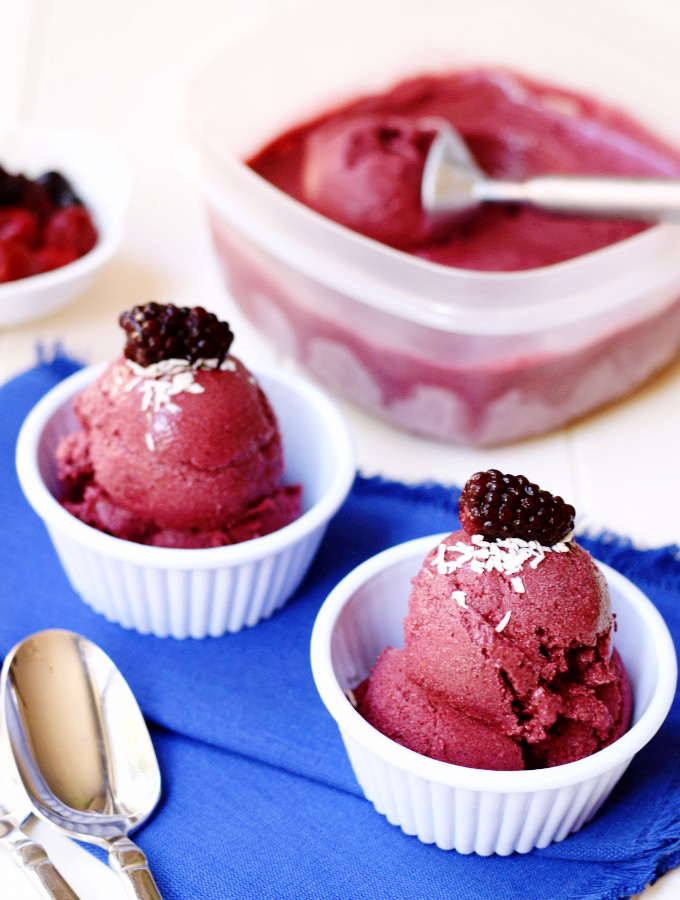 Hey guys! It's Tiffany from Feel Great in 8 again and I am so excited to share another healthy recipe with you! I'm especially excited about this one too, because it's a healthy DESSERT recipe! It doesn't get much better than a sweet, delicious dessert that you don't have to feel guilty for enjoying.
This Berry Coconut Frozen Yogurt really is the perfect healthy summer treat. It's cool and refreshing, sweet and little tangy, and a family favorite. No one will ever guess it is healthy. And, you don't even need an ice cream maker to enjoy this one!
Of course, you can put it in your ice cream maker if you have one, but there is a simple trick to making ice cream or frozen yogurt without a machine that I'm going to share with you right now…
It's a pretty complicated trick. Are you ready? 😉
All you have to do is mix everything about 3 hours before you're ready to eat your frozen yogurt or ice cream. Put it in a container with a lid and put it in the freezer. Then, every 30 minutes or so, pull it out and stir it well (or use an electric hand mixer). Then, when it reaches your desired consistency, scoop and serve! Mixing while it freezes means the texture will be pretty close to what you'd get in an ice cream maker.
There are so many awesome recipes out there for homemade frozen yogurt and ice cream that would work great with this method. One of our other favorites is this Homemade Strawberry Frozen Yogurt. Raspberries and peaches top our list of favorites too. Yum!
Anyway, on to the recipe! I hope your family loves it as much as mine does!

Berry Coconut Frozen Yogurt
Serves:
8 half cup servings
Ingredients
3 cups mixed berries, fresh or frozen
¾ cup coconut milk
½ cup pain greek yogurt
3 tablespoons honey, or more to desired sweetness
¼ teaspoon kosher salt
¼ cup unsweetened shredded toasted coconut, plus more for serving
Instructions
Put the berries, coconut milk, greek yogurt, honey, and salt into a high powered blender or food processor and blend until smooth.
With an Ice Cream Maker: Freeze according to your ice cream maker's instructions, adding the toasted coconut in the last 5 minutes of churning.
Without an Ice Cream Maker: Gently stir toasted coconut into the yogurt mixture and then transfer to a container with a lid. Put container in the freezer, removing it to mix well every 30 minutes or so until desired texture is reached. This method will take around 3 hours.
Scoop and enjoy!