Bunny Food Art – This bunny food art is a fun spring lunch and a great way to use up some of those hard boiled eggs at Easter time!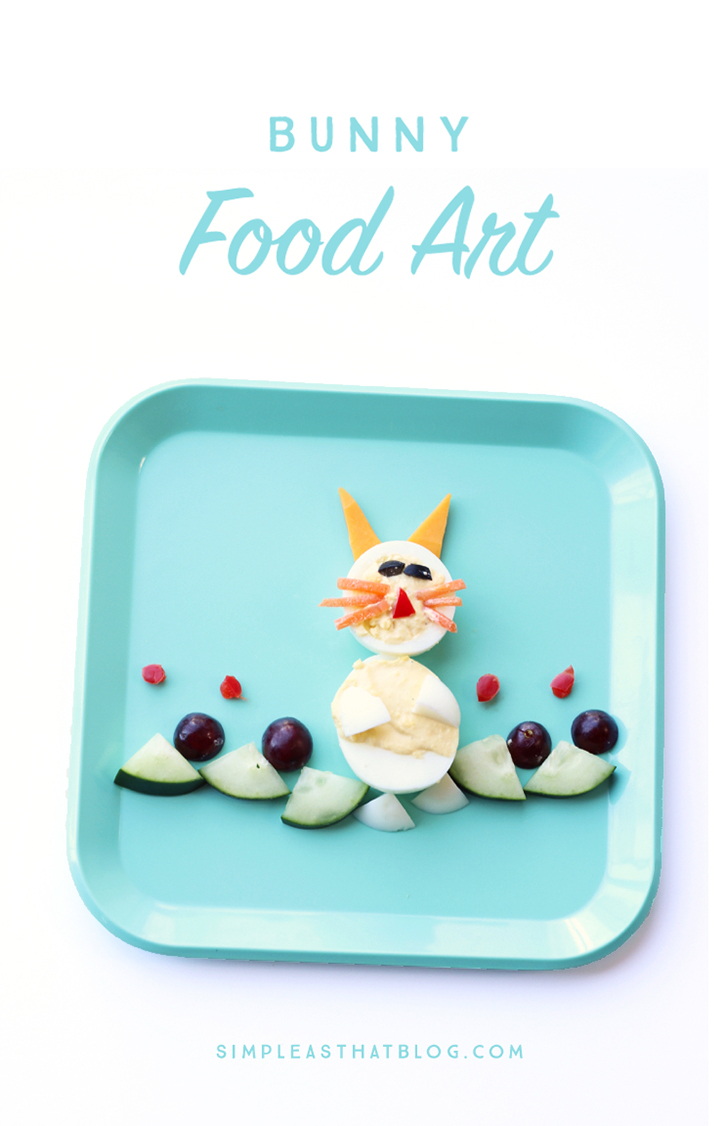 Hey there! My name is Carisa from Messes to Memories and I'm back with the second post in the Fun With Food Series here on Simple As That. This month we are focused on all things spring… flowers, bunnies, rainbows and Easter.
I love this time of year and how much there is to talk about with kids. The obvious changes in nature make it so easy to talk about new things! My kids love the pretty white flowered trees and are constantly yelling "popcorn popping on the trees." It's pretty funny!
We decided to do a cute bunny food art project with deviled eggs. We're big fans of hard boiled eggs because they are such a great source of protein! This was a different way to eat them for lunch!
Supplies
Deviled Eggs
Matchstick Carrots
Olives
Red Bell Pepper
Cucumbers
Grapes
Cheese
Instructions
Gather all the food and make it easily accessible for the kids! This makes it so easy for them to be independent and focus on the art.
Prep the deviled eggs by combining the egg yolks from 6 eggs, 1/4 cup mayo, 1 tsp vinegar, 1 tsp ground mustard, salt and pepper. Fill the middle of each egg with a spoonful of the yolk mixture. You'll need to make some tall deviled eggs and some round ones.
Place the cucumbers across the bottom for grass. Add a tall deviled egg for the bunny body. Cut off the bottom of a round one and then add the top part for the bunny head head! Cut the bottom into quarters and use those for the legs!
Now its time to add a face. We used cheese triangles for ears. A red pepper triangle for the nose, matchstick carrots for whiskers and small olive chunks for the eyes!
For last minute touches add grape slices and little red pepper circles for flowers, Easter eggs or whatever else you want to decorate with!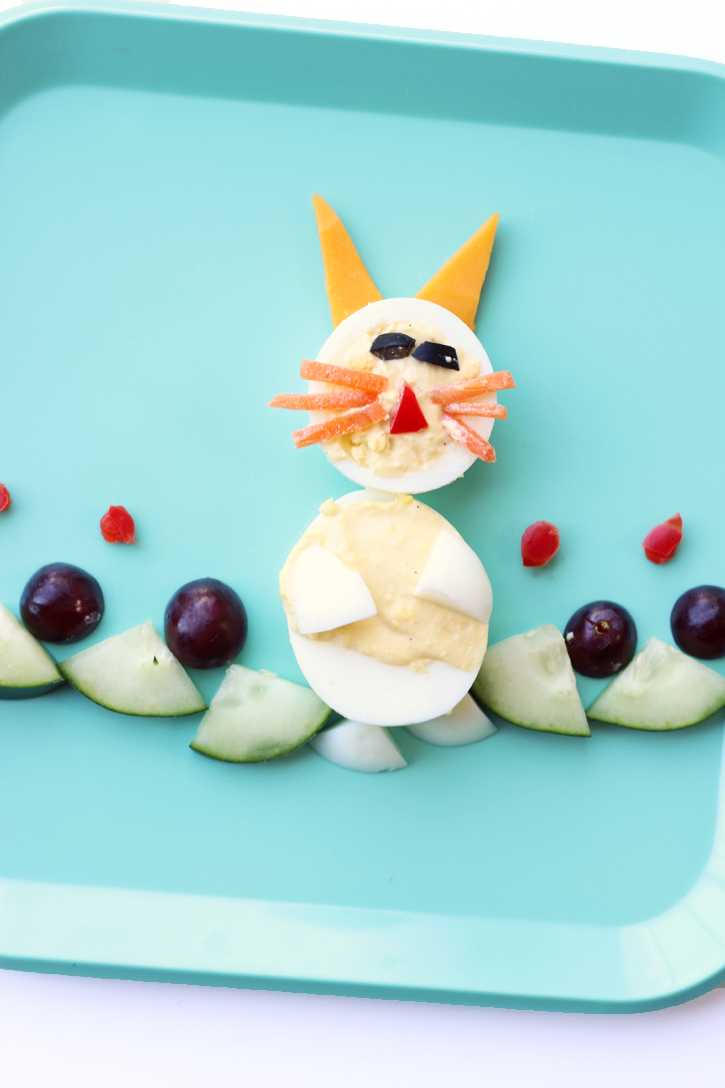 I did mine first and then let the kids look at it as a model to create our own! Theirs looked awesome. We giggled for a while at Owen's whiskers. He put them in standing straight up so they looked like spikes instead of whiskers. LOL!
This was definitely a fun and healthy lunch project. Stay tuned for more simple, kid-friendly food ideas coming in the Fun with Food series!