Cheesy Stuffed Green Peppers – Don't think home-cooked meals and busy schedules can go hand-in-hand? This healthy, freezer-friendly, and easy-to-make meal will make you think again!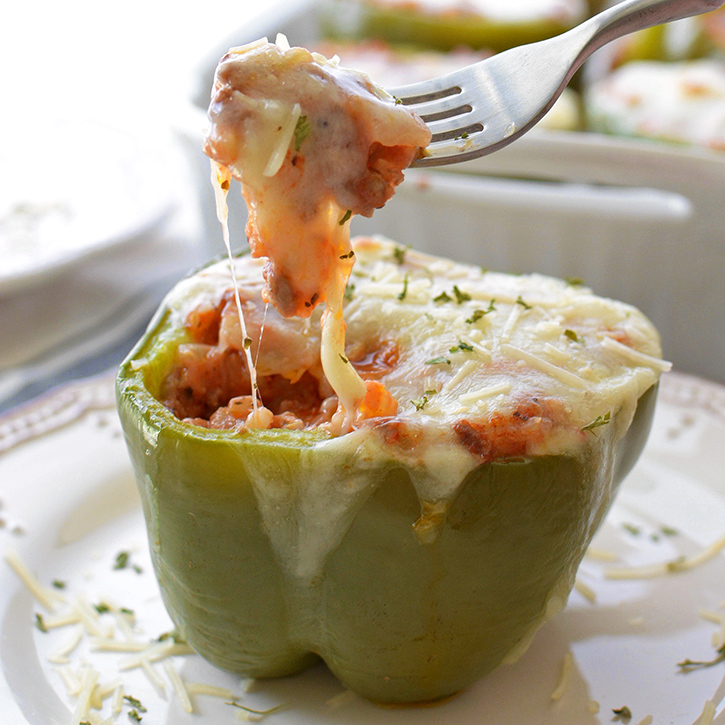 Hi Simple As That readers! This is Rachel again from the food blog Simple Seasonal. You may remember me from some of my previous recipes, like my Rustic Italian One Pot Chicken and Rice, or my One Pot Bacon-Wrapped Chicken with Sugar Snap Peas and Pasta. As you may have guessed, I'm all about bringing you simple, nutritious and delicious meals that solve the daily problem of "What the heck do I feed the family for dinner??" Today's recipe for Freezer-Friendly Cheesy Stuffed Green Peppers is a classic. It's a favorite of mine and I think you'll love it too!
I'm going to be honest here… For the last few weeks, the evening routine has been far too rushed in my household. Sitting around the dinner table as a family is something my husband and I value and make a priority in our home, but recently we've had to fight to make that hour happen. Between both of our jobs, summer camp, vacation bible school, soccer practice, and a myriad of other social obligations, it's been a little off the hook! If you have kids, I'm guessing you can relate…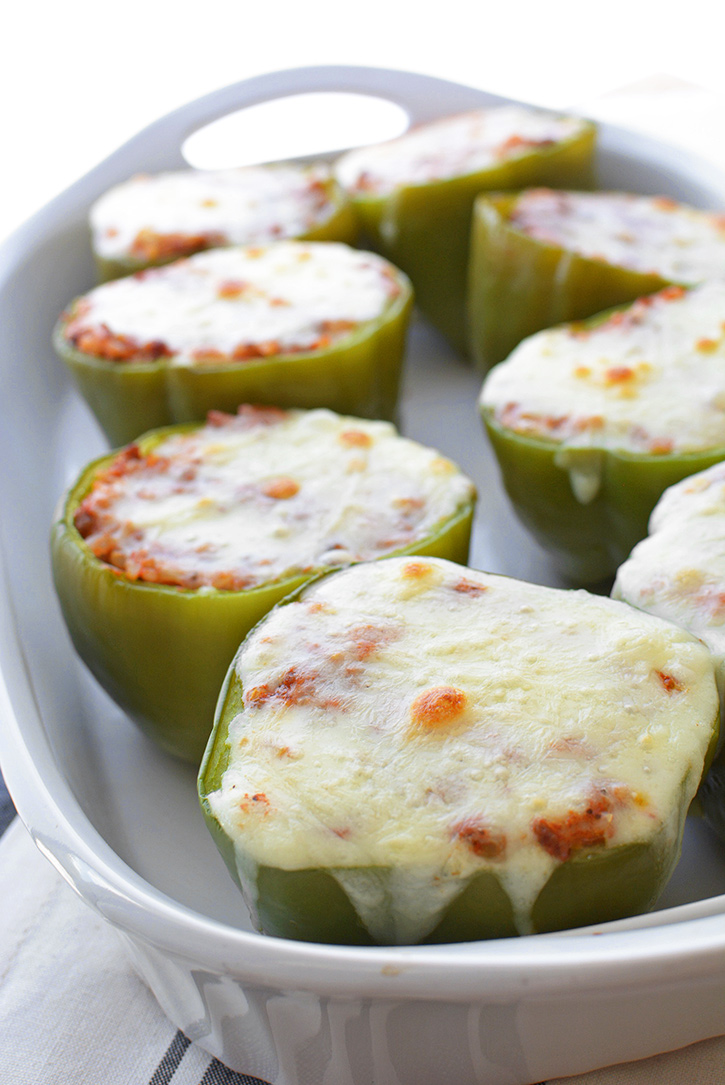 Because of this problem, I love this recipe for Cheesy Stuffed Green Peppers. It's perfect for making the night before, or the morning of. Just refrigerate during the day and then pop it in the oven when you get home and ta-da! A home-cooked meal is ready 30 minutes later. It also freezes well, and with back-to-school right around the corner, we could all use some healthy homemade freezer meals at the ready.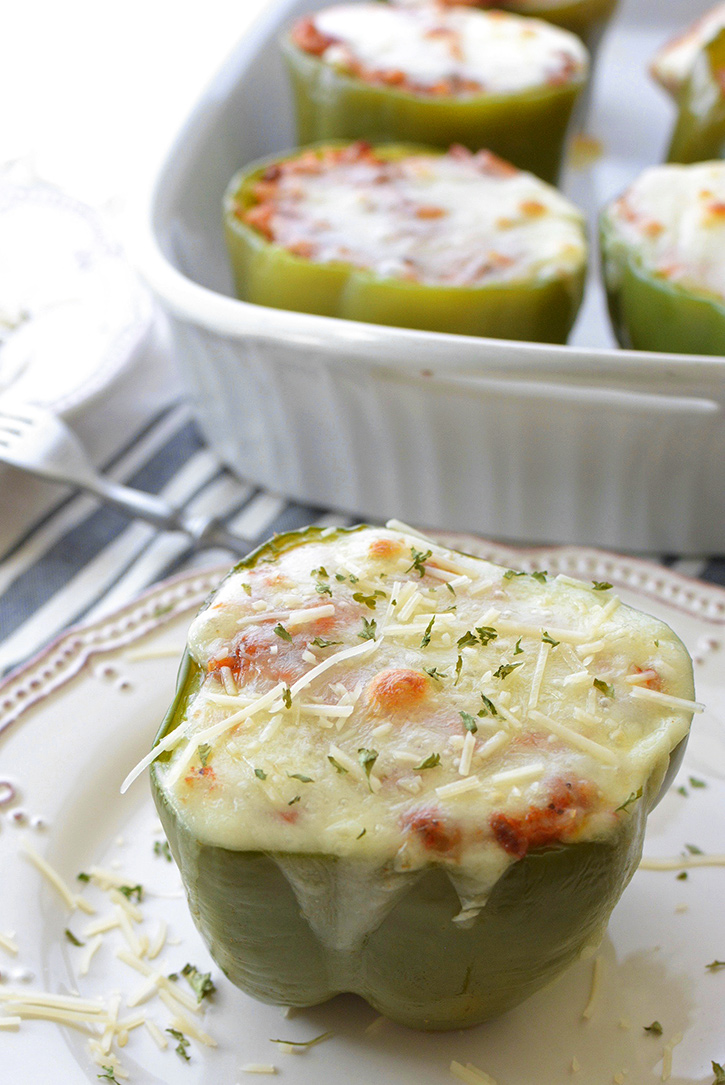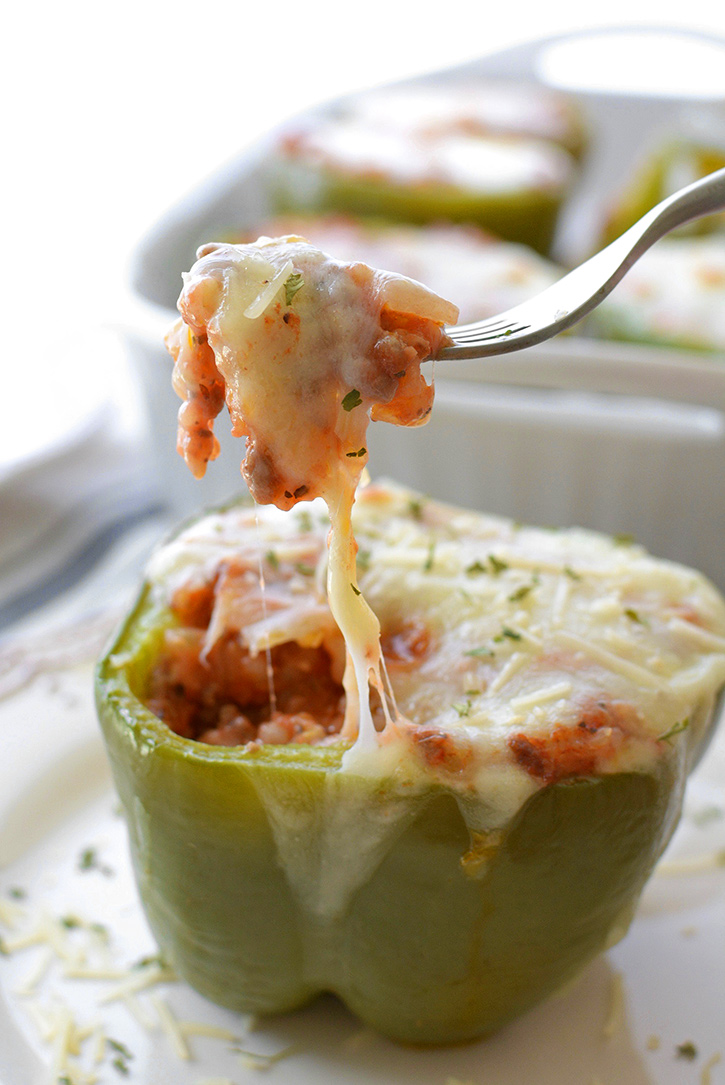 Oh, and did I mention that these babies are cheesy..? They're also a good source of vegetables, whole grains, and protein, but I recommend focusing on the cheesy part as the selling point with the kids. It's good stuff! After a busy day, take a moment to enjoy a relaxing hour around the table with your family and a home-cooked meal!
Cheesy Stuffed Green Peppers
Ingredients
8 Green Peppers
1¼ lb. ground beef
2 C cooked brown rice
½ C chopped sweet onion
1 Tbsp minced garlic
2 Tbsp fresh minced basil or 1 Tbsp dry
1 tsp salt
2 C plain strained tomato sauce*
½ C freshly shredded parmesan cheese
3 C freshly shredded low-moisture mozzarella, divided
Instructions
Preheat oven to 350ºF.
Cook the rice per package instructions. Plan on cooking 1 C brown rice to equal about 2 C cooked rice.
While the rice is cooking, brown the ground beef with the chopped sweet onion in a skillet over medium heat. Once cooked through, drain off any excess fat. I used 85% fat 15% lean beef, which didn't require a lot of draining.
Mix together the cooked rice and beef along with the minced garlic, basil, salt, tomato sauce, parmesan, and 1½ C of the shredded mozzarella.
Remove the top and seeds from the green peppers. Next, cook the peppers in boiling water for 4-5 minutes, then drain.**
Lightly oil a lasagna pan, or spray with cooking spray, and neatly arrange 8 bell peppers with the tops and seeds removed.
Fill each pepper with the stuffing and top each with some of the remaining 1½ C of mozzarella cheese.
Bake in a 350ºF oven for 25 minutes (35 minutes if it was refrigerated). If your dish is pre-frozen, cook in a 400ºF oven for 45-55 minutes, or until the peppers reach an internal temperature of 165ºF.
Notes
*Plain tomato sauce can be found in the canned tomato section of the grocery store instead of the spaghetti sauce aisle.
**Omit step 5 if you plan on freezing this dish.

If you like this recipe, you may also enjoy…