Child's Handprint Clay Jewelry Dish – Create a keepsake handprint jewelry dish out of clay using your child's hand – they're easy to make and are a darling gift idea to keep in mind for Mother's Day. These sweet little dishes are guaranteed to melt any Mom or Grandma's heart.
Follow Simple as That on Instagram and Facebook for more inspiration as we embrace simplicity in crafting, photography, travel and family life.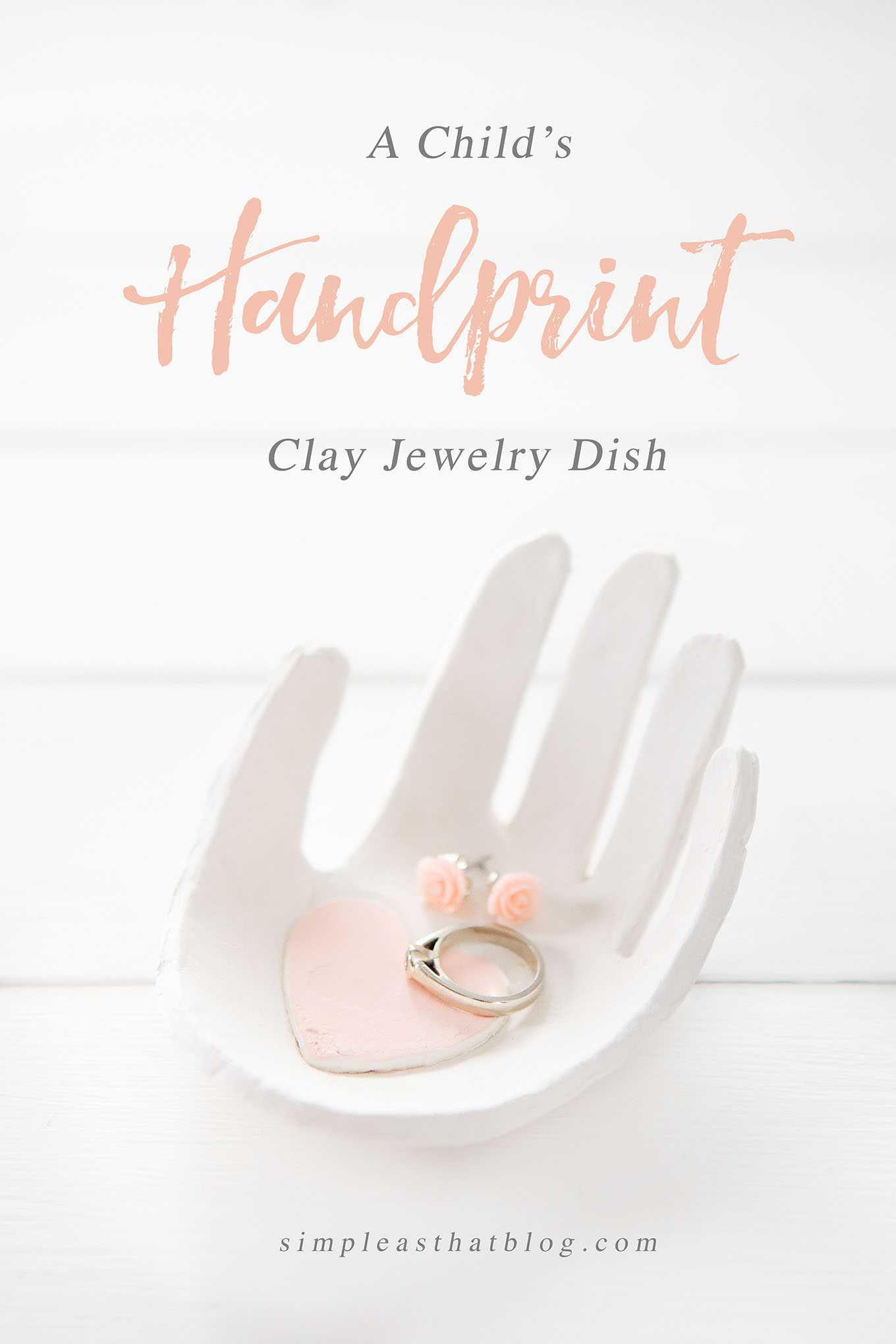 I've seen the idea for these hand-shaped dishes on Pinterest and I selfishly had to have one for myself. They're just so precious! I needed to have my little girl's hand immortalized in jewelry dish form. Not only is this dish a precious keepsake but it was such a fun project to make with my kids. I enjoy crafting with my kids all the time but we haven't worked a lot with clay before and we have found a new creative medium that we love!
Child's Handprint Jewelry Dish
I've got the supplies and step by step instructions below to walk you through making your own Clay Handprint Jewelry Dish. You'll be thrilled at how easy they are and trust me, you won't be able to get enough of your little one's chubby little hands holding your jewelry or other knick knacks. This is a handprint keepsake you'll want to hang on to forever.
Supplies
Pencil
Small Bowl of Water
Small Glass Bowl
Instructions
Roll out a small ball of clay between two layers of parchment paper. Roll until about 1/4″ – 1/8″ thick and large enough in diameter to accommodate the size of your child's hand.
Note: the thicker your clay is the longer it will take to dry, but the more durable the finished jewelry dish will be.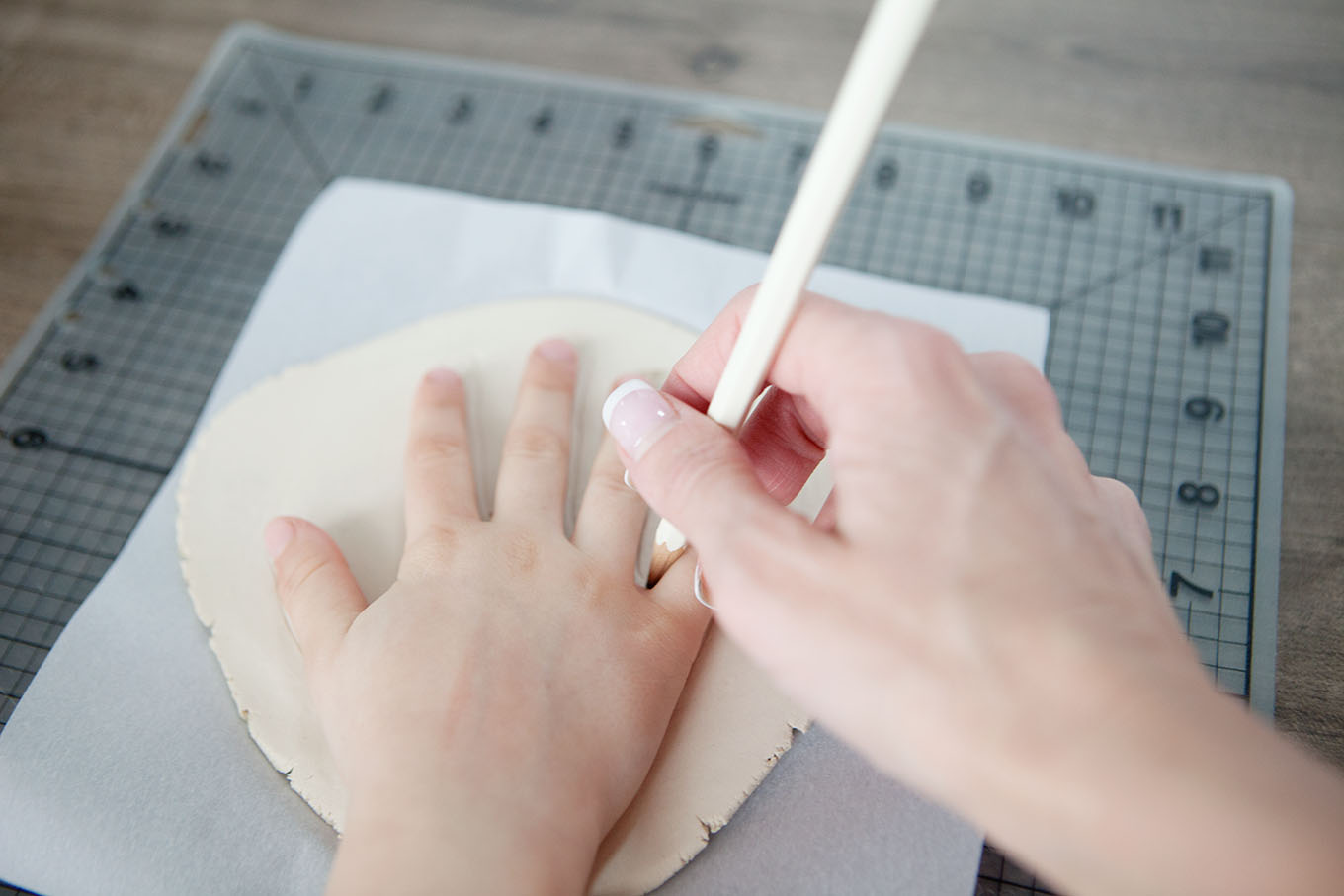 Place your child's hand on the clay and lightly trace around each finger with a pencil. Remove child's hand and cut out the handprint with an x-acto knife. Remove excess clay.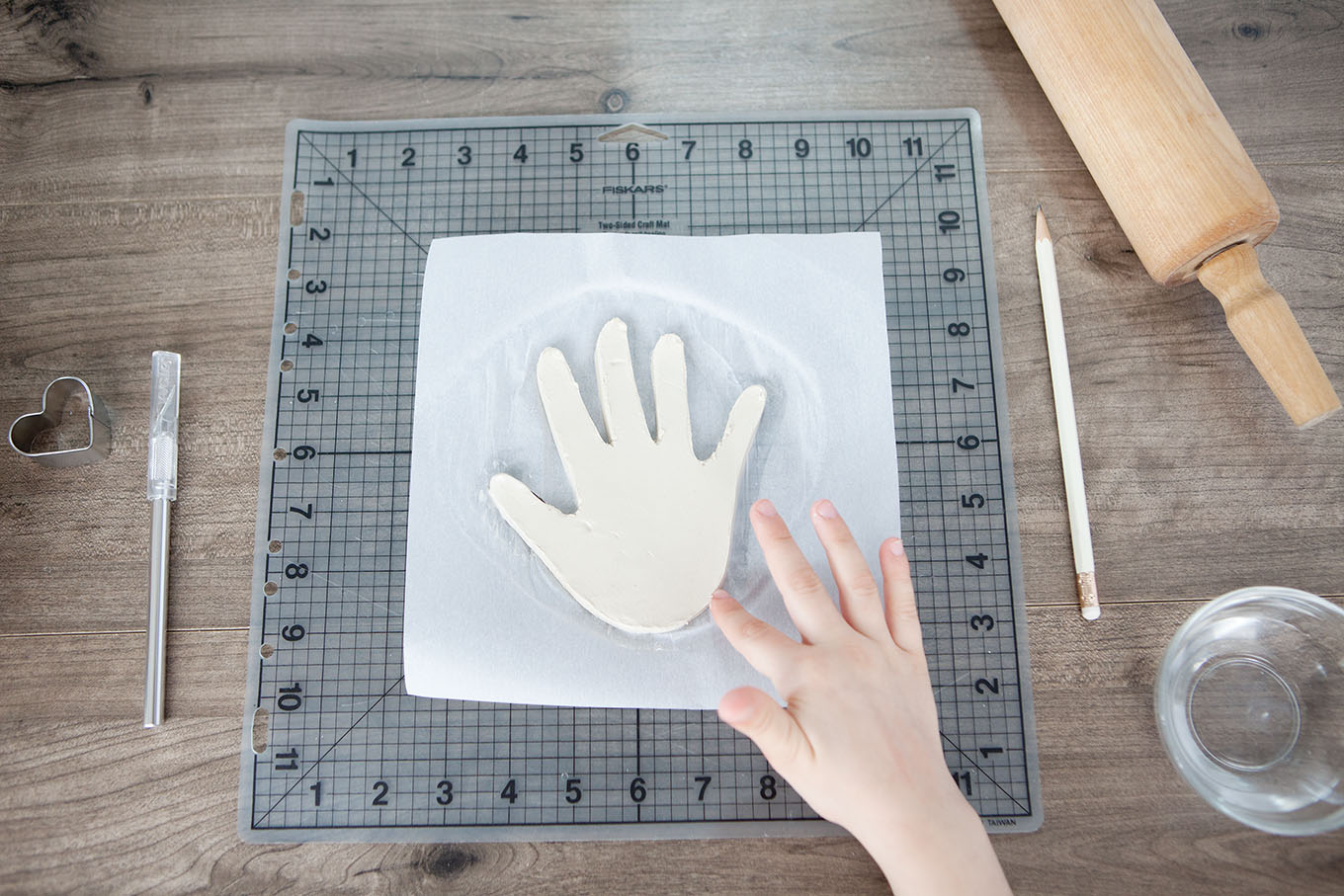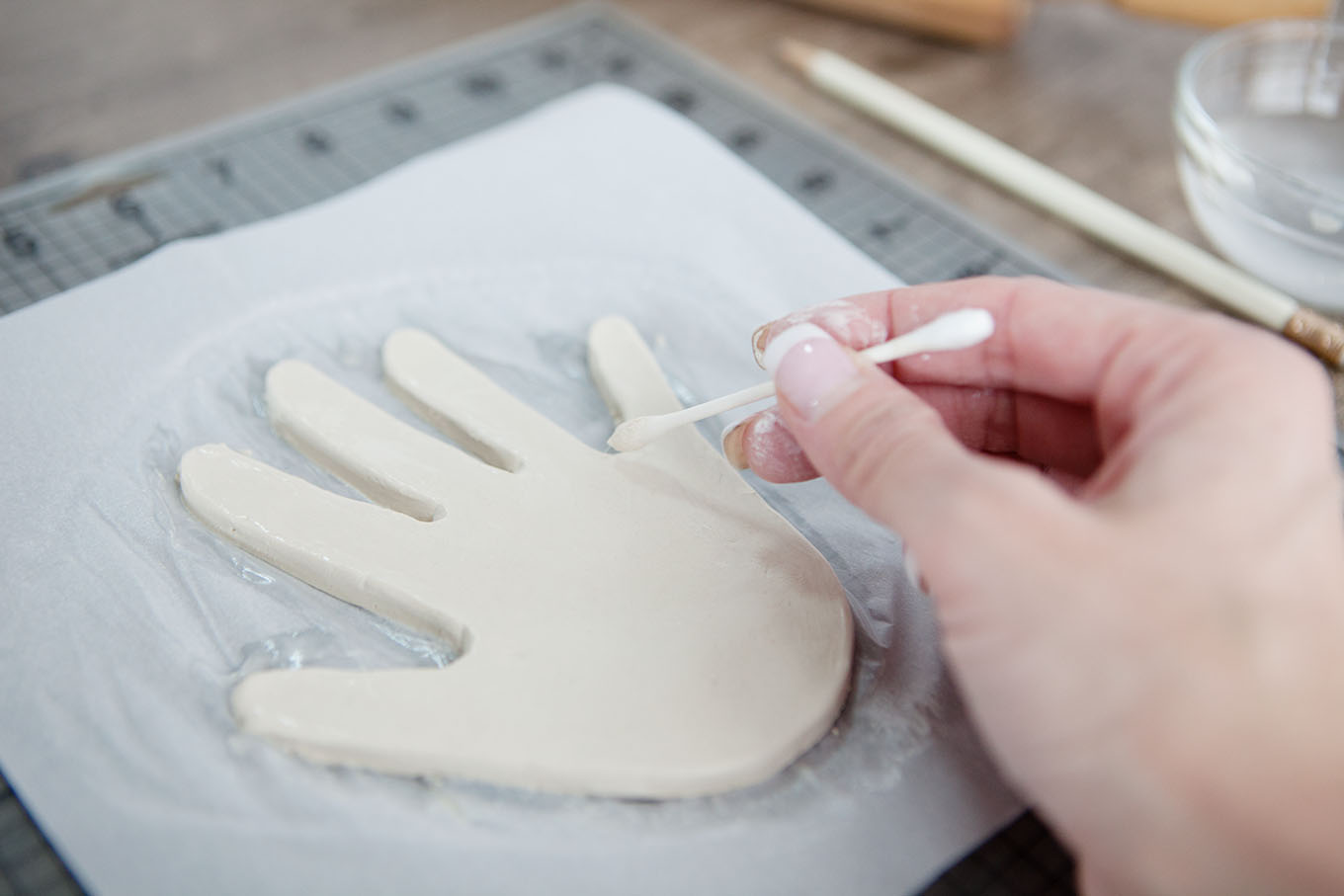 Smooth out any rough edges or imperfections in the clay by using a small amount of water. Dip your finger in the water; gently rub and smooth the clay. Repeat until the handprint is as smooth as desired. Use a q-tip for any spots you can't get to with your finger.
Roll out another small portion of clay to 1/4″ thick. Cut out a tiny heart from the clay using a cookie cutter. Rub the back of the heart with a small amount of water to help it adhere, then place in the center of the handprint. Smooth out the heart with a small amount of water as you did with the rest of the hand.
Now we're going to mold the handprint into a dish by placing a small bowl upside down and gently laying the hand over the bottom of the bowl as pictured. You can gently mold the fingers to any position you'd like them to dry in.
Take some parchment paper and place over the handprint, gently press down with a book to create a level area that will ensure the dish is sturdy and lays flat when finished.
The next step is to allow the handprint to dry completely. Drying time will vary depending on thickness of the clay and climate. It typically take 24-48 hours to dry.
Once the dish is completely dry remove it gently from the bowl. You can leave the dish as is or choose to paint the heart a favorite color with Crayola washable paint like we did.
Here's a short video showing the instructions above
More handmade gift ideas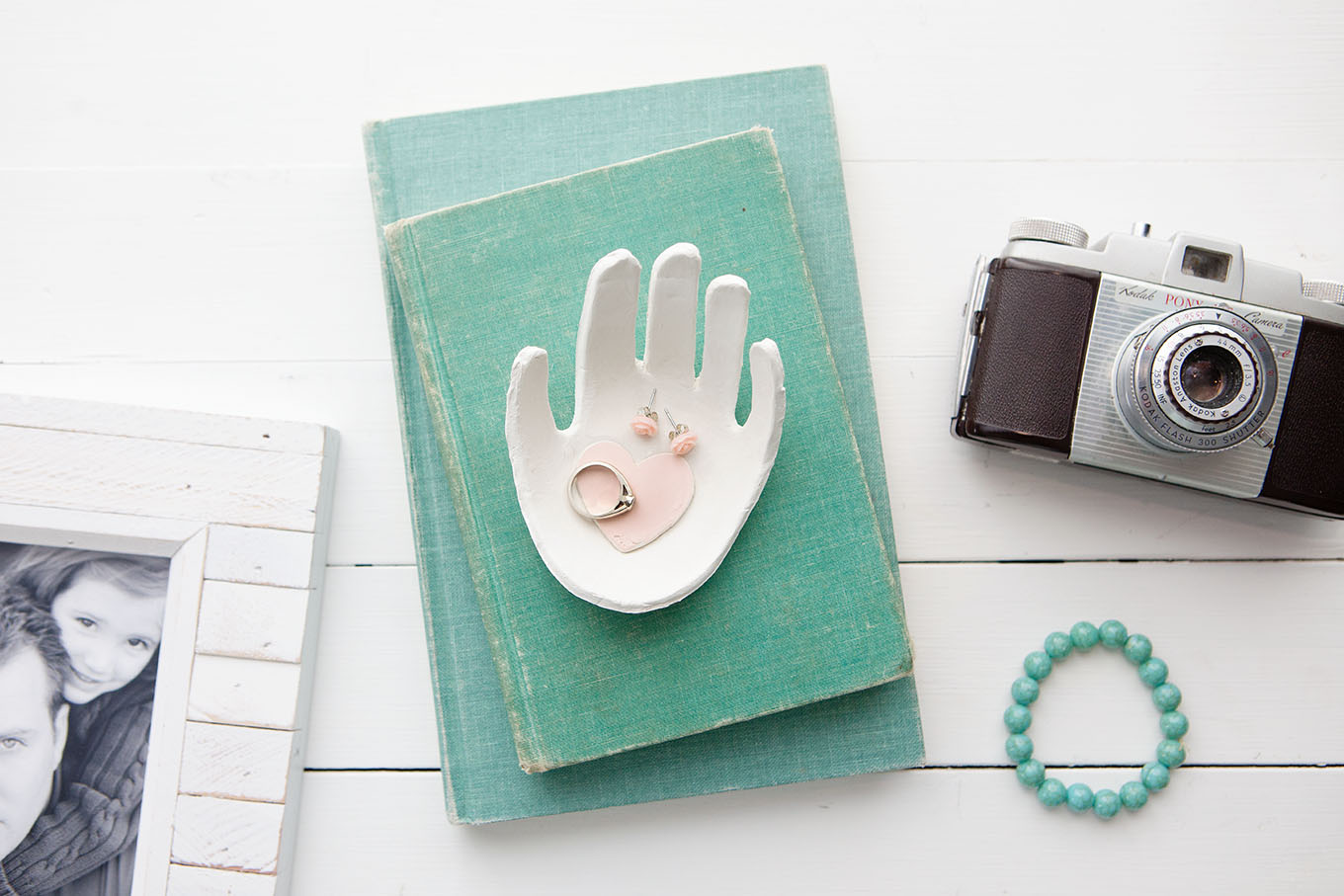 A Darling Handmade Keepsake to Treasure
Giving handmade gifts is something I love to do and a tradition I like to encourage with my own kids. Making something for someone else – taking the time and thought to create something with love – holds so much meaning.
My kids had a lot of fun creating these little handprint dishes and can't wait to make more for their grandma's and themselves! I have my cute Handprint Jewelry Dish sitting on my bedside table to hold my wedding rings but you could use it to hold hair pins or hair elastics and other small knick knacks.
If you liked this post you might also enjoy…