I'm dreaming of a simple Christmas this year. Here's what I'm crossing off my Christmas to-do list so I can make that dream come true.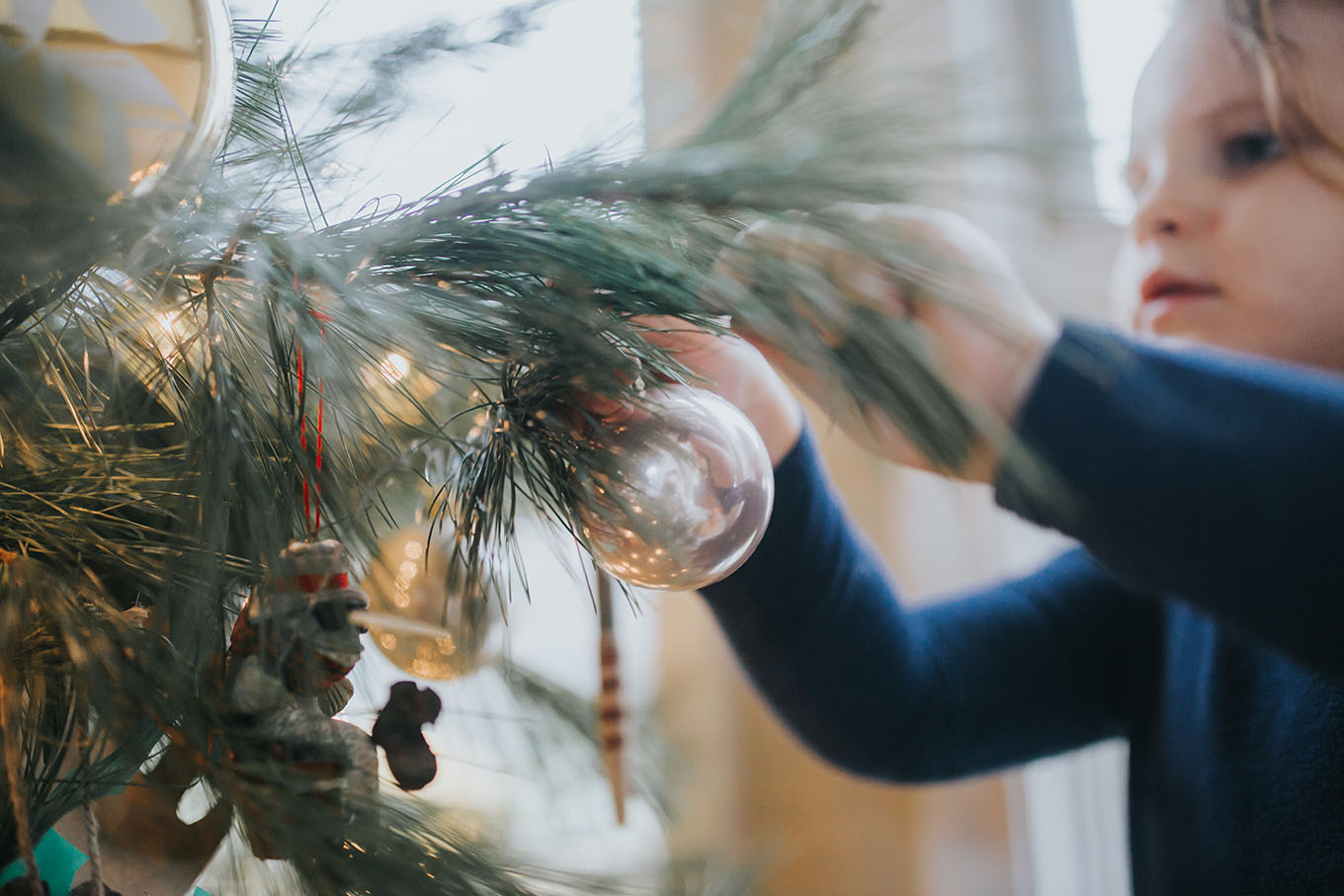 Photo courtesy of Apple of Our Eye Photography
I love Christmas. I love the joy and wonder and magic of it.
But every year, it seems like I head into the season with big hopes and even bigger expectations. This will be the best Christmas ever! Our family will make the most of every single moment! We'll sing carols on the way to school! There will not only be peace on earth but also in our house!
Then reality hits like a lump of coal.
I believe deeply in savoring the days that make up our lives. I believe in collecting moments like one might collect stamps on a passport. I believe in bucket lists, adventure, crafting, and travel. I believe in counting the years we have with each of our children and, even more than that, in making those years count.
 Yet I know that many of us moms feel weary under the weight of making Christmas magical for our kids every year.
We feel like we need elaborate decorations, meaningful gifts, and packed schedules so that we don't miss something that might turn into a memory. We feel like we need—want, even—Christmas caroling and service projects and cookie-baking sessions with royal icing in five colors…AND to not miss the true meaning of the season. And these are all good things!
But I'm here to share a realization that has taken so much of the pressure off me:
Many of the Christmas memories that stand out most in my mind didn't happen because of any elaborate plans I made or any mile-long holiday to-do list. Those best moments happened in between all the things I planned to do.
 In 14 years of motherhood, I've learned to leave plenty of empty space on the calendar and to wait for the magic to happen rather than try to manufacture it myself.
In that spirit, here are 25 things I'm going to try not to do this year. This isn't about right-versus-wrong or good-versus-bad; it's about what's best for my family and the kind of Christmas we want to be able to look back on when all the decorations have been packed away and the last sugar cookie has been eaten.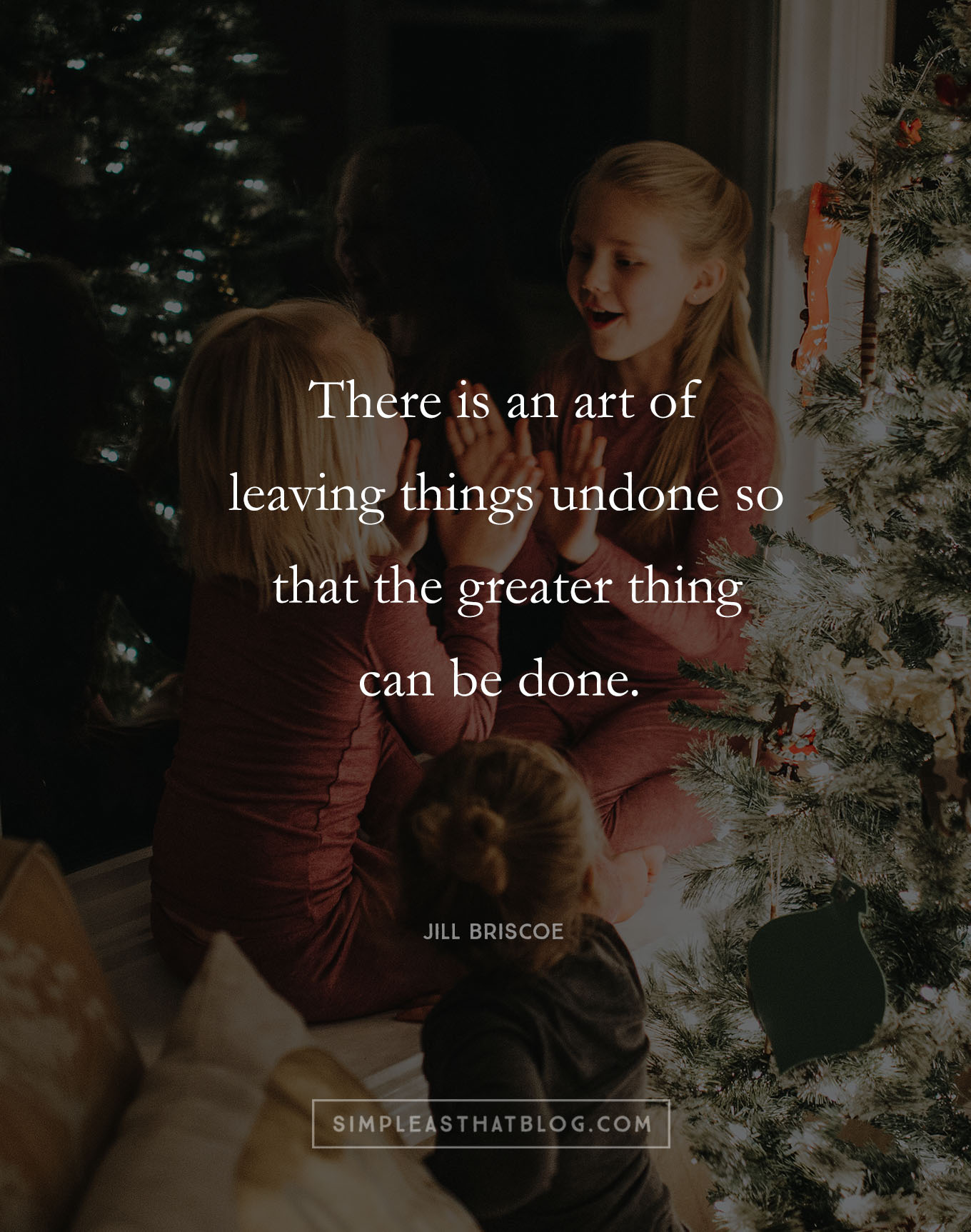 25 Things I'm Crossing off my Christmas To-Do List This Year
I'm not going to constantly rush my family. The few extra minutes we gain aren't worth the extra stress.
I'm not going to think that just because another mom is doing something for Christmas, that means I should be doing it.
I'm not going to overfill our holiday schedule.
I'm not going to believe that saying yes to every invitation or request is what makes me a good mom or a good friend or a good volunteer.
I'm not going to equate doing more with loving more.
I'm not going to spend the whole time I'm putting up Christmas decorations dreading when I have to take them down.
I'm not going to get so hung up on how we've always done things that I miss the chance to start new traditions.
I'm not going to forget that everything that's good to do at Christmas is not necessarily good to do this Christmas.
I'm not going to buy into the idea that there is only one way this Christmas can look for it to be a "good" Christmas.
I'm not going to try to plan out every detail.
I'm not going to try to be Supermom and do everything myself.
I'm not going to worry that my children won't look back on this as a happy Christmas just because we have some less-than moments along the way.
I'm not going keep wondering if I'm missing the true meaning of Christmas.
I'm not going to be afraid of boredom. I believe kids need boredom; it makes them draw on their own resources and creativity.
I'm not going to compare my Christmas to everyone else's.
I'm not going to have my phone out all the time.
I'm not going to share every moment on social media; I'll keep plenty of moments to myself.
I'm not going to think that I can do all the extra, special things this season of the year offers and still do everything I do the rest of the year. Some ordinary things can be put off to make room for some only-at-Christmastime things.
I'm not going to try to get the perfect post-worthy picture of every holiday moment.
I'm not going to expect my family to get along better than they do the rest of the year just because it's the season of "peace and goodwill."
I'm not going to try to cram in every adorable craft and holiday baking project and that gingerbread house I've been meaning to make for the past 14 Christmases.
I'm not going to feel guilty for taking shortcuts where I can get them.
I'm not going to stress about who we can and can't see. I'm simply going to spend time with the loved ones I can see during this particular season.
I'm not going to start thinking about the end of the holidays as soon as I turn the calendar to December.
I'm not going to expect perfection of myself, my husband, my kids, or our Christmas. When we stop expecting the holiday to be perfect, we can enjoy it for everything it is.
I want to say no to these things so I can say yes to more of the unplanned, in-between moments that I want to sink into with the people I love.  I've found it's often not the shiny, planned-out events that stick with us; it's the quiet moments of connection and the accidental chances to experience childlike wonder that get archived in our memories.
And if I can have a Christmas like this with my family, it will be the best kind of dream come true.
"More than just a Merry Christmas, I'm wishing you a Christmas to believe in. Where the moments turn to memories and years from now you'll close your eyes and see them. More than just another busy season, I'm wishing you a Christmas to believe in." (Matthew West, "A Christmas To Believe In")
If you liked this post you might also enjoy…