Looking for a fun, handmade gift to give this Valentine's Day? This DIY Conversation Hearts Sugar Scrub is so easy to make, smells delicious and is great for dry skin!
Hello there Simple As That readers!  I'm Katie from The Casual Craftlete blog.  I love to share simple and easy diy's, crafts and recipes.
Today I am excited to share my Conversation Hearts Sugar Scrub.  It's great for dry skin this time of year and its an easy Valentines gift idea. Look how darling it is!
I just love Valentine's day!  All the red, pink and purple pretty colors.  Plus, it's the only time of year you can get conversation hearts.  Are you a fan of the colorful candy?  I think people either love them or hate them.  There's no in between.  They can taste a bit like chalk.  So, if you don't like to eat them, you can craft with them.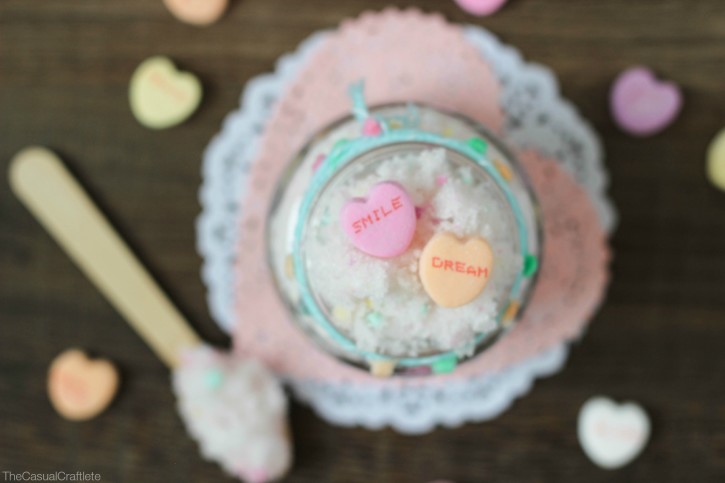 This sugar scrub is so pretty and colorful!  I love the flecks of color from the hearts and there's an overall light pink tint to the scrub.  They're the perfect colors for Valentine's Day.  This super easy scrub leaves your skin feeling so soft and smooth.  I can use any help I can get with dry skin this winter season.  All you need are three ingredients and a food processor to make the amazing sugar scrub.
  Ingredients
 2 cups granulated sugar
1 small box of Conversation Hearts
1/4 cup of coconut oil
How to Make Conversation Heart Sugar Scrub
In a medium size bowl, mix together the granulated sugar and coconut oil until well combined.  Set aside.  * If coconut oil is too hard, heat in the microwave in a safe bowl 15-25 seconds or until the oil is softened but not a runny liquid mess.
In a food processor, grind the box of conversation hearts, leave small pieces.
Add the ground hearts to the bowl of sugar and coconut oil.  Mix until well combined.
Spoon scrub into an air tight container or gift jars.
Apply the scrub to your hands, feet and body.  You can leave the scrub next to the sink for your hands or place in the shower and use as an exfoliate to your body.  This is how I like to use and make my sugar scrub but you can always change the measurements and ingredients to your liking.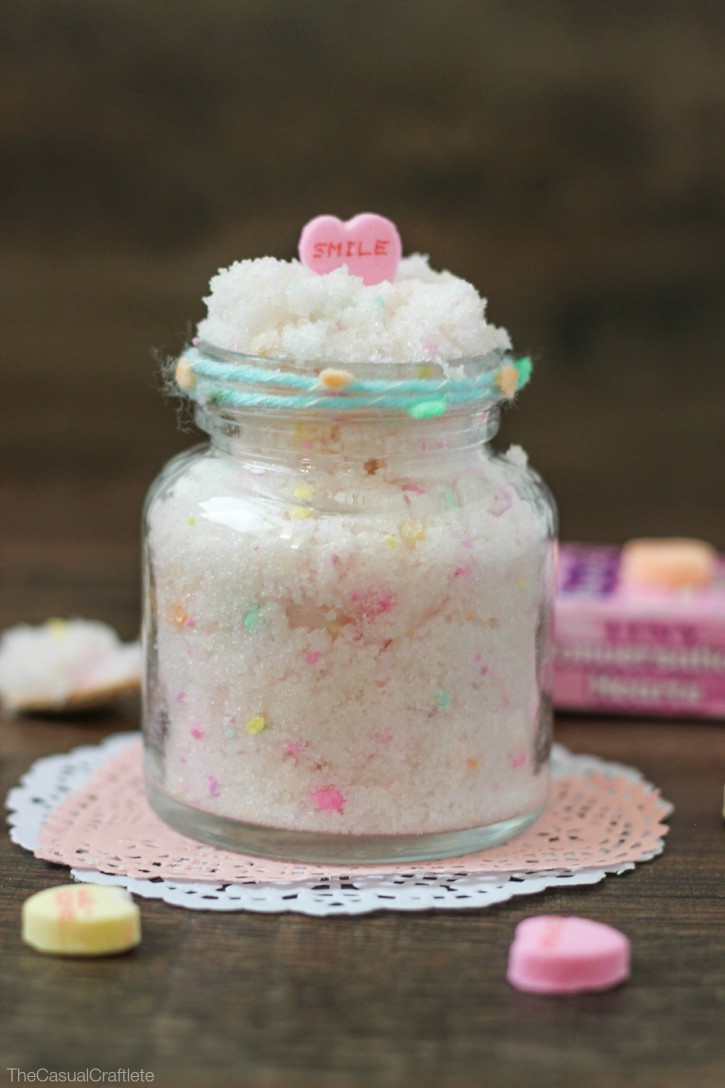 Thank you for letting me share today!  I hope you enjoy my Conversation Hearts Sugar Scrub.
If you liked this post you might also like…