Enjoy a different take on breakfast with this Sweet Potato Breakfast Bowl recipe.  This is a hearty and healthy breakfast option that is great for the fall and winter months.
Simple Sweet Potato Breakfast Bowl
I've been making a variation on this recipe since beginning the switch to a more whole foods diet. It's so easy and I really enjoy eating a sweet potato breakfast bowl at breakfast time or as a sweet treat during the day.
Here's my simplified version of this recipe
Cook 3 large sweet potatoes in the Instant pot. Set on manual for 15 minutes. When cool, peel off skins. Blend with a hand mixer with 2-3 tbsp of almond milk until creamy. Store in an air tight container in the fridge. When ready to serve re-heat, top with chopped pecans and a drizzle of pure maple syrup.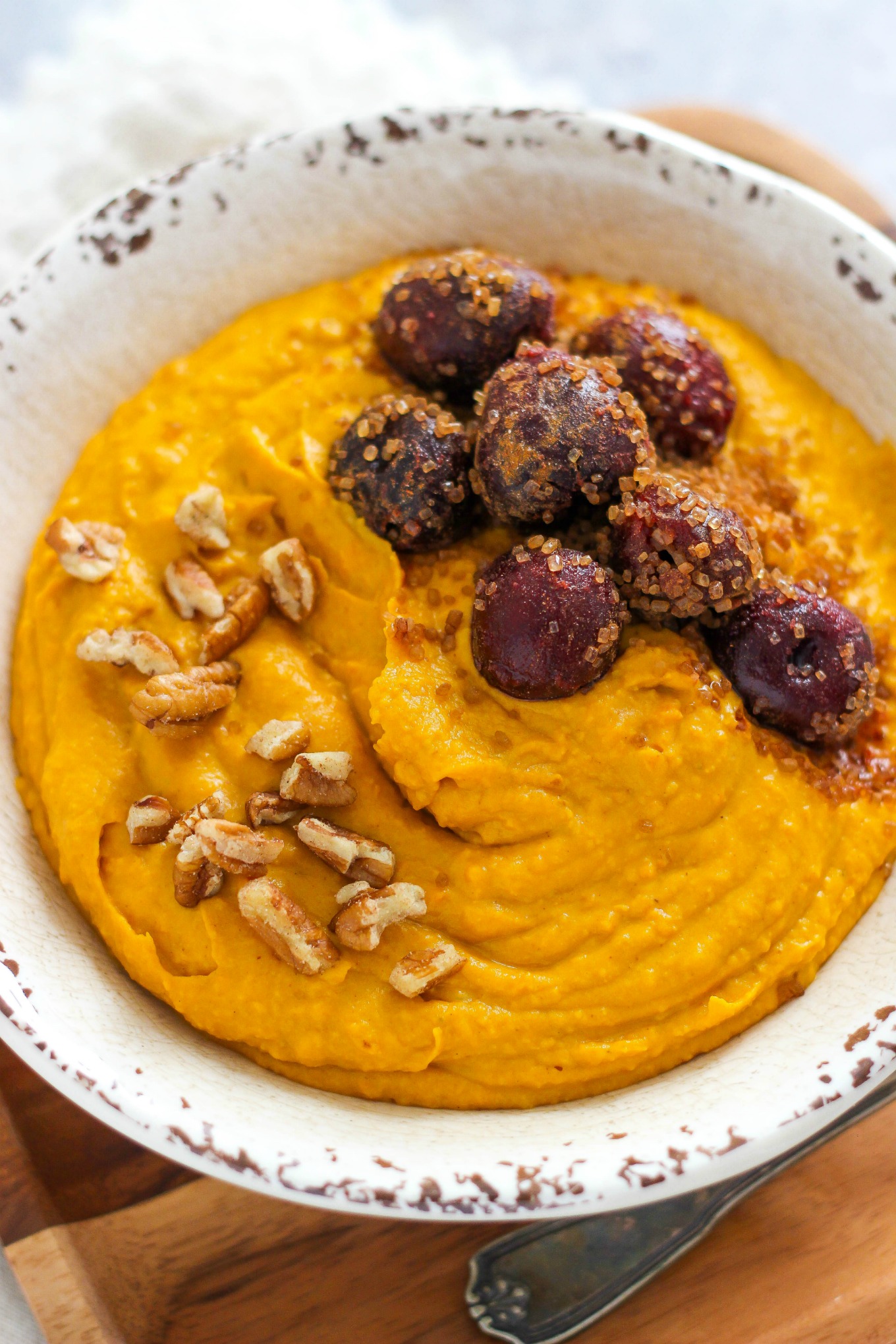 Hello there!  This is Katie from The Casual Craftlete blog.  I am so excited for fall!  I love everything about the season especially the fall recipes.  Today, I am sharing a hearty recipe for a Sweet Potato Breakfast Bowl.  This recipe is made with a baked sweet potato, nut butter, milk, and cinnamon.  This breakfast bowl might not be what you think.  It is sweet, creamy, and delicious!  It You can enjoy it warm or cold.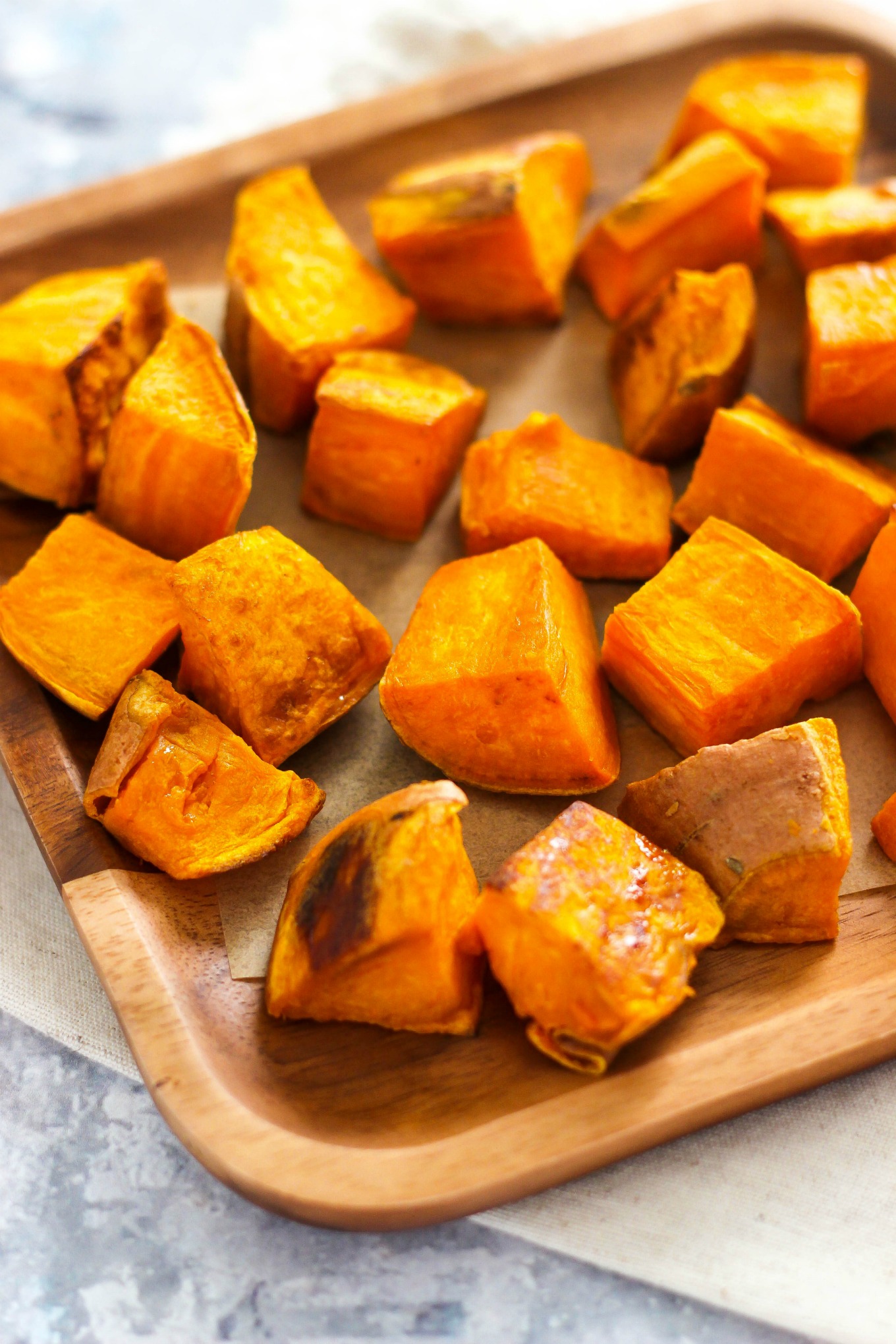 This Sweet Potato Breakfast Bowl starts with a baked sweet potato.  You can bake the potato just before you want to eat the breakfast bowl, or you can bake it the night before and store it in the refrigerator.  If I have time in the mornings, I like to bake it the same day to enjoy it warm but it is just as good cold.
I love sweet potatoes because they are packed with vitamins, fiber, beta-carotene and they taste good.
In a blender, I combine the baked sweet potato, almond butter, almond milk, maple syrup, and cinnamon.  The nice thing about this recipe is that you can customize it to your taste.  You can incorporate any nut butter or milk that you typically use.  I add the maple syrup and cinnamon for a rich, sweet flavor.  This Sweet Potato Breakfast Bowl tastes like thanksgiving.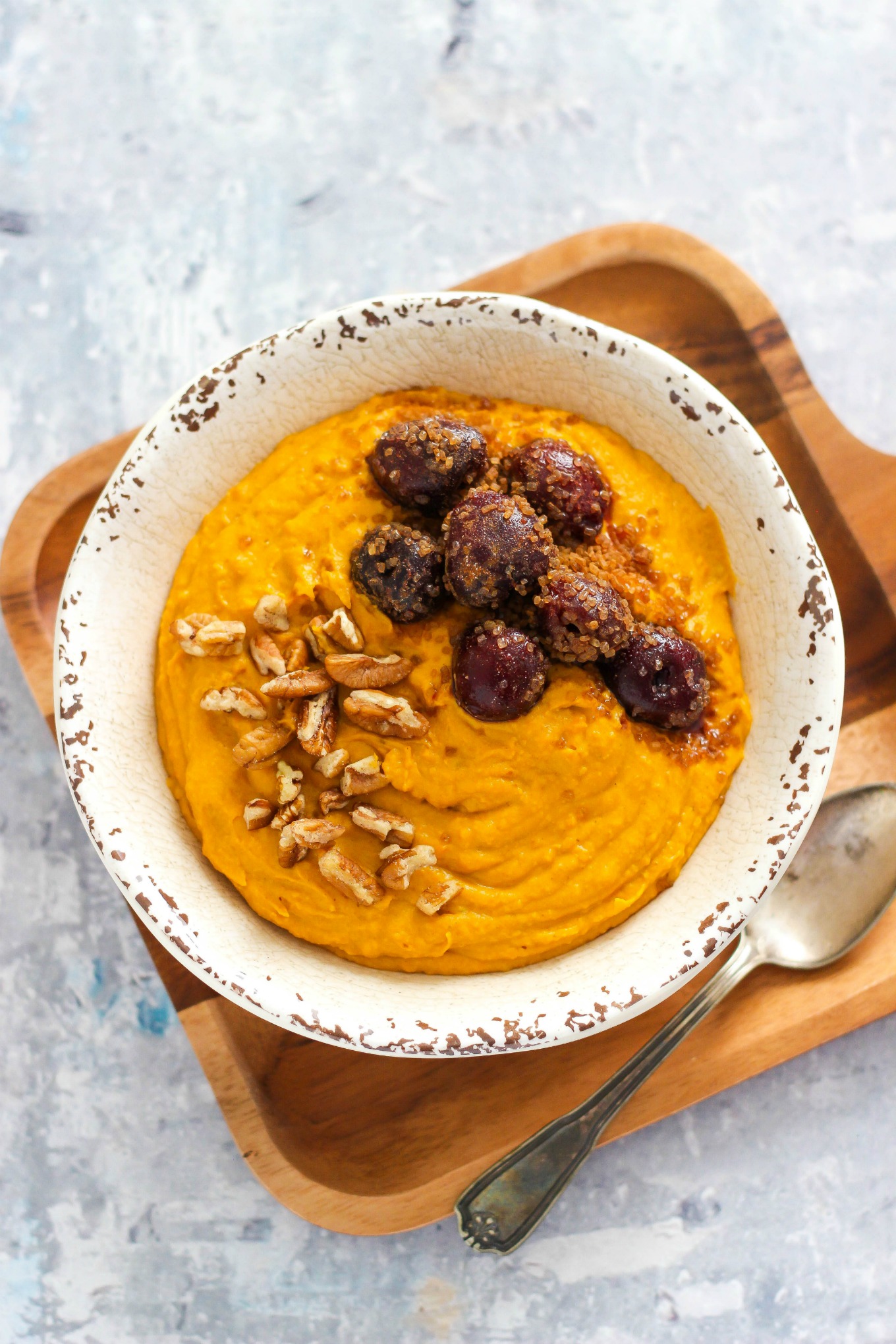 Sweet Potato Breakfast Bowl
Ingredients
Sweet Potato Breakfast Bowl:
1 large cooked sweet potato
2 tablespoons almond butter or nut butter
¼ to ½ cup almond milk or milk
1 teaspoon maple syrup
¼ teaspoon ground cinnamon
Toppings:
chopped pecans or nuts
frozen dark cherries
cinnamon sugar mixture (1 tablespoon cinnamon, ⅛ teaspoon sugar in the raw)
Instructions
Preheat oven to 400 degrees F. Cut sweet potato into 1 inch pieces. Place on a baking sheet and toss with olive oil. Cook for 25 to 30 minutes or until fork tender.
In a blender or food processor, combine all the sweet potato breakfast bowl ingredients. Blend until smooth.
Top with nuts, and cherries that have been tossed in a cinnamon sugar mixture.