Crock-Pot Vegetable Chili – This thick and naturally sweet and savory chili makes for some easy, healthy weeknight comfort food!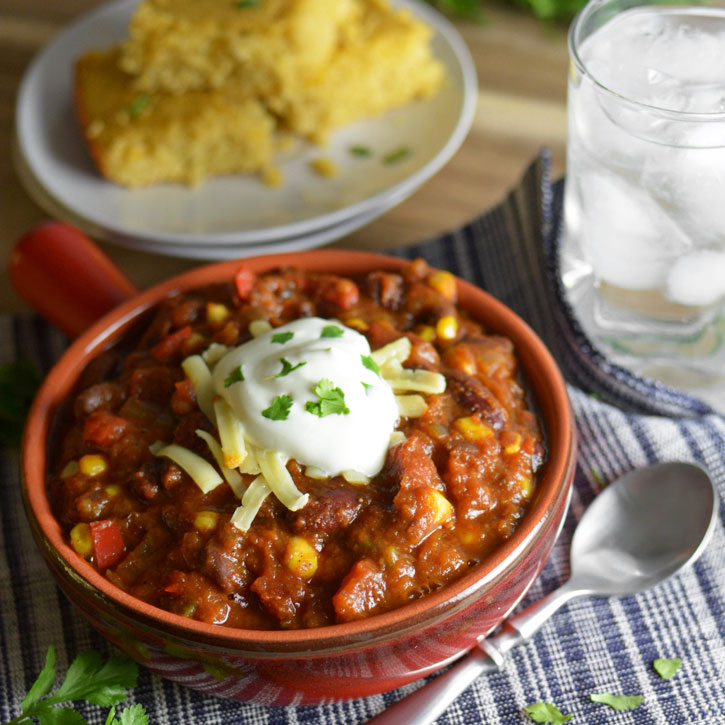 Hi, Simple As That readers! This is Rachel from the whole foods blog Simple Seasonal. I'm excited to be back with another healthy, family-friendly recipe that helps you get those hungry little picky eaters to eat their vegetables. Today's chili recipe is a crock-pot one, specifically with you in mind. Don't you just love coming home after a busy day of running here and running there to a warm and spicy-smelling house, knowing that dinner is already cooked? Really, crock-pots are kind of like having a personal cook. Unfortunately, however, they don't do dishes…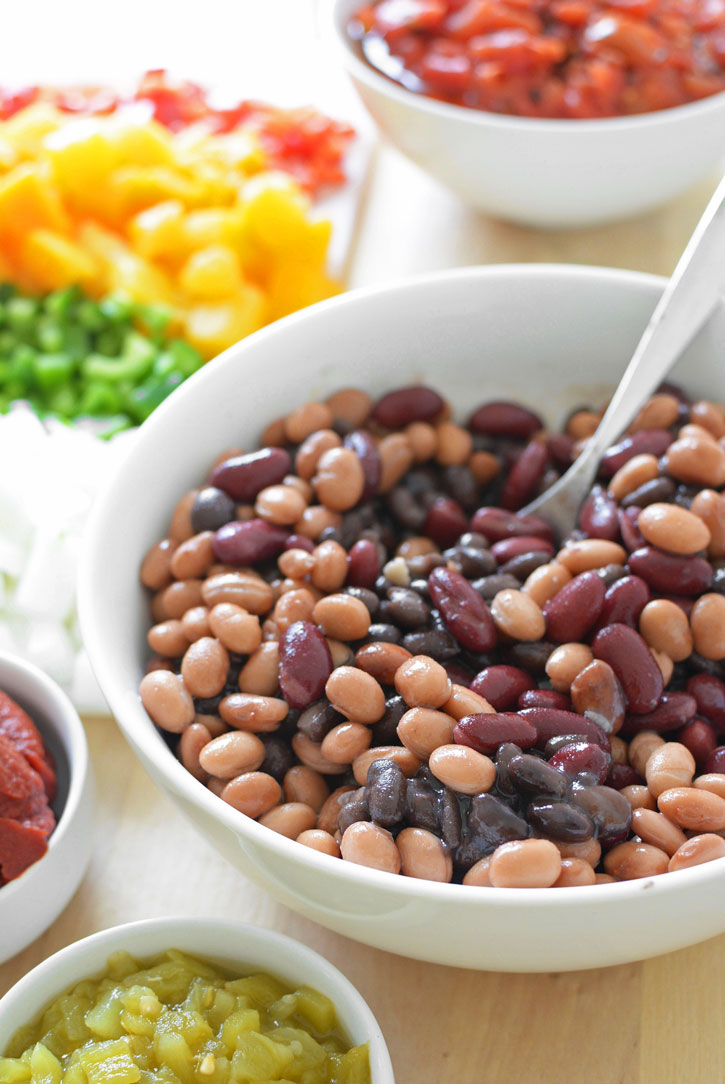 This Crock-Pot Vegetable Chili recipe is one that I've been playing around with for the last couple of years until my family felt that I got it right. They're pretty tough critics, so – not to brag here – but this is a pretty tasty recipe! I've also experimented with ways to make this basic recipe work for different occasions. This version is vegetarian and all about the beans and the vegetables, but if your family has a more hearty appetite, it's also delicious when you substitute the can of pinto beans with 3/4  lb of ground turkey or chicken. I've cooked and enjoyed it both ways!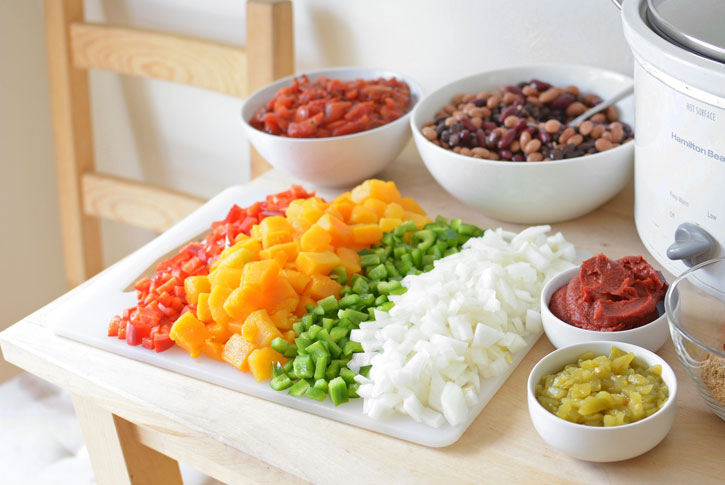 Now, on to the secret ingredient: butternut squash! After it spends 8 hours in the crock-pot, it softens and blends in with the spices, making a thick, naturally sweet and savory chili. If you don't tell them that they're eating squash, they'll never know it's there… 😉 Hint: butternut squash is now sold in the freezer section of many grocery stores. Buy a bag of the frozen stuff if you want to skip the hassle of cutting a squash.
And what's chili without a fantastic blend of spices? Unfortunately, in my home there is an ongoing tension about hot and spicy food. Before my son was born, my husband and I added hot peppers to just about everything. Now, if I add black pepper to a dish, I hear whiny complaints from the 4-year-old about how it's "too 'picy Mommy…" The way I've learned to contend with this is by making my chili mild. Then, about 30 minutes before dinner, I reserve some mild chili for the spice naysayer, then add more heat to rest of the pot. I add chipotle chile powder to this recipe in addition to the regular chile powder added when I first mixed up the contents of the crock-pot. Understanding that every family likes different amounts of heat, here's a spice guide so you can get it right for your family. This is based on the whole crock-pot of chili. If, for example, you're reserving half of the pot as mild, cut these measurements in half.
Mild: Add nothing 30 minutes before serving.
Medium: Add 1/2 Tbsp chipotle chile powder 30 minutes before serving.
Hot: Add 1 Tbsp chipotle chili powder 30 minutes before serving.
Note: if everyone in your home is on the same page about spice, feel free to add your chosen amount of chipotle chili powder at the beginning of the cooking process.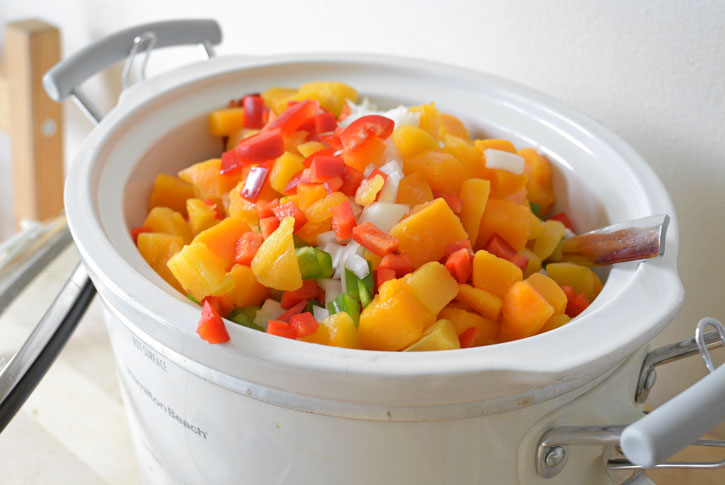 Once you've decided whether you're going to make this chili vegetarian or not, and how how spicy you want it to be, simply add the ingredients to the crock-pot, turn the heat on high, and let it cook away for 8 hours.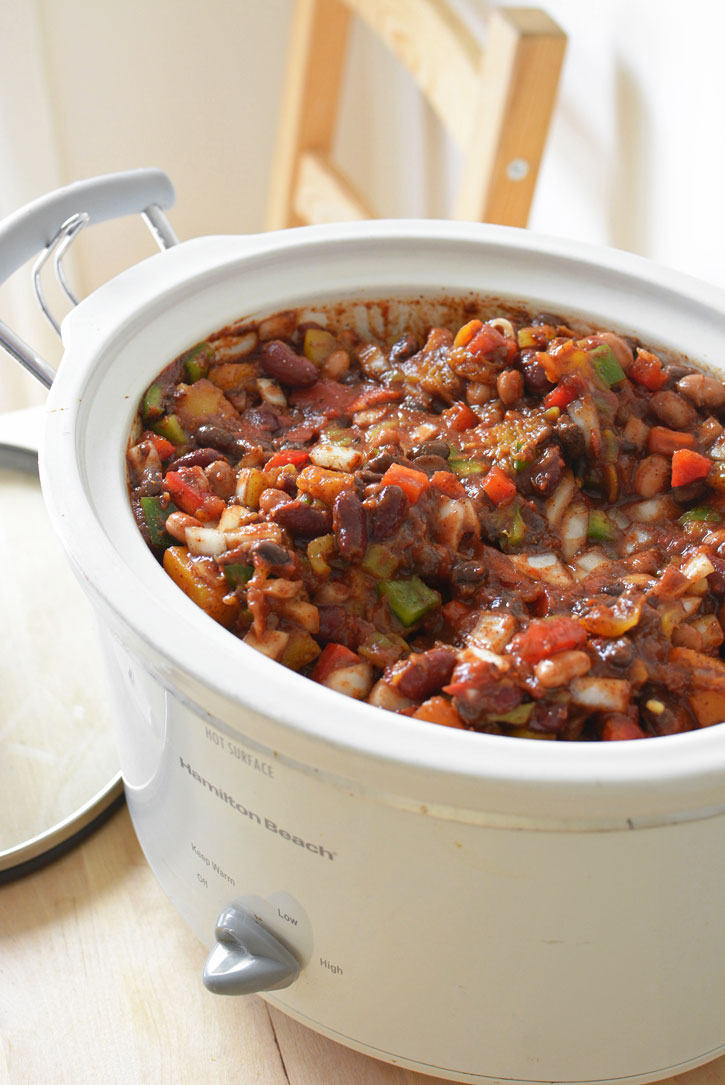 Before serving, add in the extra heat if you have some mixed mild and spicy eaters in your home. Stir in the frozen corn, molasses, and cider vinegar to give it some extra zing. Topping with freshly-shredded cheddar cheese and sour cream is always delicious, too! If you like cornbread with your chili, head over to my blog for a recipe for Skillet Honey Cornbread!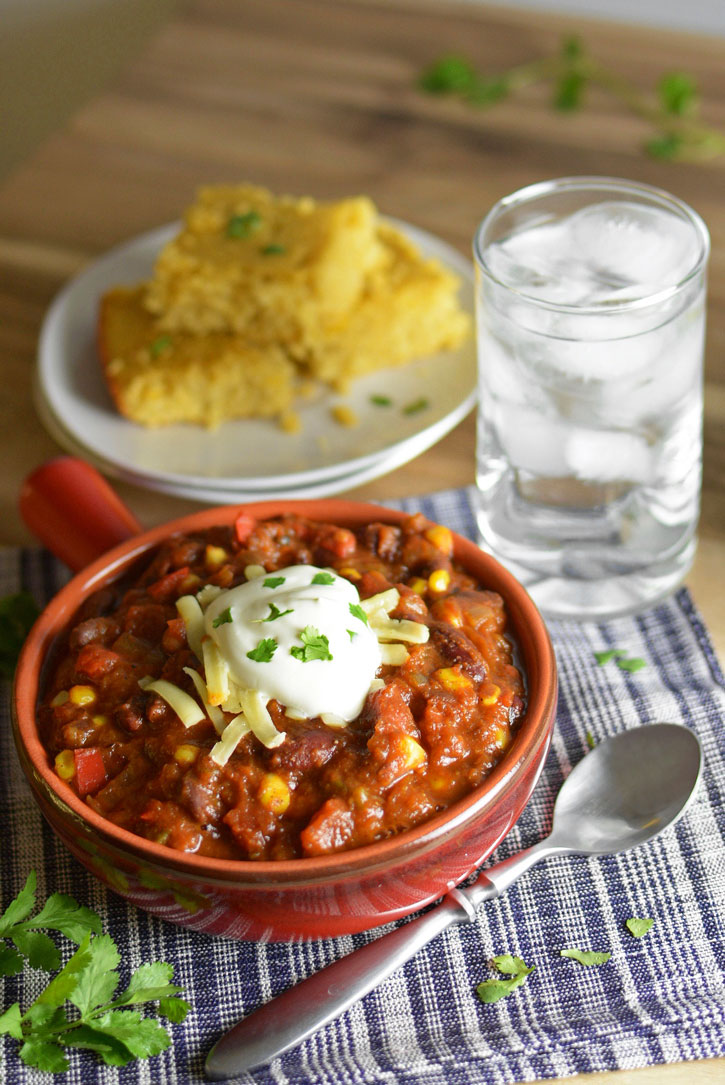 Crock-Pot Vegetable Chili
This thick and naturally sweet and savory crock-pot vegetable chili makes for some easy, healthy weeknight comfort food!
Ingredients
3 cups cubed butternut squash (fresh or frozen)
1½ C diced yellow onion
1 red bell pepper, diced
1 green bell pepper, diced
1 4 oz can diced green chilies
1 14.5 oz can black beans
1 14.5 oz can kidney beans
1 14.5 oz can pinto beans (or ¾ lb ground turkey or chicken)
1 28 oz can fire roasted tomatoes
1 6 oz can tomato paste
1 Tbsp olive oil
1½ Tbsp chili powder
½ Tbsp paprika
½ Tbsp garlic
1 tsp cumin
Chipotle chili powder (none for mild, ½ Tbsp for medium, 1 Tbsp for hot)
1 C frozen sweet corn
2 tsp apple cider vinegar
2 tsp molasses
Instructions
Prep all of the vegetables by dicing the onions as well as the red and green bell peppers. For the butternut squash, you can cube fresh squash or use frozen.
Combine the vegetables, beans, meat (if using), tomatoes, tomato paste, olive oil, regular chili powder, paprika, garlic, and cumin in a crock-pot that's 4 quarts or larger in size. Cook on high in the covered crock-pot for 8 hours.
Thirty minutes before serving, stir in the corn, molasses and apple cider vinegar.
Next, decide how much heat you would like your chili to have by adding different amounts of chipotle chili powder; Mild=add none, medium=1/2 Tbsp, hot=1 Tbsp. At this point, you also have the option to reserve some "mild" chili from the pot and then add chipotle to the remaining chili if you're serving some people who like spicy food and others who do not. Just remember - if you are dividing the chili in half, cut the amount of chipotle you use in half. For example, for medium chili use ¼ Tbsp of chipotle chili powder. Cook covered for another 30 minutes.
To serve, I recommend topping with shredded cheddar cheese and a little sour cream.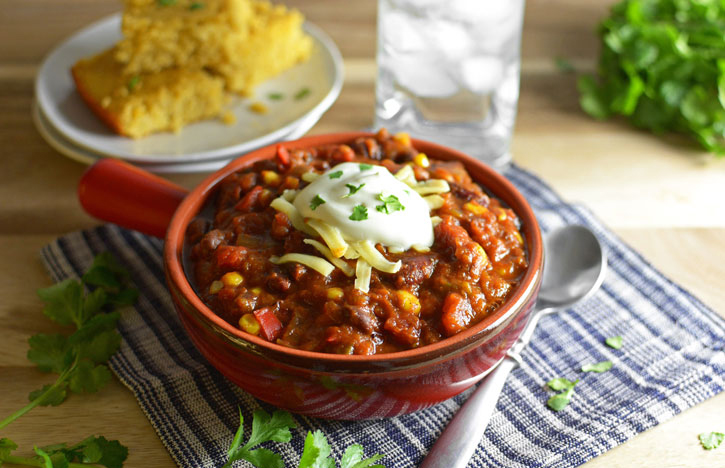 ---
 Hungry for some more whole foods recipes? Check out these tasty ideas!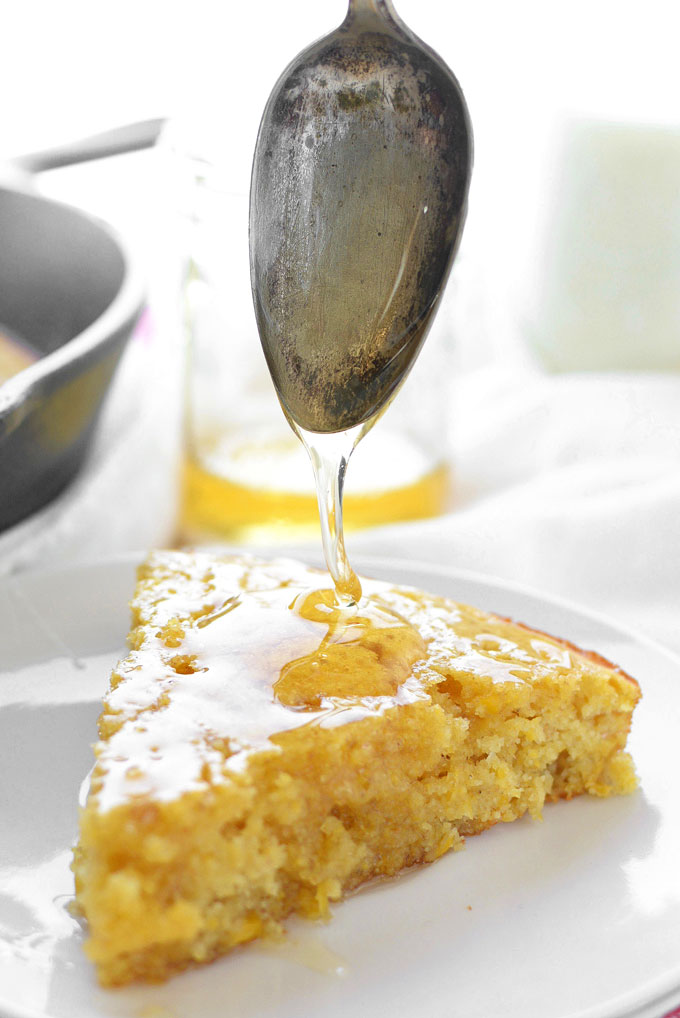 Sticky Chipotle Cauliflower Wings