This creamy and cheesy casserole is comfort food at it's best and it's so easy to throw together!
I shared a peek at what we were eating for dinner the other night on instagram and I had so many people asking for this simple and delicious dinner recipe, I thought I'd share it here!
I love that this Easy Chicken and Stuffing Casserole is one of those meals that you can throw together in a pinch. I  usually have all the ingredients on hand in my pantry and freezer because it's such a family favourite!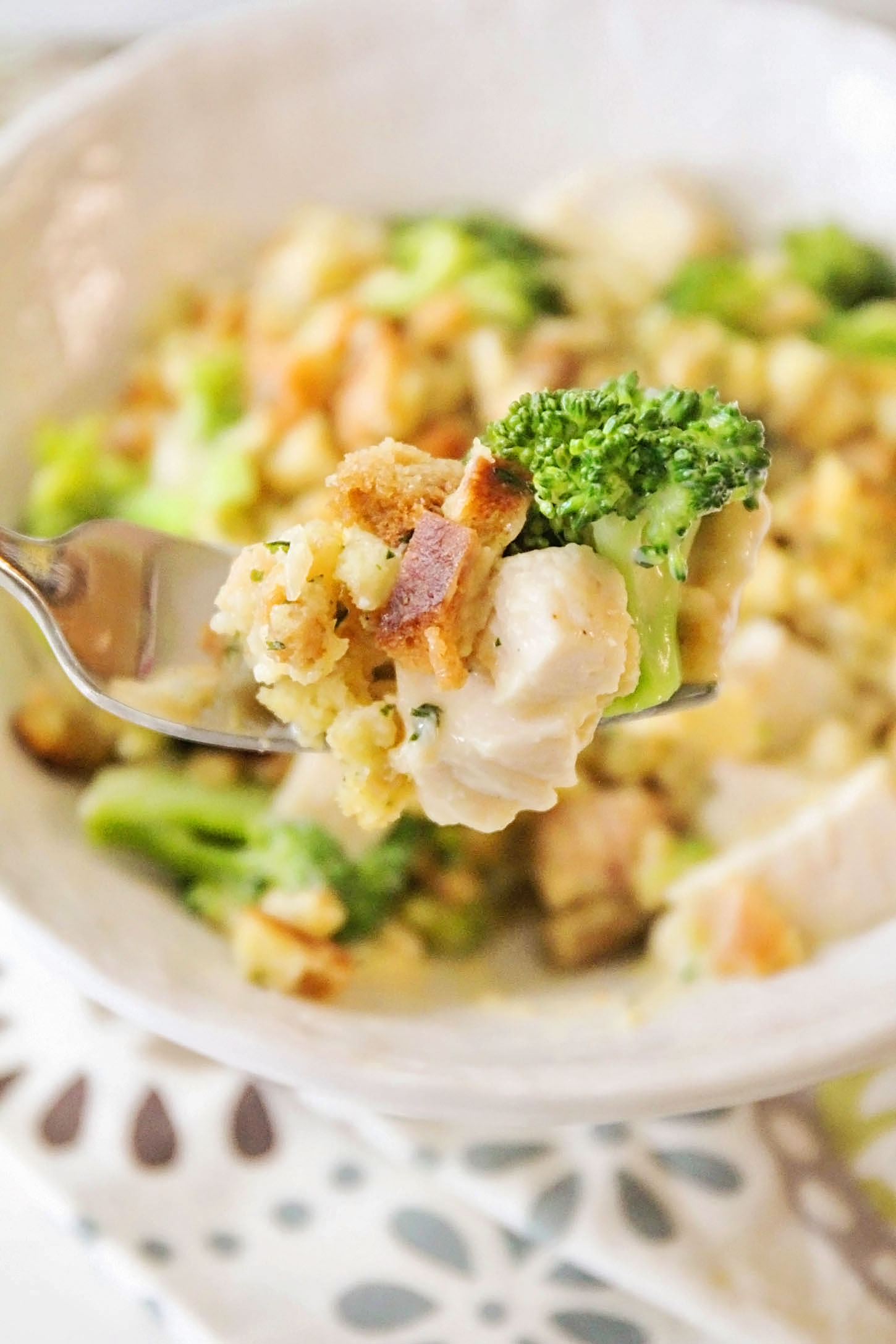 Easy Chicken and Stuffing Casserole
Ingredients
3 cups boneless chicken (cooked and chopped)
1 package of Stove Top Chicken Stuffing mix
1 cup grated cheese
1 package (approximately 1½ cups) cooked broccoli
1 can of cream of chicken soup
½ cup milk
Instructions
Prepare stuffing mix according to package directions.
Mix together milk and cream of chicken soup.
Combine chicken, soup mixture and grated cheese.
Pour into a 9x13 inch pan sprayed with cooking spray.
Spread out mixture then add broccoli.
Top with stuffing.
Bake at 350 degrees until bubbly.
It certainly isn't anything fancy, but this recipe has been in our meal rotation for years! Another reason I like this simple meal so much is because it freezes well. I've got an upcoming trip planned and have been stocking up the freezer with a few meals for my family while I'm gone and this is one of the things I made for them. I knew the kids would all eat it and it is easy to pop into the oven straight out of the freezer. I hope you enjoy this family favourite as much as we do! 
If you enjoyed this post you might also like…
Rustic Italian One-Pot Chicken and Rice