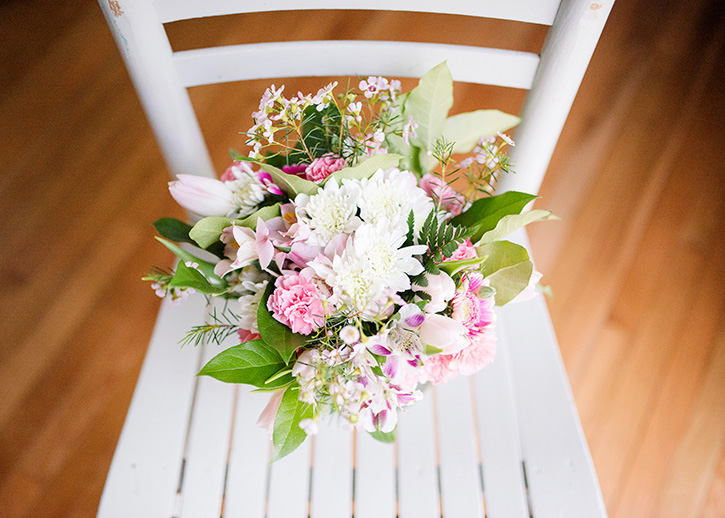 Something that makes me very happy is having fresh flowers around my home. I love seeing pops of color and having the smell of fresh flowers in different parts of my house. There was a time when I would just buy some flowers during my usual grocery run and stick them in a vase. I wouldn't arrange them and they didn't look very nice. My mom is a florist and when she would come visit, she would hang her head in shame. She gave me some pointers (it is a lot easier than I thought to make them look nice) and now I not only look forward to having fresh flowers, but I also really love doing the arranging. Easy fresh floral arrangements just take a few minutes to put together and make a world of difference in the end product.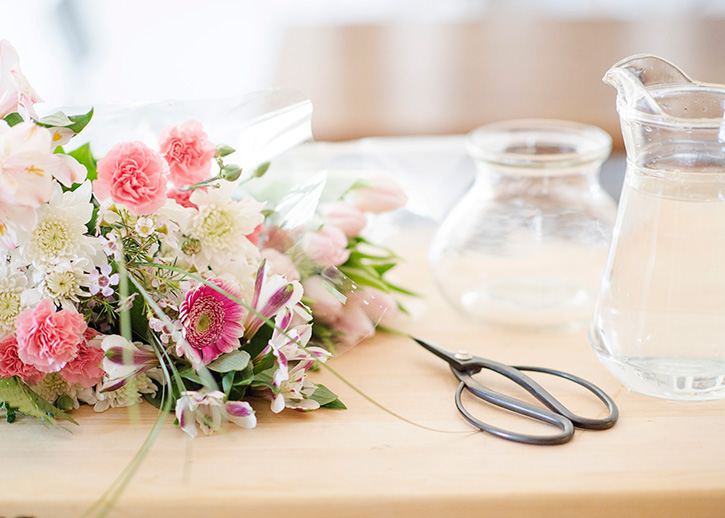 To get started you need:
grocery store flowers (I used a bunch of assorted flowers and some tulips)
flower shears (not necessary, but nice to have if you do this a lot)
a container or vase
water
I start by taking the flowers out of their wrapper and separating them out into piles of the same flower.
Start by prepping the flowers. Cut the ends at a 45° angle. You want to do this because it gives the stems more surface area to drink water.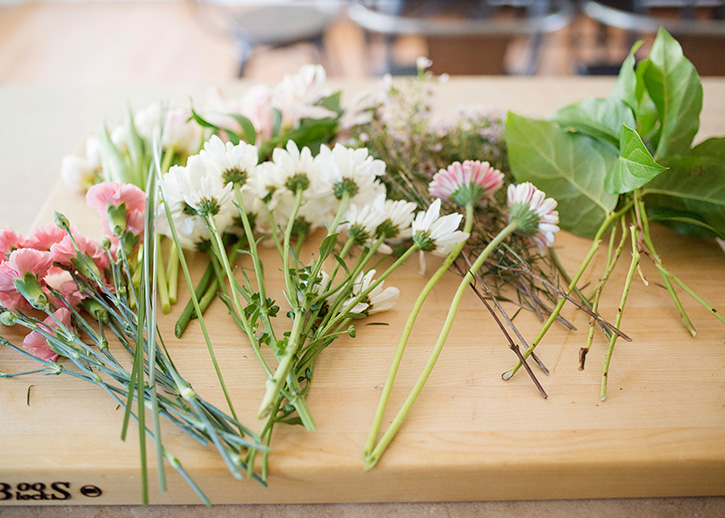 Clean off the stems, removing the leaves. You will end up taking off a lot, but if you don't your flowers will not last as long. Any leaves that are below the water will create bacteria and we don't want that.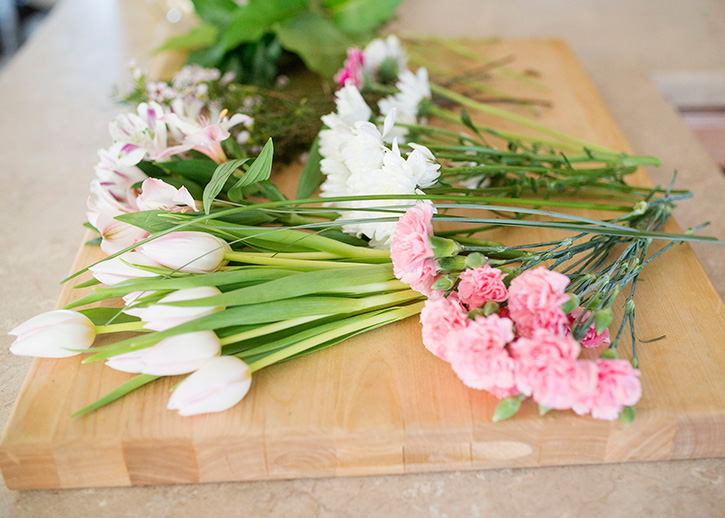 At this point, your flowers are prepped. You can leave them in a bucket with fresh water until you are ready to arrange them. (it's actually a good idea to do this, it rehydrates the flowers.) Keep the bucket out of direct sunlight and out of any draft.
I used to arrange directly in the container but have found that arranging it my hands first helps me see it 360° and guarantees that everything is balanced. I start with a big flower and some greens, and add flowers to the bouquet at a 45° angle.
When you add the stems, it will naturally spiral and look really nice in the vase. I often buy more greens because not only do they break up the arrangement, but they add a lot of support to more delicate flowers.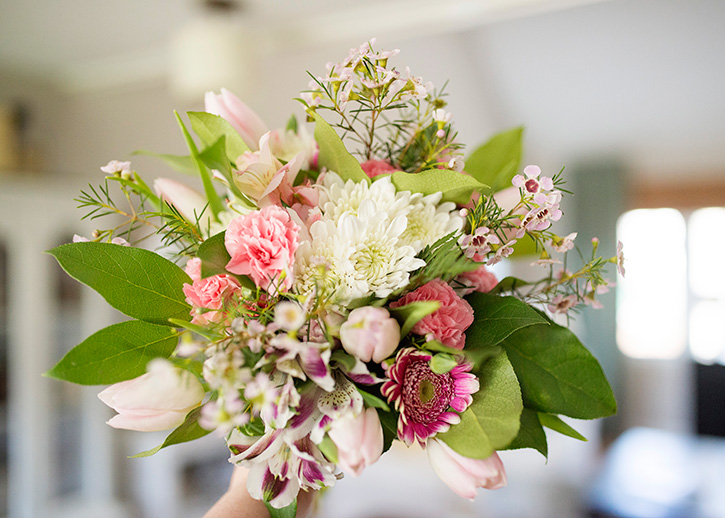 As you are adding flowers, pick it up and look at it from all angles. Does anything stand out? Is there a color that needs to be added? Or taken away? Do I need to add some height?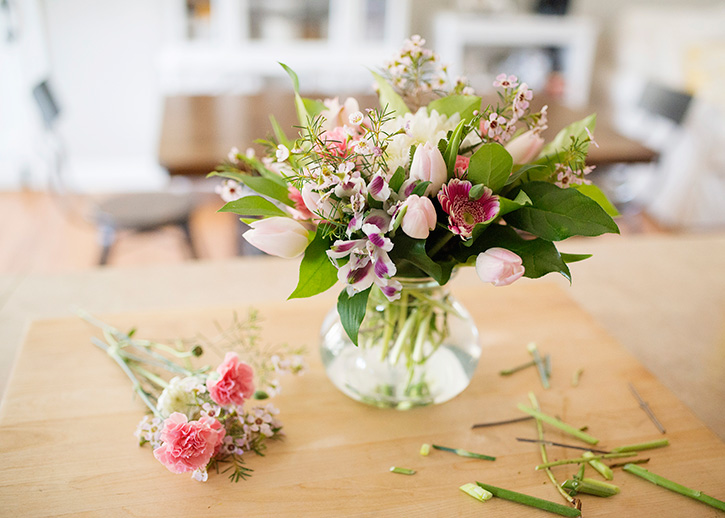 When you are happy with how the bouquet looks, trim the bottoms again, trimming at a 45° angle. Place the flowers in the container filled with lukewarm water.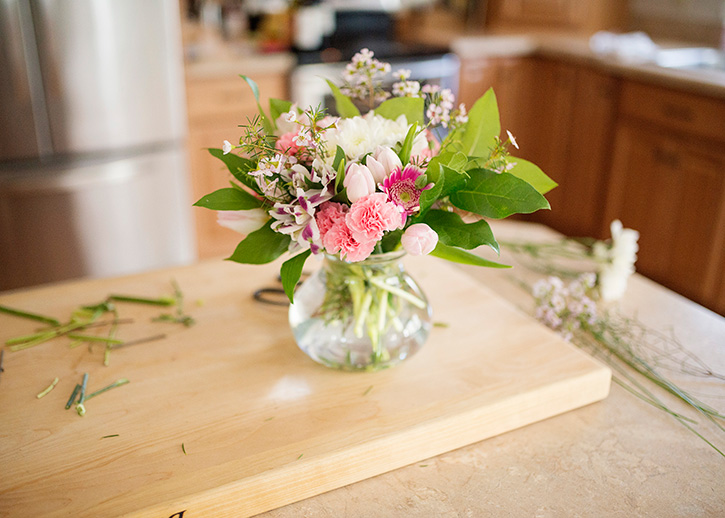 Turn it around and make any adjustments if needed.
Tips for easy fresh flower arrangements:
Pick flowers like you would produce. Look for fresh looking flowers without brown spots or that are not beginning to wilt. (Get to know the floral department of the store and find out on which days they get flower deliveries.)
Buy extra greens if the arrangement doesn't have enough. It is worth the few extra dollars for the added color and support for your flowers.
Be creative with containers. I like to use all kinds of things. Vintage jars, cool bottles, baskets. You can always add a glass and put it inside a container to make it waterproof.
Change out the water daily.
If some of the flowers begin to wilt before the others, remove them from the arrangement.
Use the flower food included with the bouquet. If you don't have any, you can make your own. 1 teaspoon sugar, 1 teaspoon bleach, and 2 teaspoons lemon juice to a quart of water.
Keep leaves, dirt, and fallen petals out of the water. It breeds bacteria and will decompose the flowers.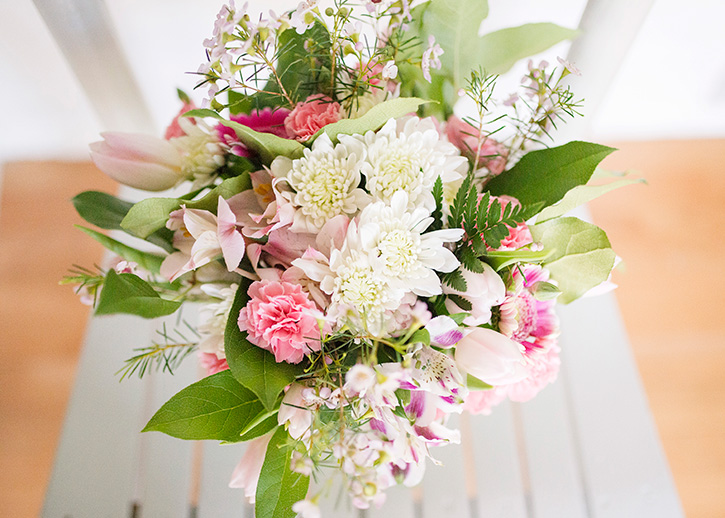 Making arrangements is not hard, it just takes a little practice. Each week as I buy more flowers, my arrangements look more professional and clean. I don't want them to look perfect, I just want them to look more polished. Sometimes I make one large arrangement, and other times I break a bouquet into 3 smaller ones. However I do it, they bring me happiness and make my house look so pretty.