Healthy Chocolate Chunk Banana Oatmeal Cookies – a delicious and healthy eggless cake cookie recipe that doesn't taste healthy.  Made with all natural ingredients that are healthier but still have the same great flavors as chocolate chip banana bread.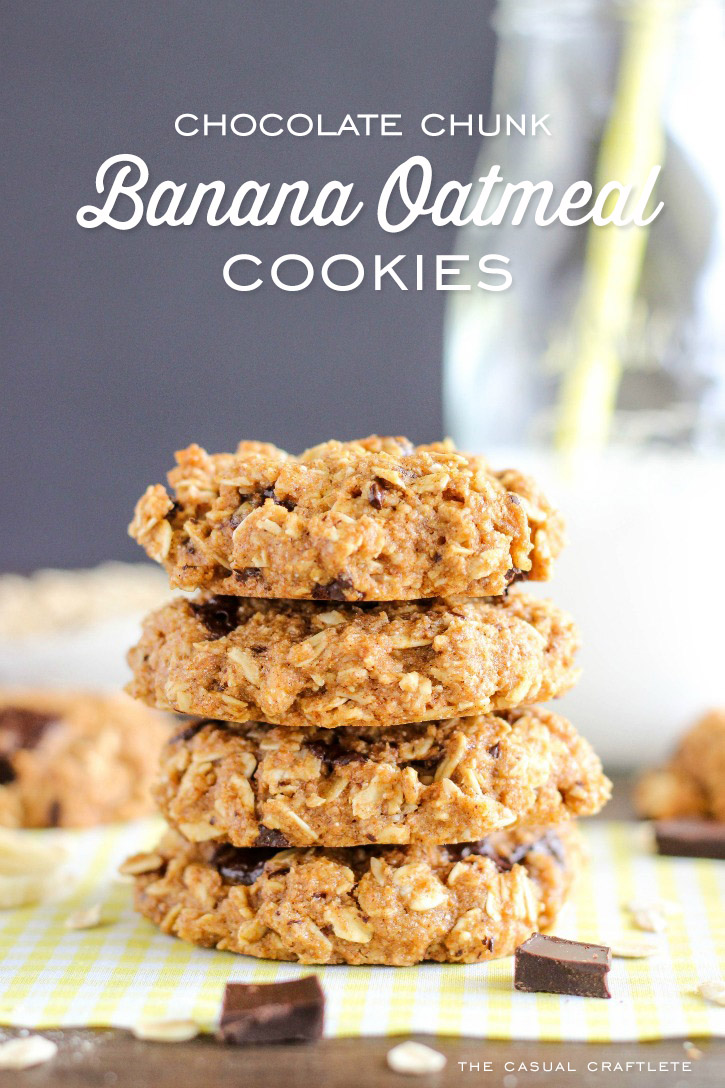 Hello there!  It's Katie from The Casual Craftlete.  Did you get a chance to see my Avocado Red Berry Smoothie I shared a few weeks ago?  Today I am sharing another healthy and delicious recipe.  These Healthy Chocolate Chunk Banana Cookies are so good!  This eggless cookie recipe uses all natural ingredients, so you won't have to feel guilty about eating two or three at a time.  Just because a recipe is healthy doesn't mean you have to sacrifice taste.  These chocolate chunk banana cookies taste just like chocolate chip banana bread.  I even eat them in the mornings for breakfast.  So, sit back and grab a nice cold glass of milk and let's get to the recipe.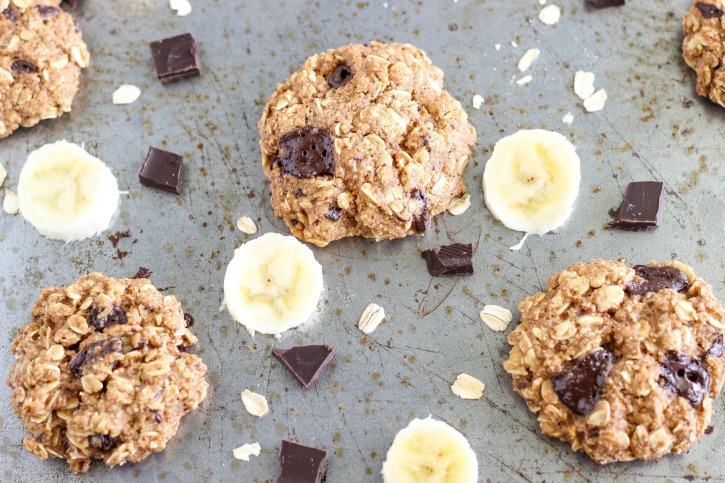 I just love chocolate chip banana bread, but it has a ton of flour in it.  So, I wanted to make a healthier version on a smaller scale.  That is why i love making cookies.  They are easy to make and bake in a very short amount of time.  For this recipe I used healthy ingredients like: whole wheat flour, oatmeal, coconut oil, agave nectar, dark chocolate and other yummy ingredients.  When measuring the oats and flour make sure to use a spoon scoop method meaning do not scoop directly from the container.  Instead, use a spoon to fill your measuring cup.  This will give you the exact measurement needed for this recipe.  No chill time is require for this cookie recipe, so you can make the cookie dough and immediately bake it.  Meaning you can eat them sooner!
1 cup instant oats
3/4 cup whole wheat flour
1 1/2 teaspoons baking powder
1 1/2 teaspoons cinnamon
1/8 teaspoon kosher salt
2 Tablespoons coconut oil, melted and cooled
1/4 cup or half of a ripe banana, mashed
1 teaspoon vanilla
1/2 cup agave nectar
1/4 cup dark chocolate, I used a 70% dark chocolate bar that I cut into small chunks
Directions
Preheat oven to 325 degrees F.  Line a baking sheet with parchment paper and set aside.
In a large mixing bowl, whisk together the oats, flour, baking powder, cinnamon and salt until well combined.  In a separate mixing bowl, whisk together the cooled coconut oil, mashed banana and vanilla.  Stir in the agave nectar.  Add wet ingredients into the bowl of flour mixture, stirring until incorporated.  Chop chocolate bar into small chunks and fold into the dough mixture.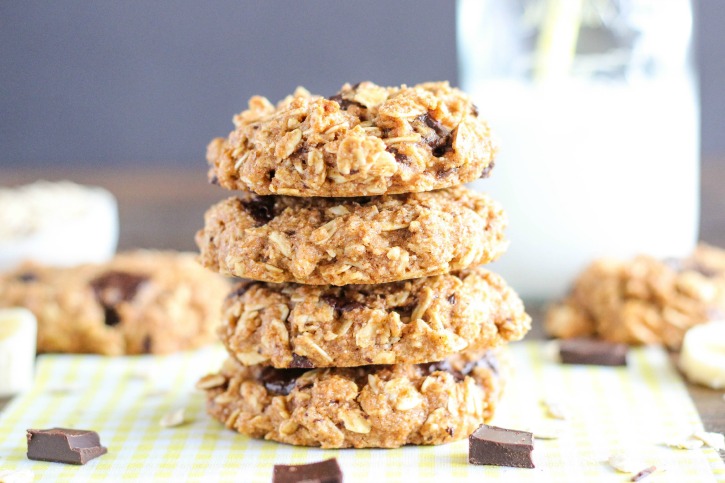 Drop cookie dough into 12 round scoops onto the prepared baking sheet.  I used a 1 Tablespoon measure to scoop the dough.  Flatten cookies slightly and bake at 325 degrees F for 13-15 minutes.  Cool cookies 10 minutes on baking sheet before transferring onto a cooling rack.  Eat immediately or store in an air tight container up to one week.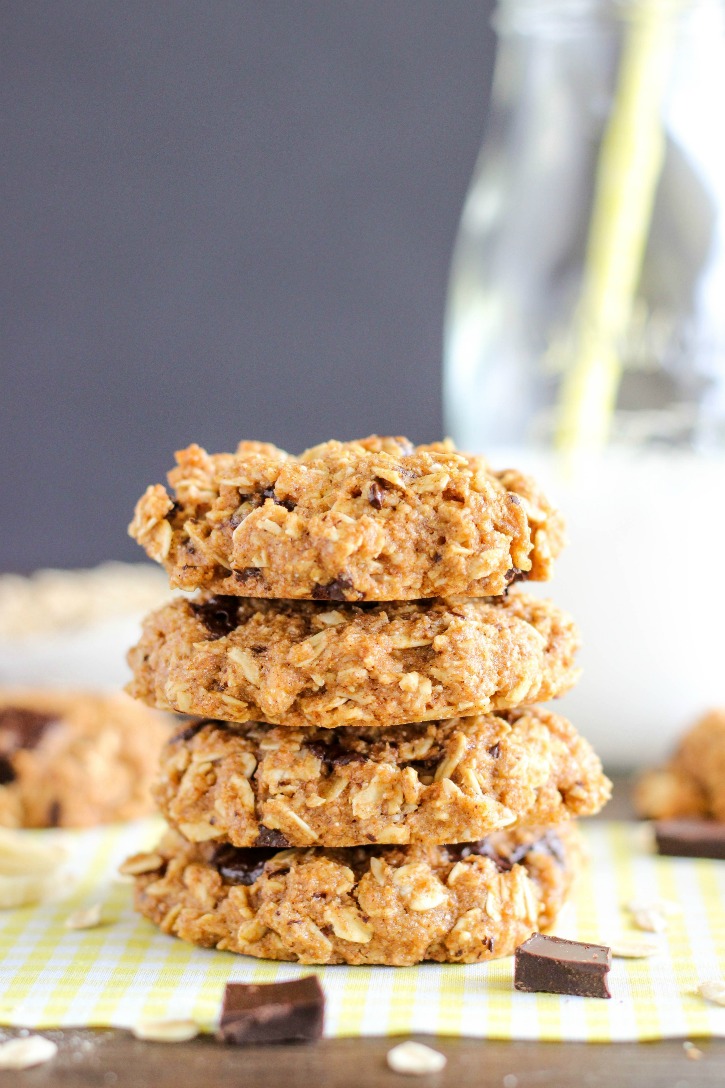 Thank you for letting me share my Healthy Chocolate Chunk Banana Oatmeal Cookies with you.  Hope you enjoy!
For more healthy cookie recipes try: