An easy Hot Mexican Dip that can be served in a cast iron skillet and is perfect for tailgating. Or any time of year.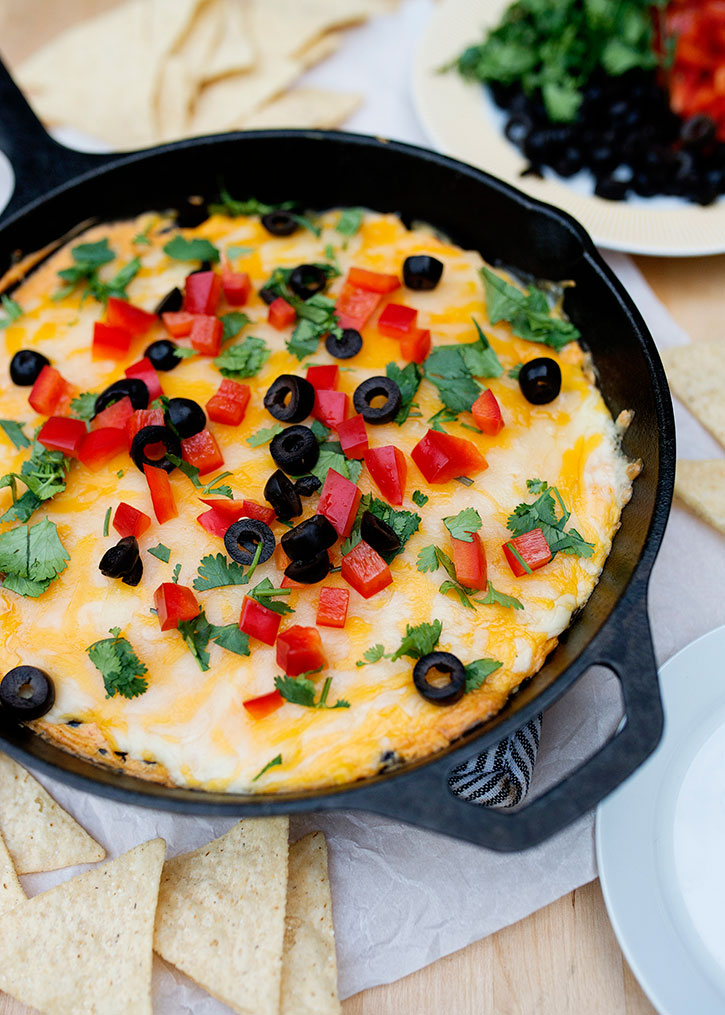 I'm not surewhat the weather is like where you are, but where we live it is unseasonably hot. Most homes in New England do not have air conditioning. Just the idea of turning on the oven makes me start to sweat. I have ignored the kitchen almost all summer. We've either been eating salads, things that do not need to be cooked, or anything that can be grilled. I've gotten really creative with what I will throw on the grill. Garlic bread, bacon, desserts…
You might be wondering why I am sharing a recipe for Hot Mexican Dip if it needs to be cooked in the oven? In the beginning of the summer, I was given a Bakerstone Box for my grill and have found it to be a Godsend. We essentially have an outdoor oven that makes incredible pizza – but also this dip. (And so many other things.)
Hot Mexican Dip is one of my family's favorite snacks and I got the bright idea to make it in a cast iron skillet and bake it in my Bakerstone on the grill. We got to eat something that we love in the middle of summer without turning our oven on. (Obviously, you can also bake this in the oven in your kitchen, I just can't bring myself to do it when it is 100° outside.)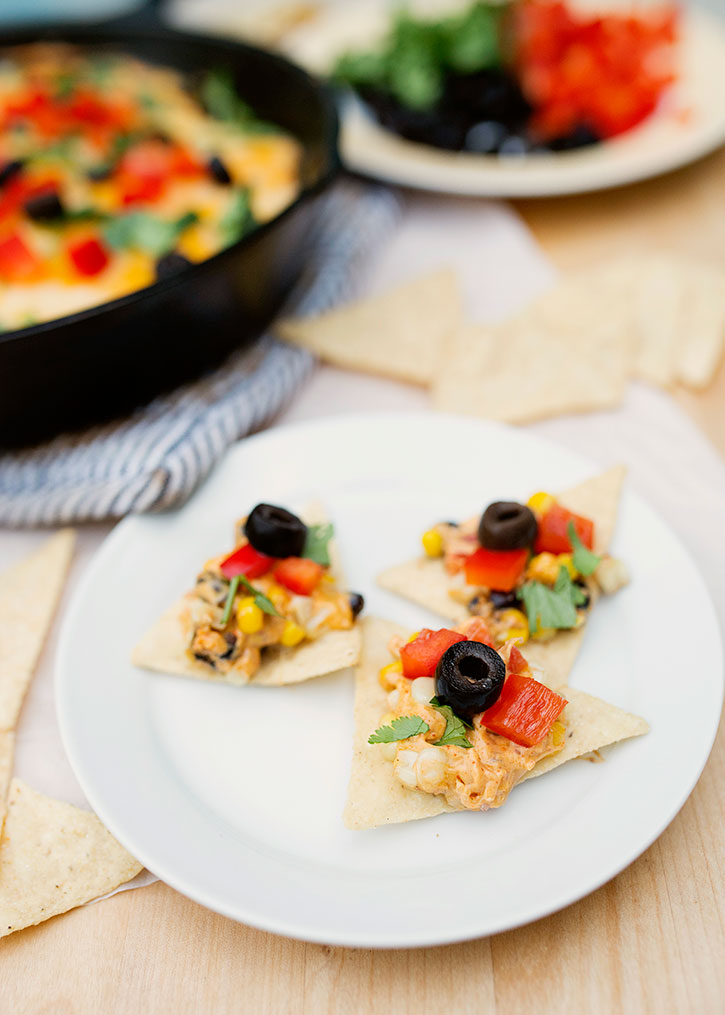 This dip is made with things that you probably already have on hand. Leftovers are INCREDIBLE made into a quesadilla the next day. Perfectly melty and delicious.
Hot Mexican Dip
An easy hot Mexican Dip that can be served in a cast iron skillet. Perfect for tailgating.
Ingredients
1 (8 oz.) brick cream cheese, room temperature
1 cup sour cream
1 packet taco seasoning
1 can black beans, drained and rinsed
1 cup frozen corn, thawed
2 cups shredded cheddar jack cheese
1 red pepper, chopped
1 (2.25 oz.) sliced black olives
½ cup chopped cilantro
tortilla chips for serving
Instructions
Mix together cream cheese, sour cream, and taco seasoning in a medium bowl. Set aside.
Add black beans and corn to a 10-inch cast iron skillet. Mix to combine.
Spread cream cheese mixture evenly over the bean and corn mixture. Top with shredded cheese.
Bake in a 400° oven for 15-20 minutes (in the Bakerstone Box for 10-15 minutes) or until the cheese is golden and bubbly. Top with red peppers, olives, and cilantro. Serve with tortilla chips.
(This is not a sponsored post, I just happen to love my Bakerstone Box and use it all the time. If you are interested in buying one, they are on sale at Sam's Clubs right now.)