How to Throw A Kids Gingerbread House Party –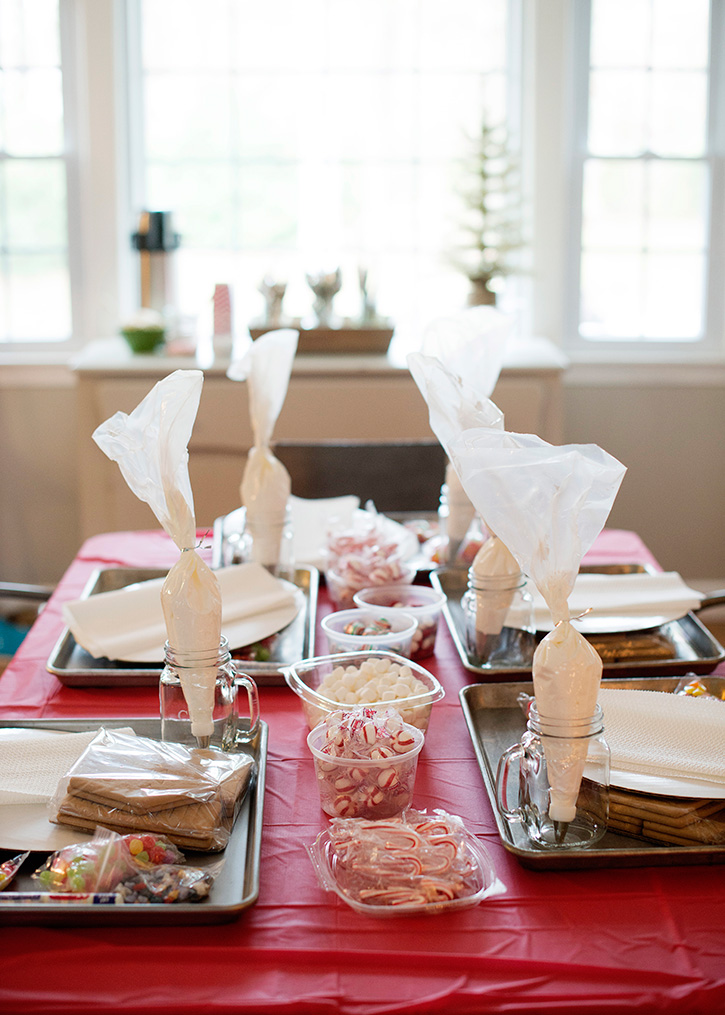 When I was a little girl, I used to make a gingerbread house with my grandmother every year. All of these years later I still remember how much I loved making our house together. It was one of the traditions that I wanted to continue to do with my own children. The truth of the matter is that making a gingerbread house is no small task. Even for someone like myself that bakes all. the. time. You need to plan well. The dough needs to chill, the pieces all need to the exact size, it takes a lot of time…. you get the idea. It got to the point where instead of liking to do this project with my kids, I dreaded it.
Instead of canning this tradition, it is one of the places where I got over myself and now happily take some store-bought help. I buy gingerbread house kits and don't even bother making my own. I unwrap the pieces, set it up, and let the kids do all the work.
Now, the kid's gingerbread house party is the highlight of my holiday season.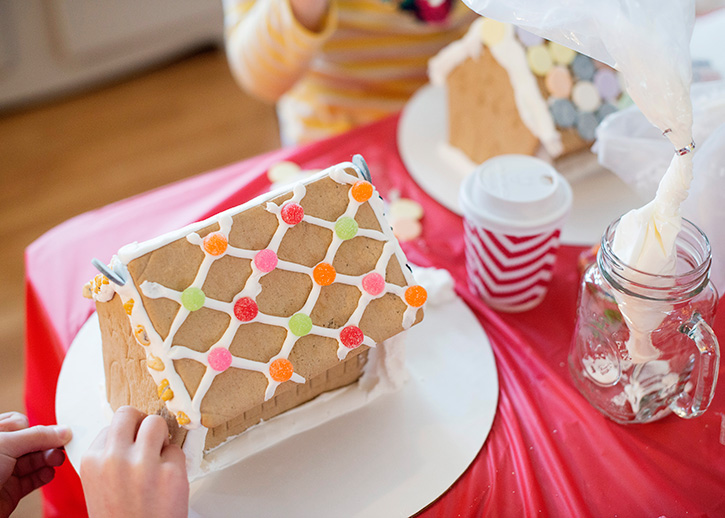 The thing is, the kids really don't care if I make the house myself or not. What they care about is spending time with me and doing something together.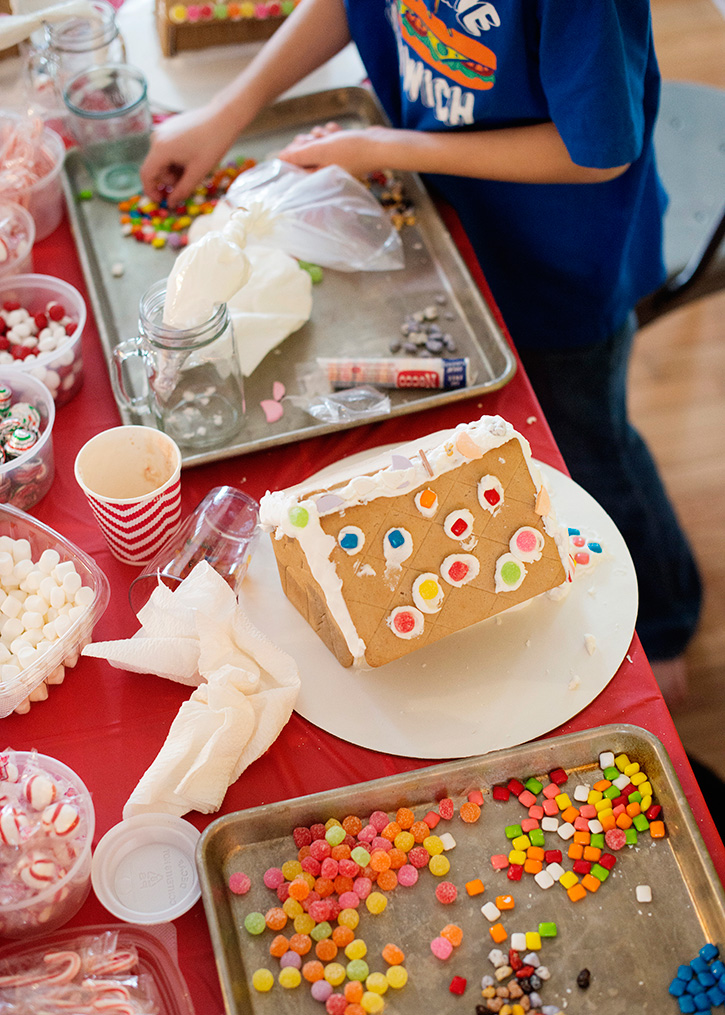 For the sake of complete and total honesty, I threw this party together in less than 2 hours – using things I had around the house (minus one trip my husband made to the grocery store for heavy cream. You can't have hot chocolate without whipped cream.) I invited the neighbor kids over and they spent 3 hours making these houses. We listened to Christmas music, drank hot chocolate, and they loved every minute of it. I have never seen any of them more engaged or entertained for this long before. This may have been my favorite kid's party ever.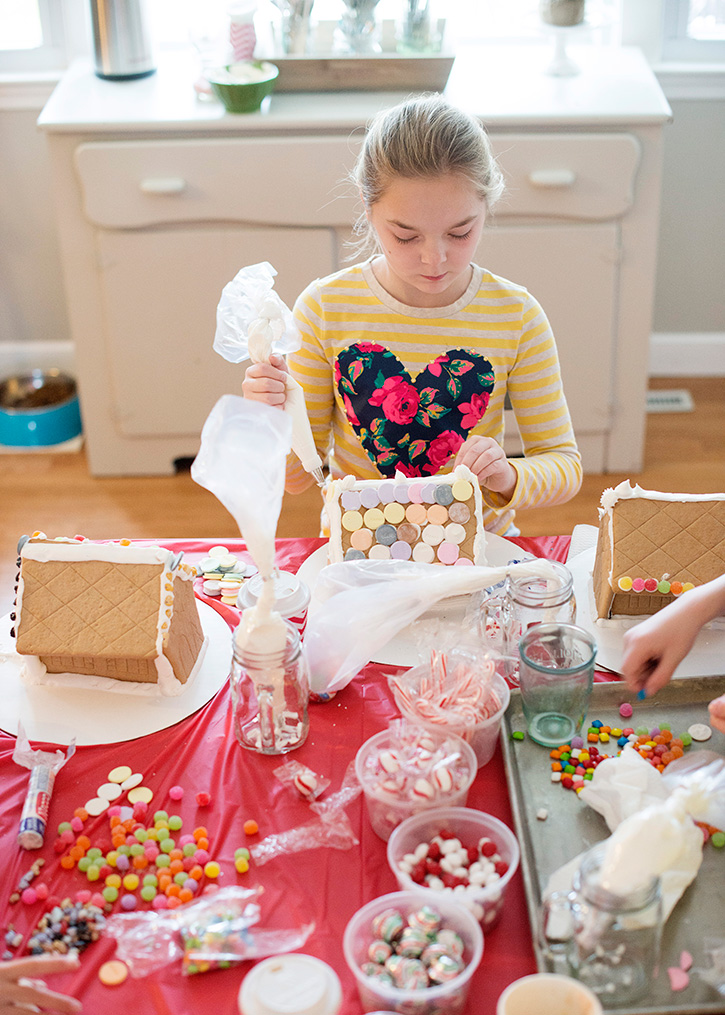 A little (and I really do mean little) prep work ahead of time makes this party so much fun and incredibly simple to throw.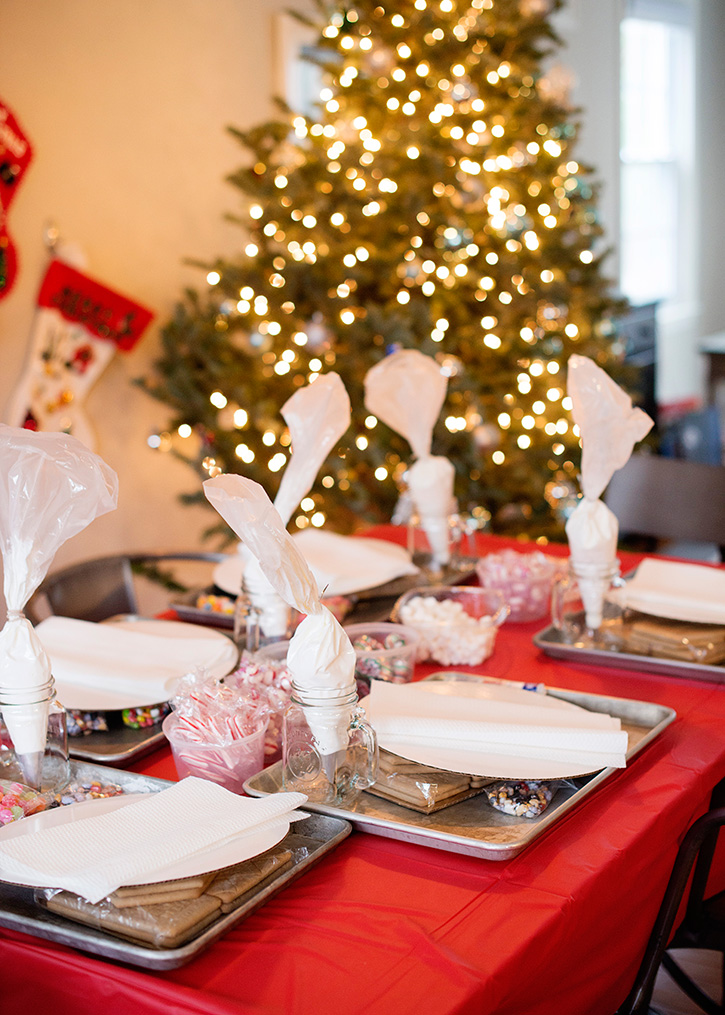 Tips for Throwing a Successful Kids Gingerbread House Party:
1. Buy each child a gingerbread house kit. I got mine from King Arthur Flour, but you can get them all over the place during the holiday season. I ordered them early in the season, but had no idea when we were going to use them. One particular afternoon when we found ourselves home without plans seemed like the perfect time to do this project.
2. Make extra royal icing. There is royal icing mix in the kits, but we ran out. I believe in being heavy-handed with the icing and using it for structure to keep the house together. It's not a bad idea to make an extra batch or buy an extra royal icing mix. You can do it earlier in the day, making sure to keep it covered with a damp paper towel, or in an airtight container. I made each child their own piping bag fitted with a #2 tip. I closed them with a bag tie (or a rubber band) so the icing doesn't come out of the top. Sit them upright in a glass.
3. Buy extra candy. The candy that comes in the kits isn't always the most fun to play with. Supplement with things that are brightly colored and are different shapes. I added mini marshmallows, mini candy canes, peppermints. Basically, I shopped my cabinets. I would also add pretzel sticks, M&Ms, anything works here.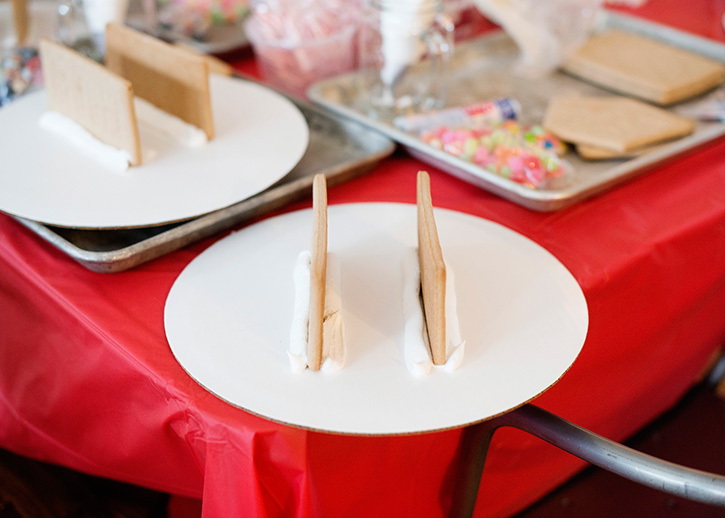 4. Use cake boards to build the houses on. There is nothing worse than building a house and then realizing you need to move it. I have the kids build the houses directly on 10-inch cake boards. You can order them online or get them at any craft store.
5. Set it up before the kids come to the table. Each child had their own rimmed baking sheet with everything they would need on it. This serves two purposes. 1. Each child knows which pieces are theirs. (No fighting.) 2. It contains some of the mess. They are lots of little pieces, and this helped the kids keep it all together.
Having everything ready to go before the kids sat down was key in making this go as smoothly as it did.
6. Line the table with disposable tablecloths. I buy them at the dollar store and always have some on hand for crafting. When the kids are finished, just wrap it all up and throw it away.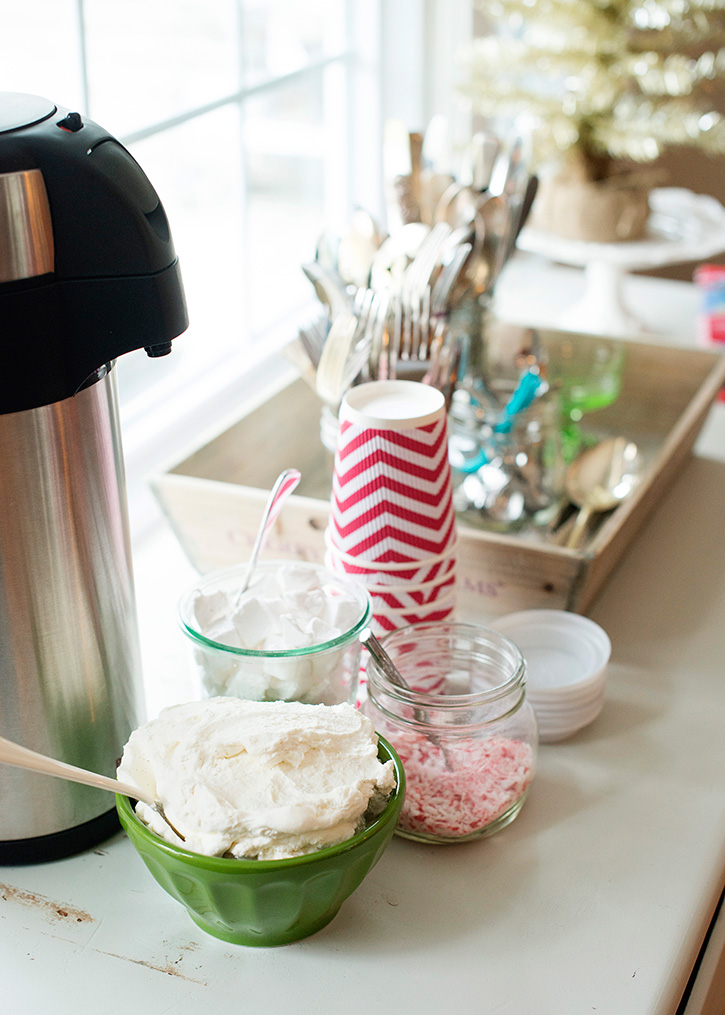 7. Set up a snack area away from the house making. I set up a hot chocolate bar on the other side of the kitchen. The kids needed something to do while the icing hardened. They could get up and move around, which they really need to do since this project takes a few hours. I made a pot of homemade hot chocolate, whipped cream, crushed peppermints, and marshmallows. They are going to eat a ton of candy so you might want to counter it with some cheese and crackers and some fruit.
Tip – an insulated coffee pot is perfect for this. The kids could pump it out themselves. I used this pot so often last winter that I need to buy a few more.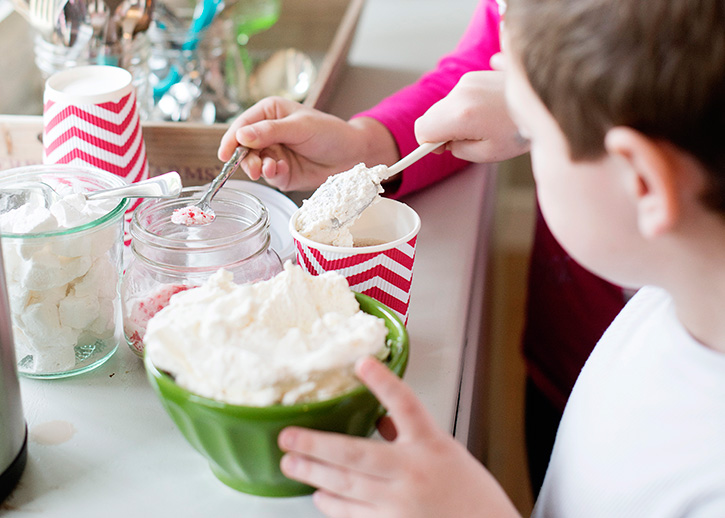 8. Don't micromanage – We built the structure of the houses together. I modeled how to actually build the house, then walked away. It took all of my strength to not micromanage and try to push them to make "pretty" houses. I'm so glad that I didn't because they made houses that were so much better and more creative than I ever would have made. They were so proud of their creations. We had them on display and the kids showed everyone that came to visit us their house.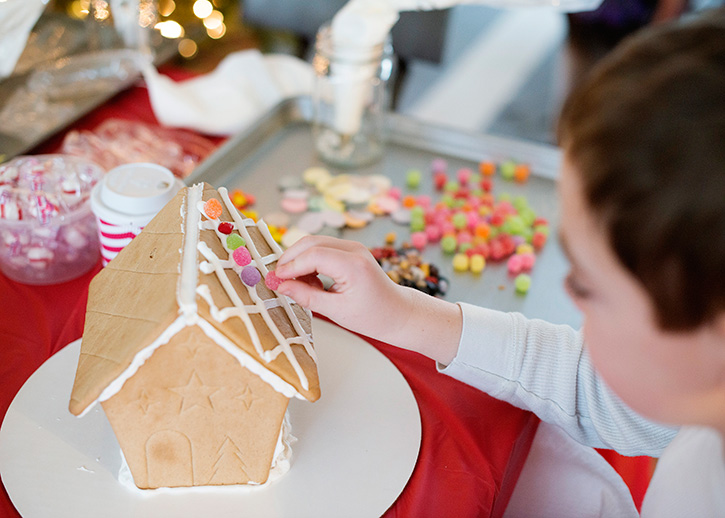 9. Don't worry about the mess – In truth, this really was a lot less messy than I thought it was going to be. Having the table covered went a long way in helping with the clean up. A quick sweep of the floor and a wipe down of the table was really the extent of it. I cut the tips off the piping bags and threw the bags in the trash, and wiped down the baking sheets. Clean up was max 20 minutes.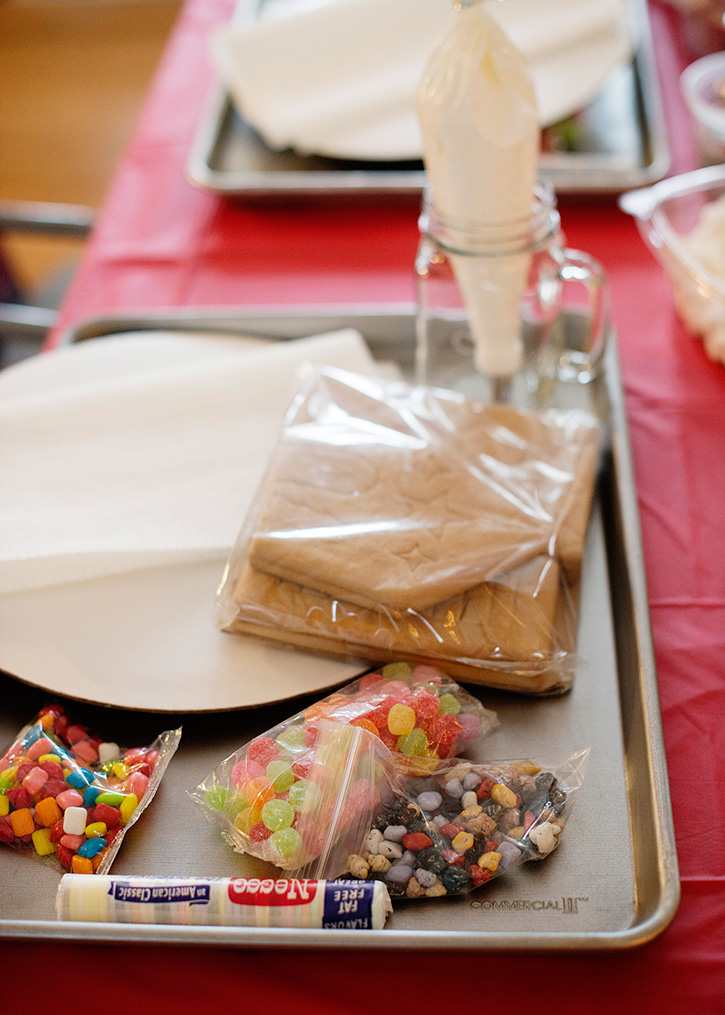 10. Have fun! – Turn on some holiday music and get in the holiday mood. This is a great activity to start the holiday season and get in the spirit.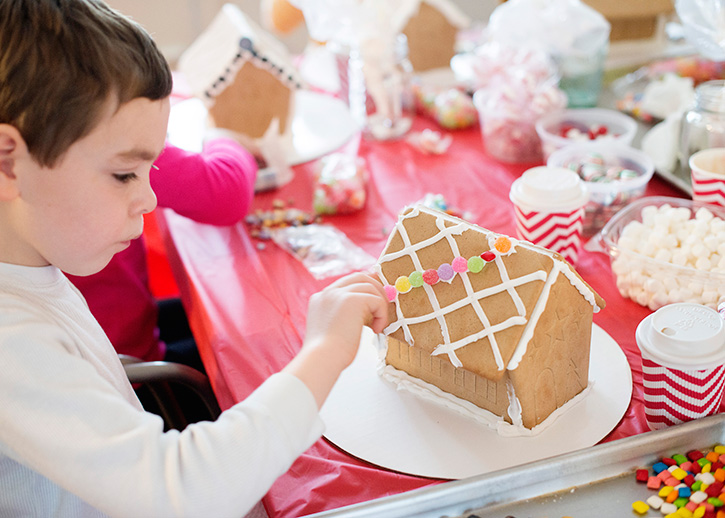 Happy Holidays!