This Apricot chicken can be made in the slow cooker or Instant pot. With just 4 ingredients this dish is easy and tasty! It's the perfect solution if you need dinner in a pinch.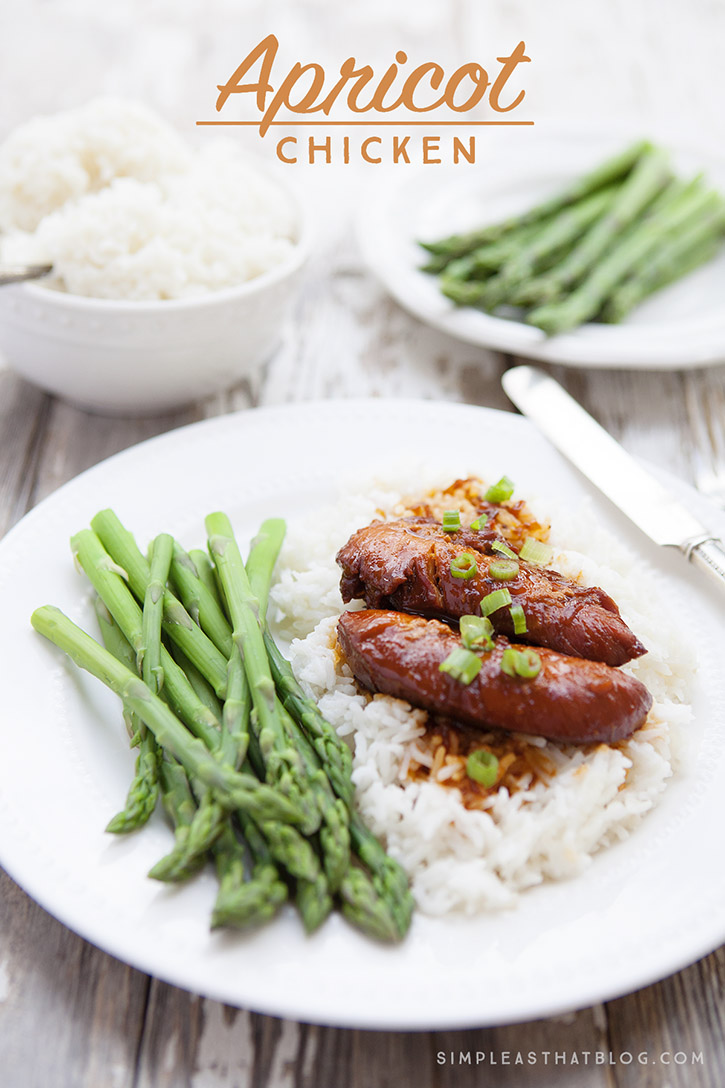 We tried this recipe out for the first time a few weeks ago and have already made it twice more since then. I love finding recipes the whole family can eat and this one is definitely one we'll have in our regular meal rotation.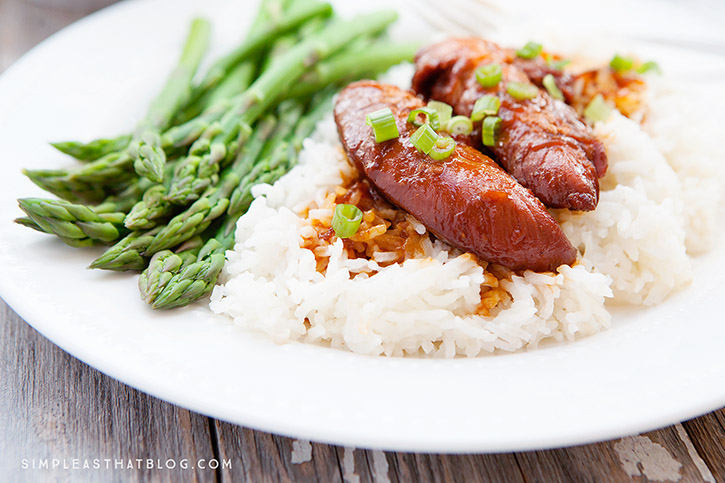 We made this dish in our amazing Instant Pot but it can be made just as easily in the slow cooker. My Instant Pot is easily one of the most used appliances in my kitchen. It's replaced my rice cooker and I definitely use it more than my slow cooker these days! I love it so much.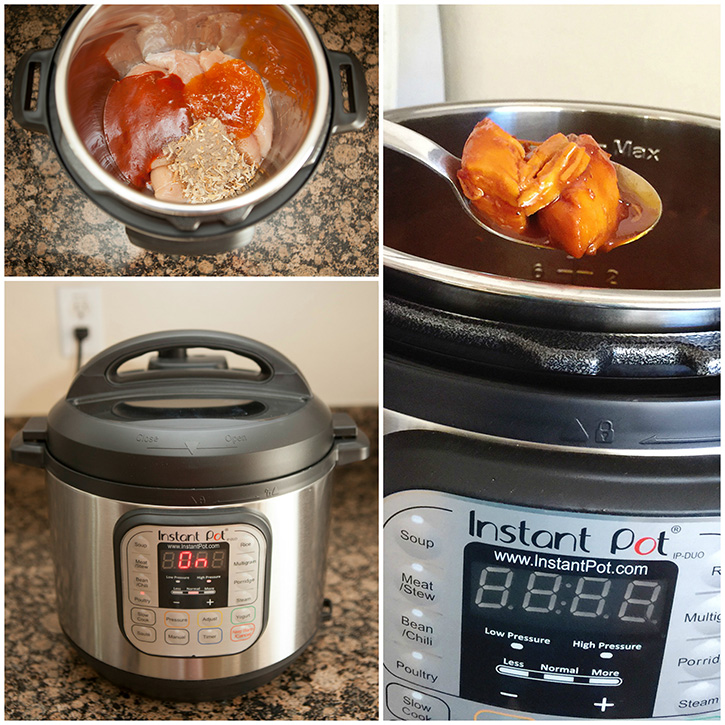 This Apricot Chicken is a family favorite that I defer to often when I'm menu planning. Have I told you about the running list I keep of our family's go-to meals? This list of meals (ones I already know my family loves, plus a few new ones we've tried that were a hit) has made it easy to fill in our menu when I sit down to plan on Sundays.
Meal planning used to feel like just one more thing to add to my ever growing to-do list! You can read how I was able to simplify meal planning and finally make it work for me.  I wanted more family and less frenzy at the dinnertime hour and meal planning was exactly what I needed to make that happen!

Instant Pot or Slow Cooker Apricot Chicken
Ingredients
1 cup Apricot Jam
1 small bottle Russian Salad Dressing
1 package onion soup mix
5-6 chicken breasts
Instructions
Combine jam, dressing and soup mix in a bowl and mix well. Place chicken in crockpot. Pour sauce over chicken and set slow cooker.
Cook 6 hours on low, 3 hours on high.
Serve with your favorite vegetable side.
**Using an Instant Pot makes this meal even quicker to prepare. Place chicken breasts in Instant Pot, pour sauce over chicken. Select manual and set a cook time of 10-12 minutes depending on the size of your chicken breasts.
When done, vent the instant pot. Remove chicken. Set Instant Pot to sauté and for 5-6 minutes stir sauce until it thickens. Pour sauce on chicken and serve over rice.
**Note: If you can't find Russian dressing at your local grocery store you can substitute Catalina dressing in this recipe.
The ingredients for this recipe are so easy to keep on hand. Serve with some fresh or frozen veggies and you have a simple meal the whole family will love!
Grocery Pickup
I recently started ordering my groceries online, and it has been life changing you guys! You might think I'm exaggerating, but ordering from home and having someone do my shopping and load my car has simplified making meals for my family in ways I couldn't have dreamed. I don't know why I didn't start doing it sooner.
Here's $10 to try Walmart's free grocery pickup. You can thank me later!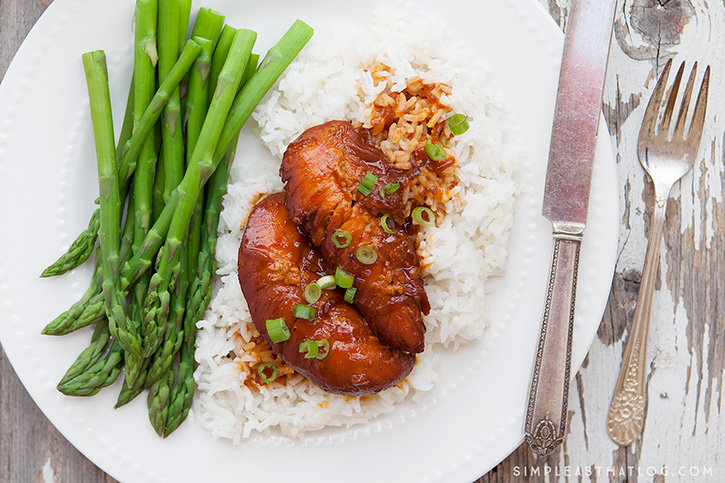 We purchased an Instant Pot about a month ago and we've been loving it! Anything that helps me get dinner on the table faster is ok in my book!
We've made several meals in the Instant Pot since we got it, but this Apricot Chicken has to be our favorite! It takes just 30 minutes to cook and the chicken is so moist and flavorful when it's finished.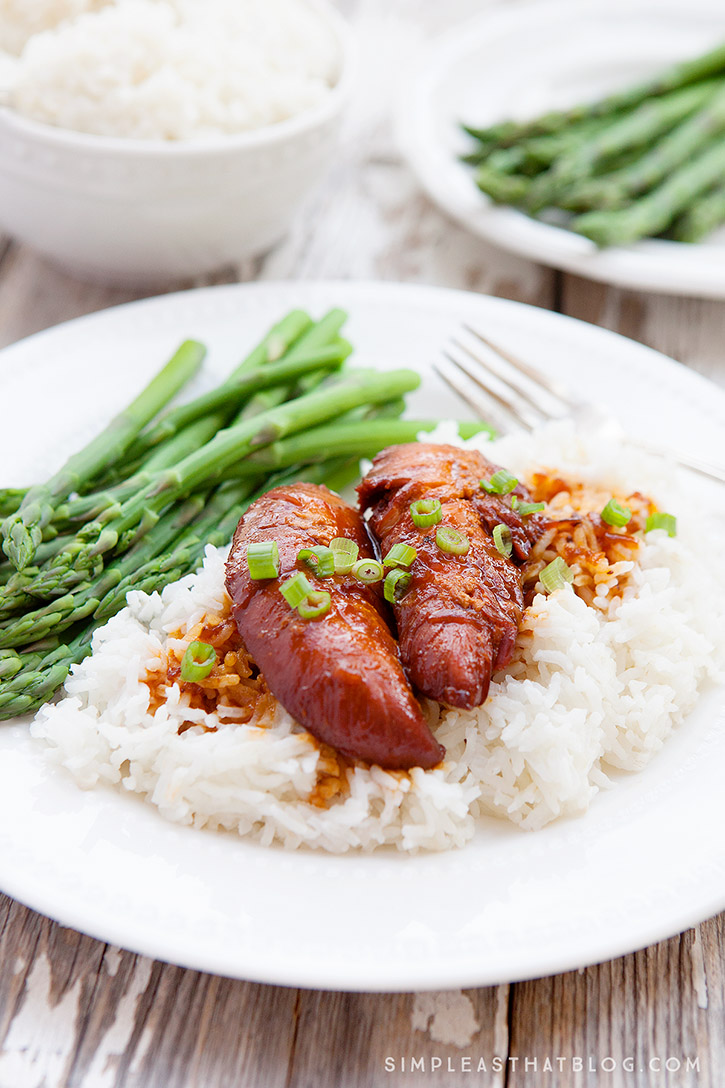 This Apricot Chicken dish is perfect for weeknights when you have a lot on the go. With little to no prep you can have a delicious dinner on the table with minimal effort.
If you liked this post you might also enjoy…