Mexican Green Rice (Arroz Verde) Recipe – easy to prepare and delicious, this classic Mexican side dish is a staple in our house! Not to mention, it's green color comes from fresh spinach and cilantro! Just another great way to incorporate an extra serving of veggies into your family's next meal!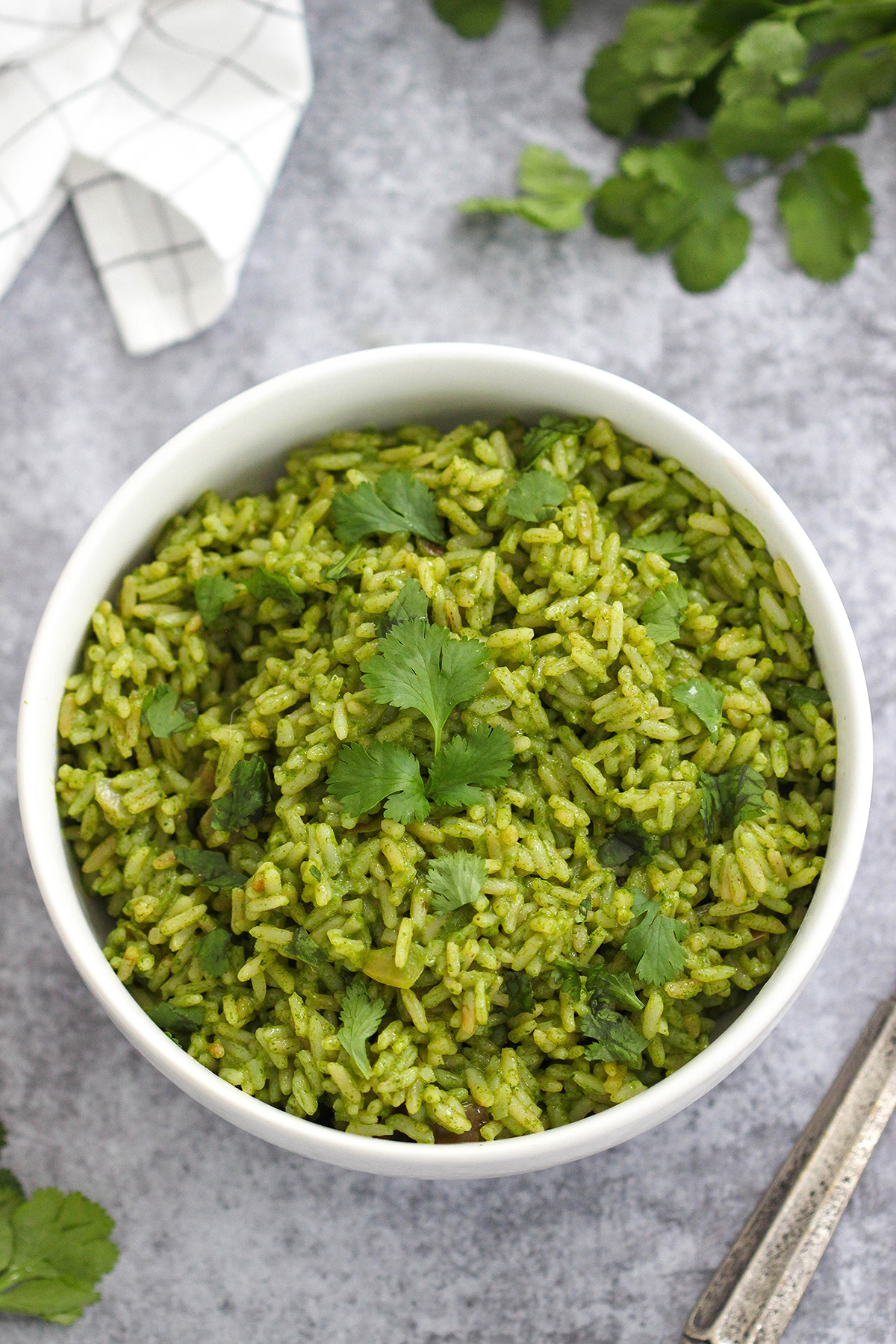 This recipe feeds approximately 6-8 people. With our family of 6, we typically have enough left over for another meal and it tastes just as good the next day! We eat this dish a lot because it tastes great, goes with just about any meal and it's packed with green veggies!
Pureed spinach, cilantro with chicken broth and milk is what the rice is cooked in and gives this Mexican Green Rice that bright green color.
On busy nights I've even thrown this dish into my rice cooker to cook. Simply follow the steps in the recipe to prepare the spinach/cilantro puree mixture. Brown the rice, sauté the onion and garlic in a skillet then add the rice and spinach/cilantro puree mixture to your rice cooker and cook as normal.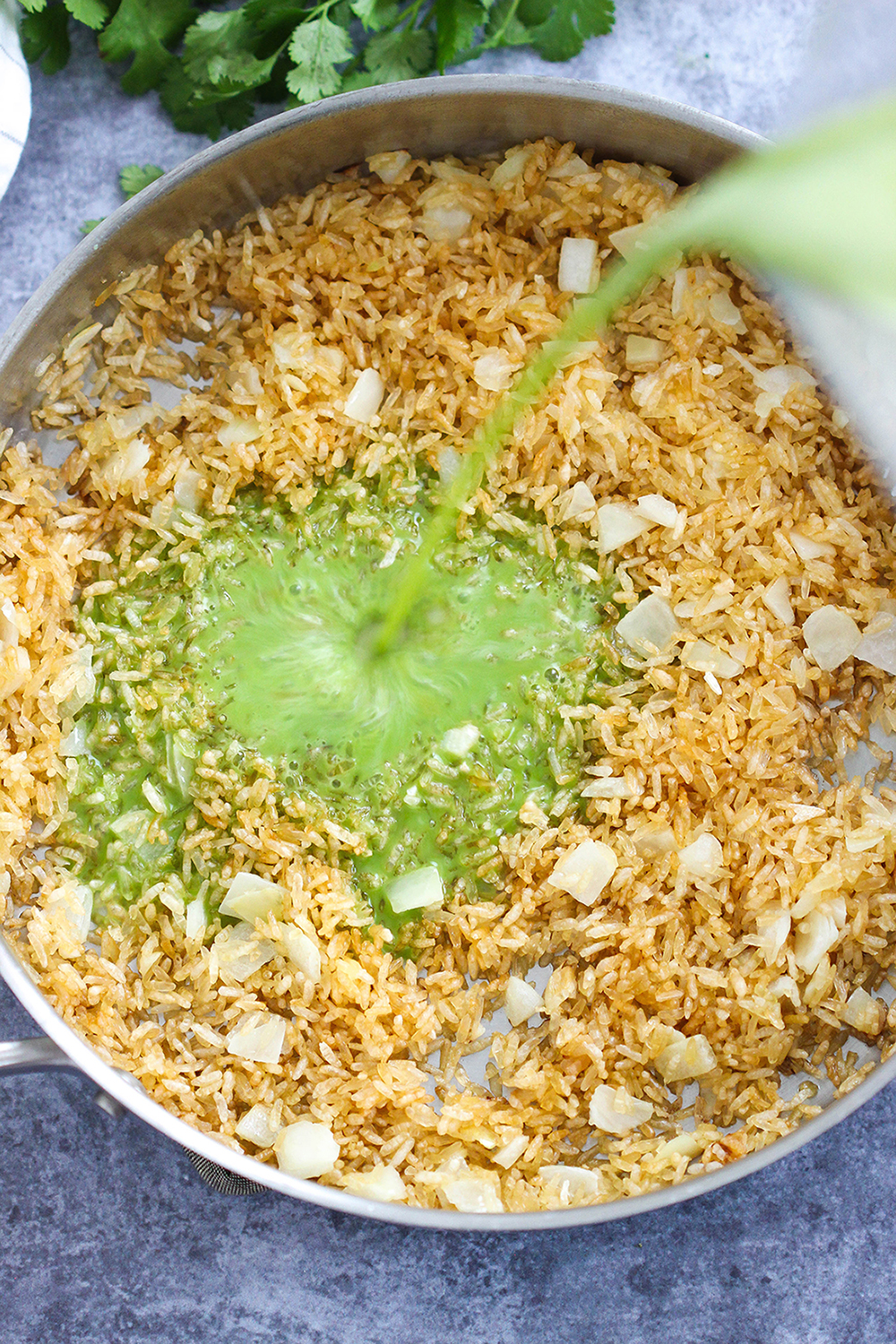 I most often serve this rice with tacos but it can go with just about anything! I like the rice in my taco and the kids enjoy it on the side. It's also perfect in a taco salad! I love how this green rice adds a little color to our meals.
How to Make Mexican Green Rice (Arroz Verde)
Mexican Green Rice (Arroz Verde) Recipe
Ingredients
½ cup tightly packed cilantro
1 cup tightly packed spinach
1¼ cups chicken broth
1¼ cups milk
1 tsp salt
1 Tbsp olive oil
3 Tbsp unsalted butter
¼ cup minced onion
1 clove garlic
1½ cups rice
Instructions
Put cilantro, spinach and broth in blender and blend until pureed. Add milk and salt and blend until well combined.
Heat olive oil and butter in a large skillet. When butter is melted, add rice and saute until brown (3-4 minutes). Stir constantly. Add onion and garlic and cook for 1 more minute. Add cilantro-spinach mix, stir well, bring to a boil.
Cover, turn heat to low. Cook 20 minutes. Take pan off heat and let rice steam in the covered pan for 10 minutes.
It's easy to see why this versatile, easy to prepare dish is a family favorite! It has great flavor and is the perfect way to sneak a few green veggies into your family's diet! We hope you enjoy this Mexican Green Rice (Arroz Verde) recipe as much as we do!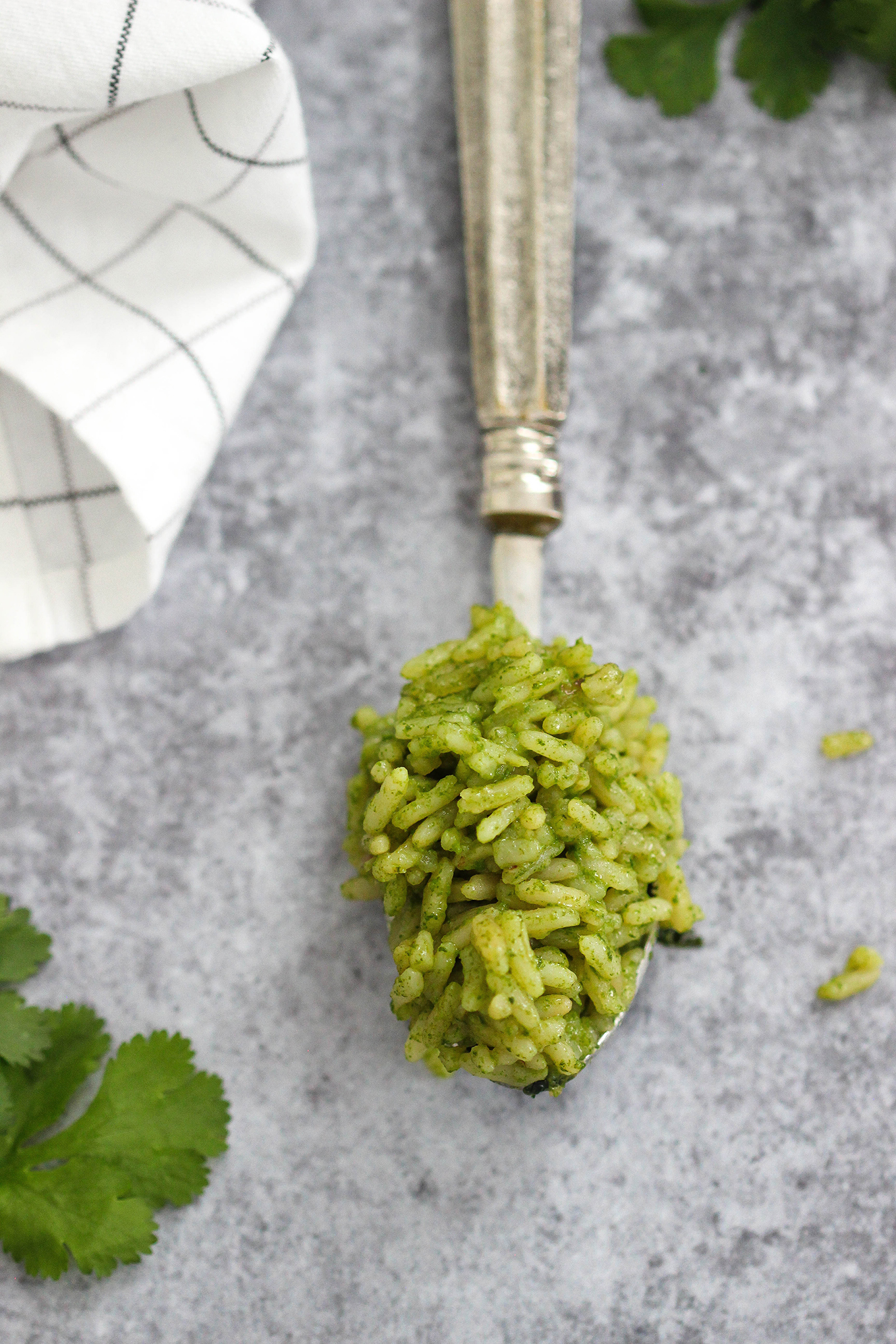 If you enjoyed this recipe you might also enjoy…